Flourless Avocado Brownies are so gooey and fudgey that you would never guess they are healthy! Also paleo, vegan and gluten-free!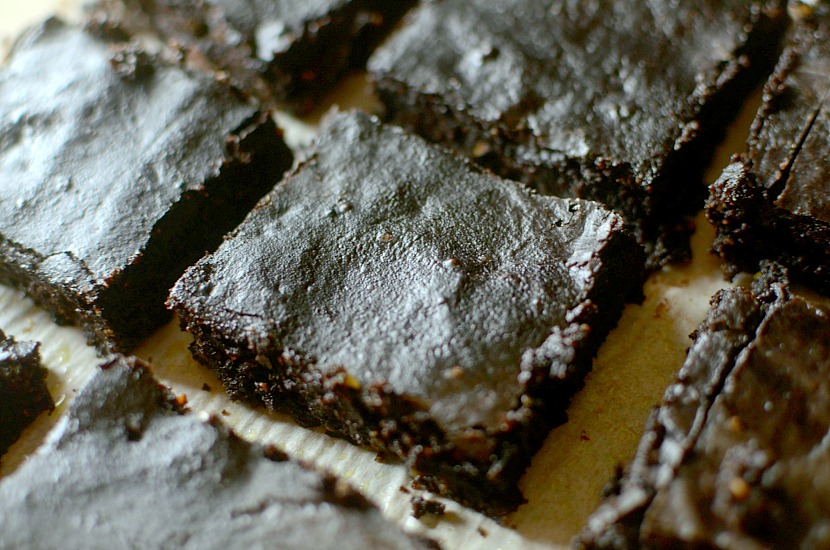 Happy "finally" summer! I love summer, right now it's wayyyy too humid for my liking. I wouldn't mind the humidity as much if my hair didn't frizz. One step outside and it goes from naturally wavy to a lion mane, gotta love it! Anyways, hope you are enjoying your summer right now! Let's dive into today's recipe: Gooey Flourless Avocado Brownies!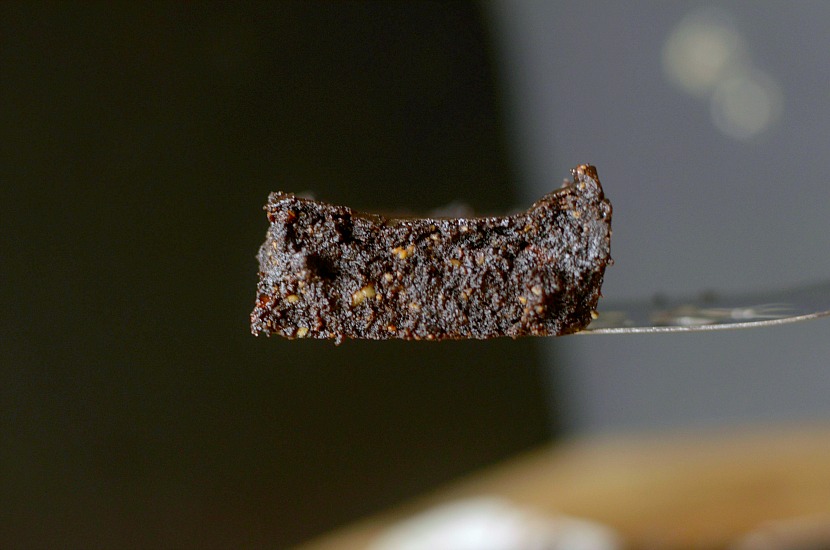 You guys already know how much we love flourless recipes, especially our zucchini brownies and lemon blueberry blondies! You guys seem to love em' too, considering that they are some of our most popular recipes. Flourless recipes have the BEST texture, which is somewhat gooey and dense.
So being that our blog name is Athletic Avocado, it is only appropriate to make avocado brownies. I know that there are lots of version of avocado brownies, but this version is unique and inspired by our zucchini brownie base.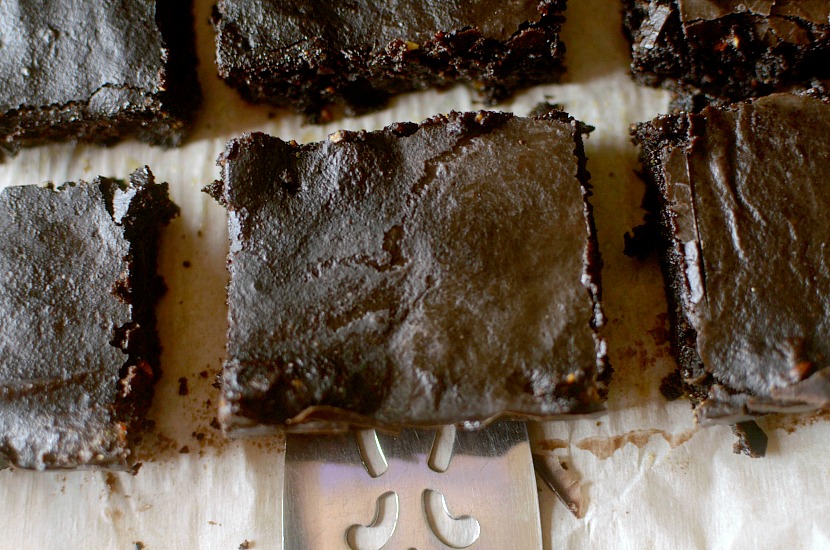 Avocado gives these brownies an extra rich and gooey texture, without tasting like avocado. Plus, they give an extra dose of healthy fats too.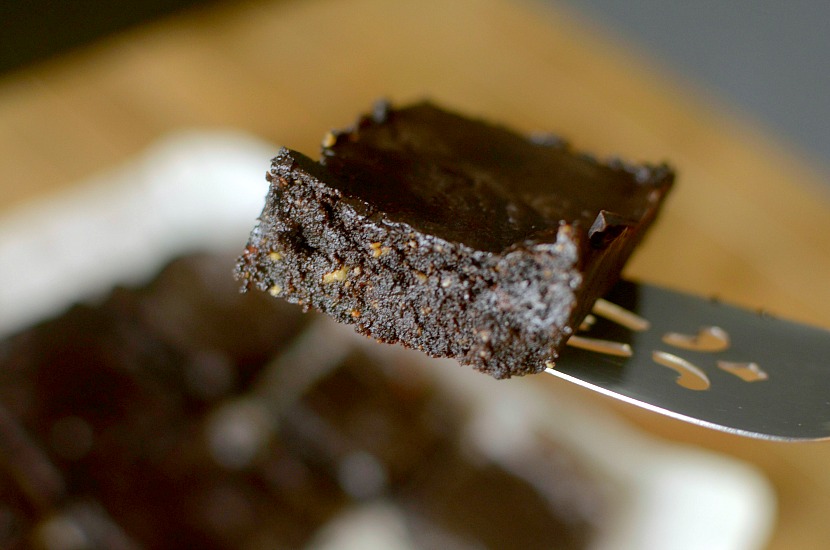 These Avocado Brownies are so easy to make and even easier to eat! The ingredients are:
avocado
banana
cashew butter
maple syrup
dark cocoa powder
baking soda
chocolate chips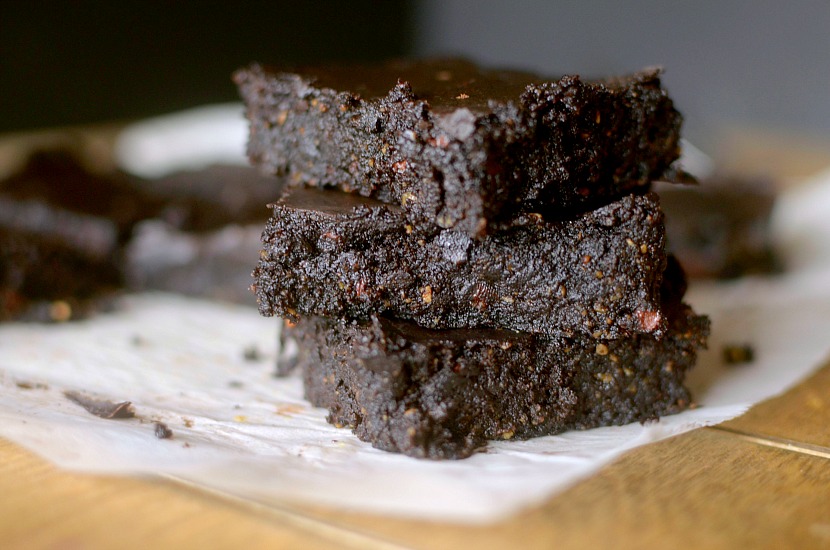 These gooey flourless Avocado Brownies are so fudgey and delicious that you would never guess that they are paleo, vegan and gluten-free!
Gooey Flourless Avocado Brownies (Paleo, Vegan + Gluten-Free!)
Ingredients
1/2 ripe banana
ripe flesh of 1 avocado
1 cup cashew butter or almond butter (make sure its natural and creamy!)
1/3 cup maple syrup
3 tbsp dark cocoa powder
1/2 tsp baking soda
Chocolate chips
Glaze (optional)
1.5 tbsp coconut oil, melted
1 tbsp dark cocoa powder
1 tbsp maple syrup

may double the glaze if you want a thicker layer!
Instructions
Preheat oven to 350 and line an 8x8 pan with parchment paper.
Add banana and avocado in a food processor and blend until smooth.
Add in cashew butter and blend.
Add in maple syrup, dark cocoa powder and baking soda, blend.
Add batter to a large bowl and stir in chocolate chips
Add batter to pan and bake for 10-15 minutes or until done.
Let cool and add glaze, if desired.
For glaze, combine all ingredients in a small bowl and mix well, add to brownies.
Enjoy 🙂
** For fodmap friendly, limit serving to 1/8 of recipe and use almond butter
http://athleticavocado.com/2017/06/27/gooey-flourless-avocado-brownies-paleo-vegan-gluten-free/
Like This Recipe? Pin For Later!

You May Also Like These Recipes!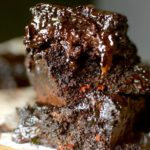 Dark Chocolate Zucchini Brownies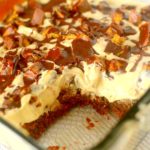 ---
 Question of the day!
What's your favorite way to use avocado?
SaveSave
SaveSave