Peanut Butter Cup Breakfast Pizza is a decadent and delicious breakfast that you would NEVER guess is healthy! It's only made with 5 real ingredients and takes less than 15 minutes to make! Also vegan and gluten-free friendly!
Gasp! No pumpkin or fall-inspired recipe? How can this be? Well friends, it's little celebration I would like to call HALLOWEEN that takes place next Monday so how could I not make a recipe inspired by my favorite candy, AKA the peanut butter cup!?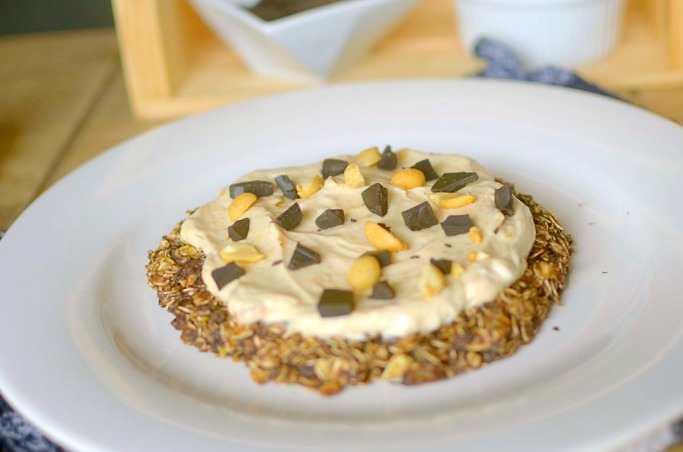 Can you believe that it's almost been 2 full years since we've posted an oatmeal breakfast pizza!? I mean, This One happens to be our most popular recipe of ALL TIME! Yeah that's actually like ages in foodie years. I think we've just been so content with the other oatmeal pizza recipes that we have forgotten to make more variations, but behold, we've got another one comin' your way in this post! There's no need for me to explain our love for all things dessert-for-breakfast because if you many of our recipes are like that, but no complaining here, those are our most popular recipes! You know what they say, "if it ain't broke, don't fix it!"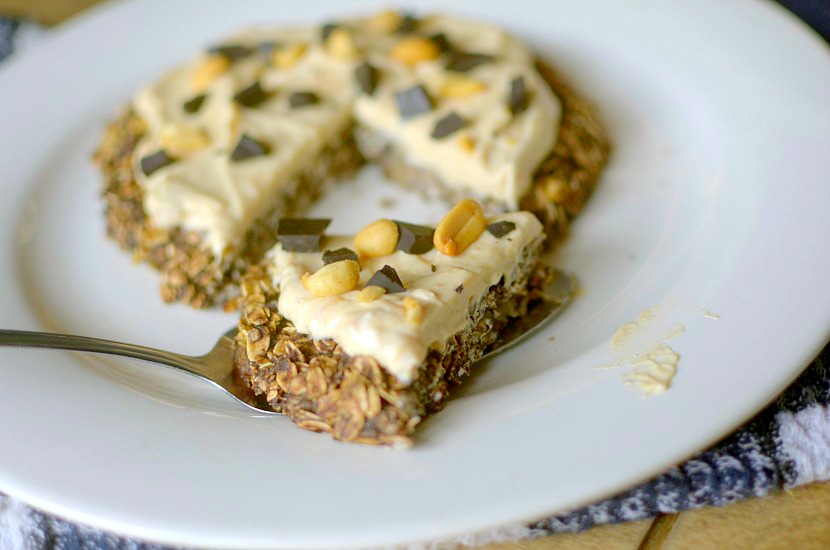 We all know and love that most perfect combination of peanut butter and chocolate all too well so I don't need to explain how amazing it is because I am 99.9% sure that you are obsessed with it, unless your allergic to peanut butter, in which cause I feel bad for ya! So friends, let's not delay any longer! Let's cut to the chase and talk about how insanely perfect this Peanut Butter Cup Breakfast Pizza is!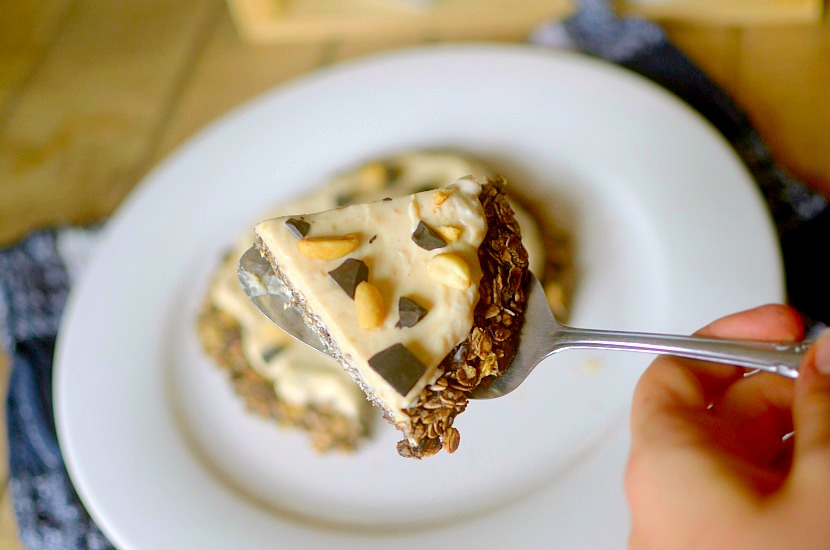 It's made with only 5 ingredients, yes only 5 such as:
Oats
Applesauce
Cocoa powder
Greek/non-dairy yogurt
Peanut butter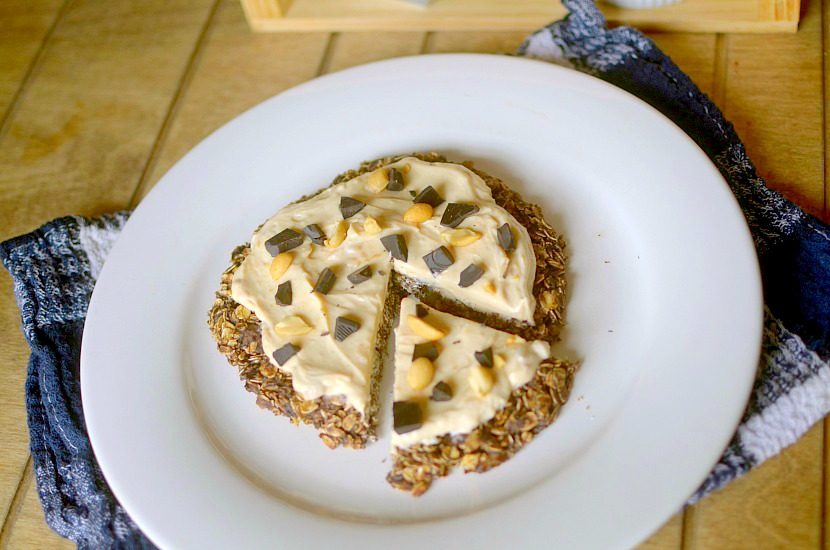 Peanut Butter Cup Breakfast Pizza
You would never guess that this decadent Peanut Butter Cup Breakfast Pizza is healthy! It's made with REAL food ingredients like oats, . This breakfast pizza is such an easy and tasty breakfast to make and takes less than 10 minutes making it perfect for busy mornings and can easily be made-ahead. Anyone who is trying to eat healthy but is also a fan of the classic peanut butter cup will be in LOVE with this breakfast pizza!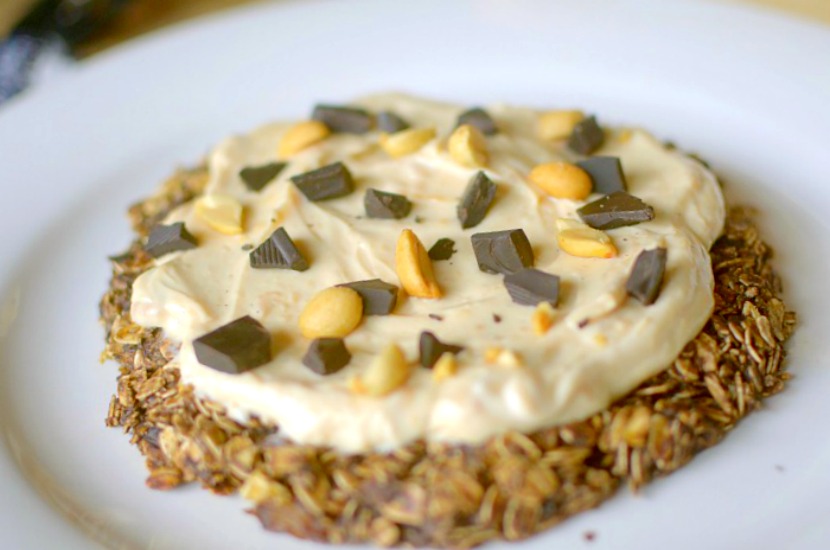 What are you waiting for!? Make this NOW!
Peanut Butter Cup Breakfast Pizza
Ingredients
1 cup oats
1 tbsp dark cocoa powder
1 egg or flax egg, beaten
1/4 cup applesauce
1 tbsp sweetener, optional
TOPPING
1/2 cup vanilla greek/non-dairy yogurt (use sweetener if plain)
1-2 tbsp creamy peanut butter
Chopped peanut butter cups or chocolate chips
Instructions
Preheat oven to 350 degrees and line a baking sheet with parchment paper, Mix ingredients for pizza crust in a bowl and shape into a circle on parchment paper, bake for 15 minutes or until done. For topping, yogurt and peanut butter in a small bowl and spread on pizza. Top with chocolate chips or chopped peanut butter cups, if desired.
http://athleticavocado.com/2016/10/26/peanut-butter-cup-breakfast-pizza/
Like This Recipe? Pin For Later!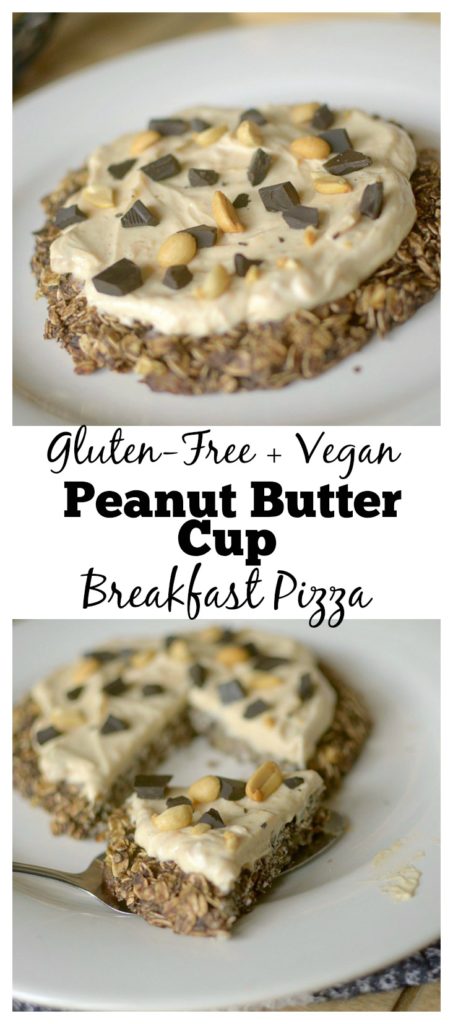 You May Also Like These Recipes!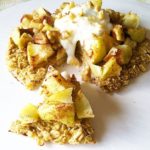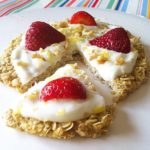 Strawberry Lemon Breakfast Pizza
---
 Questions of the Day!
What's your favorite halloween candy?
SaveSave