Looking for a healthy breakfast that will satisfy your sweet tooth? Make this easy-to-make Chocolate Chip Cookie Dough Granola! Gluten-free + Vegan friendly
Can you believe that this recipe was published over two years ago?  It was about dang time to recreate it, as it's one of our most popular recipes!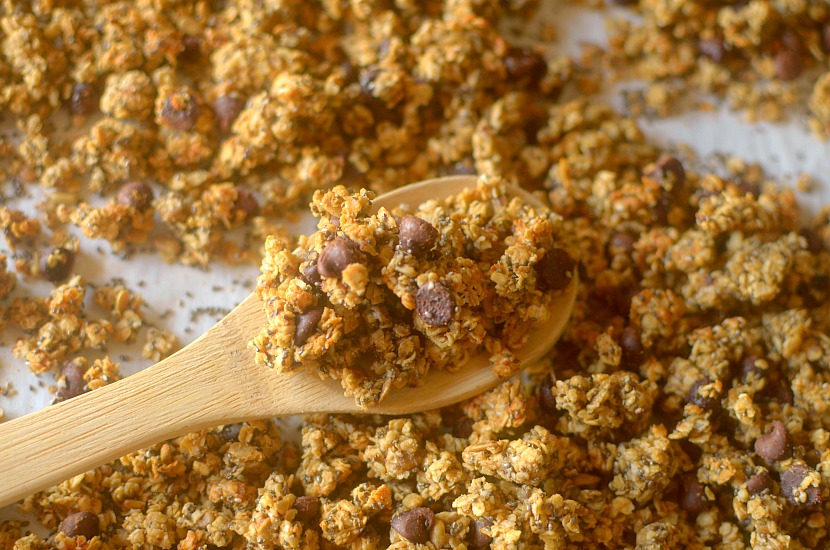 *Post and Pictures updated 8/01/17*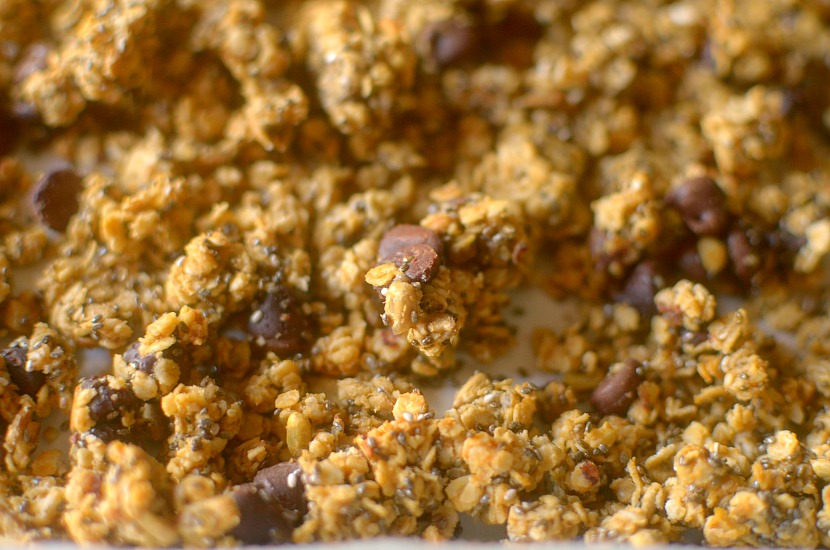 You know those certain foods that you just can't live without?  Somedays you tell yourself, "enough is enough" but you always seem to come back for more. Yep, thats the relationship I have with peanut butter.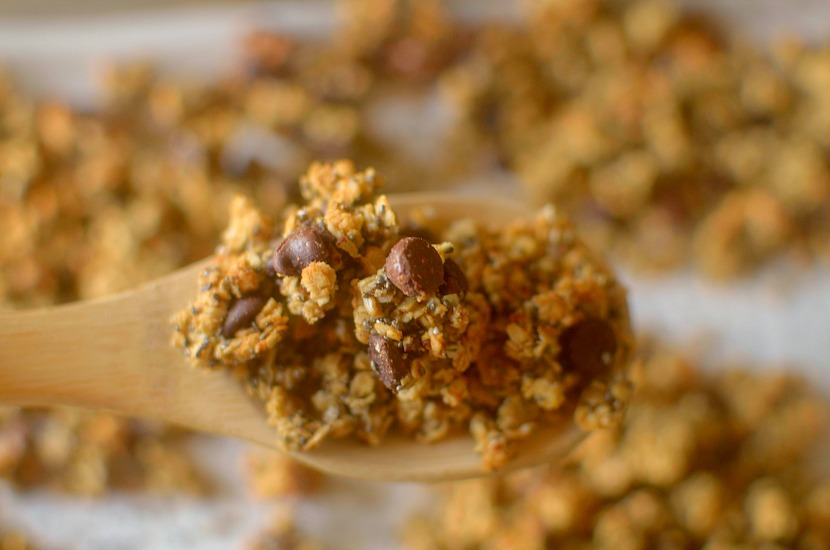 I LOVE all kinds and flavors and theres not a day that goes by where its not in my daily diet!  I usually go for the natural stuff, but when PB Crave was kind enough to send me their 4 awesome flavors of peanut butter, I shifted my tastebuds to a sweeter, dessert-like spread.
Let me tell ya something, there is a reason why its called PB crave, because you literally want to slather it on anything!  They have four delicious flavors:
Razzle Dazzle: A twisted blend of red raspberry flavor, wild honey, white cocoa powder and dark chocolate! (AKA dessert in a jar!)
 Coco Bananas: A tropical blend of yummy banana flavor, cocoa and wild honey! (pb +banana+chocolate=heaven!)
Cookie Nookie: a mouth-watering mix of chocolate chips, cookie dough and wild honey! (better than cookie butter!)
 Choco-choco: a delicious double dose of semi-sweet, rich dark chocolate and wild honey! (you can't go wrong with this combo!)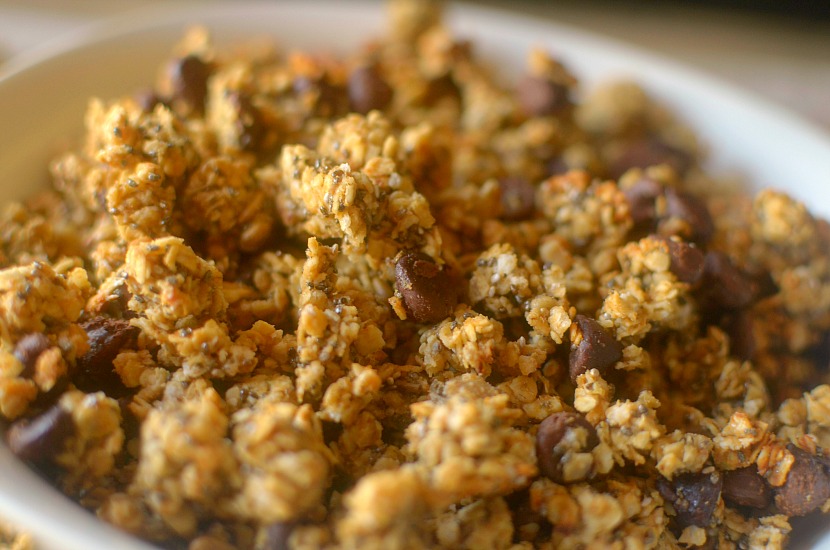 Chocolate Chip Cookie Dough Granola
Crunchy, sweet chunks of granola are studded with chocolate chips, flaxseeds, chia seeds and sunflower seeds to create the best homemade cereal!  Who wouldn't want their breakfast to taste like cookie dough and be guilt-free at the same time?
Chocolate Chip Cookie Dough Granola
Ingredients
2 cups gluten-free oats
¼ cup flax seeds
¼ cup chia seeds
2 Tbsp. sunflower seeds
½ cup dark chocolate chips
1/3 cup PB Crave Cookie Nookie Peanut Butter*
¼ cup almond milk
½ banana, mashed
¼ tsp. vanilla extract
Instructions
Preheat oven to 350 degrees.
Combine first four ingredients in a large bowl.
In a separate bowl, combine remaining ingredients and mix until thoroughly combined.
Add peanut butter mixture to oat mixture. Mix well.
Spray cooking spray on a cookie sheet and add granola.
Bake for 20 minutes, or until slightly golden.
http://athleticavocado.com/2015/05/17/chocolate-chip-cookie-dough-granola/
*feel free to use any nut butter/cookie butter in place
Like This Recipe?  Pin For Later!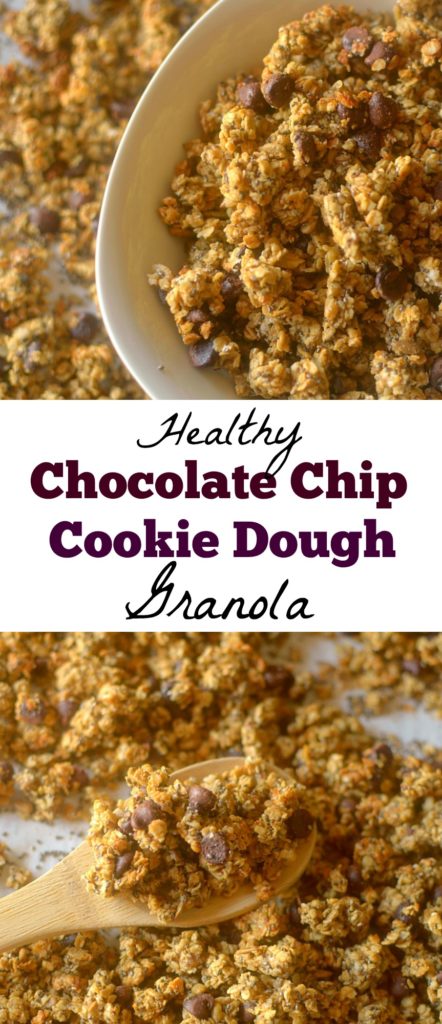 You May Also Like: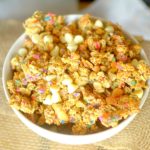 Birthday Cake Granola {Vegan & Gluten-free}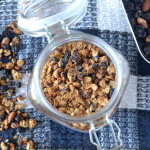 Sweet n' Salty Blueberry Almond Granola { Vegan & Gluten-free}
SaveSave
SaveSave
SaveSaveSaveSave
SaveSaveSaveSave