Soft-Baked Banana Maple Oatmeal Cookies are a healthy and delicious breakfast or snack loaded with protein and whole grains. Also gluten-free and vegan!
True life: My favorite kind of food is food that I can eat with my hands.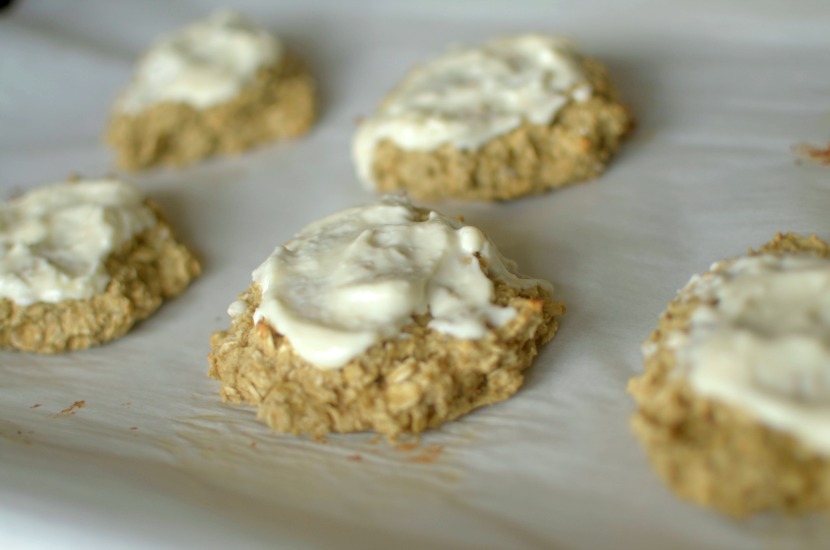 If I had it my way, I would make all of my favorite foods in a more portable form so I wouldn't have to use any utensils. That's why you see lot's of hand-held recipes on our blog such as muffins, breakfast pizzas, cookies, bars, etc. It's not that I don't like eating food with a spoon or fork, I just likened using any utensils better 'cause I'm simple like that.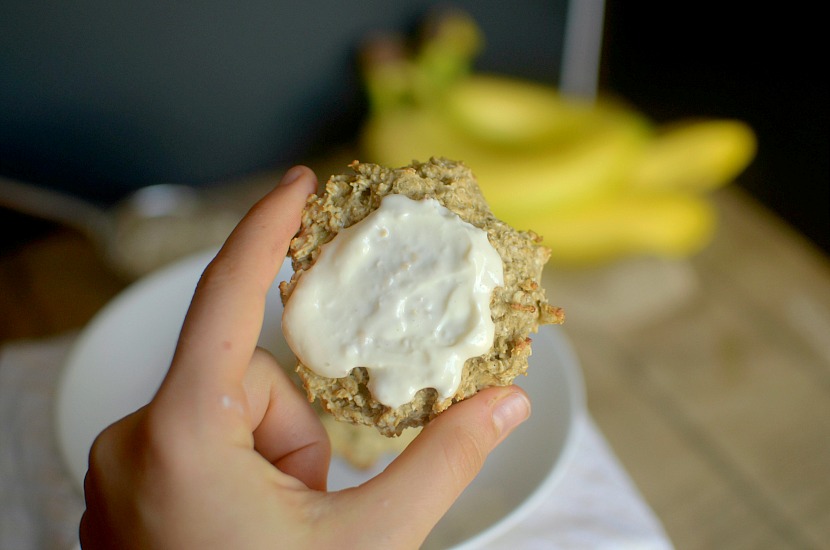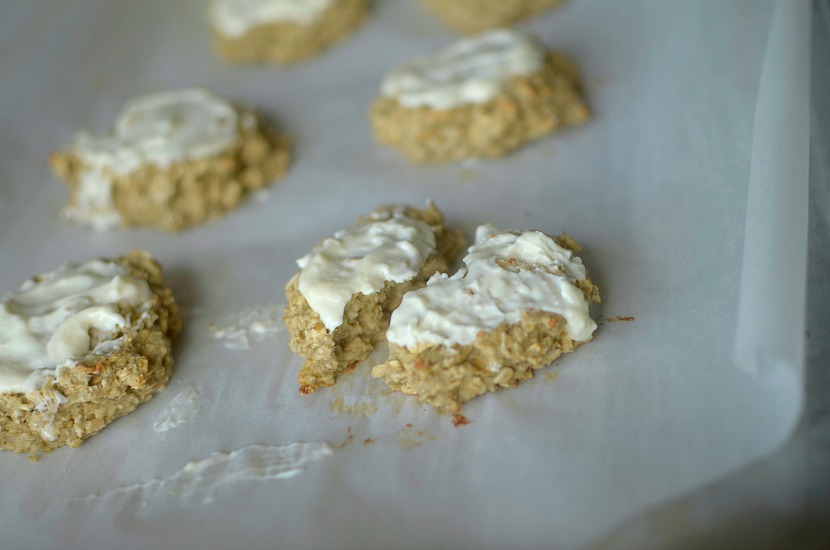 So all this talk about eating food with hands brings us to today's recipe: Soft-Baked Banana Maple Oatmeal Cookies. The inspiration for these babies come from a childhood favorite: my Mom's soft-baked Banana Peanut Butter Oatmeal Cookies which fit's perfectly into this month's recipe redux theme, First Cooking Recollections.
"Stir up some of your earliest culinary recollections. Did you stand at your grandmother's elbow to learn to cook? Or did you learn by stumbling through a cookbook by yourself? Share a healthy recipe and the accompanying story about one of your first cooking memories."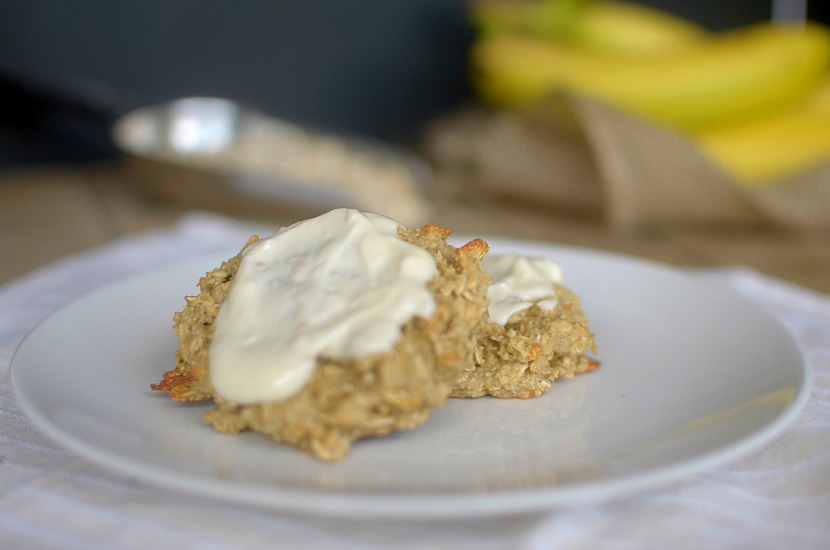 The earliest cooking/baking memory I can think of is helping my Mom make here famous cookies. Okay, maybe I didn't help all that much with the baking process, but I sure "helped" in the eating process, ya know, making sure they didn't go to waste!😉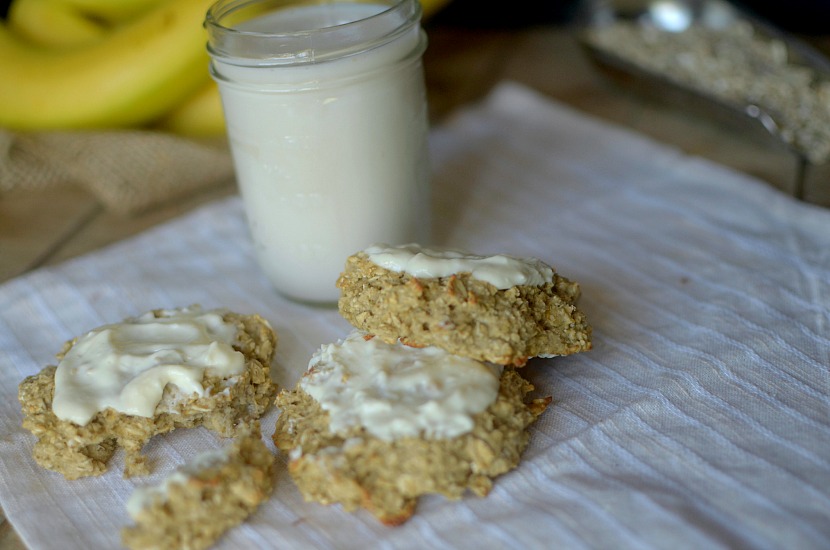 Now, I wanted to remake these oatmeal cookies with my own little twist. I re-created them by keeping the "soft-baked" aspect but obviously replacing the unhealthy ingredients (butter, white sugar) with healthier ingredients, changing the flavor combo and adding frosting. Needless to say, I think I like these EVEN MORE than my Mom's famous cookies (shhhhhh don't tell!).  They are so simple and easy to make with only 7 ingredients and take only 15 minutes to make. I also wanted to make these cookies with added protein powder for extra nutrition to go along with their whole-grains and heartiness. These cookies can honestly be eaten for breakfast, snack or dessert. I had them for all three!
Soft-Baked Banana Maple Oatmeal Cookies
These cookies are a healthier remake of My Mom's classic soft-baked oatmeal cookies . They are so soft,  have a slight chewy texture to them and are naturally sweet but not-too-sweet thanks to banana, organic stevia-sweetened protein powder and a touch of maple syrup. These cookies are even topped with a sweet and tangy maple cream cheese glaze. You would never guess that these are good for you! Also vegan and gluten-free!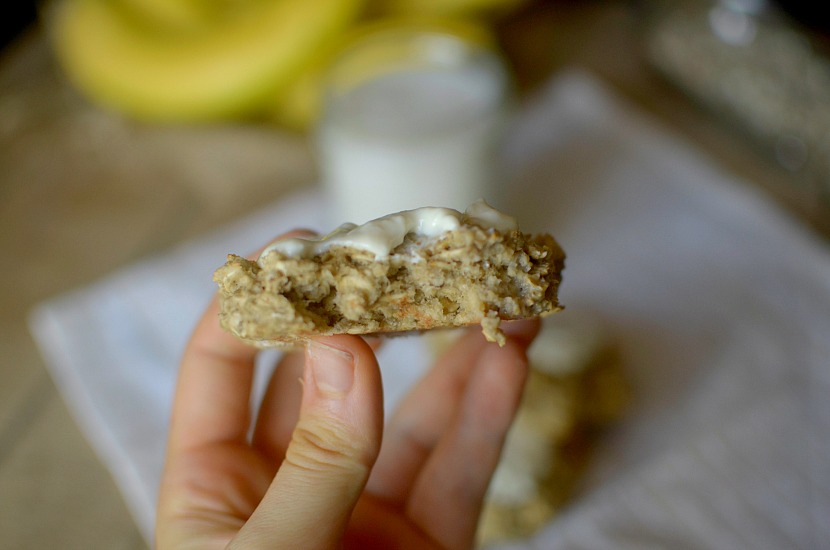 Soft-Baked Banana Maple Oatmeal Cookies
Ingredients
1 cup oats
1 cup oat flour
1 scoop vanilla protein powder
1 tsp baking powder
1/4 tsp baking soda
1 ripe banana, mashed
2 tbsp maple syrup
1/2 cup milk
GLAZE
2 oz. cream cheese, softened (can use dairy-free)
2 tbsp maple syrup
Instructions
Preheat oven to 350 and line a baking sheet with parchment paper. In a large bowl, combine flour, oats, baking powder and baking soda. In a small bowl combine banana, maple syrup and milk. Add wet ingredients to dry ingredients and stir well. Spoon into 6-8 cookies and place on baking sheet, bake for 10 minutes or until done. For glaze, mix ingredients in a bowl and spread on cooled cookies.
http://athleticavocado.com/2016/09/20/vegan-soft-baked-banana-maple-oatmeal-cookies-high-protein-gluten-free/
Like This Recipe? Pin For Later!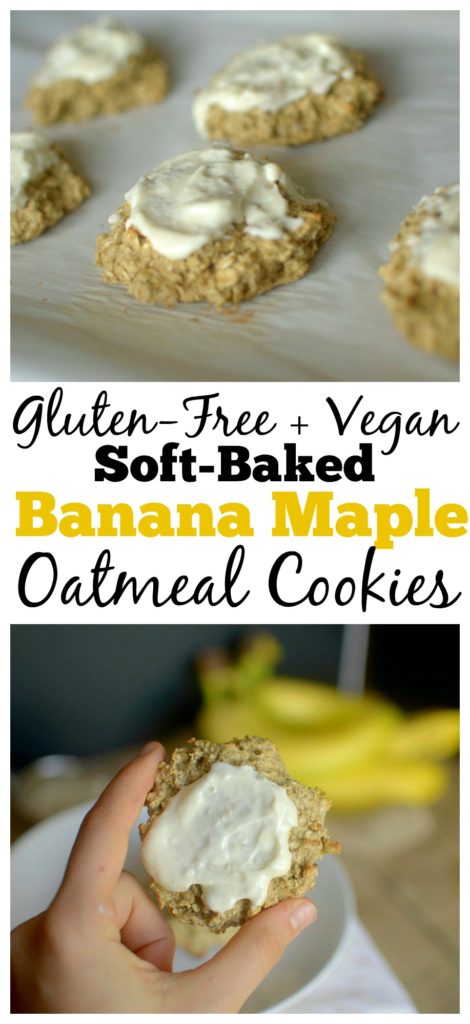 You May Also Like These Recipes!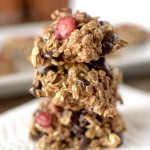 Banana Split Breakfast Cookies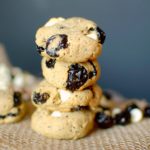 ---
 Questions of the day!
Would you rather eat with your hands or use utensils?
What's your favorite food that you can eat with your hands?