Love all things pumpkin and gingerbread?  Make this high-protien Pumpkin Gingerbread Smoothie Bowl!  It taste like pumpkin pie and gingerbread all in a guilt-free smoothie form!  Perfect for a post-workout treat!
When the holidays roll around, I'm probably the least festive person in the whole wide world.  Even when I was a kid, I hated trick-or-treating.  I would only go to one house in my neighborhood that gave out large bags of chocolate-covered pretzels (jackpot) and that was it.  I don't go black friday shopping at the crack of dawn after Thanksgiving.  When Christmas rolls around, I refuse to listen to any Christmas music, except the song Little Drummer Boy.  I also don't own any Christmas sweaters or lightbulb earrings, so I guess you could call me a scrooge in that sense.  But if you see what I eat during the holidays, you'd be able to tell that all my festivity lies within my food choices.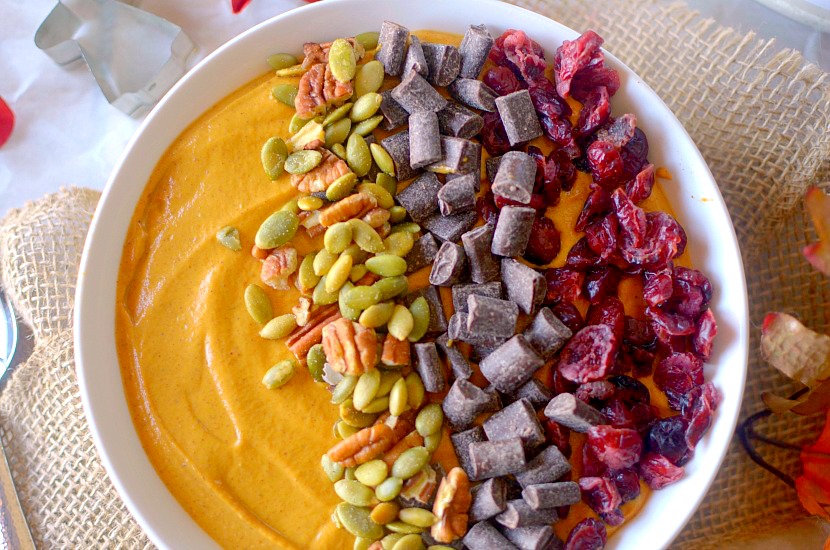 Give me the pumpkin goodies and I will gladly eat them ALL.  Let me become friends with the gingerbread men you make and we can eat Christmas cookies together.  I'll take three platefuls of sweet potato casserole during Thanksgiving.  Oh, and lets not forget to celebrate halloween by downing 10 lbs of dark chocolate!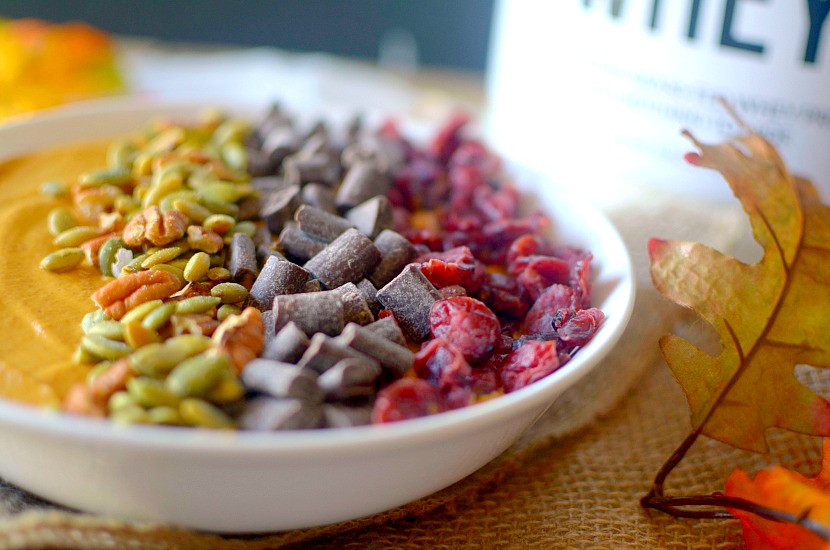 You guys can probably tell by my recipes, that I can't stop won't stop with all things pumpkin and gingerbread.  But usually when you think of these flavors, your mind transports you to the land of sugar.  Hold up for a moment.  What if I told you that your post workout meal could combine the two amazing flavors while being high in protein? Yessssssssiirrrr.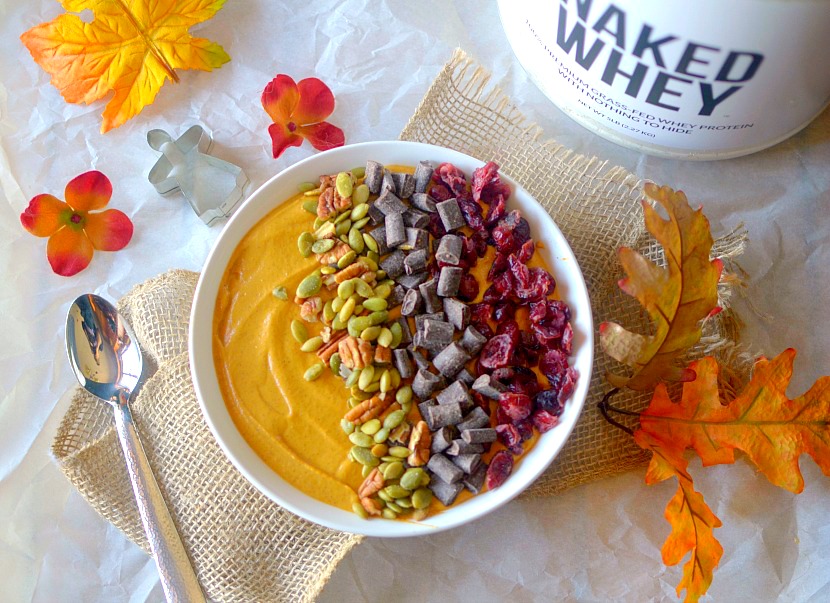 My friends at Naked Nutrition sent me their 100% Premium Grass-Fed Whey Protein to create this festive protein-packed smoothie bowl.  You may be wondering "Why Naked?  That sounds dirty."  Actually, Naked Whey is the cleanest, most pure whey protein you can find on the market.  Being the protein powder snob that I am,  I was pretty stoked when I saw that the ingredient list only consisted of whey protein concentrate and nothing more.  Quality protein for the win💪.  Here's more detail about "The Naked Difference":
From Grass Fed Cows' Milk From Small Dairy Farms in California

No Artificial Sweeteners, Flavors, or Colors

25 Grams of Protein and 5.9 Grams of BCAA's Per Serving*

Only One Ingredient: Grass Fed Whey Protein

GMO Free

Soy Free and Gluten Free

Growth Hormone Free, no rBGH or rBST

Cold Processed

Acid and Bleach-Free Processing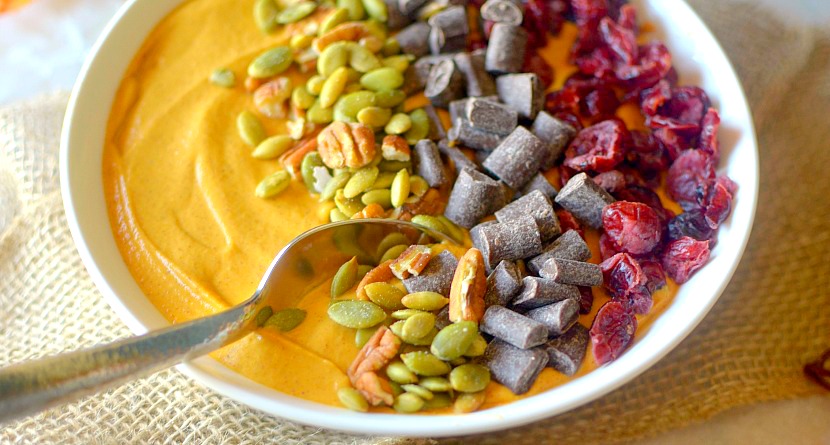 Now that I explained the high-protein quality of this fluffy frosty smoothie,  let me tell you about what it tastes like!  It's a hybrid of pumpkin pie filling and gingerbread cookies all in smoothie form, aka the best of both (festive) worlds. What makes it even better it that you don't have to turn on your oven to enjoy these flavors.  All you need is a blender and these ingredients:
pumpkin puree
almond milk
almond butter
molasses
gingerbread spices
pecans
pumpkin seeds
cranberries
dark chocolate chunks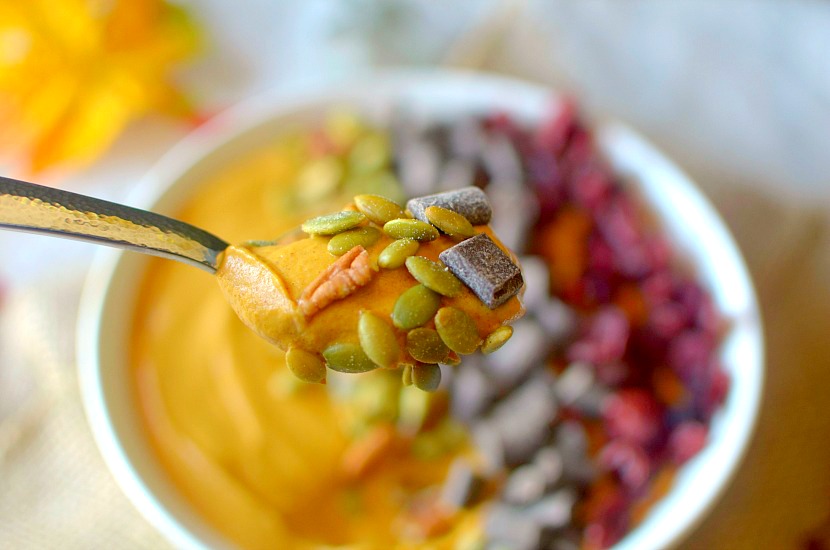 Pumpkin Gingerbread Protein Smoothie Bowl
The flavors of pumpkin pie and gingerbread unite in this thick and creamy high-protein  smoothie bowl.  Topped with pepitas, pecans, dried cranberries and dark chocolate, this smoothie bowl is decadent, sweet and filling all while being nourishing and totally guilt-free!
Pumpkin Gingerbread Smoothie Bowl
Ingredients
1 1/2 cup pumpkin puree, frozen into ice cube trays*
2 scoops Naked Whey Protein Powder
1/2 cup almond milk
2 Tbsp. almond butter
1 Tbsp. molasses
1/4 tsp. cinnamon
1/8 tsp. cloves
1/8 tsp. nutmeg
1/8 tsp. vanilla extract
stevia to taste
TOPPINGS
pecans
pumpkin seeds
dark chocolate chunks
dried cranberries
Instructions
Place all ingredients in a Vitamix or other high power blender.
Blend until smooth and fluffy.
Divide into 2 bowls and top with toppings.
Enjoy!
* if you didn't freeze the pumpkin before hand, you can add regular pumpkin puree and ice instead.
http://athleticavocado.com/2016/10/12/pumpkin-gingerbread-protein-smoothie-bowl-paleo-gluten-free/
To check out Naked Nutrition's other lines of protein powders and their powdered peanut butter, click here!
Like This Recipe?  Pin For Later!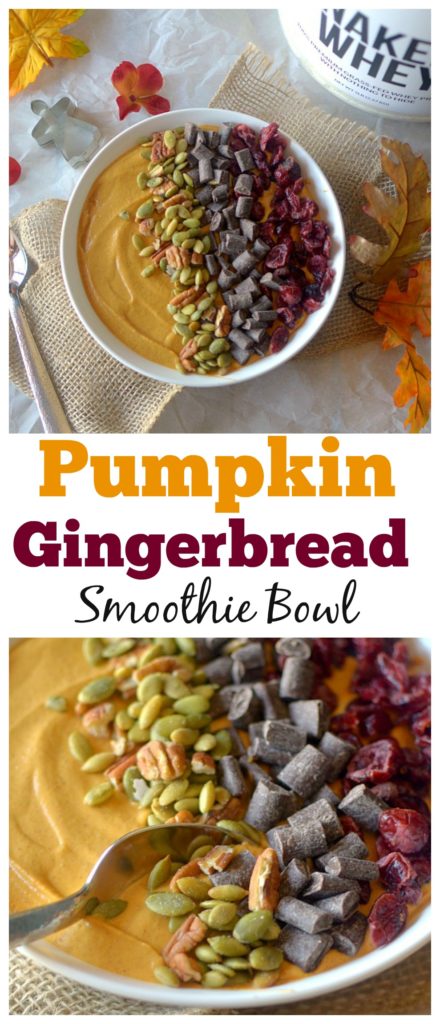 You May Also Like: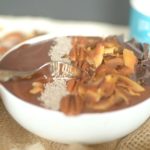 German Chocolate Cake Smoothie Bowl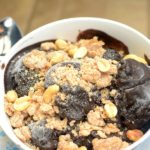 Vegan Brownie Protein Ice Cream
---
Questions of the day:
What is your favorite holiday food?
Do you consider yourself a festive person?