Healthy Cranberry Sweet Potato Salad made with only 4 ingredients and coated with a yogurt dressing and studded with cranberries and pecans for a thanksgiving take on potato salad!
My Mom gets so mad every time Bethany and I make a recipe….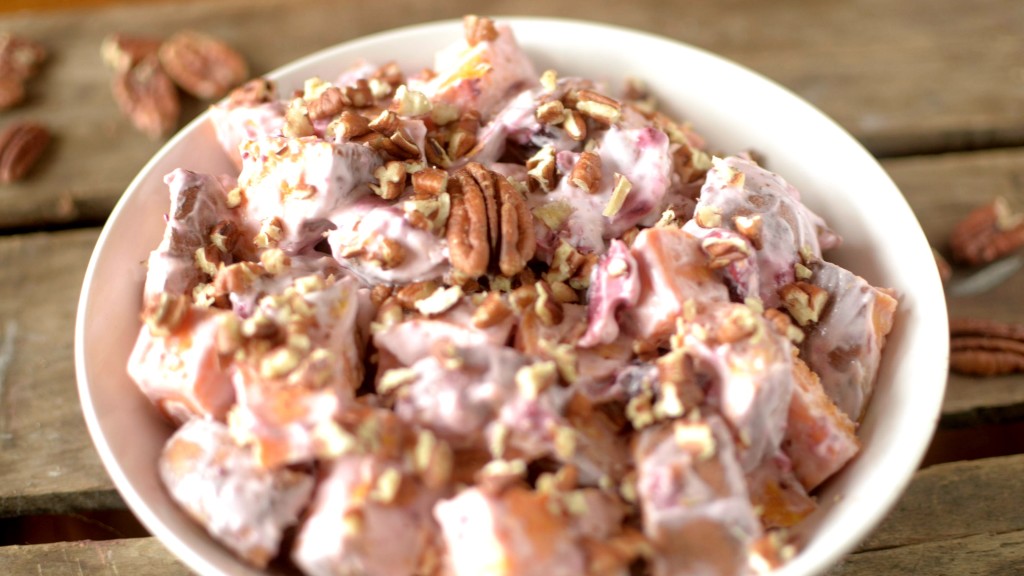 and actually, I don't blame her. She loves the end result but the process of making the recipe is what gets her angry and we are both 100% to blame because it looks like a tornado has gone through the kitchen. I don't ask her to clean up either but she can't stand seeing messes so she does anyone, so shout out to Mom for being the real MVP! She forgives us overtime she tastes one of the recipes though 🙂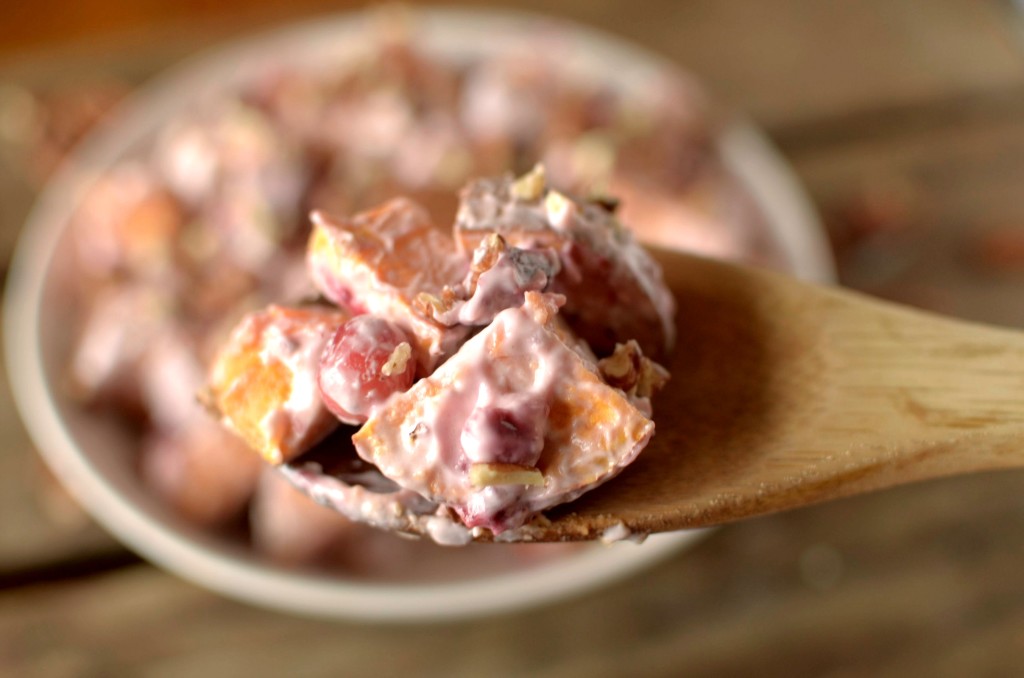 This is actually one of the rare times I did not make my Mom angry because I actually left no mess! This  Cranberry Sweet Potato Salad is like a thanksgiving version of potato salad and only contains 4 ingredients, yes only 4! It couldn't be more easy, simple, tasty and healthy, especially since it's made with Stonyfield plain whole milk yogurt instead of mayo!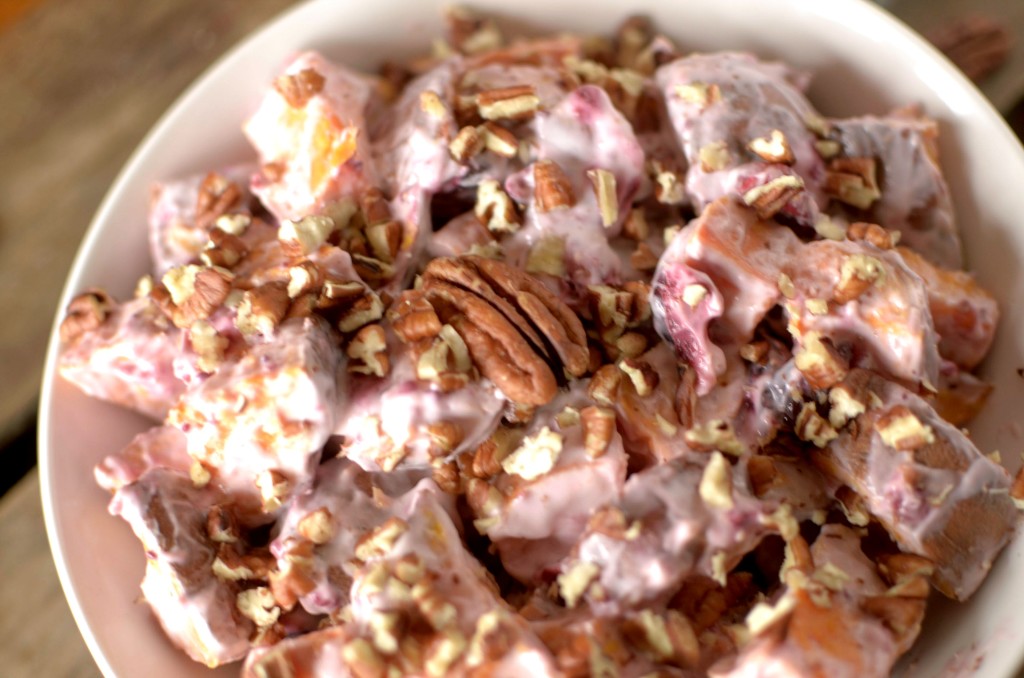 It's also customizable to your diet too, so if you are dairy-free, you can just sub in any dairy-free  yogurt of your choice! Everyone will love this super-duper easy and amazing recipe, especially your Mom!
Ingredients
2 large or 4 medium sweet potatoes, cubed
1 tbsp olive oil
1.5 cup frozen cranberries
1/2 cup plain whole milk yogurt or (dairy-free/coconut cream for paleo, vegan and whole 30)
1/4 cup crushed pecans
Instructions
Preheat oven to 350 degrees
Place cubed sweet potatoes on a baking sheet and drizzle with olive oil, bake for 30-40 minutes or until done and put in a large bowl
Place cranberries in a small saucepan over medium heat until cranberries "pop" and create a sauce
Mix together cranberries, yogurt and pecans in a small bowl and add to sweet potatoes, mix well
Serve hot or cold
http://athleticavocado.com/2015/11/16/cranberry-sweet-potato-salad/
Make sure you Pin for Later!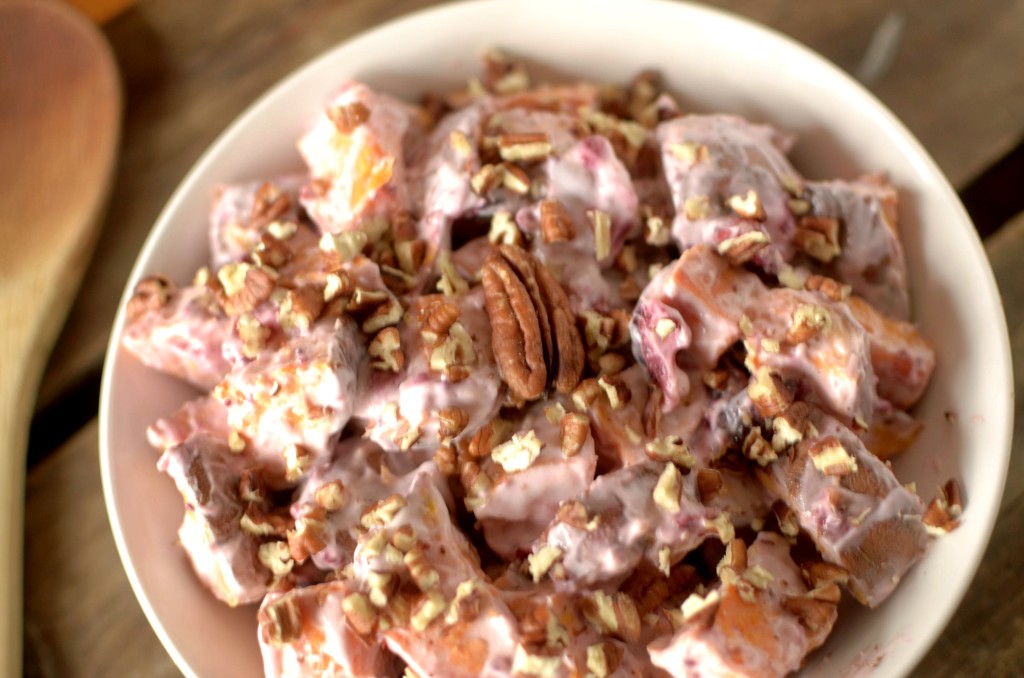 linking up with tina muir and confessions of a mother runner for meatless monday and Laura for Strange but Good!
Also, don't forget to use Yum button to save recipes to your personal inbox for yummly!
Do you make a mess in the kitchen?

If so, who cleans up the mess?
This post is sponsored by Stonyfield and all of my opinions are my own.