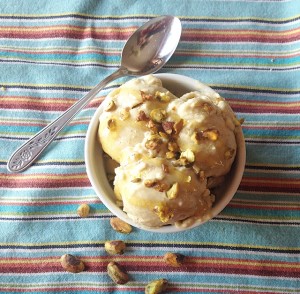 Ever since Almond Milk became popular a few years ago, I've been replacing it with cow's milk in everything.  I just adore the nutty taste that it adds to oatmeal, smoothies and even in baking.  Its so versatile !  I usually go for the unsweetened kind, but when Almond Breeze sent me the Hint of Honey Vanilla, I was so excited to try it!  The honey-vanilla taste is sweet, but not overly powering!  I knew that it would be perfect in an ice cream recipe, so thats what I created!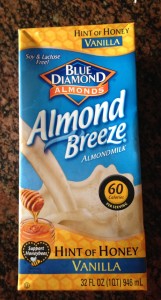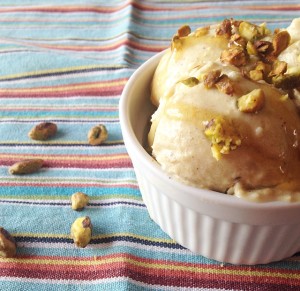 Paleo Honey Pistachio Ice Cream
1 15.5 oz. can Full-Fat Coconut milk
1/4 cup raw honey
1/4 tsp. pure vanilla extract
pinch of salt
1/2 cup shelled unsalted pistachios
1/2 cup crushed pistachios
Add coconut milk, almond milk, honey, vanilla, salt and 1/2 cup of pistachios to Vitamix and blend on high for 2 minutes. Refrigerate until thoroughly chilled.
Add remaining ¼ pistachios to mixture andTransfer  mixture to your ice cream maker and churn according to the manufacturer's instructions.
 Serve  immediately as a soft serve or transfer it to an airtight container and place it in the freezer and let soften until desired.
Enjoy!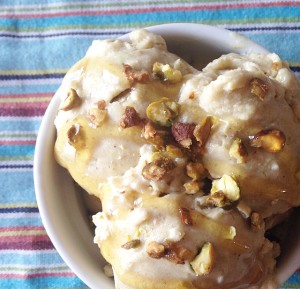 Looking for a healthy snack that is the perfect afternoon pick-me-up?  Try Almond Breeze Oven-Roasted Dark Chocolate Almonds! Perfect for curbing a sweet-tooth!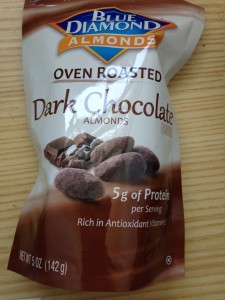 If you want something salty, go for Almond Breeze Oven-Roasted Sea Salt Almonds!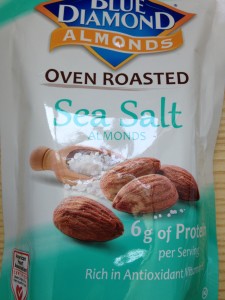 Happy Memorial Day! Thanks to all of those who have fought for our Country!
God Bless! 🙂
"This post is sponsored by Blue Diamond Almonds."