This Chocolate Peanut Butter Pretzel Banana Ice Cream is another name for heaven. It's naturally sweet, chocolatley, crunchy, salty and nutty all at the same time and takes banana ice cream to the next level. What more could you want?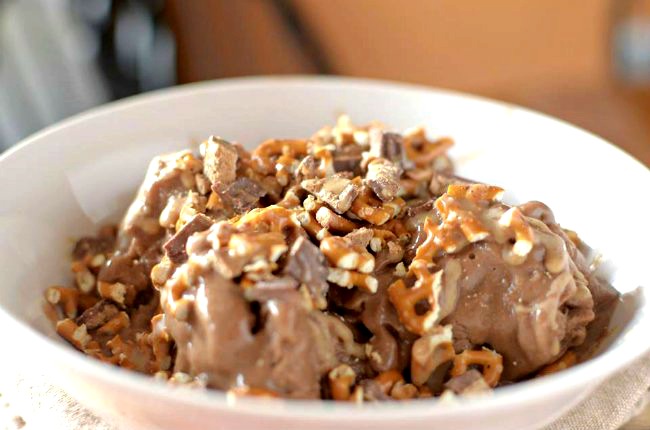 I love ice cream………..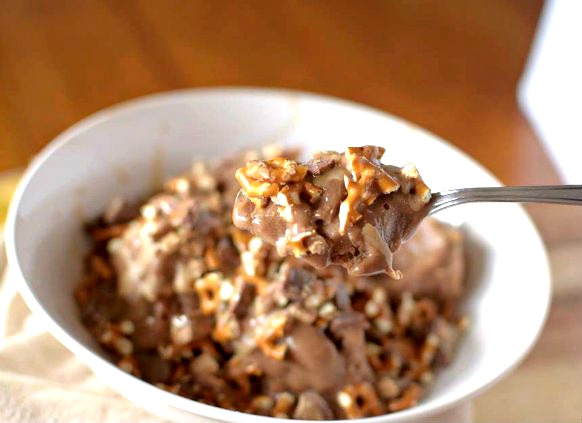 No joke, when I was younger, I would have a huge bowl every night after gymnastics practice, at least 342432 2 cups!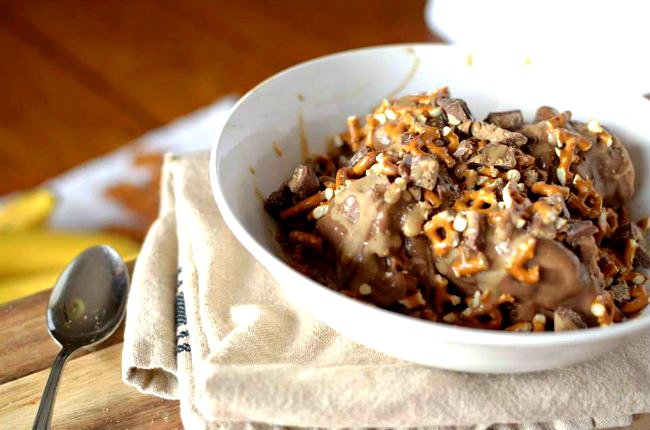 You know what else I love? Banana Ice Cream. Bananas are naturally sweet and delicious, and when partially frozen, make the perfect texture for a soft-serve-like texture! My favorite ice cream ever is a tie between Chocolate-Covered Pretzel and Peanut Butter Cup.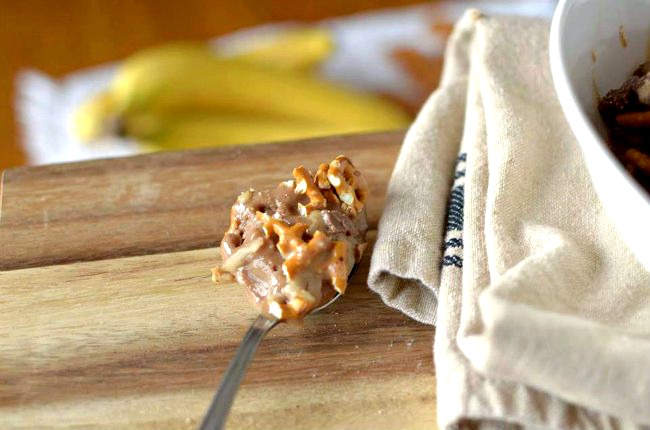 So guess what I did? I combined banana ice cream with my two favorite ice cream flavors, and the result is absolutely magical. This Chocolate PB Pretzel banana Ice Cream is absolutely creamy, sweet, salty, crunchy, chocolatey and life changing all at the same time! Not to mention it has only a few ingredients and  it's a breeze to make!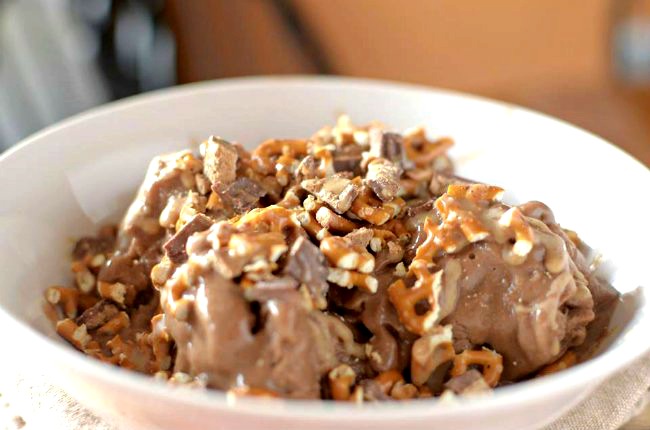 Now you can have your fabulous ice cream and eat it too 😀
Chocolate PB Pretzel Banana Ice Cream
Ingredients
2 ripe bananas, frozen and partially thawed
1 tbsp cocoa powder
1/2 tbsp natural smooth peanut butter
Toppings
1/3 cup crushed pretzels can be any kind such as GF or Vegan
1 Justin's Peanut Butter Cup, chopped into small pieces
PB Sauce
1/2 tbsp natural creamy Peanut Butter
1/2 tsp coconut oil
Instructions
1. for ice cream, blend together all ingredients and place in a long tupperware in the freezer until partially firm, once ice cream is desired texture scoop into a bowl, add on toppings
2. For sauce, combine ingredients and microwave for 30 seconds, drizzle over ice cream
http://athleticavocado.com/2015/08/25/chocolate-peanut-butter-pretzel-banana-ice-cream/
This Banana Ice Cream is vegan, dairy-free and can be gluten-free
[Tweet "Check Out this awesome new way to enjoy banana Ice Cream! Chocolate PB Pretzel Nana Ice Cream!!!"]
 Want More Ice Cream Recipes???
Paleo Honey Pistachio Ice Cream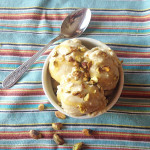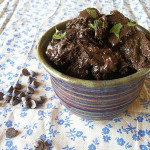 What's your favorite flavor of ice cream?