A cool Frozen Treat with a Classic Flavor Combo from your childhood
My dad always tries to give me pointers when I brainstorm for different and unique recipe ideas.  Im always like, dad what should I make?  He always replies "make something good."  Thanks dad, your so helpful.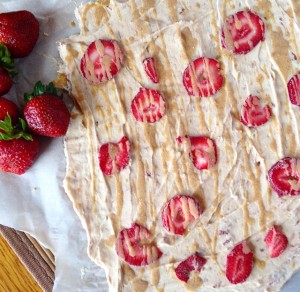 Truth be told, my dad isn't the best taste tester because he likes everything.  He even ate my dog's treat because he thought it tasted good.  I feel bad for my dog, every time we get here a treat my dad thinks its a cookie and eats almost all of it.
Alright I got a little off topic, but what I wanted to address is that my dad is open to eat anything #perksofahealthyfoodblogger .  He always searches for snacks he can eat when he isn't hungry (yes, when he is NOT hungry).  So I always try to come up with snacks that are tasty, yet healthy in disguise.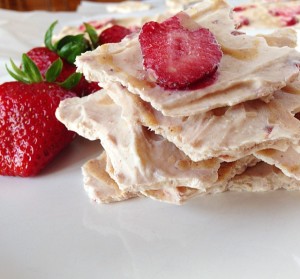 The greek yogurt is super high in protein and is a perfect match when paired with the healthy fats in the peanut butter.  The flavor combo is a classic and will please any folk!  Perfect for a hot summer day, this bark takes a mere 5 minutes to make and a few hours to freeze!  Its like frozen yogurt , but without all the effort!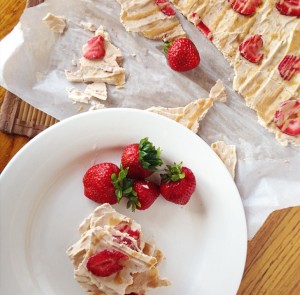 PB&J Frozen Greek Yogurt Bark
Ingredients
1 cup greek yogurt (coconut yogurt can be subbed for a vegan option)
2 Tbsp. natural Peanut butter (or an type of nut butter)
1/4 cup strawberries, mashed
1 Tbsp. pure maple syrup or honey
1/4 tsp. pure vanilla extract
Toppings
2 tsp. natural peanut butter
1 tsp. coconut oil
sliced strawberries
Instructions
Mix together yogurt, peanut butter, strawberries, maple syrup and vanilla in a bowl.
Line a cooking tray with parchment paper and thinly spread on mixture, but not too thin.
Place sliced strawberries on top. In a small bowl, mix peanut butter and coconut oil and place in microwave for 30 seconds, or until melted. Drizzle over mixture.
Place tray in freezer for atleast 2 hours to harden. Once hard enough, break into pieces and enjoy immediately
Store in an air tight container in freezer for up to a month, if it will last that long ;p
http://athleticavocado.com/2015/08/07/pbj-greek-yogurt-bark/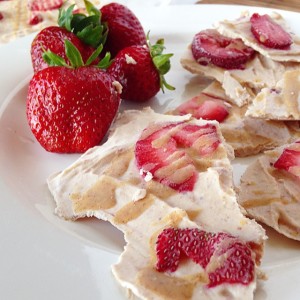 Looking for more frozen desserts?
[Tweet "Looking for a cool and refreshing treat? Make this simple and easy PB&J Frozen Greek Yogurt Bark!"]