Need a healthy grab n' go breakfast? Make these delicious Paleo Chunky Breakfast Bars for the perfect way to satisfy your early morning appetite! Gluten-free and grain-free too!
I feel like the majority of our recipes are in bar form but that's okay because Bars>Cookies (almost) all day every day.
It's a texture thing, that's all. You can pretty much eat bars for every meal too. Like bars in savory form for lunch and dinner or bars in sweet form for dessert, snack and of course, BREAKFAST! Moral of the story, bars are awesome.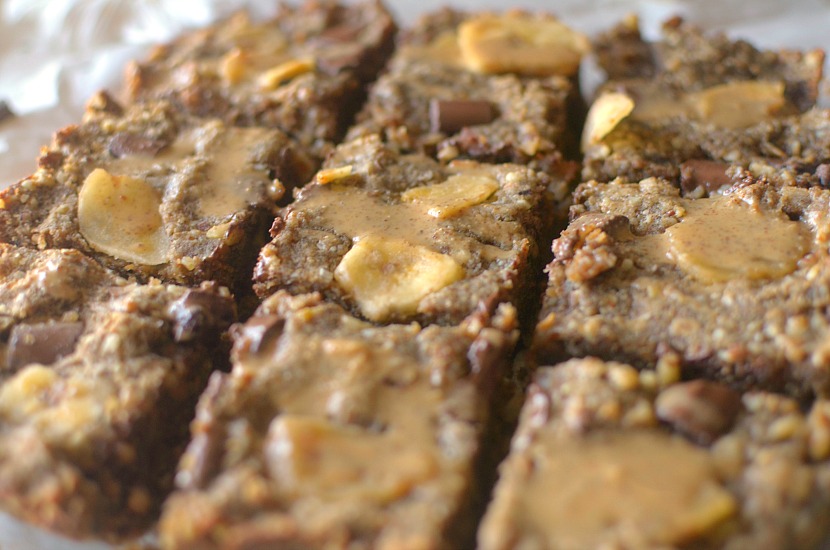 Now you see where I'm going with this right? Breakfast bars. These Pumpkin Coconut Breakfast Bars happen to be one of our most popular recipes so it was time to recreate them with a different flavor combo and with the addition of protein powder, but not just any protein powder, Rootz Nutrition Paleo Protein-Superfood.
You see, I am veryyyyy picky when it comes to protein powder. I won't go near protein powders that contain any preservatives or artificial sweeteners. I saw Rootz protein powder online, read the clean ingredient list and knew I had to give it a try. After trying Rootz in a smoothie for the first time, I was hooked. Not only is it free of GMO's, gluten, dairy, soy, artificial ingredients and colors, but it also tastes so good AKA what protein powder should taste like! I knew it would go perfect in this breakfast bar recipe that I have been dreaming up for a while and add some amazing nutrients as well.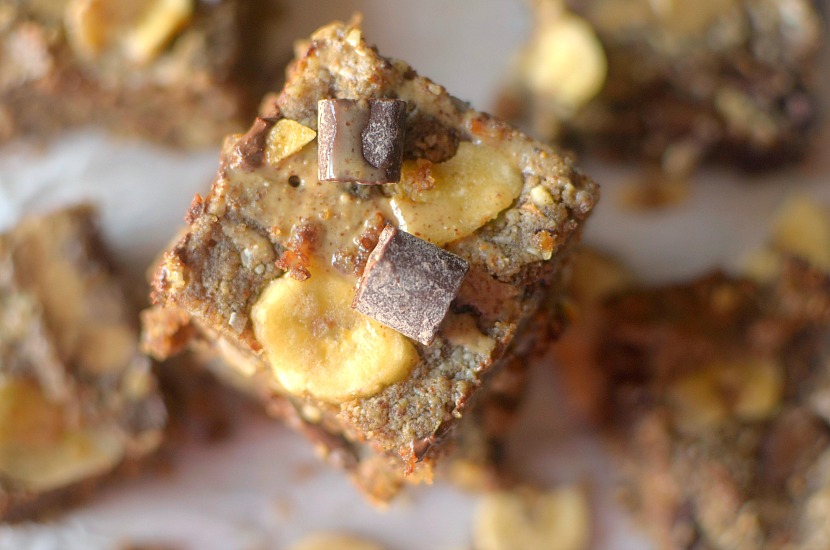 So now let's talk about these chunky monkey breakfast bars. Even though they are called breakfast bars, they all make a delicious pre/post workout snack too! They are super easy to make and made with:
Pecans or nuts of choice
Unsweetened coconut flakes
Rootz Chocolate Banana Nut Protein Powder
Almond Butter
Banana
Coconut oil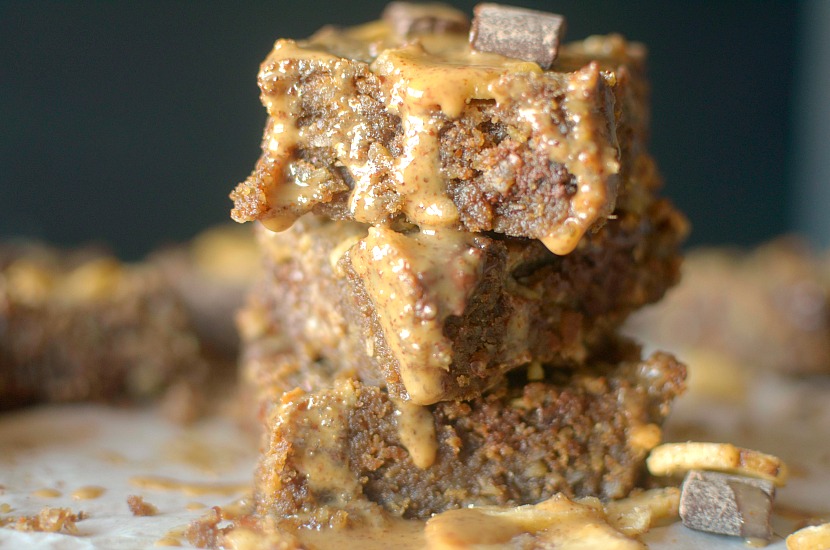 Chunky Monkey Breakfast Bars
These make-ahead Chunky Monkey Breakfast Bars are so easy to make with real food ingredients and are filled with the delicious flavors of chocolate, banana and nut butter. They are the perfect high-protein and nourishing breakfast or snack and are also paleo, grain-free and gluten-free!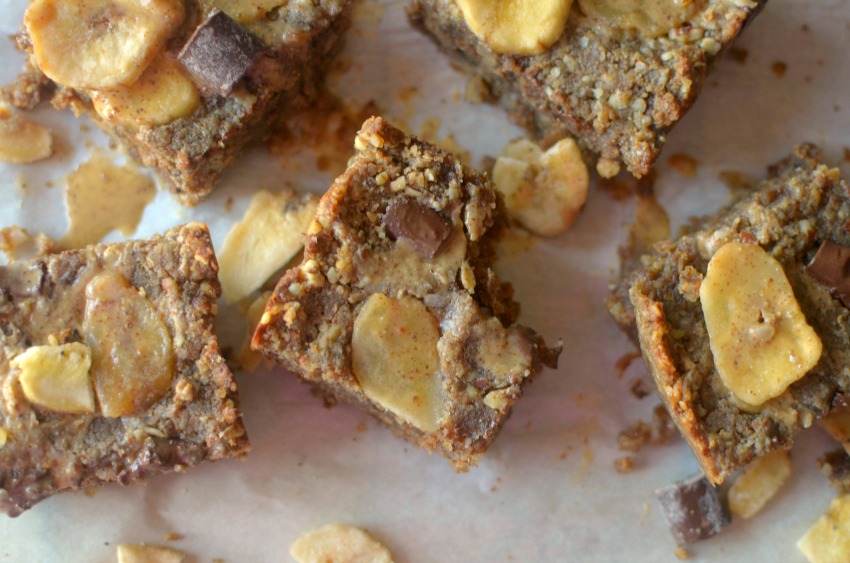 Use the coupon code "athleticavocado" to receive 10% off on your Rootz Nutrition order!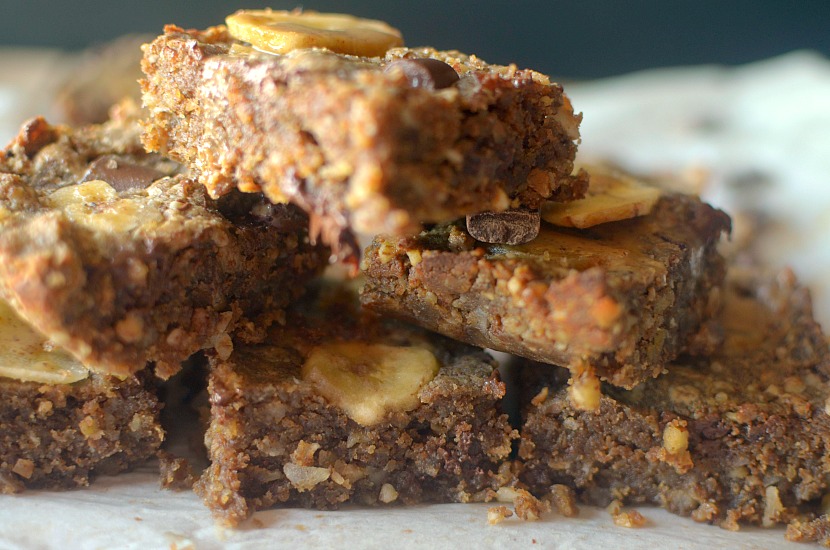 Paleo Chunky Monkey Breakfast Bars
Ingredients
1.5 cup pecans (or other nuts of choice)
1 scoop Rootz Chocolate Banana Nut Protein-Superfood
1/2 cup drippy almond butter (you can use peanut for a non-paleo version)
1 ripe banana, mashed
1 tbsp coconut oil, melted
1-2 tbsp maple syrup, optional
Chocolate chunks/chips
DRIZZLE (optional)
2 tbsp drippy almond butter(or other nut butter)
1 tbsp coconut oil, melted
1 tbsp maple syrup
Instructions
Preheat oven to 350 degrees and line an 8x8 or 9x9 pan with parchment paper or cooking spray.
Place pecans and coconut on a cooking sheet and place in oven for 15 minutes, or until slightly toasted.
Add pecans and coconut to a food processor and process until it is a flour or meal-like texture.
Add to a large bowl and mix in protein powder.
In a small bowl combine almond butter, banana, coconut oil and maple syrup. Add to pecan-coconut mixture and combine well.
Transfer the mixture to pan and press down evenly. Top with banana chips and chocolate chips.
Bake for 15-20 minutes, or until done.
Let cool and slice into about 9 bars.
FOR DRIZZLE:
Combine all ingredients in a small bowl and drizzle on top of cooled bars.
http://athleticavocado.com/2017/01/15/paleo-chunky-monkey-breakfast-bars/
Like This Recipe? Pin For Later!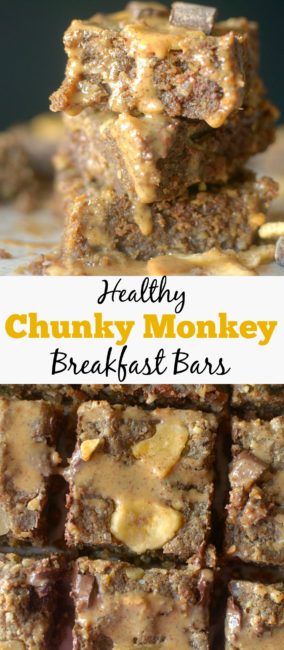 You May Also Like These Recipes!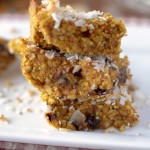 Coconut Pumpkin Breakfast Bars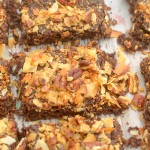 German Chocolate Cake Breakfast Bars
---
Questions of the day!
Bars or cookies?