Vegan Chocolate Gingerbread Cheesecake is completely raw, made with just a few ingredients and is one delicious holiday dessert! Also paleo and gluten-free!
Now that Christmas and New Years is around the corner, I'm craving ALL the cookies, cakes, pies, etc . I love celebrating the birth of Jesus and the start of the new year with lots of tasty goodies and treats. There is nothing that says "I love you" more than intricately homemade desserts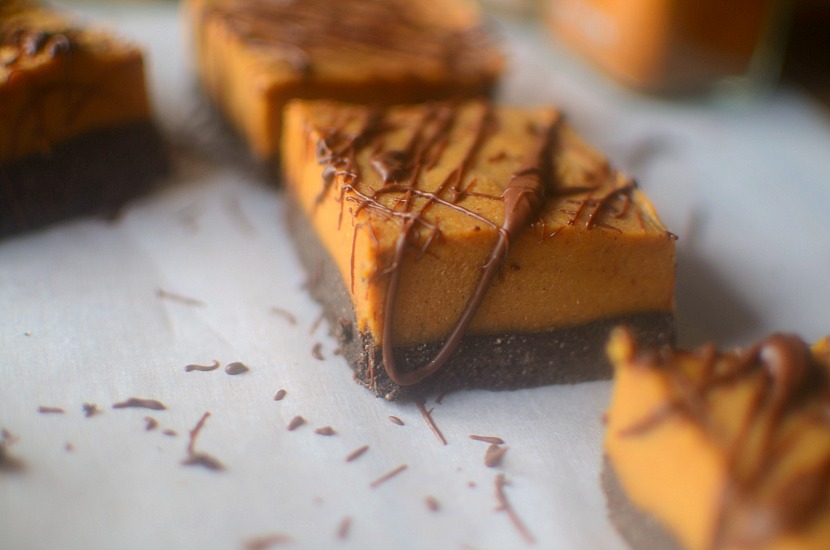 One of Rachel and I's new favorite things to do during Christmas and New Years is to host a dessert party with friends and family. It's like a regular party, but only better because DESSERT! Having a dessert party is awesome because you get to try so many desserts that you've never tried before and you get to feed your sweet tooth all in one 🙂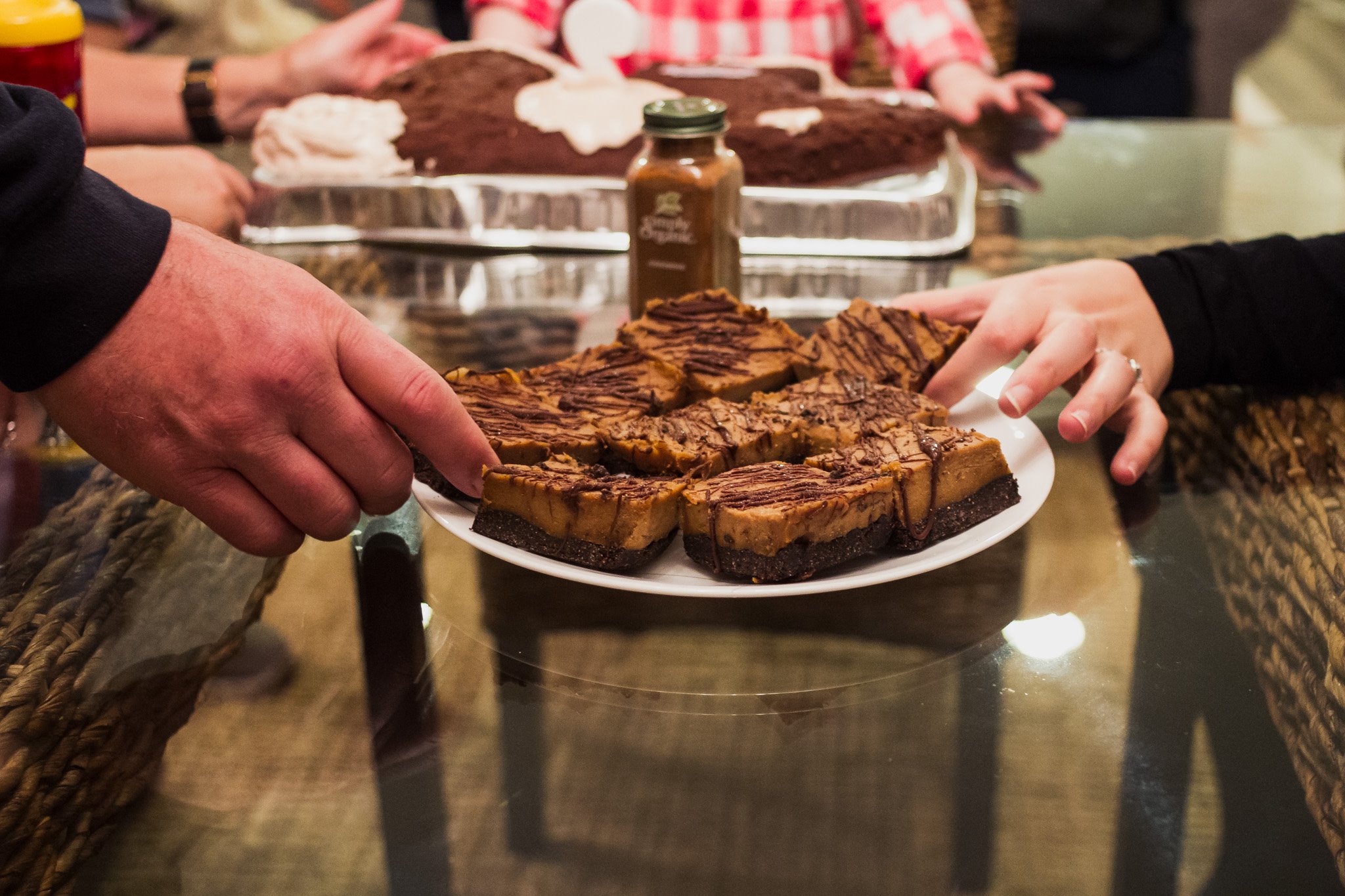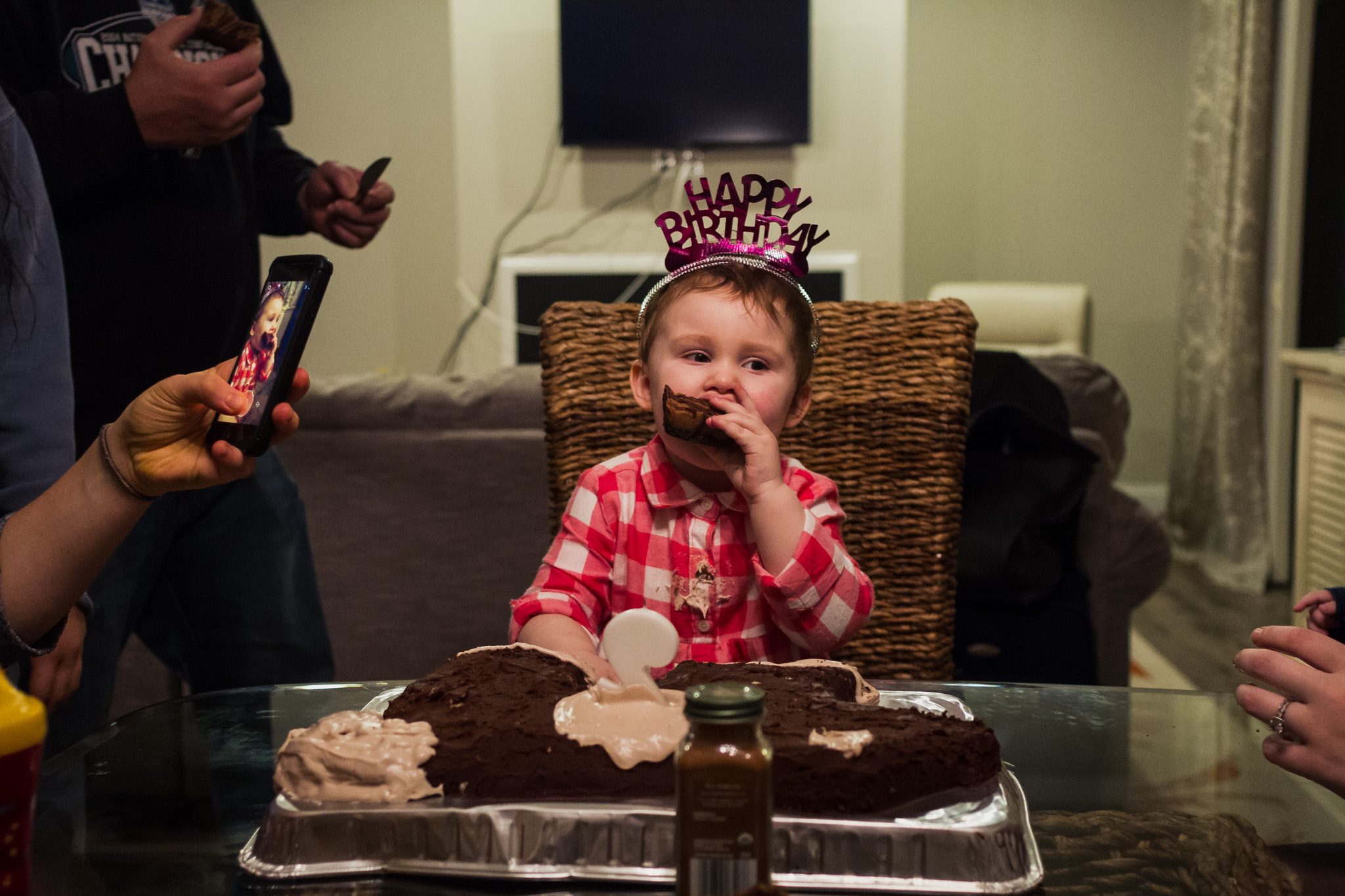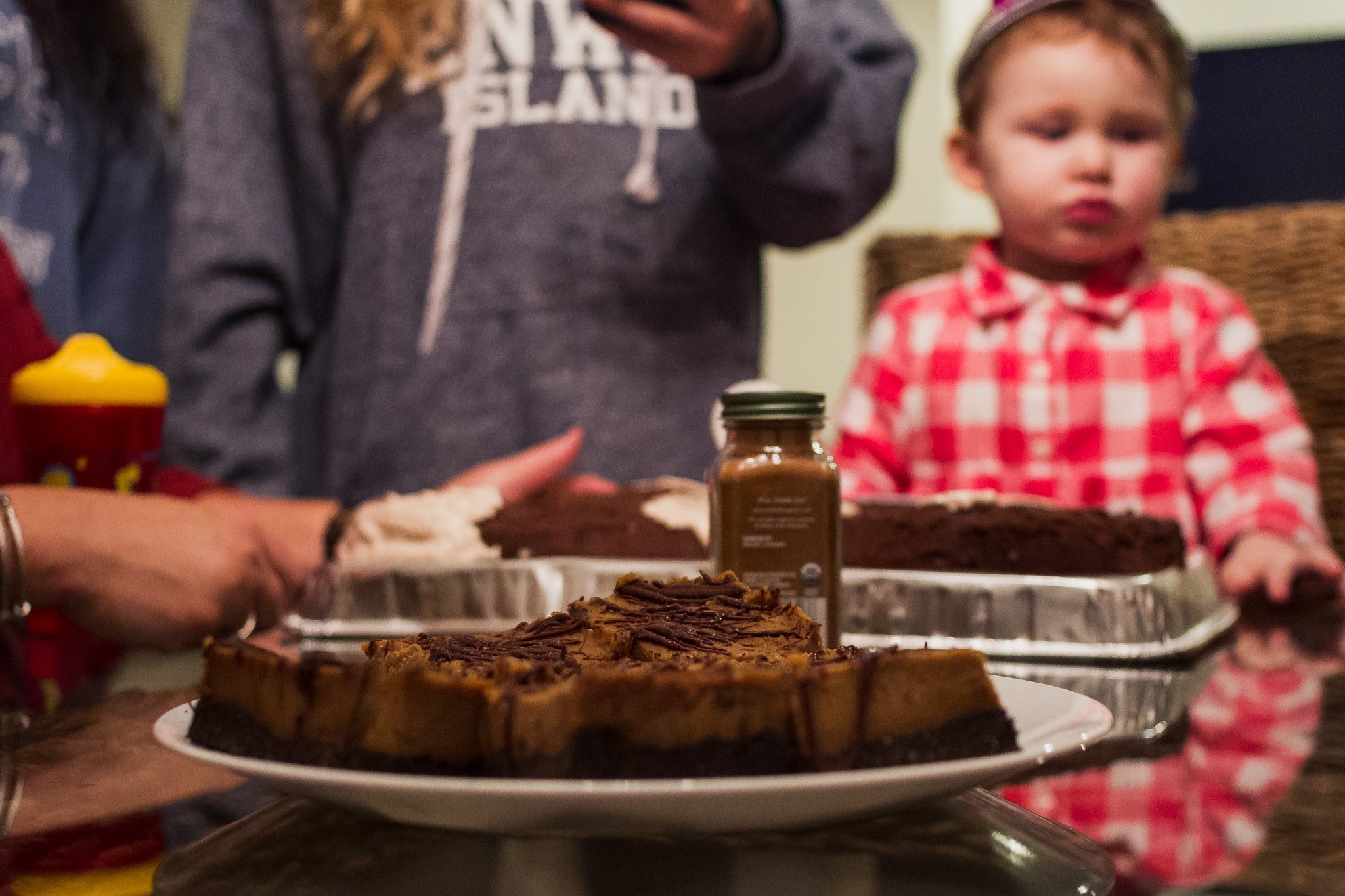 So for this year's dessert party, we created one delicious cheesecake, Raw Vegan Chocolate Gingerbread Cheesecake to be exact! Everyone (including Rachel and I!) are pretty obsessed with gingerbread everything this time of year. We have finally mastered the gingerbread flavor! The key to getting a true gingerbread flavor comes from two essential things- molasses and spices. Now, the molasses is self-explanatory, but the spice combination must be on-point to achieve the gingerbread taste. The best way to ensure that your spice combo will have the true gingerbread flavor? High-quality spices like Simply Organic. I could tell the immediate difference right away when using Simply Organic spices in place of generic brand spices! No surprise there considering Simply Organic spices are, you guessed it, organic, ethically and sustainably produced. Simply Organic is also running an awesome challenge called Cook For A Change that will donate one meal to  the Ceres Community Project Healing Meals Program for every use of #cookforachange on social media! Cook For A Change is something we love standing behind because our love for cooking has changed our lives! What a blessing it is to give back through our favorite hobby 🙂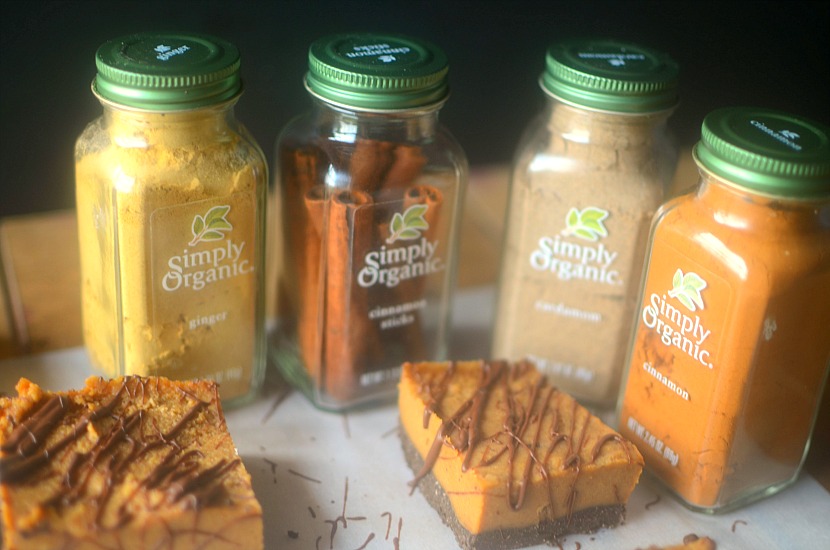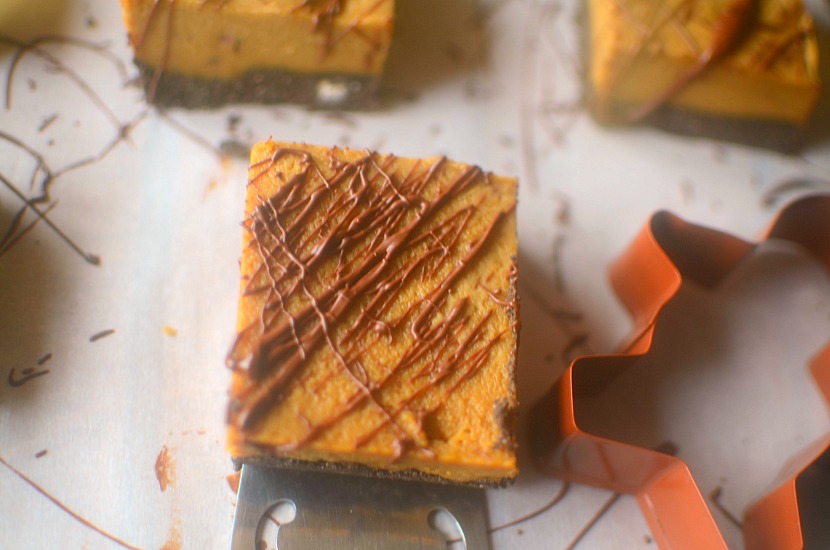 Now for the ingredients that make up this delicious Gingerbread Cheesecake!
Coconut Flour
Cocoa powder
Coconut oil
Maple syrup
Vanilla extract
Cashews 
Molasses
Homemade spice blend
Chocolate chips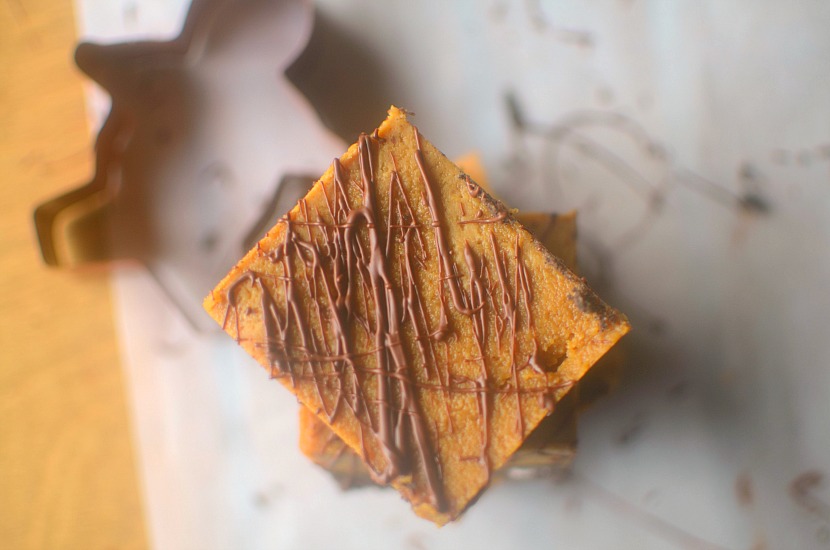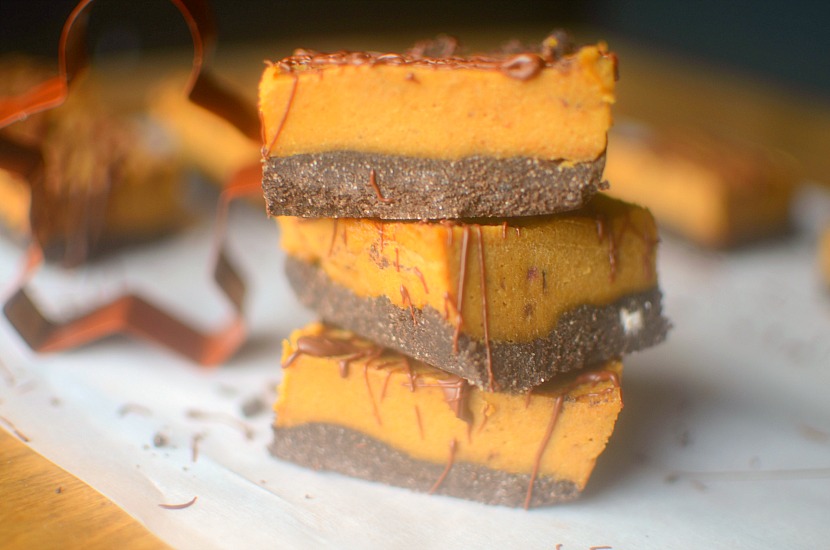 You and your family will go crazy over this delicious Chocolate Gingerbread Cheesecake, whether you have a dessert party or give it as a gift, it will certainly be enjoyed! You would never guess that it's completely made from raw ingredients, vegan and paleo friendly! Enjoy!
Raw Vegan Chocolate Gingerbread Cheesecake
Ingredients
Instructions
Line an 8x8 pan with parchment paper.
Combine all ingredients for crust in a bowl. Press evenly into bottom of pan and set aside while making the filling.
Add cashews in food processor/blender and process until creamy. Add in , melted coconut oil, molasses, vanilla , and all spices and combine well.
Take filling out of food processor and pread filling evenly on crust and place in freezer for at least an hour
Slice into 9 bars. Drizzle dark chocolate on top, if desired.
Enjoy!
*Crust based off of A Saucy Kitchen
http://athleticavocado.com/2017/12/05/raw-vegan-chocolate-gingerbread-cheesecake/
Like This Recipe? Pin For Later!

Check Out These Recipes!