In a breakfast rut? Try this healthy Hash brown Waffle Egg Sandwich with Avocado! It's 
                                         paleo-friendly, gluten-free and grain-free!

The Recipe Redux Challenge this month was " New Ingredient for a New Year." It may come as a 
shock to many of you, but I don't think I have ever made a breakfast sandwich for myself, so to me, 
making a breakfast sandwich with a hash brown waffle is totally new to me.

To be honest, I'm not really a sandwich person. If I had the choice of eating a waffle or an egg sandwich for breakfast, the waffle would win by a landslide. Now I'm not really sure why, but bread does nothing for me. It's bland and doesn't excite my taste buds. With that being said, I really do like the insides of a breakfast sandwich; the drippy egg, the crispy bacon and the classic add-ons like 
tomatoes and of course, avocado. 
So this bread dilemma got me thinking.  I'm a huge fan of anything to do with potatoes and I make them quite often for breakfast.  I've been seeing these hash brown waffles all over pinterest, and decided to give them a try.  I adapted the recipe from this one, and was incredibly pleased how they turned out.  But my excitement didn't stop right there.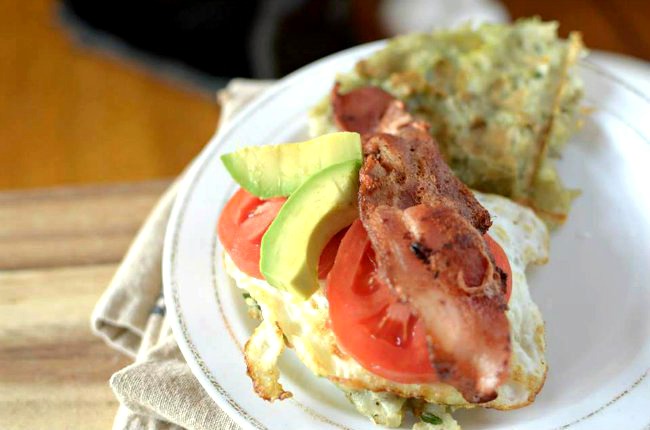 I preceded to improve my original idea with creating the ultimate bread-less breakfast sandwich.  Like seriously, the bread is no match to these crispy hash brown waffles.  You can say BYEE FELICIA to your sandwich bread and make these waffles instead.  There is no need for bread ever again on a breakfast sandwich!  You might as well just use the hashtag #changingtheworldonehashbrownwaffleatatime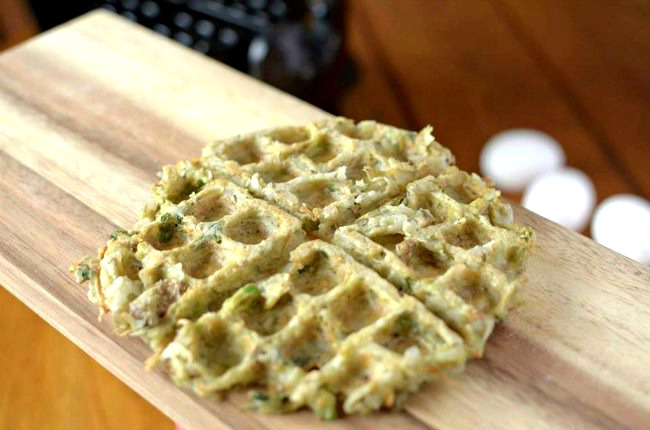 Hash Brown Waffle Breakfast Sandwich with Avocado
Ingredients
WAFFLES
1 medium potato, shredded and peeled (about 1 1/4 cup)
1/4 cup fresh chopped rosemary
1 egg, beaten
1 Tbsp. mashed avocado
salt and pepper
ADD ONS
3 eggs, fried in coconut oil|
3 slices bacon fried in coconut oil
sliced tomatoes
sliced avocado
Instructions
Combine all ingredients for waffles in a bowl. Spray waffle iron with cooking spray and heat. Once heated,evenly spread potato mixture around the waffle maker. Close and cook until the potatoes are crispy and brown, about 7-10 minutes. Repeat with remaining mixture.
Let waffles cool. If waffles are square, slice in half. If waffles are larger and round (this is the kind of waffle make I have) slice in quarters.
For square waffles, top one half with fried egg, bacon, tomato and avocado slices. For round waffles, top a quarter with toppings and place other quarter on top to make a sandwich. Repeat for remaining waffles.
Enjoy!
*I made 3 sandwiches by using 1 1/2 waffles made in my round waffle maker (6 quarters)
http://athleticavocado.com/2016/01/20/avocado-bacon-egg-hash-brown-waffle-sandwich/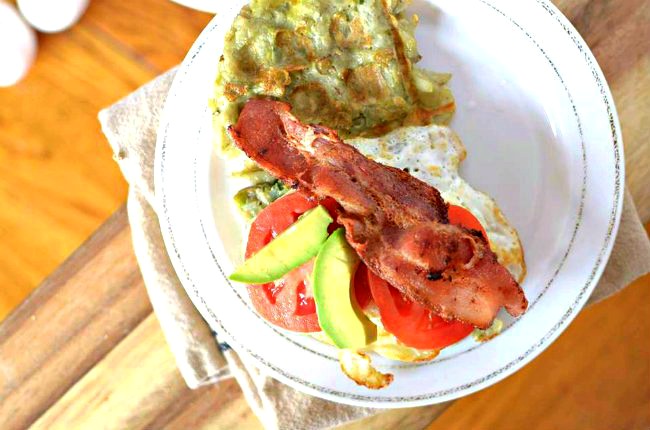 You may also like these recipes:
Tofu "Egg" Muffins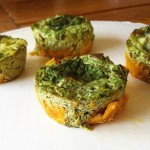 Paleo Mexican Breakfast Hash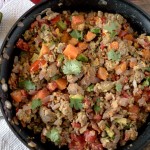 Pin for Later!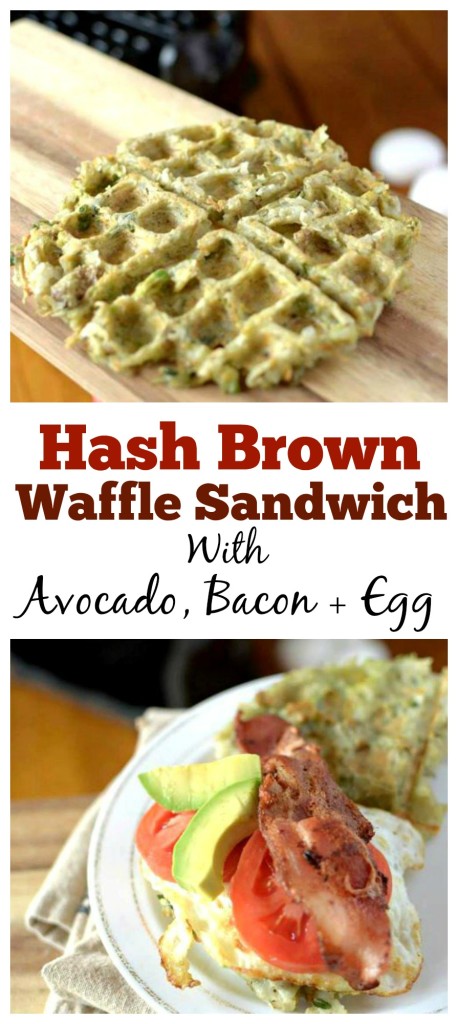 Have you ever made a waffle hash brown?

What's your favorite add-ins for a breakfast sandwich?
Linking up with Laura!