Have your cake and eat it too, for breakfast!  These Paleo and Vegan German Chocolate Cake Breakfast Bars are super simple to make and are the perfect grab n' go breakfast!
After seeing how popular my recipe for Paleo Pumpkin Coconut Breakfast Bars were, I was itching' to make another variation that involved chocolate.  Chocolate pumpkin breakfast bars?  Nah, too generic.  German Chocolate Cake Breakfast Bars?  YES!  Because when ever you can have cake and chocolate for breakky you know its gonna be a good day, thats a known fact.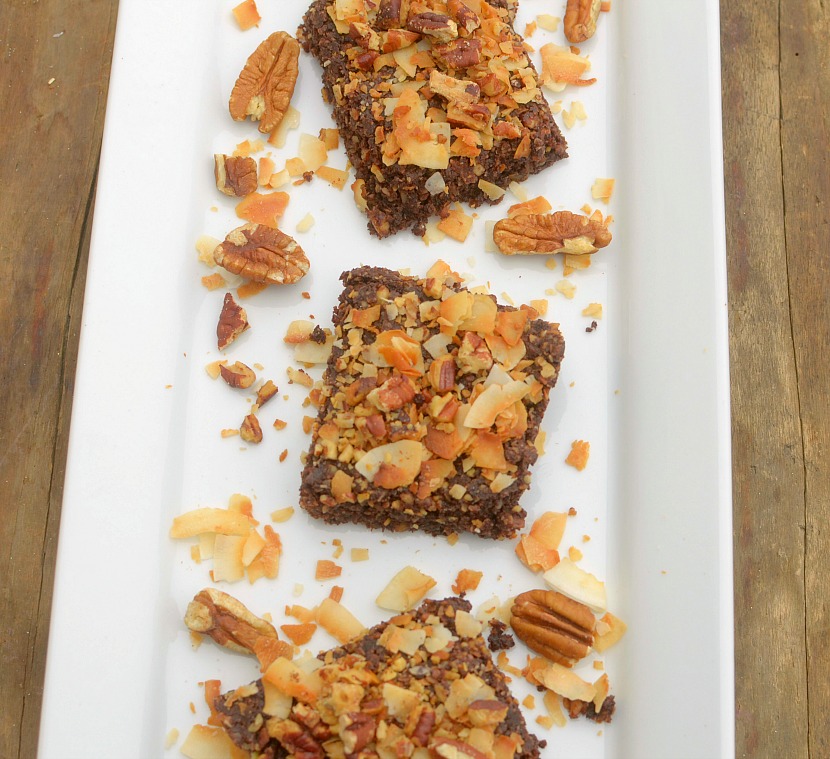 And when you make these ahead of time, you can grab em and go on with your day, aka you can eat cake on the run.  Just a heads up, your co-workers might be a little jelly that you can enjoy a delicious breakfast while they starve because they didn't have time to make breakfast.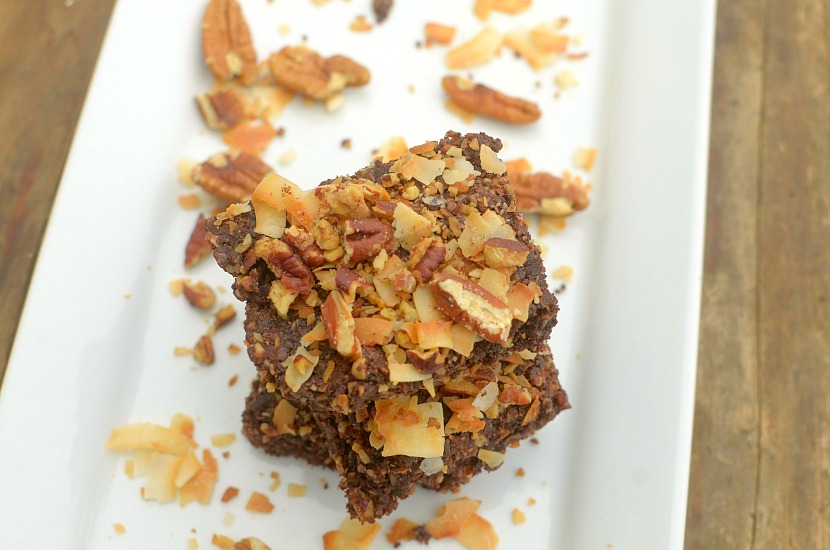 And your co workers will judge you for a quick second because they'll think you are eating something full of sugar and crappy ingredients.  But when you tell them that what your eating is perfectly healthy and full of nutritious ingredients, their jaws will drop with jealousy.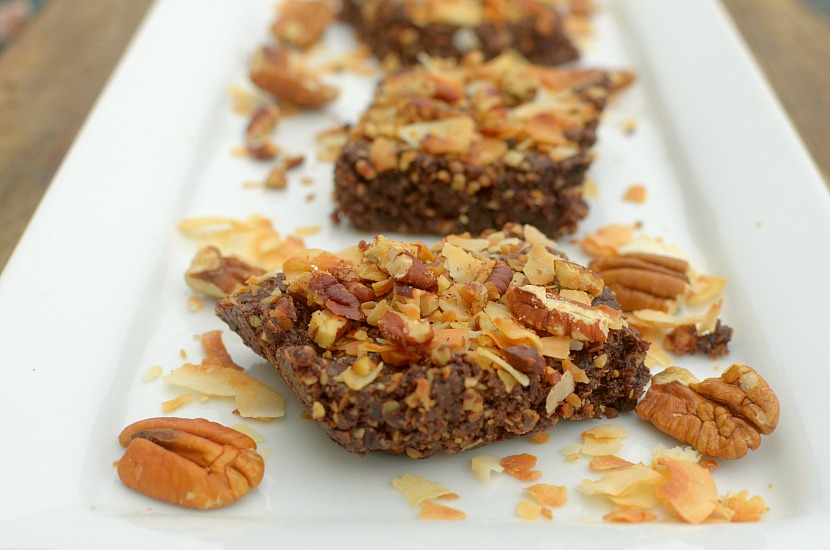 Seriously these bars are the perfect grab n' go breakfast for when you need to start your day with chocolate but don't want a sugar crash.  Did I mention that these guys don't contain any sugar?  Yep, NONE!  Not even refined sugar!  They don't need it because the banana naturally sweetens them!
It tastes like your eating dessert for breakfast, but your actually fueling your body with nutrients!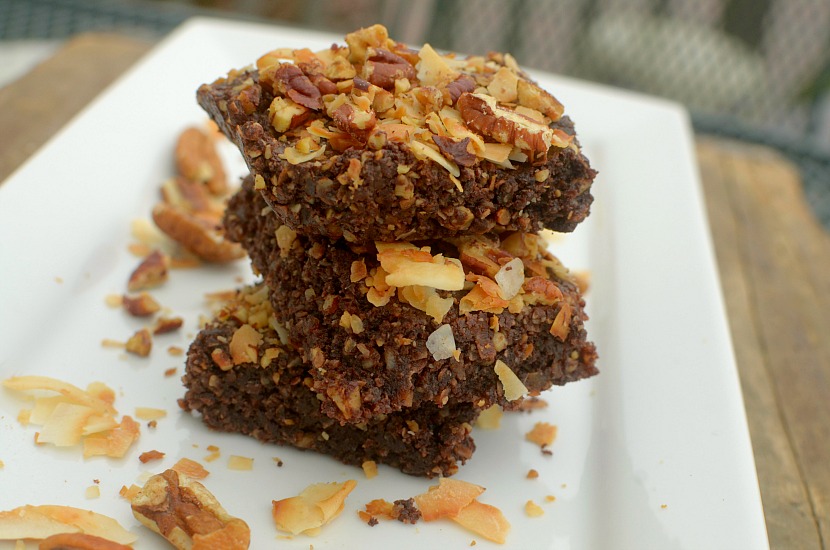 You're welcome.
German Chocolate Cake Breakfast Bars
Ingredients
2 cups pecans
11/2 cups flaked unsweetened coconut
1/2 cup almond butter or coconut butter
1 banana, mashed (you can also sub in 1/2 cup applesauce or pumpkin)
2 Tbsp. cocoa powder
1 Tbsp. coconut oil, melted
1/4 tsp. pure vanilla extract
Instructions
Preheat oven to 350 degrees.
Place pecans and coconut on a cooking sheet and place in oven for 15 minutes, or until slightly toasted. Set aside 1/2 cup of pecans and 1/2 cup coconut for topping.
Add pecans and coconut to a food processor and process until it is a flour or meal-like texture. Add to a large bowl.
In a small bowl combine almond butter, banana, cocoa powder, coconut oil and vanilla. Add to pecan-coconut mixture and mix well.
Use your hands to mix all ingredients together well.
Spray cooking spray (or use parchment paper) in a large loaf pan and transfer the mixture to pan and use a spatula to smooth out. Sprinkle on remaining pecans and coconut
Bake for 25 minutes, or until golden brown.
Let cool and slice into about 8 bars.
Adapted from my Pumpkin Coconut Breakfast Bars
http://athleticavocado.com/2016/01/07/german-chocolate-cake-breakfast-bars/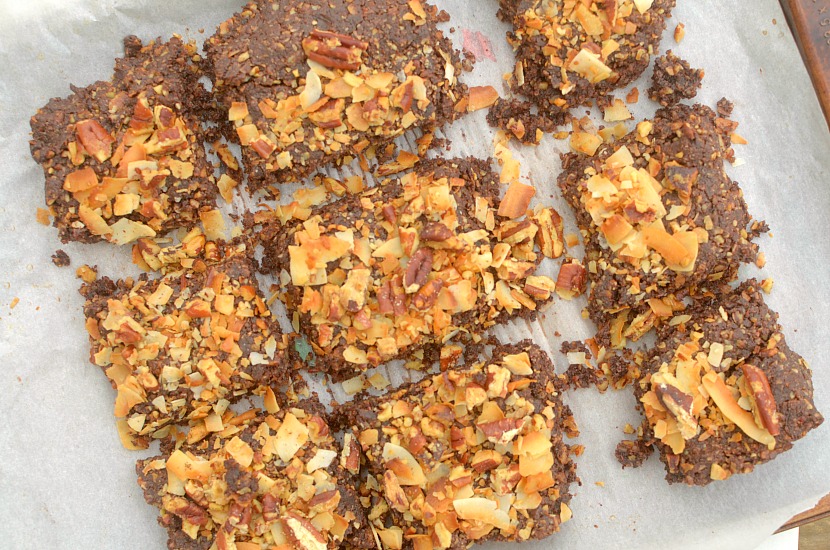 [Tweet "#paleo and #sugarfree German Chocolate Cake Breakfast Bars! Could breakfast get any better than this? NOPE!"]
Pin for Later!

German Chocolate Cake for Breakfast? Yay or Nay?