The classic breakfast muffin overtop of the classic summer dessert, aka heaven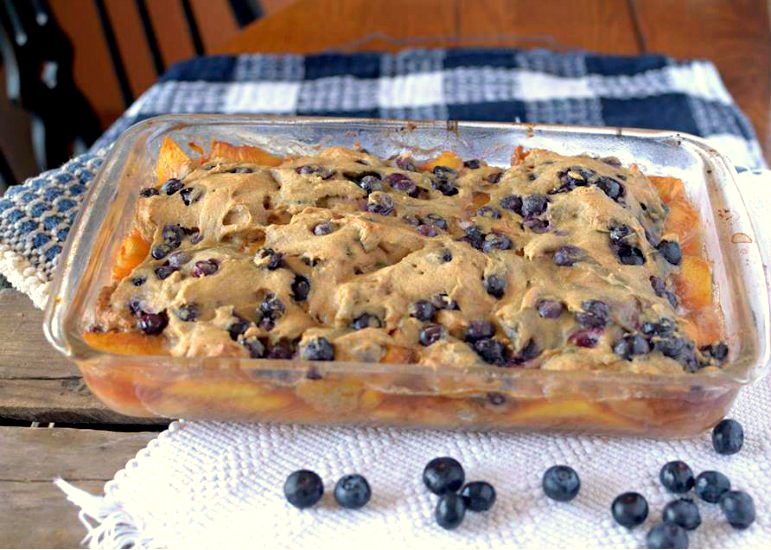 You know that one food that everyone in the whole universe loves?  I'm pretty sure that food is blueberry muffins.  My theory is that if you don't like blueberry muffins you probably don't have a soul, I think people would agree that thats pretty accurate.  Who can resist the fluffy sweet breakfast pastries that taste like unfrosted cupcakes?  Not I, thats fo sho.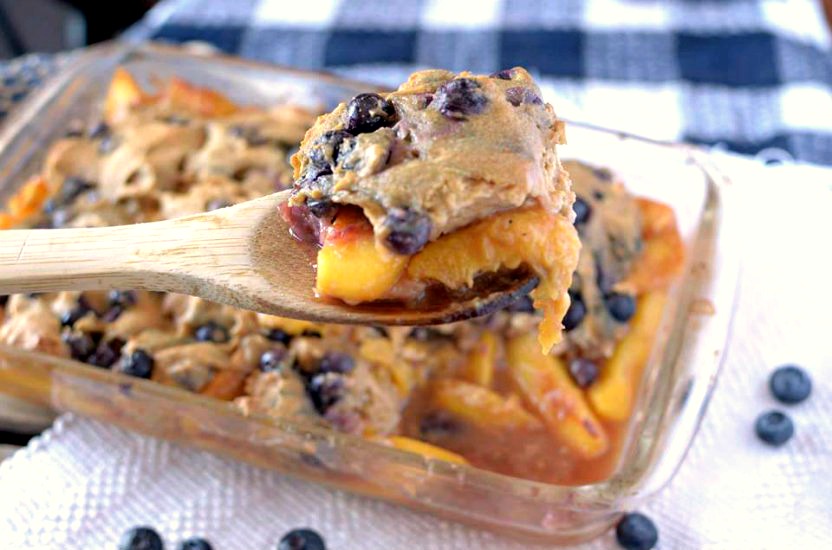 When my mom asked me to make a  fruity dessert for an upcoming bridal shower I gleamed with excitement.  I knew right then and there that I was gonna make a bomb dot com peach cobbler with a blueberry muffin topping.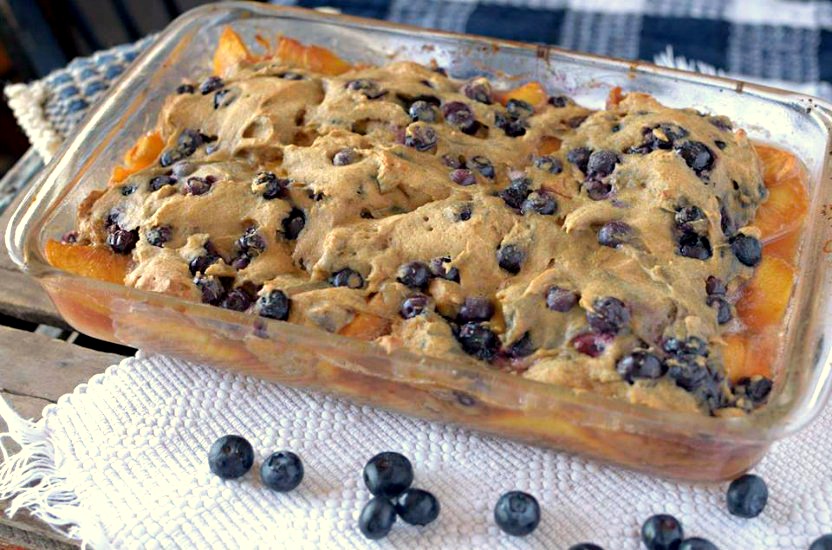 Why a blueberry muffin topping you ask?  Because everyone who has a soul and their mother  loves peach cobbler and blueberry muffins.  So add the two together and you got the most perfect dessert known to man-kind!  Oh and did I mention that this dessert is not only gluten-free but pretty much guilt-free?  Yup, another reason why you need to make this asap!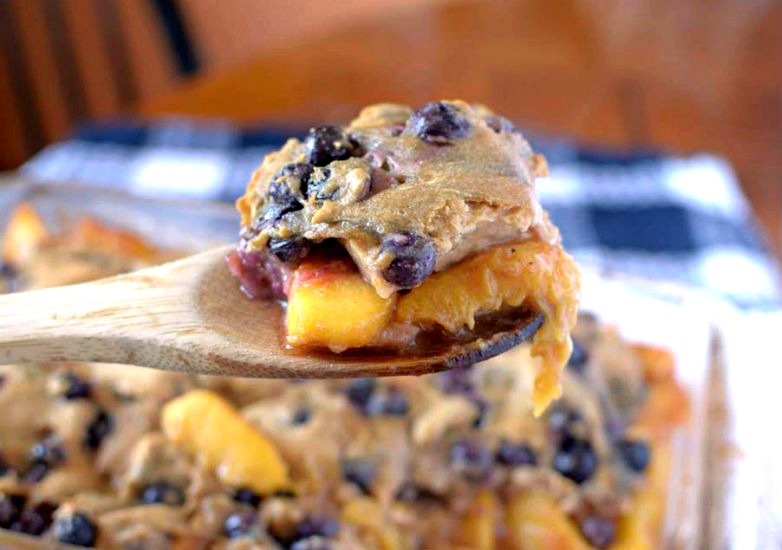 Gluten-free Blueberry Muffin Peach Cobbler (serves 8)
Ingredients
Cobbler:
1/2 cup coconut sugar
2 tsp. baking powder
1/8 tsp. cinnamon
1 egg, beaten (or flax egg for vegan option)
1/3 cup almond milk
2 Tbsp. coconut oil, melted
1/4 tsp. vanilla extract
1 cup blueberries
Peaches:
6 cups sliced peaches (about 8 peaches peeled)
3 Tbsp. coconut sugar
1/2 tsp. cinnamon
1 Tbsp. lemon juice
Instructions
Preheat oven to 350 degrees.
In a large bowl combine flour, sugar, baking powder and cinnamon.
In a separate bowl whisk together egg, milk, coconut oil and vanilla. Add to flour mixture and mix well.
Add in blueberries.
In a separate bowl combine sliced peaches with coconut sugar, cinnamon and lemon juice. Mix Well.
Place peaches in a glass pan sprayed with cooking spray. Add blueberry muffin batter on top.
Bake for 35-40 minutes, or until top is golden.
Enjoy!
Blueberry Muffin Recipe adapted from this recipe
http://athleticavocado.com/2015/08/02/gluten-free-blueberry-muffin-peach-cobbler/
[Tweet " This #Glutenfree Blueberry Muffin Peach Cobbler is the bomb.com! Try it now!"]
Linking up with Tina Muir and Confessions of a Mother Runner for Meatless Mondays