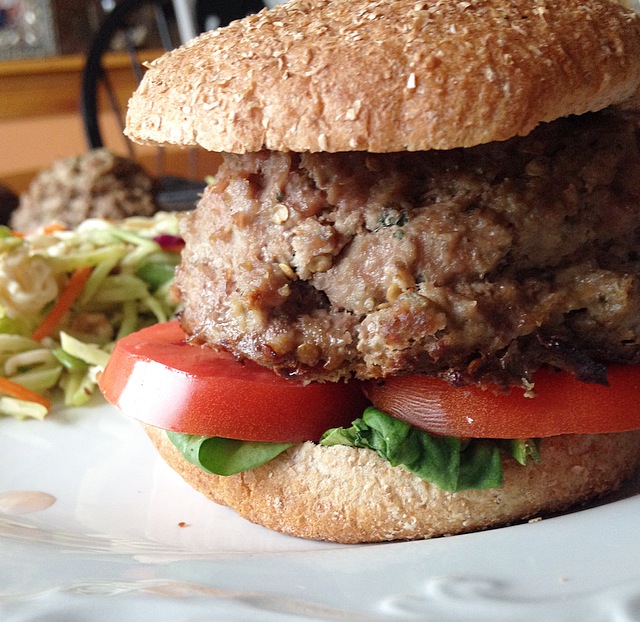 I love a good juicy burger for dinner.  I found that mixing in certain veggies like zucchini and carrot lend a moist and irrestable texture thats got me begging for another burger. This time instead of adding the usual zucchini, I experimented with eggplant.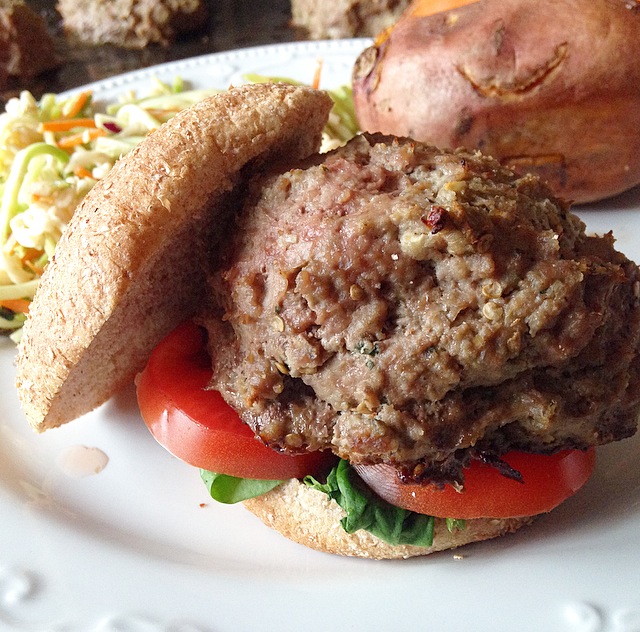 When baked, eggplant is moist and has a squishy texture (I know that doesn't sound appealing, but I don't have another word for it).  When pureed with tahini, basil, garlic, lemon and sea salt, it creates a smooth tasty dip that is hummus-like but better.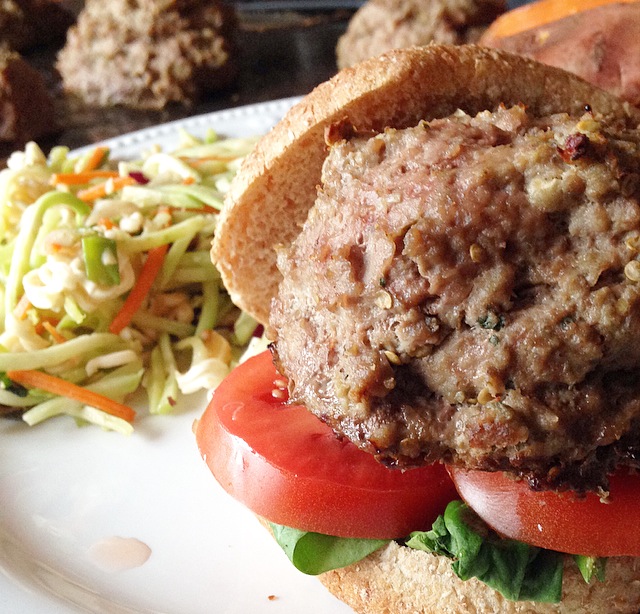 These burgers are moist, juicy and tender and they take the idea of a tasty burger to a whole new level!  This may be your new favorite burger recipe!
Baba Ghanoush Turkey Burgers

Ingredients

1 medium eggplant, peeled and sliced
2 Tbsp. tahini
1/4 cup fresh basil, chopped
2 cloves garlic, finely chopped
1 Tbsp. lemon juice
1/4 tsp. sea salt
1 lb of ground turkey

Instructions

Preheat oven to 350 degrees.
Place slices of eggplant on a cooking sheet sprayed with cooking spray. Drizzle a little olive oil over each slice. Bake for 30 minutes. Let cool.
In a food processor, combine all ingredients excluding ground turkey. Blend until well combined.
Place ground turkey in a large bowl and add baba ganoush. Mix together until well combined and form into patties.
Bake for 35 minutes, or until burgers are done.
*Baba Ganoush recipe from Minimalist Baker

http://athleticavocado.com/2015/06/22/baba-ghanoush-turkey-burgers/
Linking up with Sprint to the Table for #strangebutgood