Crispy and flavorful Pretzel Parmesan Avocado Fries will be a huge standout at your next holiday party!  Super simple to make and gluten-free!
Can you believe that the name of this blog is Athletic Avocado and we barely have any recipes that contain avocado?  That needs to change ASAP.  As much as I love avocado, I have a really hard time making my own recipes with it because guacamole is the only thing I can think of until the idea for these avo fries came into my life.
Instead of making a dip with avocado (aka guac), I made a dipper! The result is a crunchy, cheesy salty coating on the outside and delicious creamy taste of avocado on the inside.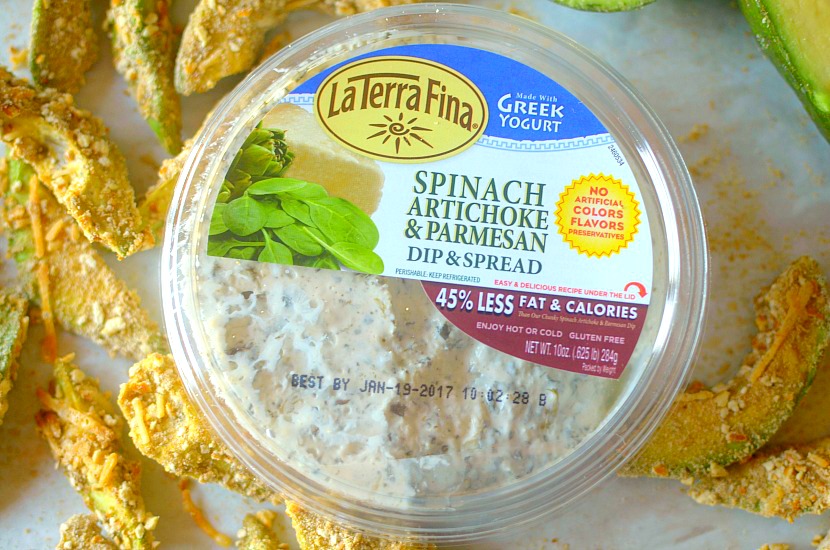 La Terra Fina provided me with their line of greek yogurt dips to help spread some holiday cheer, literally.  These dips are so flavorful with 50% less fat and fewer calories, thanks to the greek yogurt base.  On top of that,  La Terra Fina greek yogurt dips are gluten-free and have no artificial flavors or preservatives.  I used their Spinach, Artichoke & Parmesan dip for a great companionship with these ago fries.  The result is a delicious combination of flavors!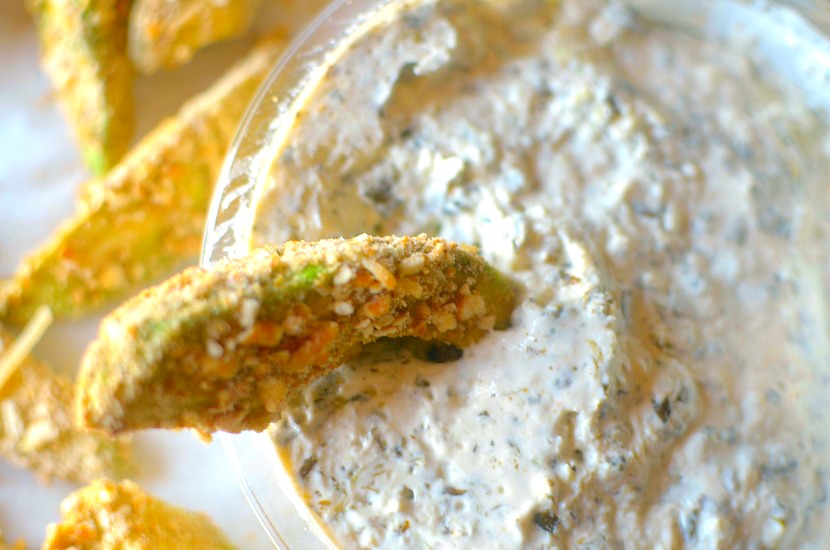 So how simple are these avocado fries?  Almost stupidly simple.  When making them, you are allowed to double dip.  I mean, technically you could also double dip when eating if no one is watching but that's not what I'm talking about.  Right now, I'm strictly explaining the technique to make these avo fries as crispy as possible without frying!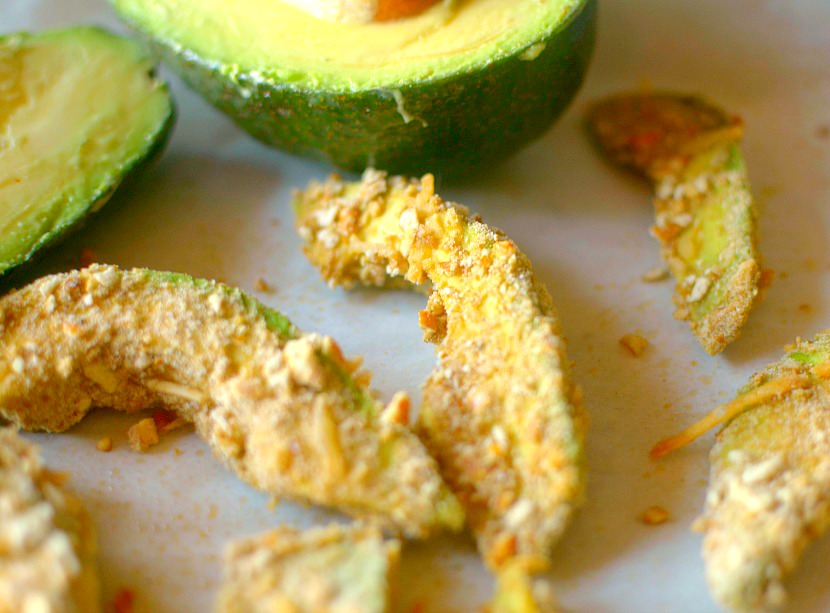 Step one:  dip avocado slice in pretzel-parm mix.
Step two: dip in egg mix.
Step three: drench in pretzel-park mix AGAIN.
Step four: bake.
Step five: eat with La Terra Fina greek yogurt dip.
Step six:  repeat (10x)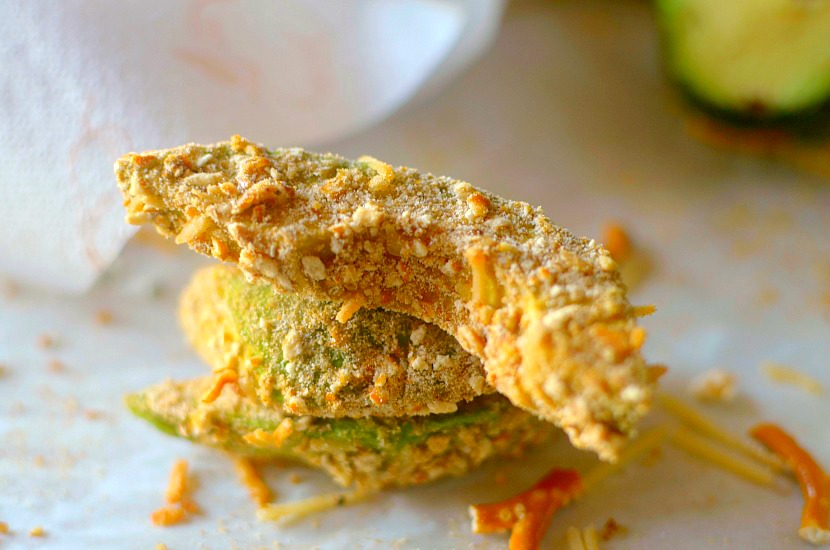 Only six simple ingredients required:
Avocado slices
Pretzels
Parmesan
Eggs
Salt
Pepper
+
La Terra Fina greek yogurt dip

Pretzel Parmesan Crusted Avocado Fries
Thick avocado slices are drenched in a crushed pretzel- parmesan mixture and baked until crispy for an tasty crowd pleasing appetizer!  Made perfectly sturdy to hold your favorite dip! Also can be gluten-free!
Pretzel Parmesan Crusted Avocado Fries
Ingredients
two avocados, ripe but still hard
2 cups of gluten-free pretzels
1/2 cup grated parmesan cheese
1 egg, beaten (sub flax egg for egg-free version)
salt and pepper
Instructions
Preheat oven to 350 degrees. Place parchment paper on a baking sheet and set aside.
Slice avocadoes in half, then in about 5-6 thick slices in each halve (about 20-24 slices total).
Place pretzels in a food processor and blend until a fine crumb. Place in a shallow bowl and mix with parmesan cheese, salt and pepper.
Beat egg with a splash of warm water in a separate shallow bowl.
Dip avocado slice first in pretzel crumbs, then in egg, then drench again in pretzel-parm mixture. Place on baking sheet lined with parchment paper. Repeat with remaining slices. Spray cooking spray overtop fries.
Bake for 25 minutes, flipping the fries at half time (12 minutes).
Serve with La Terra Fina Dip.
Enjoy!
http://athleticavocado.com/2016/12/28/pretzel-parmesan-crusted-avocado-fries/
Like This Recipe?  Pin For Later!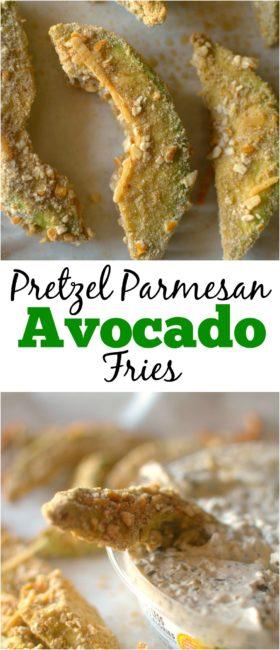 You May Also Like: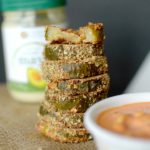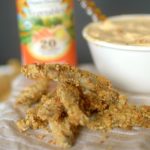 Cashew Crusted Portobello Mushroom Fries
---
Questions of the day:
Have you ever tried Avocado fries?
What is your favorite type of dip?