Low Carb Buckeye Brownie Banana Muffins are so decadent and tasty that you'd never guess they are full of fiber and have no added sugar!
Do you have a hard time cutting your sugar addiction?  Maybe all you think about is sugar because your cravings are outta whack.  I totally get you.  I have a huge sweet tooth, but I also eat plenty of fiber and  naturally sweet foods in place of white sugar.  But if you do have a hard time with sugar cravings, it may be because of the bacteria in your gut.  You see,  bad bacteria in your gut feeds on sugar, so in turn you crave more sugar.  But if you rid sugar from your body, the bad bacteria begins to starve and your cravings decrease.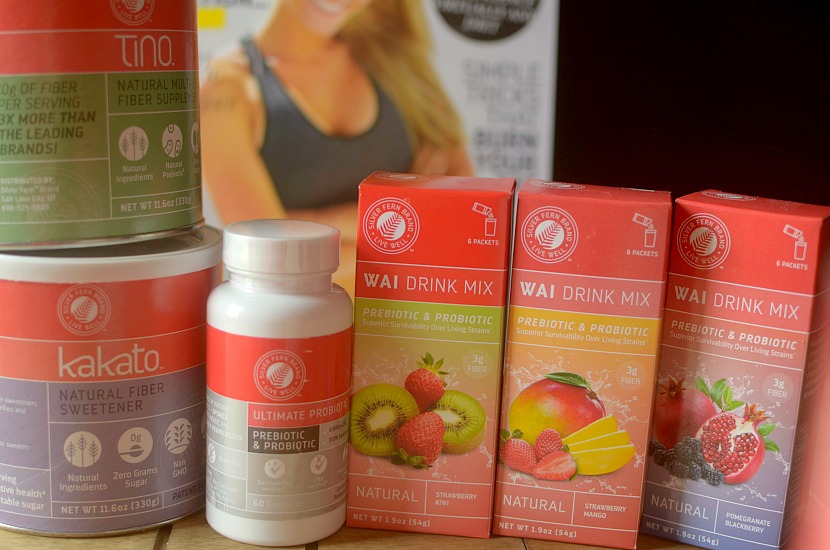 The Elevated plan from Silver Fern Brand focuses on providing your body with probiotics to modify your metabolism.  The probiotic tablets along with the Wai drink mix and fiber supplements can support the good bacteria in your gut.  So why is this beneficial?  Having more good bacteria in your body can :
increase fat burn

reduce inflammation

reduce gas production

prevent fat storage

improve satiety
You can learn more about the Elevated Plan by Silver Fern here.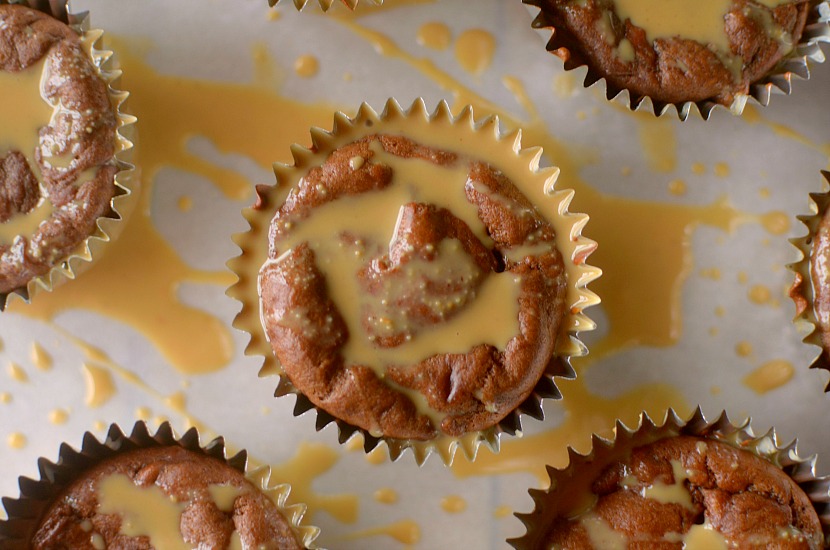 Now this doesn't mean that you cut out all the sweet stuff from your diet (that would be sad), it just means you improvise with the ingredients that you use.  For these muffins I used the Paka Double Chocolate brownie mix, which only has 2 net carbs and 3 grams of fat per serving along with 6 grams of fiber, and 0 grams of sugar.  In fact, these Buckeye Brownie Banana Muffins contain no added sugar at all. Totally expectable on the Elevated plan.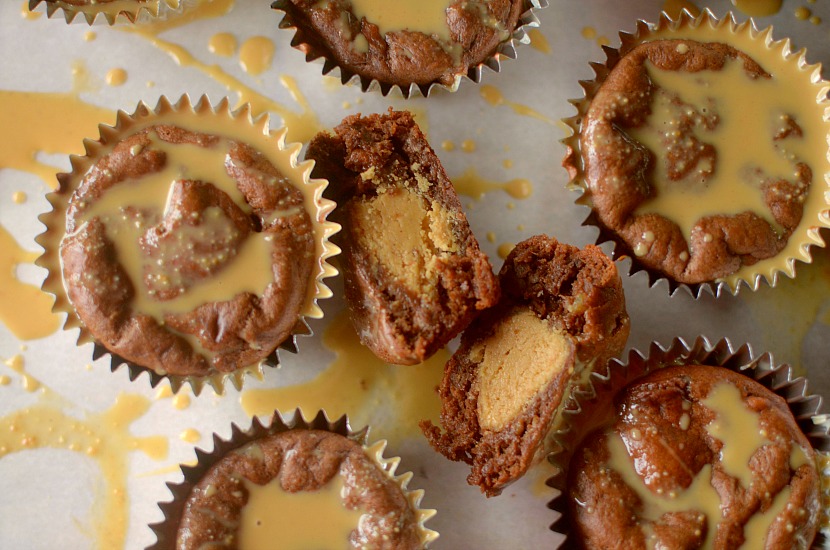 You'd never guess that these decadent brownie muffins are a great high fiber snack or even breakfast treat.  Yes, I said you can eat brownies for breakfast without having a sugar crash later.  It's your lucky day😉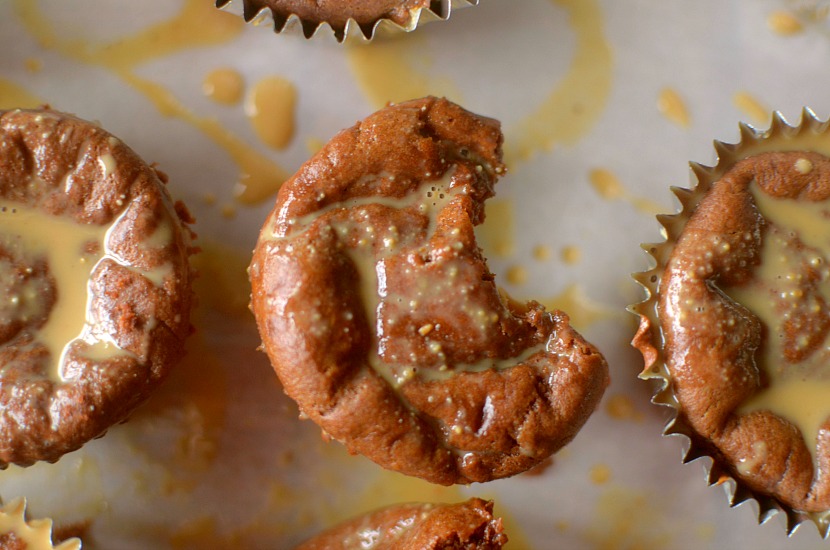 These muffins are incredibly simple to make and only require 7 ingredients:
Paka Double Chocolate Brownie Mix
Bananas
Egg
Peanut butter
Coconut flour
Almond milk
Coconut oil

Buckeye Brownie Banana Muffins
Only 7 ingredients are needed to create these decadent muffins that will satisfy your sweet tooth.  You'd never guess that they are low carb and contain no added sugar!  Perfect for those who are trying to beat their sweet cravings without sacrificing dessert!
Low Carb Buckeye Brownie Banana Muffins
Ingredients
1 (11.5 oz) box low carb double chocolate brownie mix
2 ripe bananas, mashed
1 egg, beaten (sub flax egg for egg-free version)
1/4 cup non-dairy milk
1/2 cup natural peanut butter
6 Tbsp. coconut flour
Glaze:
2 Tbsp. natural peanut butter
2 Tbsp. melted coconut oil
Instructions
Preheat oven to 350 degrees.
Whisk together mashed banana, egg and almond milk. PLace brownie mix in a large bowl and mix in wet ingredients to form a batter.
In a separate bowl, mix together peanut butter and coconut flour. Form into a dough, then roll into about 12-16 separate little balls.
Place muffin liners inside about 12 slots in a muffin tin. Spoon batter until slot is 1/3 full, add peanut butter ball, then spoon more batter over top. Make sure to smooth out the batter. Repeat until all batter is used up.
Bake for about 20 minutes, or until muffins are done.
To make glaze, peanut butter and coconut oil and drizzle over muffins.
Enjoy!
http://athleticavocado.com/2017/01/08/low-carb-buckeye-brownie-banana-muffins-break-your-sugar-addiction/
Like This Recipe?  Pin For Later!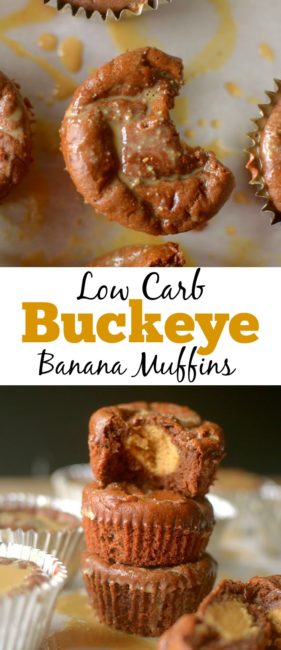 You May Also Like: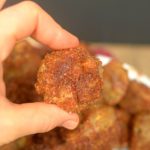 Apple Chai Donut Muffins { Paleo + Vegan}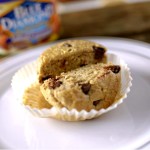 Flourless Salted Carmel Muffins {Paleo + Vegan}