This Healthy Banana Bread Fruit Pizza is a delicious dessert, breakfast or snack! It has a banana bread-like crust and is topped with a strawberry cream cheese frosting, fruit, nuts and chocolate. It is completely gluten-free, paleo and has a vegan option!
*Pictures updated 5/31/2017*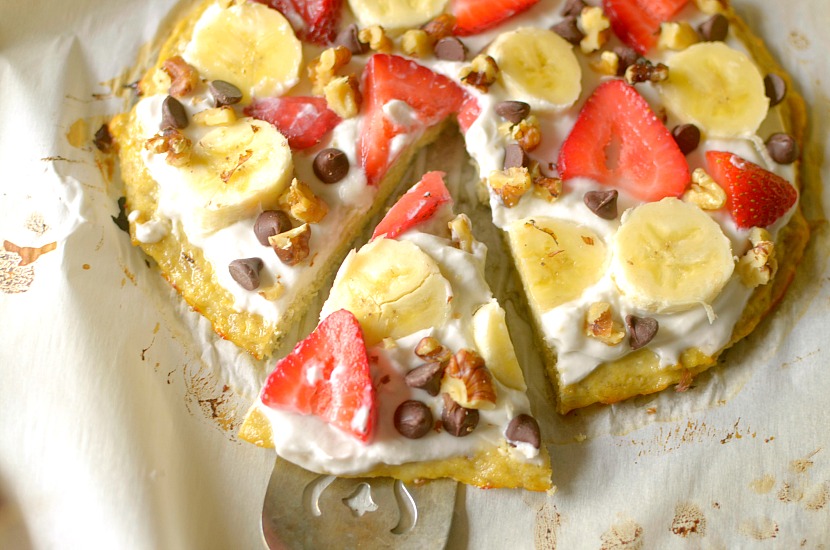 Can you believe that we started Athletic Avocado two years ago?  It seems like yesterday when we were writing our first post.  God has blessed us with this blog and we are so thankful for all the support you guys have given us! Athletic Avocado would not exist if it weren't for awesome readers like YOU! We also recently just celebrated our 21st birthday, so of course we had to make something real good for ya.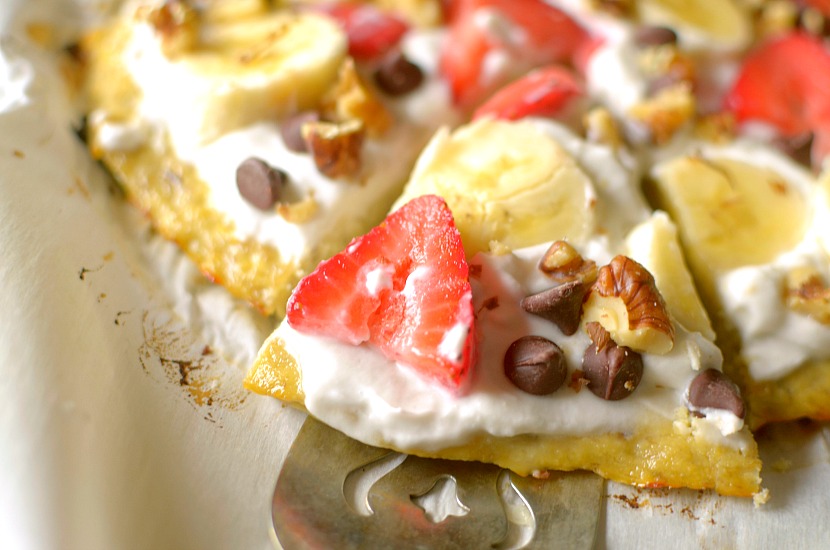 This banana bread fruit pizza screams "Athletic Avocado."  If you have been following us for awhile, you know sweet pizzas are kinda our thing.  From zucchini to pumpkin bread to apple pie to peach pie to strawberry lemon, we've done it all. Or so we thought.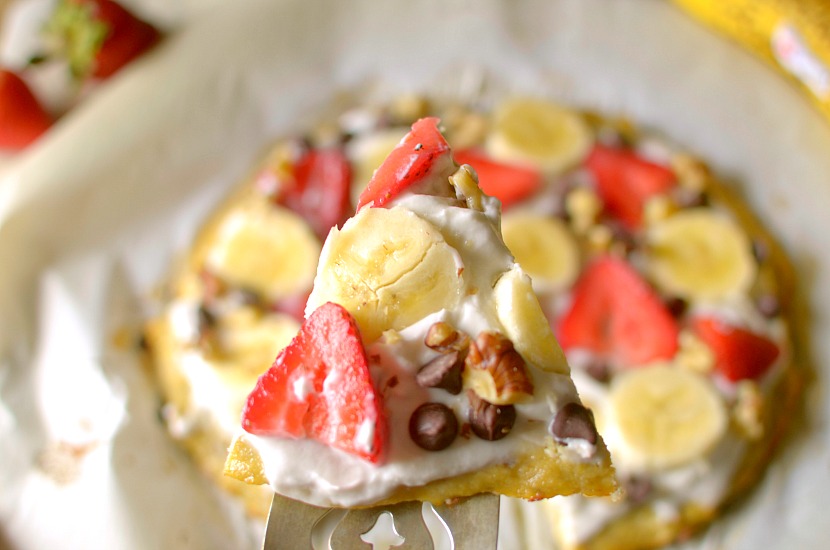 We were figuring out what to make for the blogiversary, and it hit us that we have never made a banana bread version of our favorite kind of recipe. Like how did we miss that? Banana bread is the BEST kind of bread ever? #amirightoramright? So of course we had to make this banana bread version and top it will ALL the toppings for this special celebration! This is actually our favorite breakfast/dessert pizza of all-time, well so far anyways…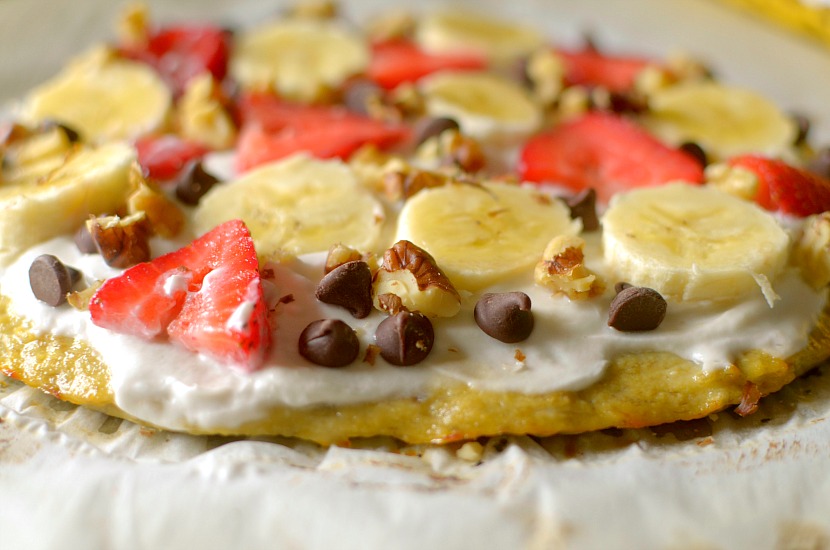 Unlike the other sweet pizzas we've made, this one serves 2, not 1 but it's a GIANT serving for two people, so more pizza=more fun. You can honestly eat it for any meal because it's that good and good for ya. We split it for our birthday breakfast but wished that we made another one for that day because we loved it so much and wanted it for dessert.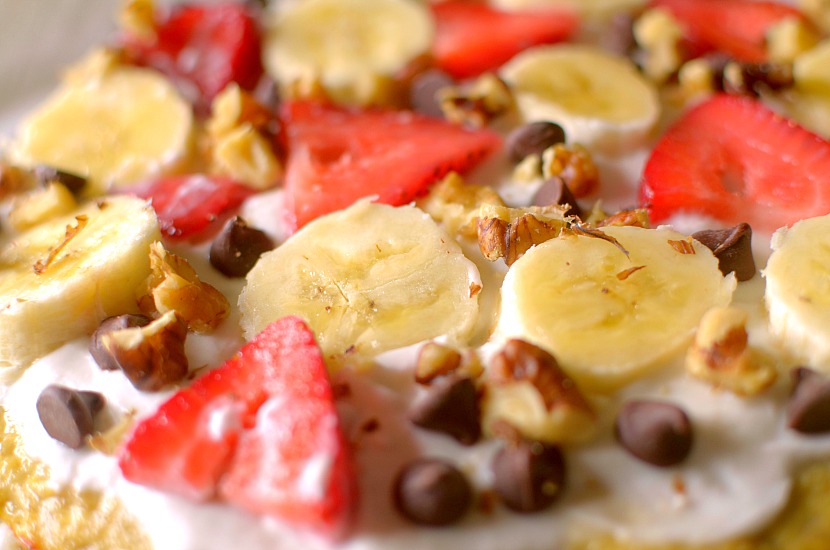 This Pizza's got three fantastic layers that will make you swoon:
Banana Bread crust made with coconut flour
Strawberry cream cheese frosting
Toppings consisting of sliced fruit, nuts and CHOCOLATE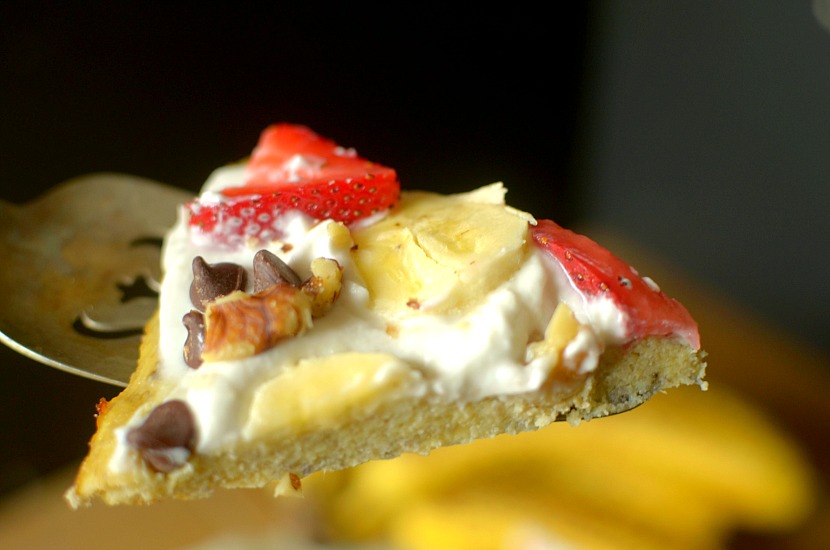 This Healthy Banana Bread Fruit Pizza is completely paleo, gluten-free and can be made vegan by using a flax egg. So just make this because banana bread + pizza = The BEST thing ever created <3
Ingredients
2 bananas, mashed
2 eggs, beaten (sub 2 flax eggs for vegan option)
1 Tbsp. pure maple syrup
1/4 tsp. vanilla extract
1/4 cup coconut flour
1/8 tsp. cinnamon
Frosting:
1 cup cream cheese (can be vegan), softened
2 Tbsp. pure maple syrup
1/4 tsp. vanilla
1/2 cup freeze dried strawberries
Toppings:
Nuts
Fruit
Chocolate
Instructions
Preheat oven to 350 degrees.
In a large bowl, mix together banana, eggs, maple syrup and vanilla until mixture is smooth. Add in coconut flour and cinnamon and mix well.
Spread mixture into a crust shape on a cooking sheet lined with parchment paper.
Bake for 25 minutes, or until done. Let cool.
Add freeze dried strawberries to a food processor and blend until a powder forms. Add to remaining ingredients for frosting and mix well.
Once crust is cooled spread on frosting and top with toppings.
Slice and enjoy!
http://athleticavocado.com/2016/05/29/banana-bread-fruit-pizza/
Like This Recipe? Pin For Later!!!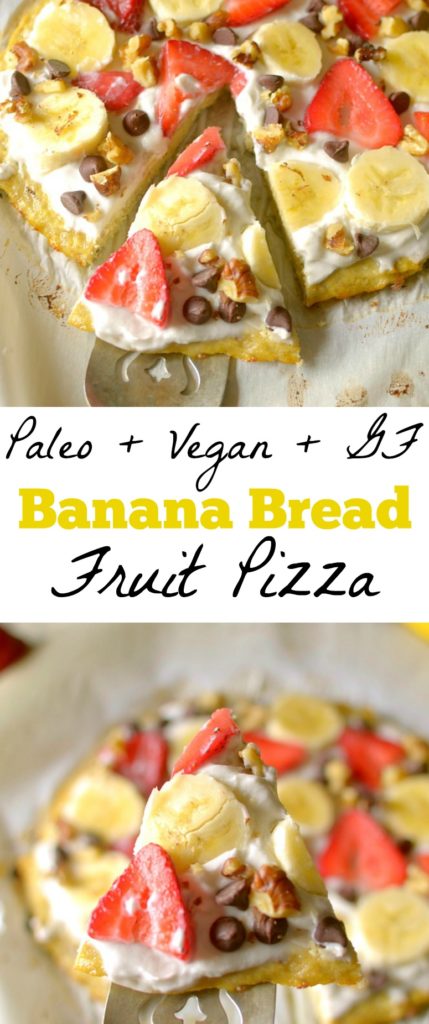 Looking for more Fruit Pizzas?  Check these out: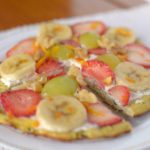 Zucchini Bread Breakfast Pizza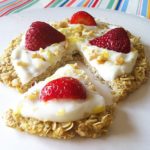 Strawberry Lemon Cream Pie Breakfast Pizza
Have you ever made a breakfast/dessert pizza?

Any questions for us?