This Spicy Cinnamon Blackened Salmon with Pumpkin-Cranberry Salsa is the perfect fall dinner!
Excitement cannot even describe the way I'm feeling about sharing this recipe today.  You know why?  Cause I feel like a genius and that doesn't happen very often!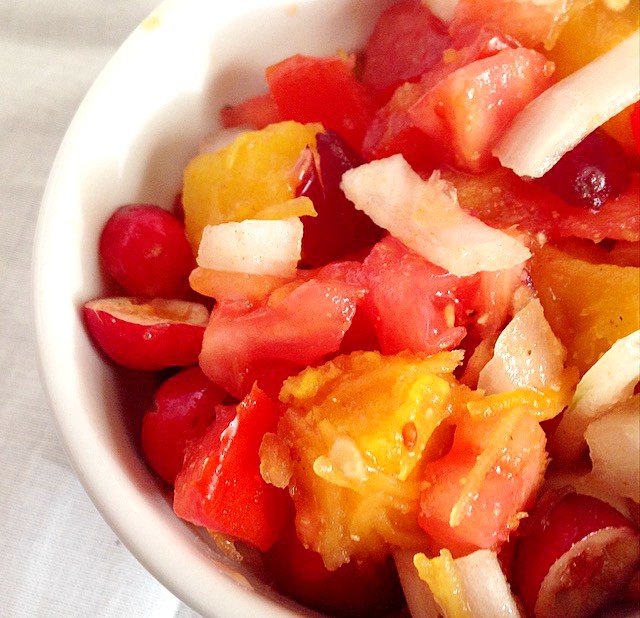 So we all know that its not a secrets that I'm a lover of all things pumpkin!  I eat that stuff even before fall (its a four season deal for me).  While I usually make sweet recipes with the golden squash, I made a u-turn with this recipe.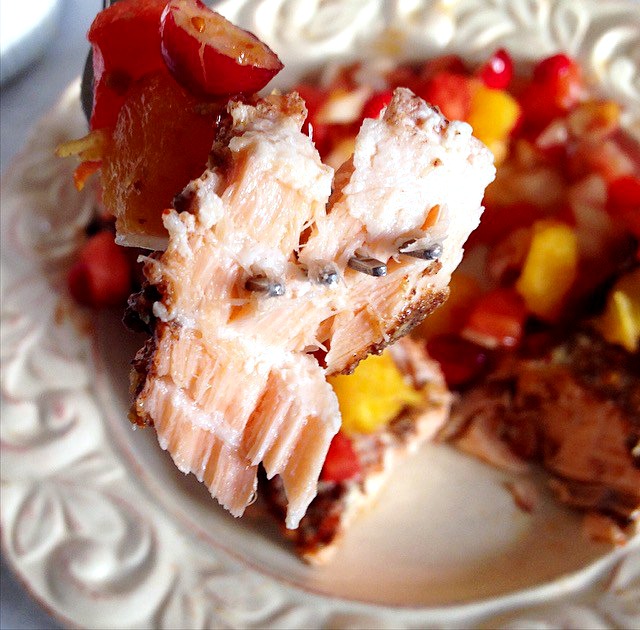 You see, as I was laying in bed trying to go back to sleep on Saturday trying to make myself sleep in (which didn't work btw, I woke up at 7:30) I started to brainstorm about recipes that I could make with pumpkin.  
I started having flash backs of the awesome blackened salmon dishes I had in the summer with mango salsa.  The idea struck my mind that I should make a fall-inspired salmon recipe to recreate my favorite summer dinner!  My idea was pretty successful to say the least.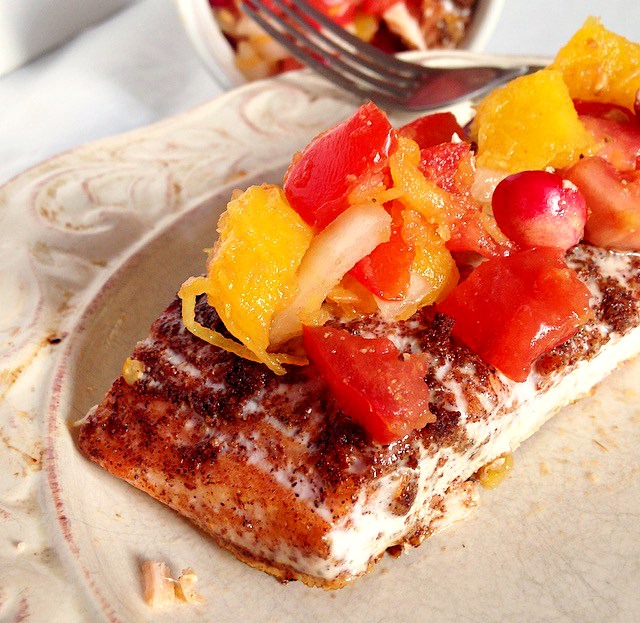 I'm pretty proud of myself that I came up with this recipe because its not often when I succeed by totally winging a recipe!  I thru together a spice rub and prayed that it would taste well, and thank God it did!  Cinnamon on salmon may sound weird, but I promise you its totally worth it.
The cranberry and pumpkin salsa totally makes this dish that much better!  It also may sound weird adding cubed pumpkin and cranberries to salsa, but again, its totally worth it.  This recipe sounds like a strange combo but don't knock it till you try it!
Spicy Cinnamon Rubbed Salmon with Cranberry Pumpkin Salsa
Ingredients
4 (4-6 oz) salmon fillets
1 tsp. ground cinnamon
1 1/2 tsp. coconut sugar or date sugar
1/2 tsp. crushed red pepper flakes
1/2 tsp. chili powder
1/2 tsp. paprika
1/2 tsp. garlic powder
salt and pepper
SALSA:
1 tomato, finely chopped
1/4 onion, finely chopped
1/2 cup fresh cranberries, finely chopped
1 cup baked pumpkin, cubed (cubed butternut squash would also work)
1 Tbsp. lime juice
1/2 tsp. cumin
salt and pepper
Instructions
Preheat oven to 450 degrees.
Combine all spices in a shallow bowl.
Coat salmon fillets evenly in spice blend and place on a cooking sheet coated with cooking spray. Bake for 12-15 minutes, or until done.
While salmon is cooking, Add all ingredients together for salsa.
Top salmon with salsa.
Enjoy!
http://athleticavocado.com/2015/10/09/spicy-cinnamon-blackened-salmon-with-pumpkin-cranberry-salsa/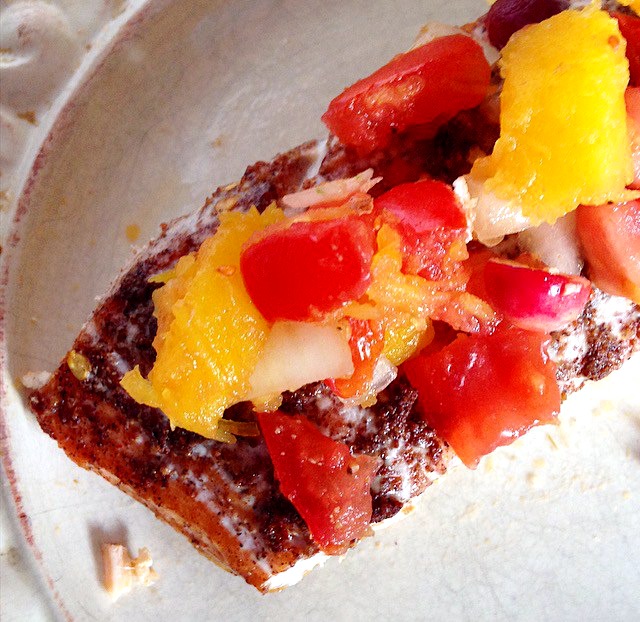 [Tweet " #healthy Spicy Cinnamon Rubbed Salmon with Cranberry-Pumpkin Salsa is the perfect fall dinner!"]
Linking up with Sprint to the Table for Strange but Good!