It's official, I have found a sandwich that has surpassed the PB & J! This sandwich is one of a kind and has replaced the classic sandwich in my life. Sorry PB & J, I'm breaking up with you, no hard feelings though, I just needed to move on.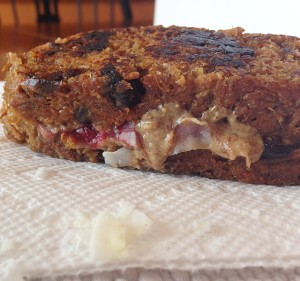 Goodbye PB & J, Hello Strawberry-Coconut Grilled Almond Butter Sandwich! Here is a new way to enjoy an amazing and healthier take off a classic sandwich. If you haven't tried the strawberry-coconut almond butter combo, I highly suggest you do before you miss out on your whole life, it's life changing. This sandwich is not only awesome because of this combo, but because it is not made on normal bread (we are not normal here), it is made on quick bread, think banana, zucchini or better yet, Manna Organic's Carrot Raisin Bread!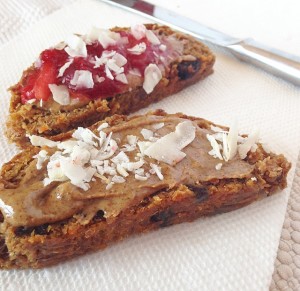 If you haven't heard about Manna Organic's yet, Im here to tell you about this company! I have the privilege of sampling three of their products: Carrot Raisin bread, Banana-Hemp Walnut Bread and Fig and Nut Manna Butter, all of which were amazing!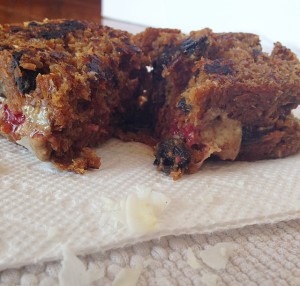 We love everything they stand for: "Manna Organics, LLC is a family owned and operated bakery. All our products are vegan, kosher, organic and carefully hand-made. Our signature product is the fully sprouted MANNA BREAD®, cake-like, free of salt, no oils, no sweeteners, no leavening agents. Manna bread is moist and delicious, high in protein and fiber. Sold in the USA and Canada, in the Frozen Foods section."
So get some manna products HERE and make this sandwich!
The Ultimate Grilled Almond Butter Sandwich + Manna Organics Review!

Ingredients

2 slices any kind of quick bread (I used Manna Organics Sprouted Carrot-Raisin bread, but you can use banana bread, zucchini bread, etc. get creative!!!)
1-2 tbsp almond butter
2-3 strawberries (I used frozen and thawed so it created a "juice")
1-2 tbsp unsweetened flaked coconut
butter, coconut oil, coconut spread etc. for grilling

Instructions

1. Spread almond butter on bread, top with strawberries and coconut, make a sandwich, spread with butter/coconut oil and grill your little heart away!

http://athleticavocado.com/2015/06/26/the-ultimate-grilled-almond-butter-sandwich-manna-organics-review/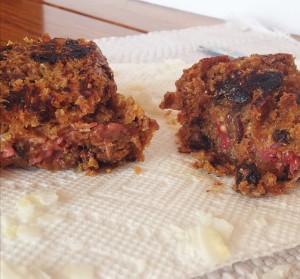 This sandwich can be vegan, paleo, and gluten free depending on the type of bread you use!
Check out these other Drool-Worthy Almond Butter Sandwiches!
Grilled Almond Butter Chocolate Pomegranate Sandwich from Minimalist Baker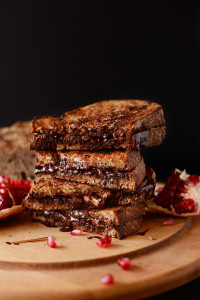 What's your favorite Childhood Sandwich?