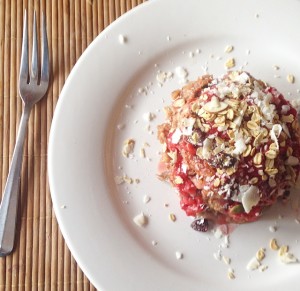 Click HERE to receive a one dollar off coupon for Nature Valley Toasted Oats Muesli!
You can try to disagree with me, but we all know breakfast food is the best food.  If I could I'd probably eat breakfast for every meal, and I may or may not have done that before (guilty as charged).  To me, out of all the breakfast food/ingredients in the whole wide world, oats are definitely the best.  There is so much variety of flavors and variations that you can make with oats!  It doesn't always have to be just in oatmeal form, it can be help fluff up pancakes with fiber, be the main ingredient in granola, or create an added texture in smoothies.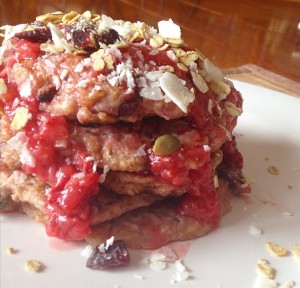 The one product that contains oats and is super new to me is Muesli.  I've never heard it until Nature Valley kindly sent me two of their new products:  Toasted Oats Muesli Originial and Toasted Oats Muesli Blueberry.  If you were like me a few days ago, your probably questioning to yourself what the heck it is.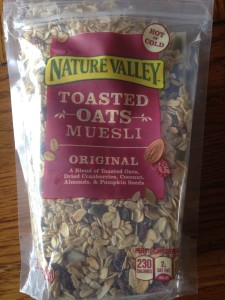 To me, muesli is like a mix between unclustered granola and toasted oats.  It can be served cold like cereal, or it can be mixed with water or milk and cooked in the microwave or stove like oatmeal!  So basically, its the best of both worlds!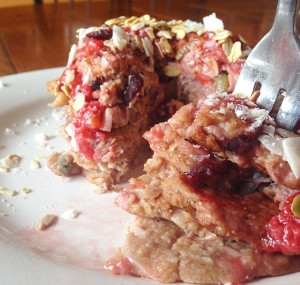 Its a great whole grain breakfast that contains a delicious blend of whole rolled, oven-toasted oats, fruits, nuts and seeds lightly sweetened to perfection!  Think of it as nature's essentials- just a few simple ingredients mixed into a delightful texture!  Its great tasting while fueling your body for the day ahead of you!  There are 5 grams of fiber and 6 grams of fiber per half cup serving!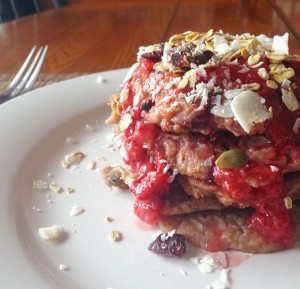 Nature Valley Toasted Oats Muesli is a great addition to pancakes!  It lends a crunchy, sweet texture so you don't need any sugar!  It also adds extra fiber and protein to keep you full until lunch!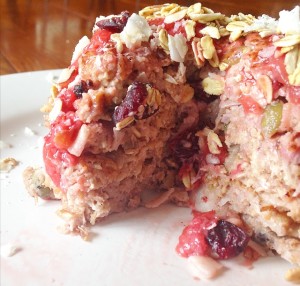 Fluffy Strawberry Coconut Muesli Pancakes
Makes 4-5 Pancakes
1/2 cup oat flour
1/2 tsp. baking powder
1/4 tsp. cinnamon
1/2 cup sliced strawberries
2 egg whites (or a flax egg for vegan option)
1/4 cup plain greek yogurt (or coconut yogurt for vegan option)
1/4 tsp. pure vanilla extract
2 Tbsp. shredded unsweetened coconut
sliced strawberries (optional)
Combine first seven ingredients in a blender or food processor and blend until until fully combined.
Place mixture into a bowl and mix in muesli and coconut.
Lightly coat a skillet with cooking spray and heat over medium low-heat. Drop batter by 1/4 cup onto skillet. Add a sliced strawberries on top. Cook until bubbles appear on top. Flip cakes and cook until golden brown on underside. Wipe skillet clean and repeat with more cooking spray and remaining batter.
Top with pureed strawberries (instead of maple syrup), more shredded coconut and Muesli!
adapted from this recipe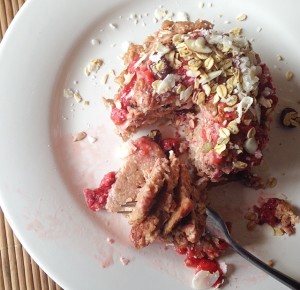 Click HERE to receive a one dollar off coupon for Nature Valley Toasted Oats Muesli!
Hungry for more pancakes??  Check out these tasty pancake recipes!!