If I had to choose a favorite kind of food, I would pick Chinese food, "American Chinese food" that is. I absolutely love Sweet n' Sour chicken, I could polish off at least two of those Chinese takeout boxes like it's my job but, I wouldn't be feelin' too hot the next day. Ever since I really stopped eating processed foods a few years ago, I don't think my body would handle all of the added MSG and other unknown scary ingredients in Sweet n' Sour chicken very well. Don't worry, there is a happy ending.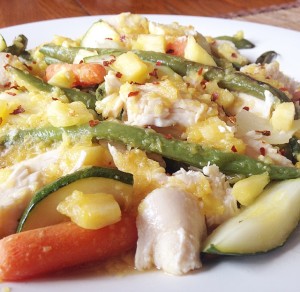 Healthy, easy to make, sugar-free, MSG-free, gluten-free, low carb, paleo, amazing, delicious and tasty Pineapple Sweet n' Sour Chicken…….aka the answer to your prayers 🙂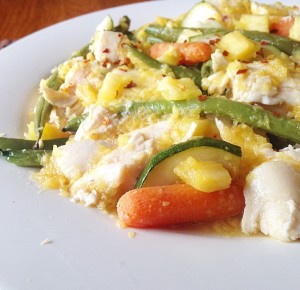 Pineapple Sweet n' Sour Chicken
Chicken
4 chicken breasts, baked and cubed
2 zuchinni, chopped and sliced into half moons
1 cup baby carrots
2 cups green beans
2 cups broccoli, chopped
1 cup fresh pineapple, cut into small pieces
1. Place zucchini, carrots, green beans, broccoli and pineapple in a large skillet/wok over medium-high heat and cook until soft
2. Add in chicken and sauce, combine well and cook until sauces simmers, about 5 minutes
3. Serve over rice or quinoa if desired!
Sauce
2 cups fresh pineapple, pureed in food processor/blender
1/4 cup apple cider vinegar
1/4 cup coconut aminos
1 tbsp sesame oil
1/4 tsp ground ginger
Dash of red pepper flakes
Pinch of flaky sea salt
1. Mix all ingredients together in a large bowl and add to stir-fry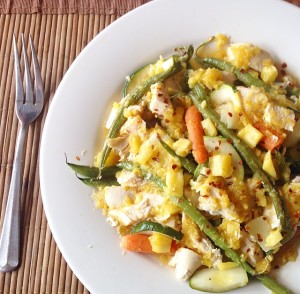 What's your favorite kind of Chinese food?