Delicious and Healthy Lemon Strawberry Cheesecake Oatmeal tastes like dessert for breakfast! It's so easy to make and is sure to be a crowd-pleaser!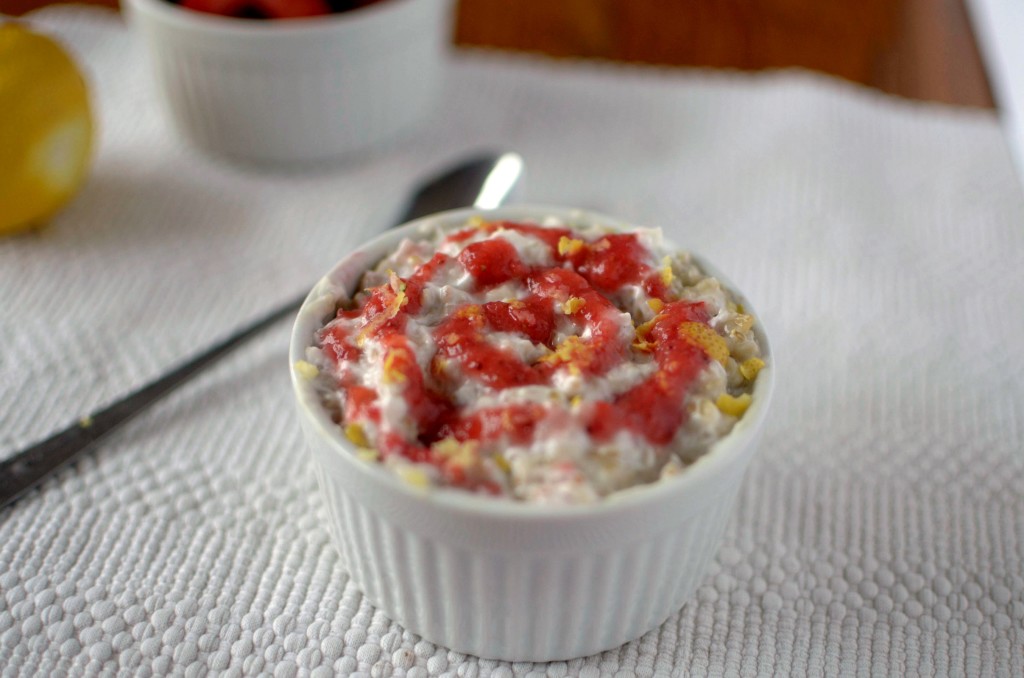 I am naturally a morning person, not by choice. I mean I would love to be able to sleep in until 10 AM, but my body thinks it's a great idea to wake me up at 6:30ish every day. No matter what time I go to bed, I am always up by that time. I have created a theory on why I wake up so early, and I noticed, I am always starving when I wake up! Maybe it's the hunger that always wakes me up so early, hmmmmmm.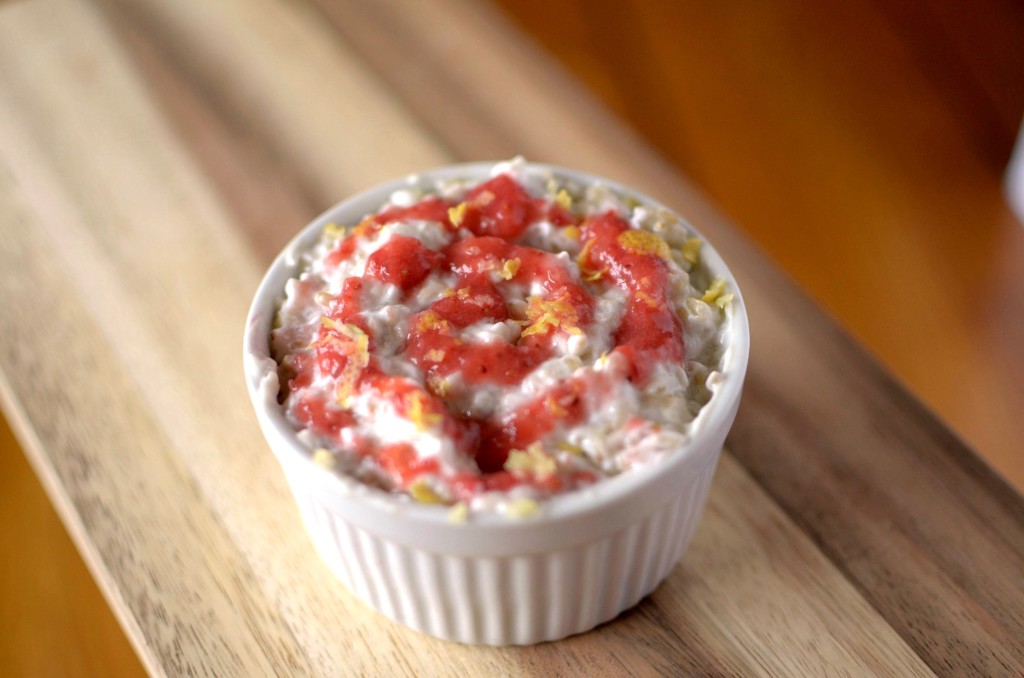 Anyway, when I'm starving, I don't have the patience to cook a 30 minute breakfast, I'd rather sacrifice quick oats made in 2 minutes in the microwave instead of tastier and creamier steel cut oatmeal made on the stove in 438290 30 minutes. Now you're probably thinking, "Then why do you use steel cut oats in this recipe?" I don't use regular, takes foorrreeevvveeerrrr to cook, steel cut oats, I use Coaches Oats!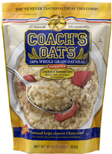 Coaches Oats is a type of Steel Cut Type oatmeal that can cook in the microwave! I was amazed that coaches oats takes no longer to cook than quick oats!  They taste nutty and flaky, plus they don't get mushy or pasty like regular oats do!Here's how Coaches Oat's are made: "The groats are toasted to bring the natural sugars to the surface of the oat, then cracked into small pieces. This patented Cracked n' Toasted™ process means that Coach's Oats are never mushy, always naturally delicious and cook in just 3 to 5 minutes on a stovetop or in the microwave (taken from website.)"
With Coaches Oats, You can make this delicious, creamy, tangy and hearty Strawberry-Lemon Cheesecake Oatmeal in under 5 minutes! Buy Coaches Oats Here and make this dessert-for-breakfast!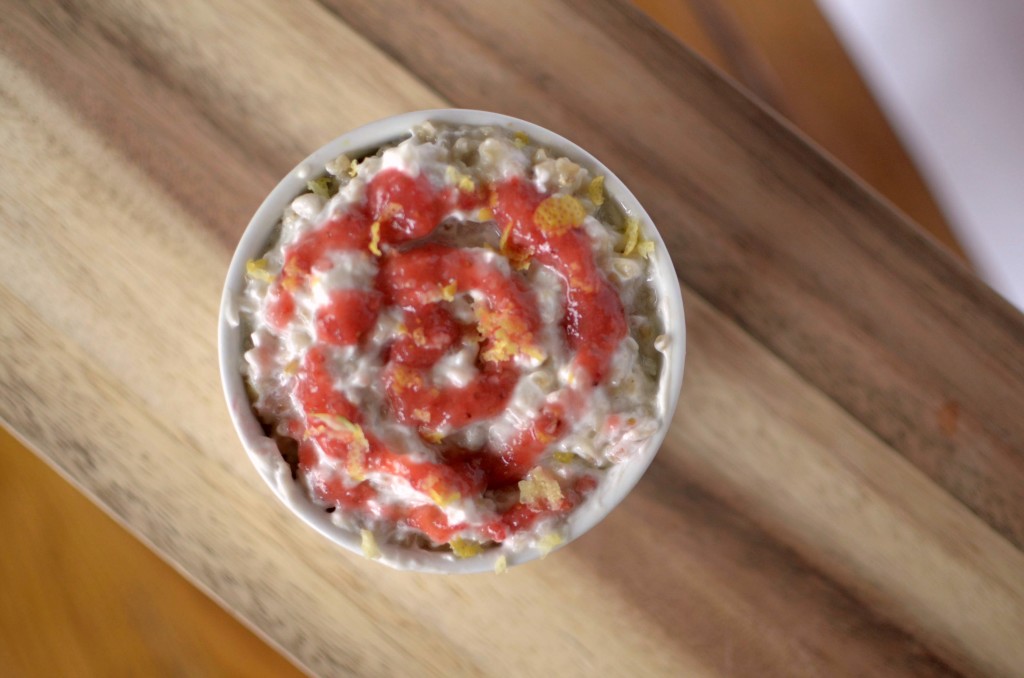 Strawberry-Lemon Cheesecake Steel Cut Oatmeal
Ingredients
1/3 Coaches Oats*
1 cup unsweetened almond milk
1/4 tsp vanilla extract
2 tbsp full-fat greek yogurt or 1 tbsp cream cheese (or non-dairy cream cheese)
1/2 tbsp honey/maple syrup
1 tbsp lemon zest
5 strawberries, pureed 
Instructions
1. Cook Oats with milk and vanilla in microwave for about 2-3 minutes
2. Mix in yogurt/cream cheese, honey and lemon zest, top with strawberry puree
*steel cut oats or old fashioned oats can be replaced with Coaches Oats
http://athleticavocado.com/2015/07/02/lemon-strawberry-cheesecake-oatmeal/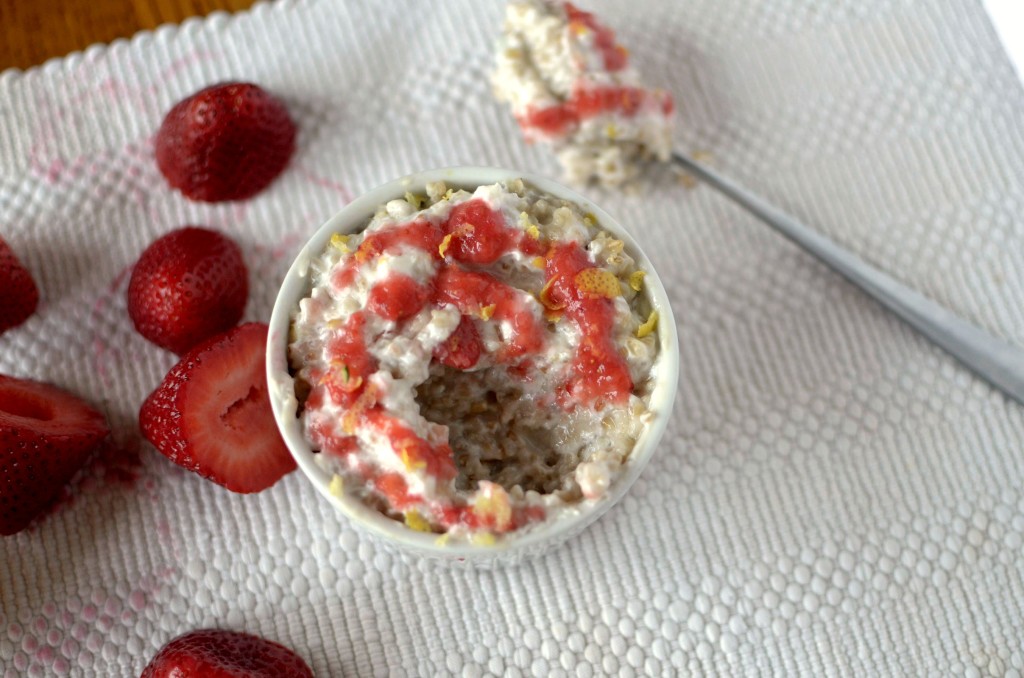 Check out these other tasty oatmeal recipes!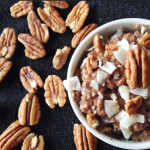 Chocolate-Orange Creme Brûlée Oatmeal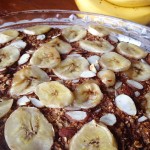 Are you hungry when you first wake up?
Do you like steel cut or regular oats better?
*"I was given this product free of charge but all opinions and thoughts are my own"