Healthy Burrito Bowl Stuffed Peppers are a delicious dinner that tastes exactly like a chipotle burrito bowl in pepper form! Also paleo, vegan and whole 30!
*Pictures and recipe updated 6/28/2016*
Today we are re-sharing one of our favorite and most-recipes of all-time: Burrito Bowl Stuffed Peppers!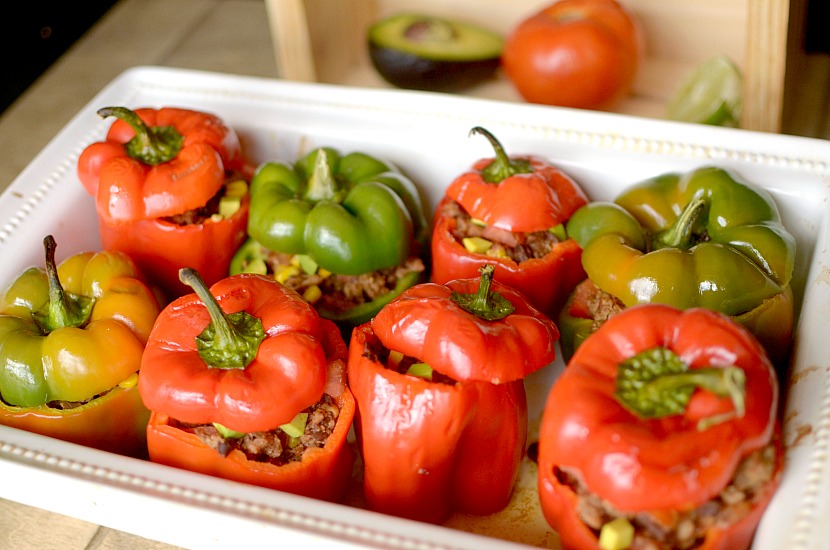 We love (and many of you do too!) this recipe so much, so we knew it was time for an updated recipe and pictures for this easy dinner recipe. I'm pretty sure we have made these stuffed peppers over 10 times since we first posted the recipe back in June of 2014 and for a good reason. These peppers are not only delicious, but they are extremely easy and simple to make.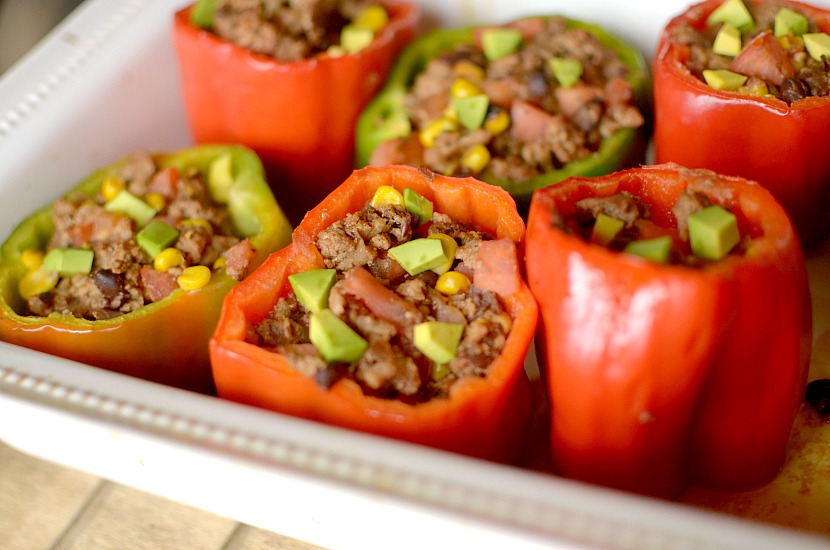 The inspiration for these stuffed peppers came from our favorite chain restaurant, chipotle. Who doesn't love a good burrito bowl? #amirightoramiright. So it's basically like a burrito bowl stuffed into a pepper instead of tortilla which saves carbs but who's complaining? It's got all the goods of a burrito bowl.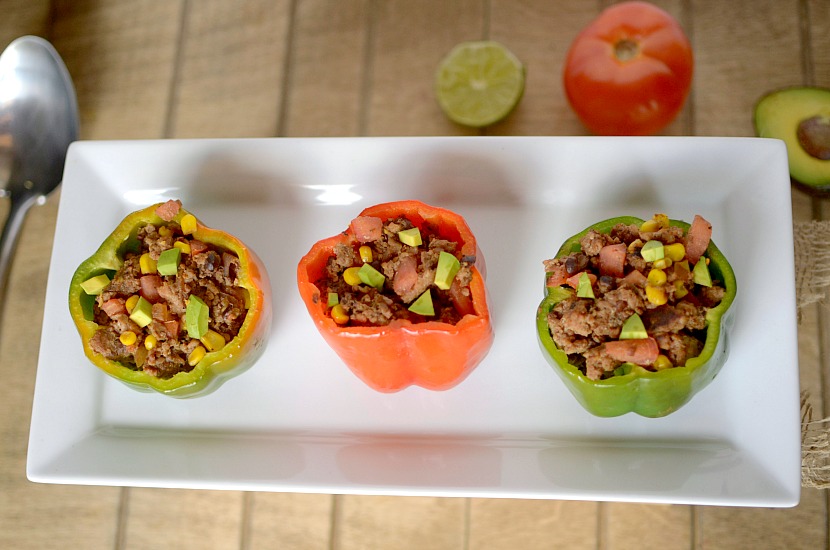 One of the biggest reasons, besides taste, of why this burrito bowl is so popular is that it can be adapted to meet any diet. Wanna make it paleo/whole 30? Just leave out black beans and corn. Wanna make it vegan? Just use a meat replacement such as tempeh or tofu! Don't have any dietary restrictions? Than make the original recipe. No matter what your diet is, you can enjoy a healthy and delicious meal!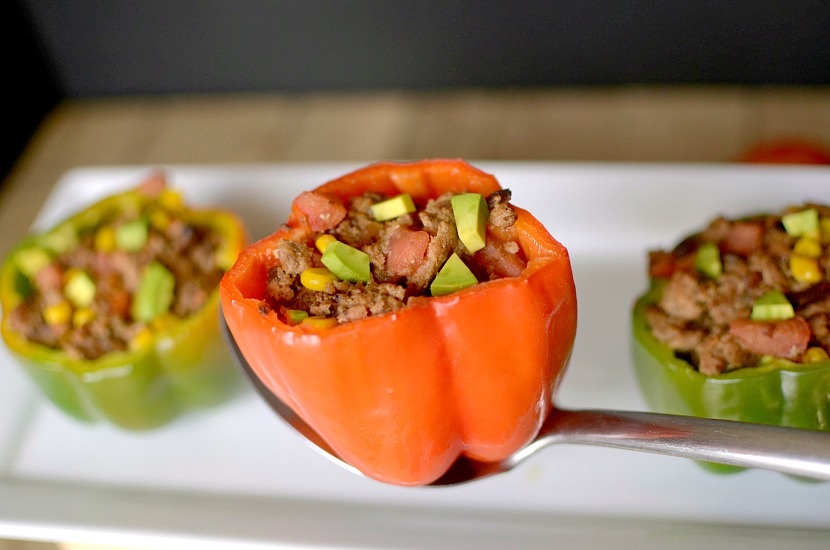 Burrito Bowl Stuffed Peppers
These burrito bowl stuffed peppers are so easy to make and are made with real and healthy ingredients. They are a complete meal filled with nutritious veggies, healthy fats and lean protein. Anyone who loves chipotle's burrito bowls and Mexican food will absolutely love this hearty lower carb dinner that can also be paleo, vegan and whole 30 friendly!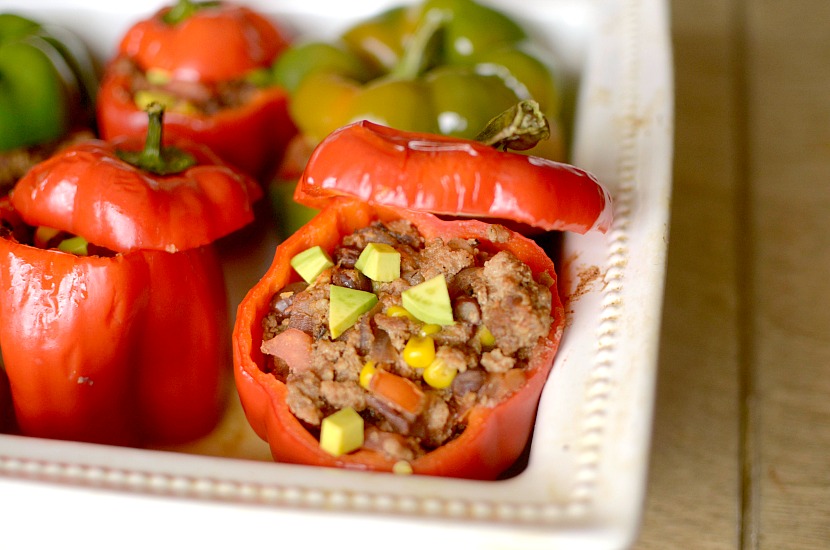 Burrito Bowl Stuffed Peppers
Ingredients
1 small onion, finely chopped
1 garlic clove, finely chopped
1/2 tsp ground cumin
1 pound ground meat (use tempeh/tofu/meatless alternative for vegan option)
4-6 bell peppers (depending on how big they are)
1/2 cup cooked corn (leave out for paleo/whole30)
1/2 cup black beans (leave out for paleo/whole30)
1/2 ripe avocado, finely chopped
1/4 cup salsa
2 tbsp fresh cilantro, chopped
juice of 1/2 lime
salt and pepper
Instructions
Preheat oven to 400. Place onion and garlic in a frying pan coated with cooking spray over medium heat for about 3 minutes, add ground meat/vegan option and cumin and cook until browned, about 10 minutes. While meat is cooking, slice off tops of peppers and scoop out seeds, place on a baking sheet and spray with cooking spray, bake for about 15 minutes, or until tender. Once meat is cooled, add to a large bowl and mix with remaining ingredients (except peppers). Fill peppers with meat mixture and bake for 15 minutes.
http://athleticavocado.com/2016/06/28/better-and-healthier-than-chipotle-burrito-bowl-stuffed-peppers/
Like This Recipe? Pin For Later!

You May Also Like These Recipes!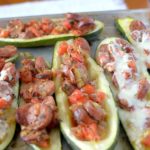 Spicy Bruschetta Stuffed Zucchini Boats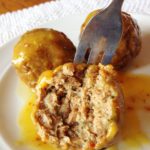 ---
Questions of the day!
What's your favorite thing to get at chipotle?
What's a recipe that you make over and over again?
Share a link of your favorite recipe (either your's or another bloggers!)
Linking up for foodie fridays!