This shop has been compensated by Collective Bias, Inc. and its advertiser. All opinions are mine alone.
#GrillWithATwist #CollectiveBias
 One of the things I love about summer besides the beautiful weather, is that its the grilling season!  Theres no better way to spend time with your family and make memories than to fire up the grill with some tasty barbecue!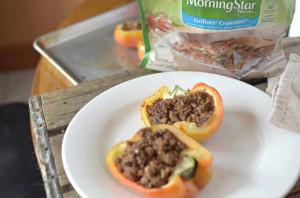 While most people go for the ribs or chicken, I love a nice grilled veggie cuisine for dinner!  Confused about what I mean?  Im talking about using MorningStar Farms products to grill up this summer instead of your normal BBQ!  MorningStar Farms veggie cuisine provides a healthy option for you, your family, or your guests but still brings great flavor to your dishes.  They can please anyone from a hard-core meat eater to a vegan and everything in between!  All MorningStar Farms products can be found at your local Target!  They have  many amazing products that anyone would love, like these MorningStar Farms Griller Crumblers.  My family uses ground meat so much that it was a good idea that I switched it up by using these Griller Crumblers! Its a good thing I found this product, because my family has gotten really sick of meat!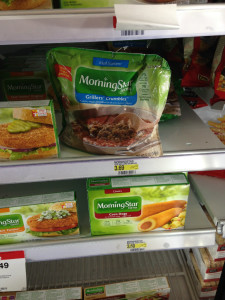 In fact, I have recently taken the Veg of Alliance , where my family and I pledged to go meatless for dinner at least twice a week!  Even my dad (who claims he a hard core meat-eater) joined in with us and realized its not as hard as he thought!  If you are interested in taking the "Veg of Alliance" you can check more about it HERE and enter to win  prizes!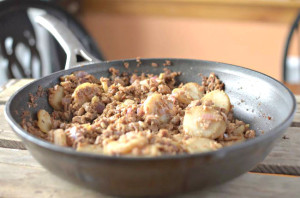 Now everybody knows that stuffed peppers are usually stuffed with ground meat and made in the oven, but I innovated this classic dish by grilling it and stuffing it with tasty veggie cuisine instead of the ground beef.  And wow what a delicious difference!  MorningStar Farms Griller Crumblers masks the texture of ground meat so it can be replaced in any dish that uses meat!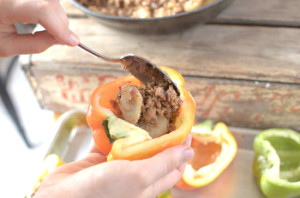 Grilled Asian Style Stuffed Peppers (makes 6 servings)
Ingredients
3 bell peppers, halved and seeded
1 pack of MorningStar Farms Grillers Crumbles
1/2 cup red onion, finely chopped
3 garlic cloves, finely chopped
1 (5 oz.) can water chestnuts
3 Tbsp. rice vinegar
2 Tbsp. low-sodium soy sauce
2 tsp. sesame oil
1/4 tsp. red pepper flakes
1/4 tsp. ground ginger
Instructions
Place griller crumbles in a skillet on medium-high heat with 1/3 cup of water. Cook for about 4 minutes.
Add in onion and garlic reduce heat to medium. Cook for 2 more minutes.
Add in remaining ingredients and cooke for about 5 more minutes, stirring occasionally.
Brush pepper halves with olive oil.
Light the grill and cook pepper side down on low heat for about 10 minutes.
Stuff peppers with mixture and cook for 10 minutes.
Serve immediately
*all ingredients can be found Target
http://athleticavocado.com/2015/07/13/grilled-asian-style-stuffed-peppers/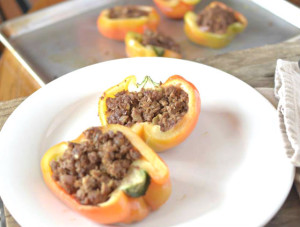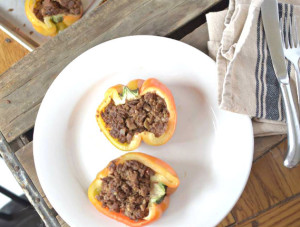 Be sure to check out all the amazing veggie cuisine products from MorningStar Farms by clicking HERE!
[Tweet "#vegetarian Grilled Asian-Style Stuffed Peppers are super flavorful and very easy to make!"]
Linking up with Tina Muir and Confessions of a Mother Runner for Meatless Monday!