These Cobb Style Potato Sliders are the perfect Whole30 appetizer and are also paleo approved! So easy to make and made with only 4 real ingredients! Everyone will LOVE these!
I can't wait for Super Bowl Sunday.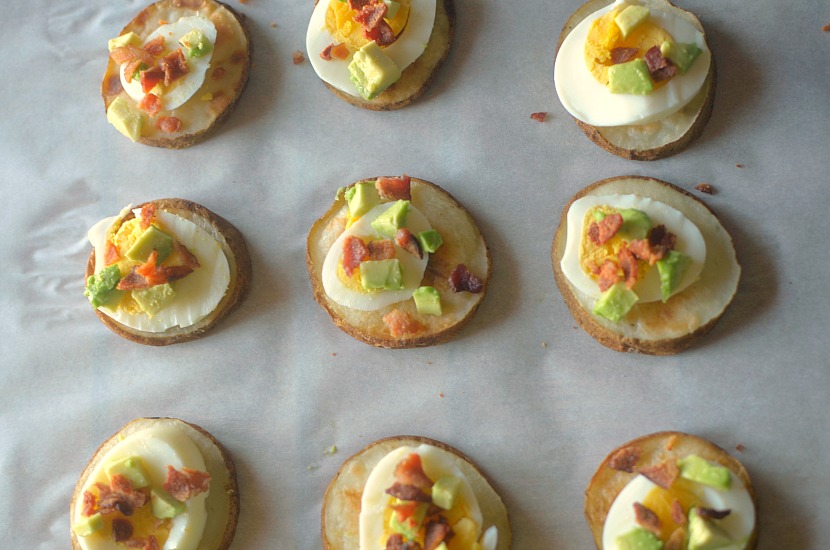 Let me rephrase that, I can't wait to eat all the delicious food on Super Bowl Sunday. #sorrynotsorry but I have zerooo cares in the world for sports other than gymnastics. I've tried to enjoy it, but game day for me is all about the food. It's sad but true, but hey, at least I celebrate it some way, right!?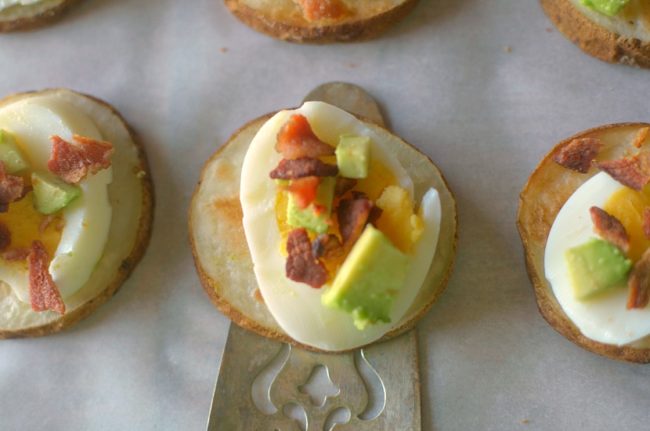 I've always loved the Cobb salad. That's the only type of salad I'll get when I order out at a restaurant that doesn't include a "make-your-own" kind of deal. The combo of avocado, bacon and egg is UNREAL. Who would have thought that something so simple could be so good?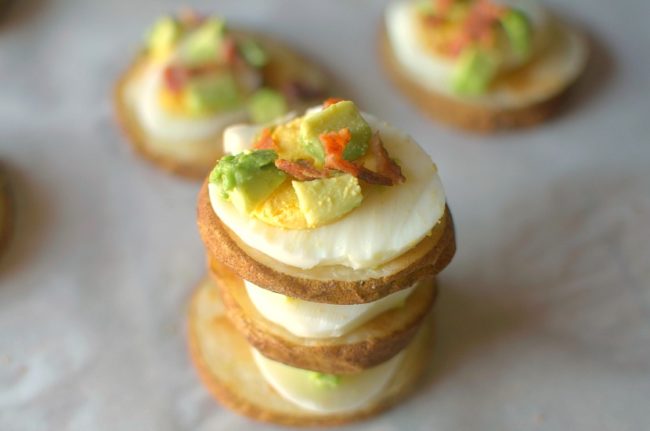 So obviously the Cobb salad was my inspiration for todays insanely easy and simple appetizer! These little potato stacks are probably the easiest recipe I have ever made and I'm so not mad. If you guys love the cobb salad like me, or you just like bacon, avocado and egg together, you will go crazyyyy over these! I made these for a Christmas appetizer and my family ate all of them within a matter of minutes. And we are talking about people who don't have a clue what "paleo" or "whole30" consists of!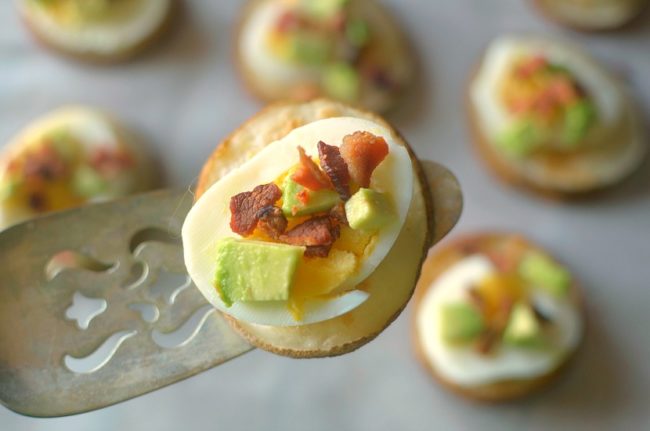 These little sliders only consists of:
Potatoes 
Eggs
Bacon
Avocado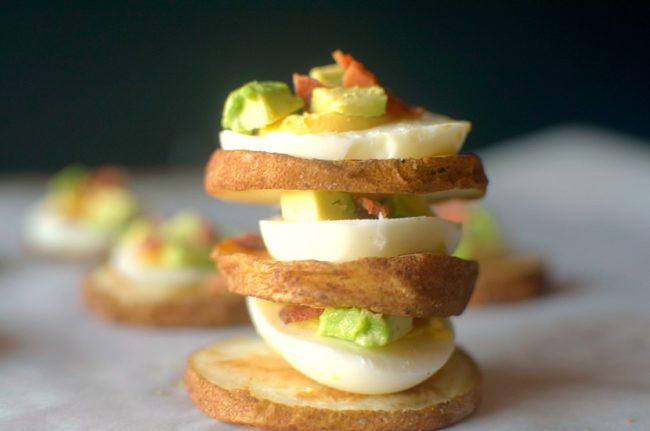 Yep that's it! Only 4  real food ingredients. These sliders are also Paleo and whole30 friendly too. Make sure you use whole30 friendly bacon such as Pedersen Farms. You can also use sweet potatoes instead of regular potatoes if you prefer.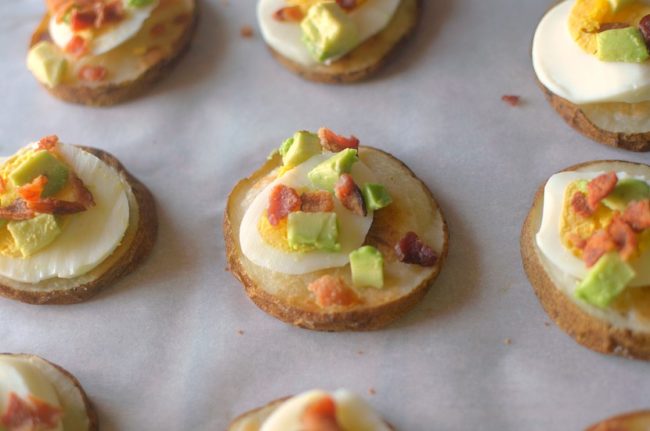 Whole3o Cobb Style Potato Sliders
These Potato Sliders make the perfect whole30 appetizer or side dish! They are topped with a Cobb salad style topping that consists of bacon, egg and avocado! So easy too make and so delicious, everyone will LOVE these!
Whole30 Cobb-Style Potato Sliders (Paleo!)
Ingredients
1 large potato, cut into slices
4 hard boiled eggs, sliced lengthwise
1/2 avocado, cut into small cubes
2 pieces of whole30 approved bacon, cooked and crumbled
Instructions
Preheat oven to 350 and spray a baking sheet with cooking spray
Place potato slices on sheet and bake for 15-20 minutes, or until done and let cool
Place slices on a plate and top each with an egg slice
Add cubed avocado on top of egg slices and divide bacon crumbles evenly
Serve right away or store in the fridge
http://athleticavocado.com/2017/01/11/whole30-cobb-style-potato-sliders-paleo/
Like This Recipe? Pin For Later!

You May Also Like These Delicious Whole30 Appetizers!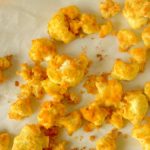 Pineapple Teriyaki Cauliflower Poppers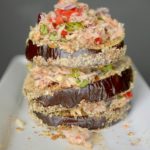 Crab Bruschetta Eggplant Stacks
---
 Questions of the day!
What is your favorite game-day appetizer?