Guys, I have an obsession, and it's making my skin turn orange, AKA too much beta carotene from eating sweet potatoes. Does anyone else have this problem? My Mom thought I had jaundice so she took me to the doctors haha. On the bright side, I have been getting nice compliments from people saying that I look tanner, I don't know why but I guess that's a good thing, except it looks more like a fake spray on tan!  I have been eating about one everyday for a year now and I am not planning on stopping any time soon, they are just too darn good.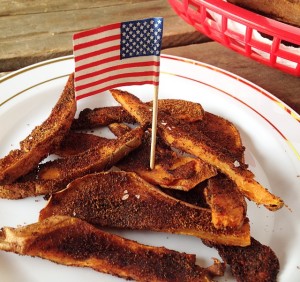 My favorite way to enjoy them is making fries, extra crispy fries. With BBQ season in full charge, I decided to make a BBQ spice rub for fries. Yes soak that in, BBQ Spiced Sweet Potato fries, and I sweet tater fries couldn't get any better, well I guess I lied to myself because this is my favorite way to enjoy sweet taters now.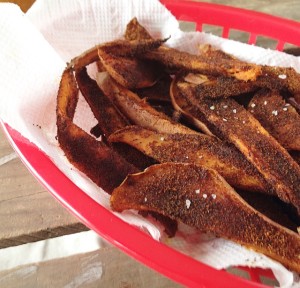 If you have an obsession with sweet potatoes, feed that obsession and make these for your next cookout or 4th of July BBQ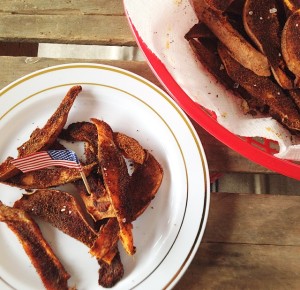 BBQ Spiced Sweet Potato Fries

Ingredients

2 large sweet potatoes, cut into wedges
1 tbsp olive oil or melted butter
BBQ Spice Rub
2 tsp chili powder
2 tsp cumin
1 tsp paprika
1/4 tsp all spice

Instructions

1. Preheat oven at 350 degrees and coat a cookie sheet with cooking spray
2. Coat potato wedges with oil/butter in a large bowl and mix together spices in a separate bowl
3. Dip potato wedges in spice rub and coat evenly, place on cookie sheet and drizzle with more oil
4. Bake for 45-60 minutes and turn every 20 minutes

http://athleticavocado.com/2015/06/19/bbq-spiced-sweet-potato-fries/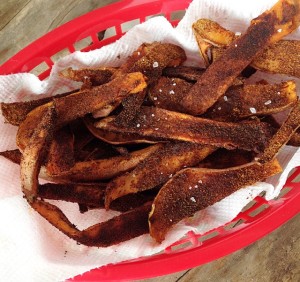 These are vegan, paleo, gluten-free, and can be dairy-free!
Whats your favorite recipe with sweet potatoes?
Post written by Rachel