The classic childhood sandwich turned into a sweet frozen treat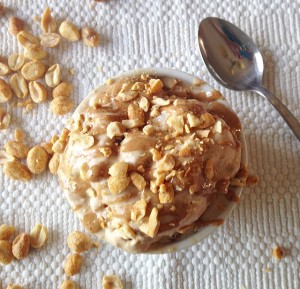 Back in elementary school, I ate a peanut butter and fluff sandwich almost everyday for lunch.  I loved having a dessert-like sandwich that was the perfect afternoon pick-me-up to get me through the rest of the school day.  The only problem was, that this sandwich was super messy!  I got fluff all over my fingers every day and required about 50 napkins to clean myself up!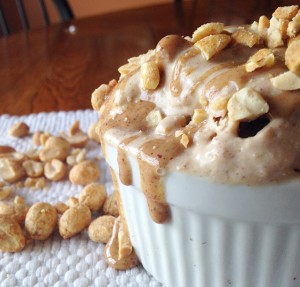 While I was thinking bad to my childhood this morning, an idea pooped in my head that I should make this flavor into a delicious ice cream!  Its a sweet, vegan and dairy-free frozen treat that will take you back to your childhood roots!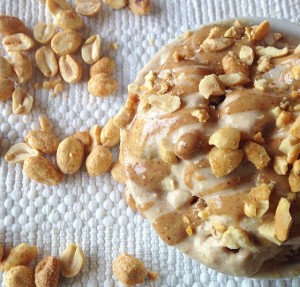 Fluff n' Nutter Ice Cream
1 cup canned coconut milk
2 cups non-dairy milk (I used almond milk)
1/4 cup dates, pitted
1 cup vegan marshmallow fluff *
1/4 cup natural peanut butter
1/2 tsp. pure vanilla extract
1/2 cup chopped peanuts
2 Tbsp. peanut butter, melted
Place a stainless steel bowl in the freezer.
Combine first 6 ingredients in a Vitamix or blender, and blend on high for about 2 minutes.
Let mixture chill in refrigerator for about 20 minutes, then pour into cold stainless steel bowl.  Place in freezer.
After about 45 minutes, or when edges start to freeze, take out of freezer and stir vigoursly using a whisk.
Place back in freezer and continue to check about every 30 minutes and stirring for about 30 seconds every time.
When mixture is almost completely frozen but not quite, drizzle melted peanut butter and sprinkle on chopped peanuts.
Then stir, breaking up the ribbons of peanut butter as they start to freeze, creating ripples.
Transfer the ice cream to a covered storage container until ready to serve.
* For the Marshmallow fluff, I used THIS recipe, but you can also use THIS one or buy it, like THIS kind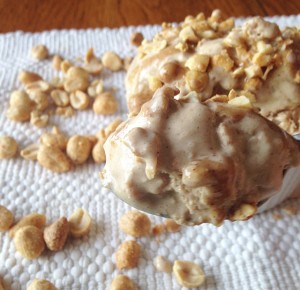 Linking up with Sprint to the Table for Strange but Good!