Gluten-free Orange Cranberry Bread is a sweet and satisfying breakfast treat that goes perfectly with a cup of coffee!  Made with nourishing ingredients, and paleo + vegan friendly!
If you couldn't already tell, our favorite recipes to make are cakes and breads, but I don't think there is anything wrong with that, you guys seem to love cakes and breads too! There is just something so satisfying about have a big slice of cake/bread for breakfast with coffee, it just starts the day off so right, don't you agree? Well anyways, if you couldn't already tell, today's recipe is a cakey bread, let's get to it!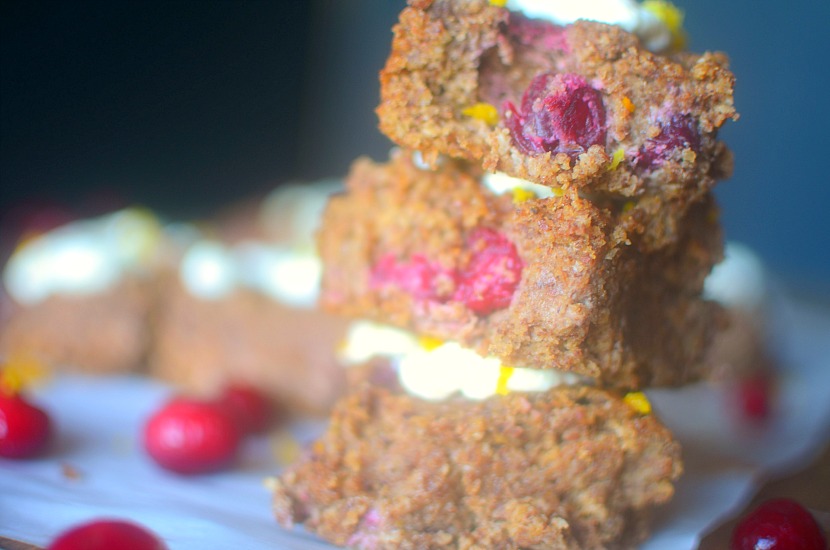 So I've seen so many people use apple cider vinegar (ACV) in baking and at first I'll admit, I thought it was kinda weird. More and more people started to use it in baked goods and raved about it so I decided to hop aboard and give it a try and now I am a huge fan! There is just something so awesome about using ACV in baked goods in combination with baking soda, it makes the texture more fluffy, and who doesn't like fluffy cakes/breads!?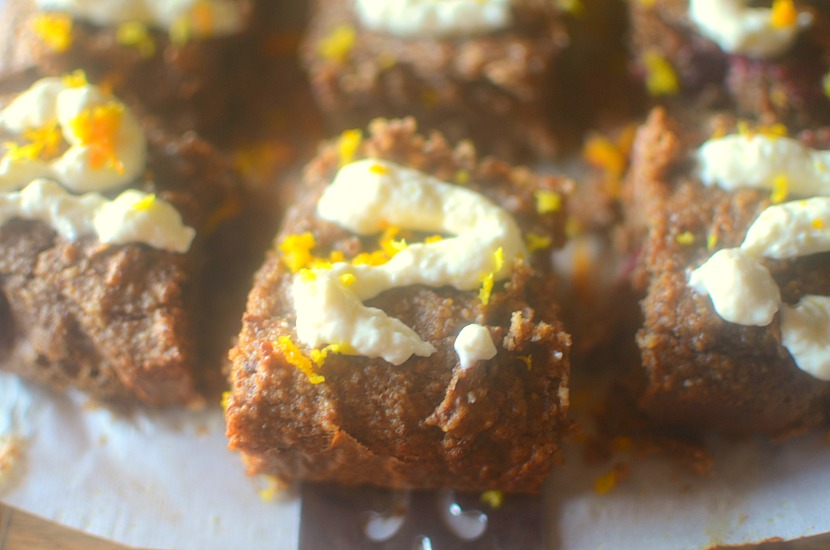 Instead of traditional ACV, I used Fire Cider's Apple Cider Vinegar & Honey Tonic to give this bread even more umphhh and add a nutritional boost! This bread is super duper easy to make and oh so delicious with the amazing combo of cranberry and orange.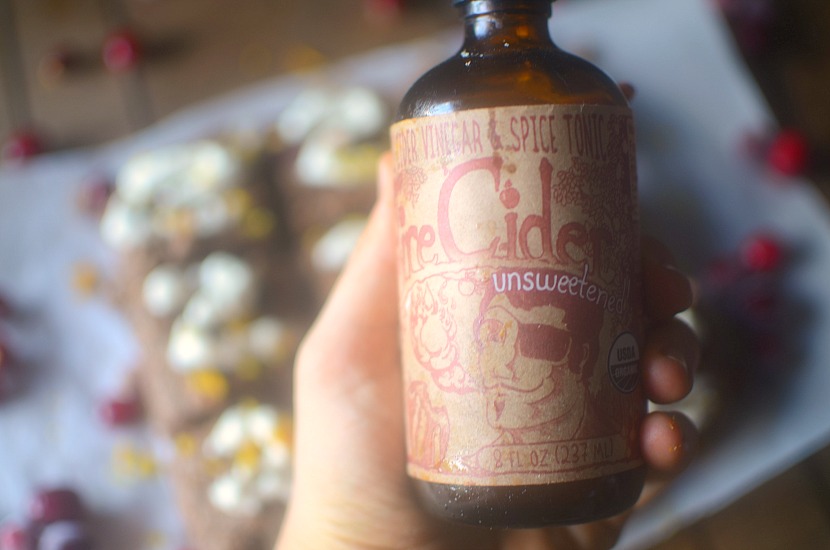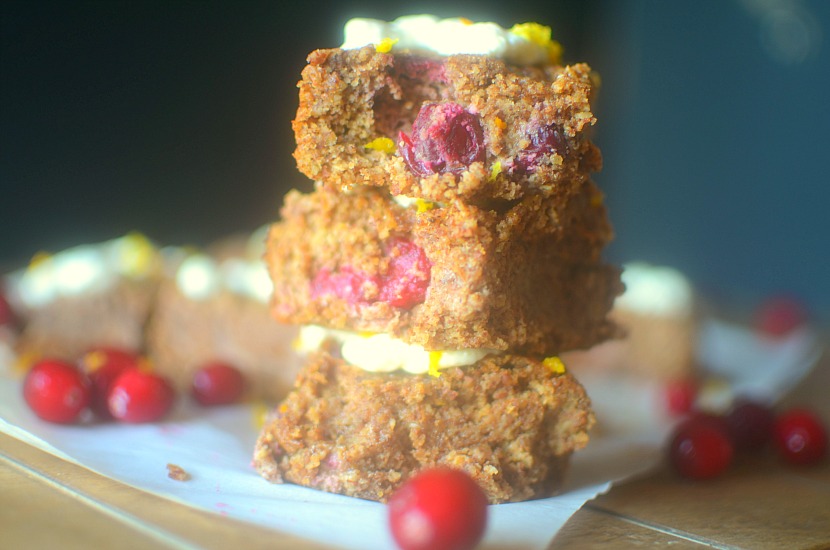 The ingredients include:
Almond flour
Baking soda
Almond butter
Applesauce
Fire Cider Tonic
Egg/flax egg
Orange juice
Orange zest
Cranberries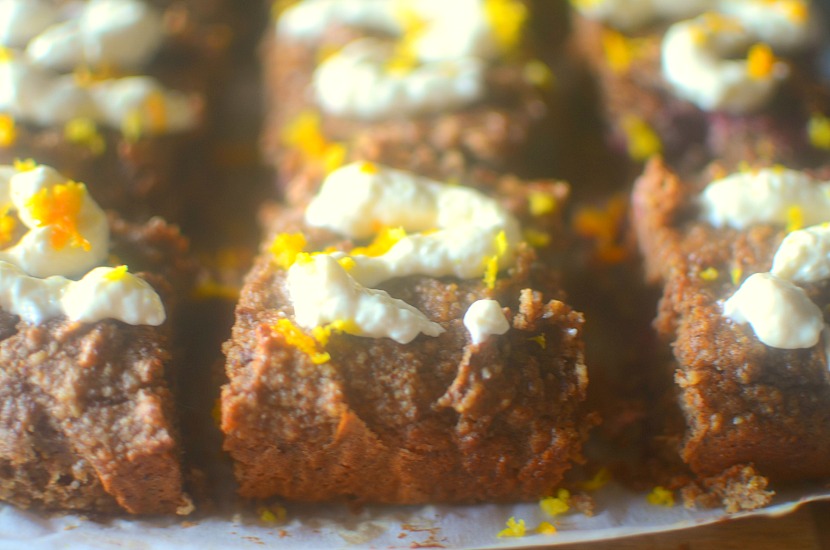 You will love this delicious gluten-free orange cranberry bread complete with a cream cheese glaze! Such a perfect and nutritious breakfast, snack or dessert for you and your family!
Paleo Orange Cranberry Snack Cake
Ingredients
1 cup almond flour
1/2 tsp baking soda
3-4 tbsp coconut sugar
1/2 cup applesauce
1/2 cup almond butter (or any type of nut butter)
1 tbsp Fire Cider Apple Cider Vinegar Tonic
2-3 tbsp fresh orange juice
fresh orange zest from 1/2 an orange
1/2 cup fresh or frozen cranberries
Instructions
Preheat oven to 350 degrees and coat a 9x9 pan with cooking spray or line with parchment paper.
In a large bowl, add together flour, baking soda and coconut sugar
In a small bowl mix together applesauce, almond butter, egg, apple cider vinegar, orange juice and zest
Add wet ingredients to dry and mix until combined. Stir in cranberries
Spoon batter into pan and bake for 20-25 minutes ,or until done.
Let cool and cut into 9 bars. Top with cream cheese drizzle, if desired*
*To make cream cheese drizzle, soften 1/4 cup cream cheese (can be dairy-free) and whisk with 1 Tbsp. maple syrup, 1 Tbsp, almond milk and 1/8 tsp. vanilla. Drizzle on top.
http://athleticavocado.com/2017/12/13/paleo-orange-cranberry-snack-cake/
Like this recipe? Pin for later!

You may also like these recipes!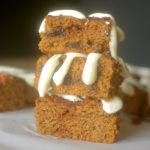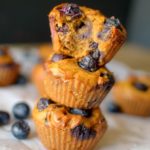 Flourless Sweet Potato Blueberry Muffins
SaveSave
SaveSave
SaveSave
SaveSave
SaveSave
SaveSave
SaveSave
SaveSave
SaveSave
SaveSave