Flourless Lemon Blueberry Macadamia Blondies are so gooey and delicious! You would never know that they are good for you! Also gluten-free, paleo with a vegan option!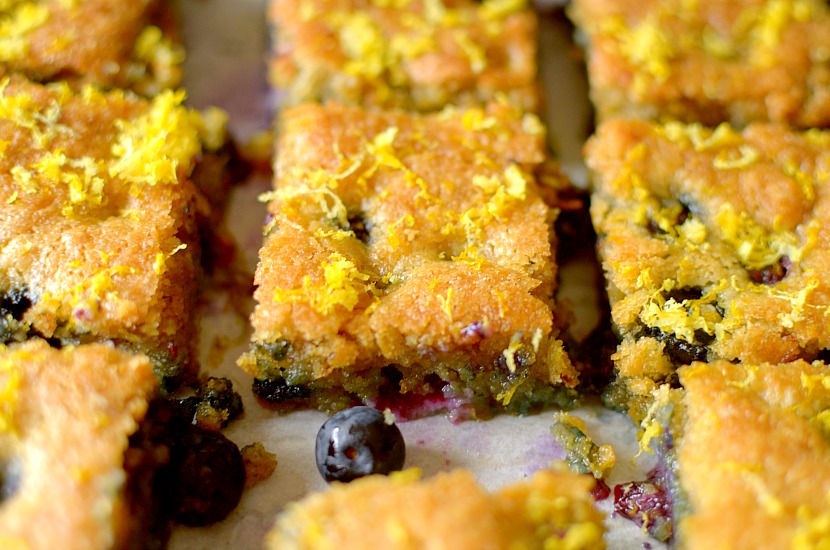 You know what they say, if it ain't broke, don't fix it.  I'm referring to the fact that my creativity lies in easy, healthy baked goods.  Why waste energy and try to create a recipe that's not in my niche?  All y'all food bloggers know exactly what I'm talking about.  Once in a while I have an itchin' for creating savory recipes, but 98% of the time, my mind is in the land of sweets.
I guess it's just how God made my brain, but I'm totally not complaining.  I keep going back to making the same types of recipes, only with different flavor variations.  For this particular recipe, I was reminiscing about these Gooey Flourless Cinnamon Toffee Blondies.  Dreaming about the gooey, sweet texture made think of a different way to make something similar.  Insert these Lemon Blueberry Macadamia Blondies.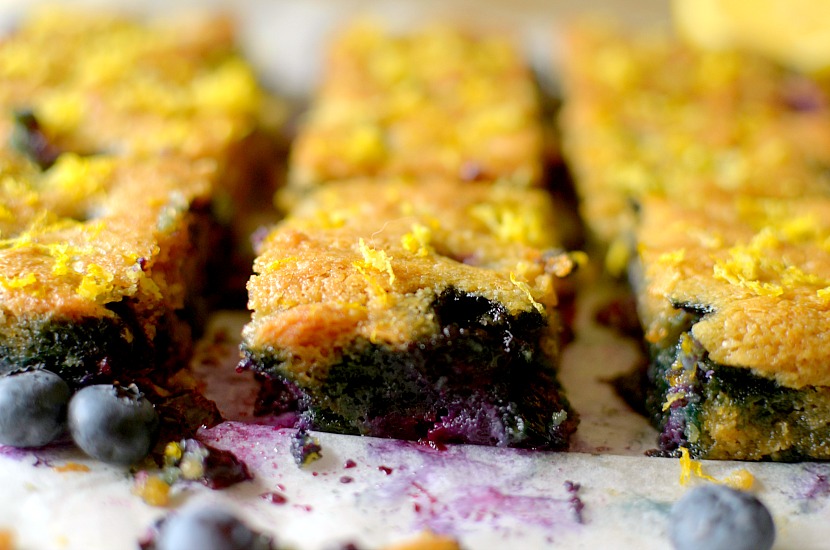 The gooey-ness factor in these blondies?  Spot on. The fresh lemon-blueberry flavor with the rich nuttiness of the macadamia butter?  I would score it a perfect 10.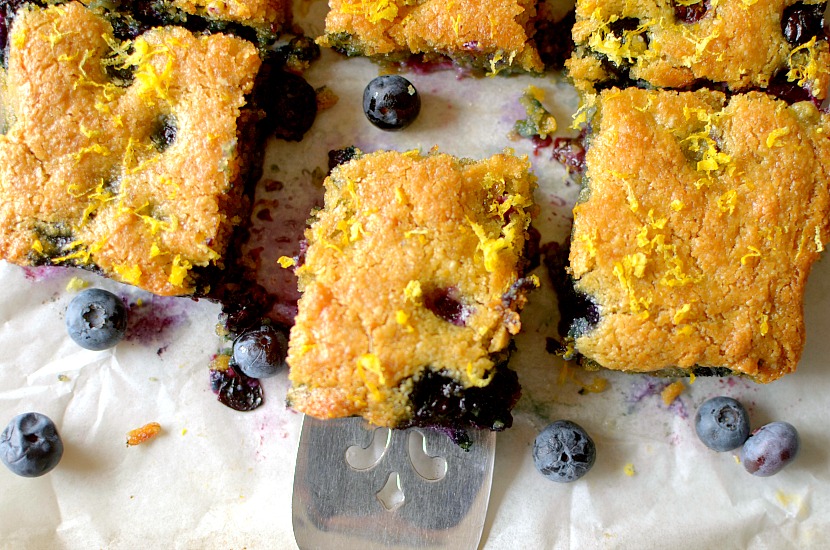 Seriously guys, near-perfect desserts don't have to be hard to make.  Making these blondies require just a little more effort than pressing an easy button.  You don't even need flour to make them!  That was (deliciously) easy.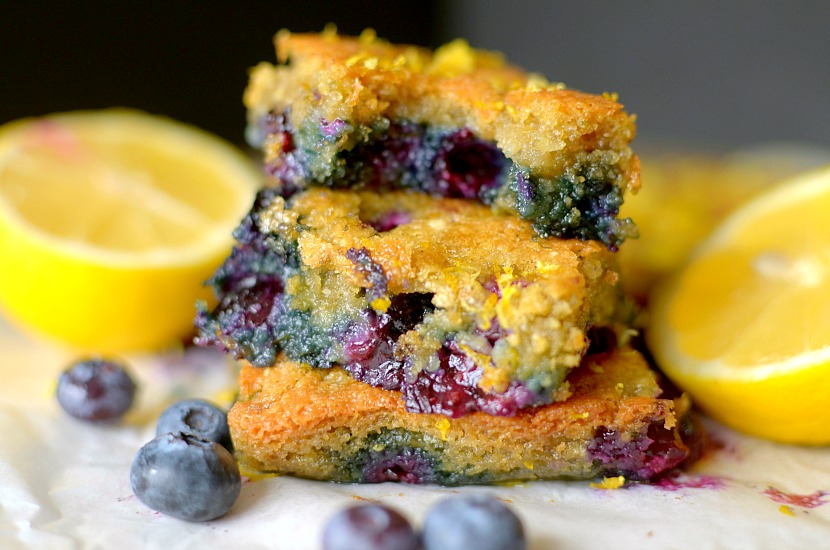 Let's see what we've got in the mix:
macadamia butter
maple syrup
1 egg/flax egg
baking soda
lemon juice + zest
vanilla
fresh blueberries
Easy, peasy Lemon-squeezy.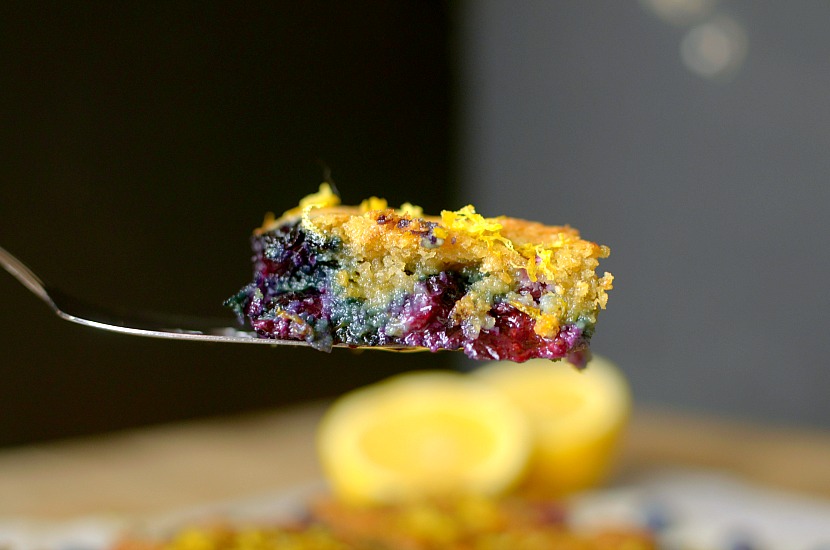 Gooey Flourless Lemon Blueberry Macadamia Blondies
Be prepared to fall in love with these ultra gooey, decadent blondies.  Studded with fresh blueberries, zesty lemon and the creaminess of macadamia butter, you wouldn't ask for anything else!  You won't believe that they are gluten-free, grain-free, dairy-free, paleo with a vegan option.
Gooey Flourless Lemon Blueberry Macadamia Blondies
Ingredients
*1 cup macadamia nut butter
1 egg, beaten ( can sub a flax egg or 1/2 cup applesauce for vegan option)
1/4 cup pure maple syrup
1 Tbsp. fresh lemon juice
1 Tbsp. lemon zest
1/2 tsp. baking soda
1/4 tsp. vanilla extract
1 cup fresh blueberries
Instructions
Preheat oven to 350 degrees. Line an 8x8 pan with parchment paper and set aside.
Combine all ingredients except for blueberries in a bowl. Mix well until a thick, smooth batter forms.
Carefully fold blueberries into batter, making sure they don't get squished.
Pour batter into parchment-lined pan. Smooth out the top so the batter is even.
Bake for 15-20 minutes, or until done.
Let bars cool (make sure you let them cool extra long because they are gooey). Slice into 9 blondies.
Enjoy!
*Can sub macadamia butter for any nut butter of choice.
http://athleticavocado.com/2017/03/25/gooey-flourless-lemon-blueberry-macadamia-blondies/
Like This Recipe?  Pin For Later!

You May Also Like:
Gooey Flourless Cinnamon Toffee Blondies {Vegan + Paleo}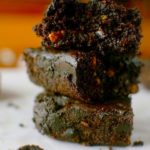 Dark Chocolate Fudge Zucchini Brownies {Paleo + Vegan option}
---