Love fried veggies? You'll swoon over these Crispy Cashew Portobello Mushroom Fries! Served with a carrot ginger sauce, you won't believe they are healthy!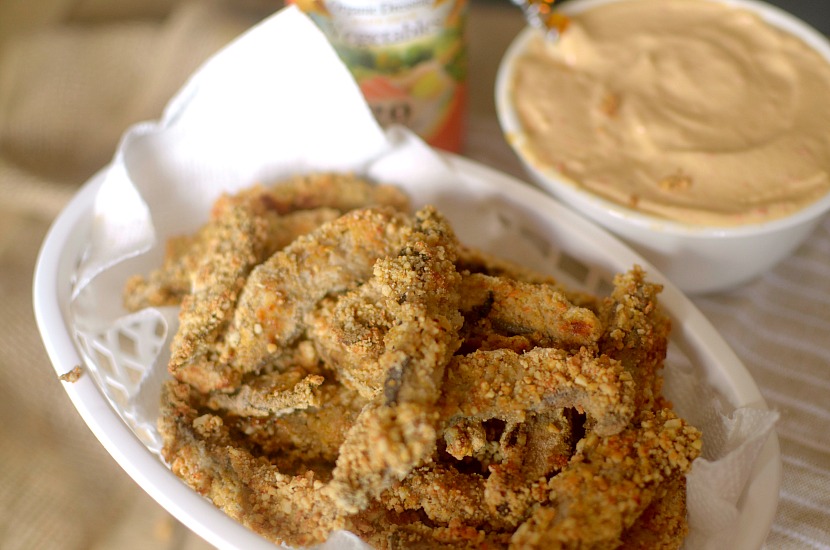 TBH it's really hard to make mushrooms look appetizing in a photo………but that didn't stop me from making this recipe.  I think I;m addicted to crispy vegetables, they're my guilty pleasure.  Anyone ever had those portobello mushroom fries from the Cheesecake Factory?  SWOON.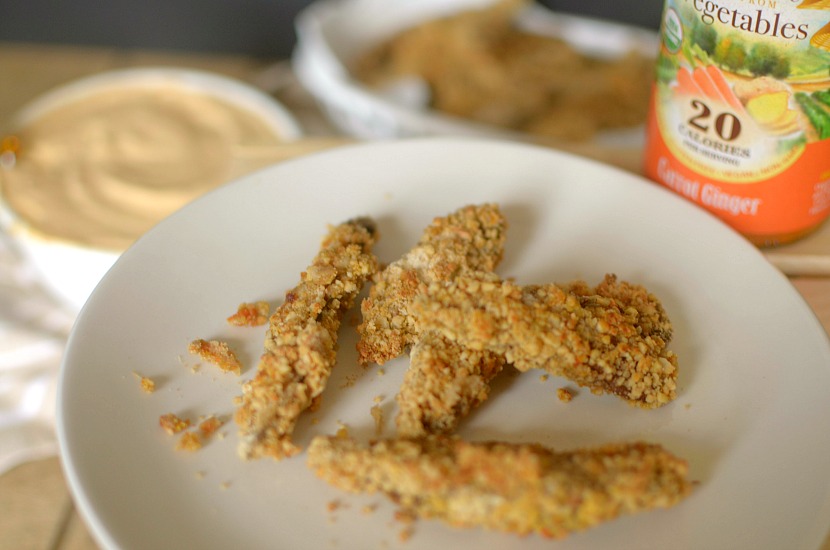 Crispy breaded veggies are actually really fun to make (and eat).  I've already done a cauliflower ,brussels sprouts and pickle version on the blog, so it was time for a veggie change.  In my opinion, portobello mushrooms don't taste like much of anything.  But if you marinate them, bread them and bake them until crispy, they magically turn delicious.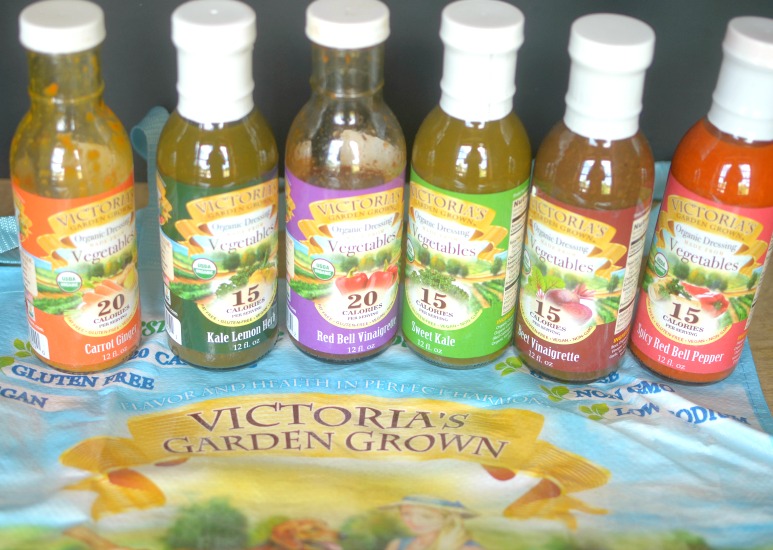 To keeps these fries healthy and full of flavor, I used Victoria's Garden Grown Salad Dressing.  With only 15-20 calories per 2 Tbsp. serving, these dressings are a great options for those who love adding flavor to their dishes but without added fat and calories.  Victoria's Garden Grown is the only USDA organic, gluten-free, non-GMO and vegan condiment line on the market featuring wholesome veggies as its primary ingredient.  Not only do they taste great, but they provide a healthy dose of vitamins A,C and K to your diet.  They have a whole line of tasty, low-cal flavors:
Carrot-Ginger

Kale Lemon Herb

Red Bell Vinaigrette

Sweet Kale

Beet Vinaigrette

Spicy Red Bell Pepper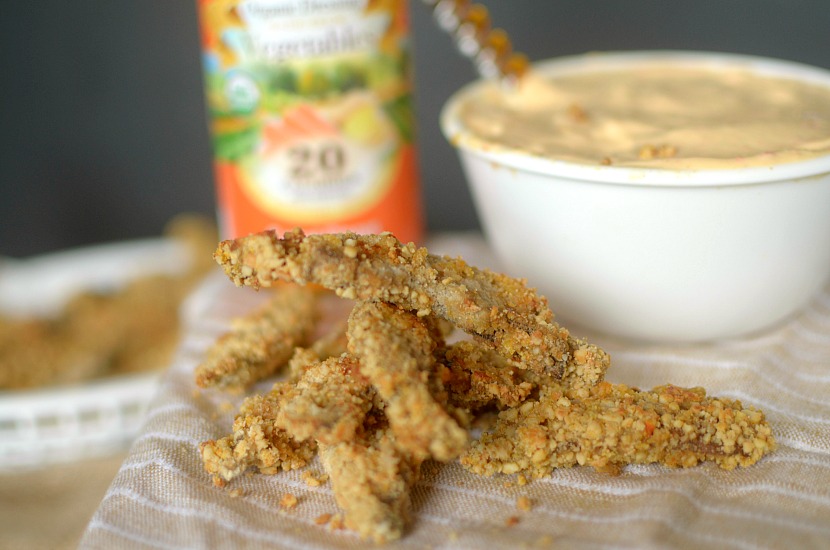 Going back to the fries, they're my new favorite appetizer.  But what are fries without a dip?  Can one eat french fries without ketchup?  Nope.  That's why I also created this creamy, gingery and slightly spicy dip to go along with them.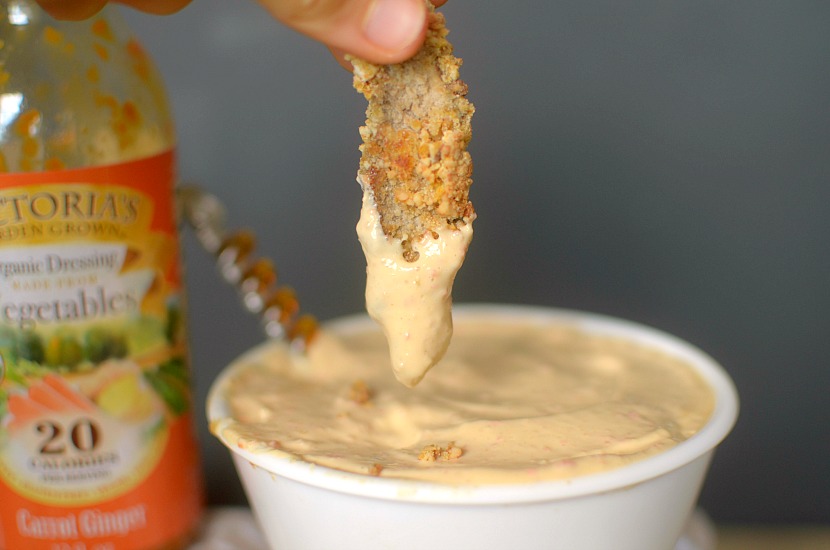 Slices of portobello mushrooms are marinated in carrot-ginger dressing, coated in coconut flour and cashew meal and baked until crispy.  Served with a spicy cashew-ginger sauce, these fries are irresistible!
Cashew Crusted Portobello Fries with Spicy Carrot Ginger Cashew Dipping Sauce
Ingredients
4 portabello mushrooms, cleaned
1 cup cashew meal
3/4 cup coconut flour
Dipping sauce
1 (12 oz.) pack of firm tofu
1/4 cup Victoria's Garden Grown Carrot Ginger Salad Dressing
2 Tbsp. cashew butter
1 Tbsp. sriracha
Instructions
Scrape out brown insides of mushrooms and slice each mushroom into about 8 fries.
Place slices in a large shallow bowl and add dressing. Let marinate in fridge for at least 1 hour.
Preheat oven to 400 degrees.
Place cashew meal in a shallow bowl and coconut flour in a shallow bowl.
Dip mushroom slice in coconut flour, then in cashew meal. Place on a cooking sheet lined with parchment paper in a single layer. Repeat with remaining slices.
Bake for 20 minutes. Take out of oven and flip each slice to other side. Bake for another 10 minutes.
To make sauce, combine all ingredients in a food processor. Serve with mushroom fries.
Enjoy!
http://athleticavocado.com/2016/08/09/crispy-cashew-portobello-mushroom-fries-carrot-ginger-sauce/
Like This Recipe?  Pin For Later!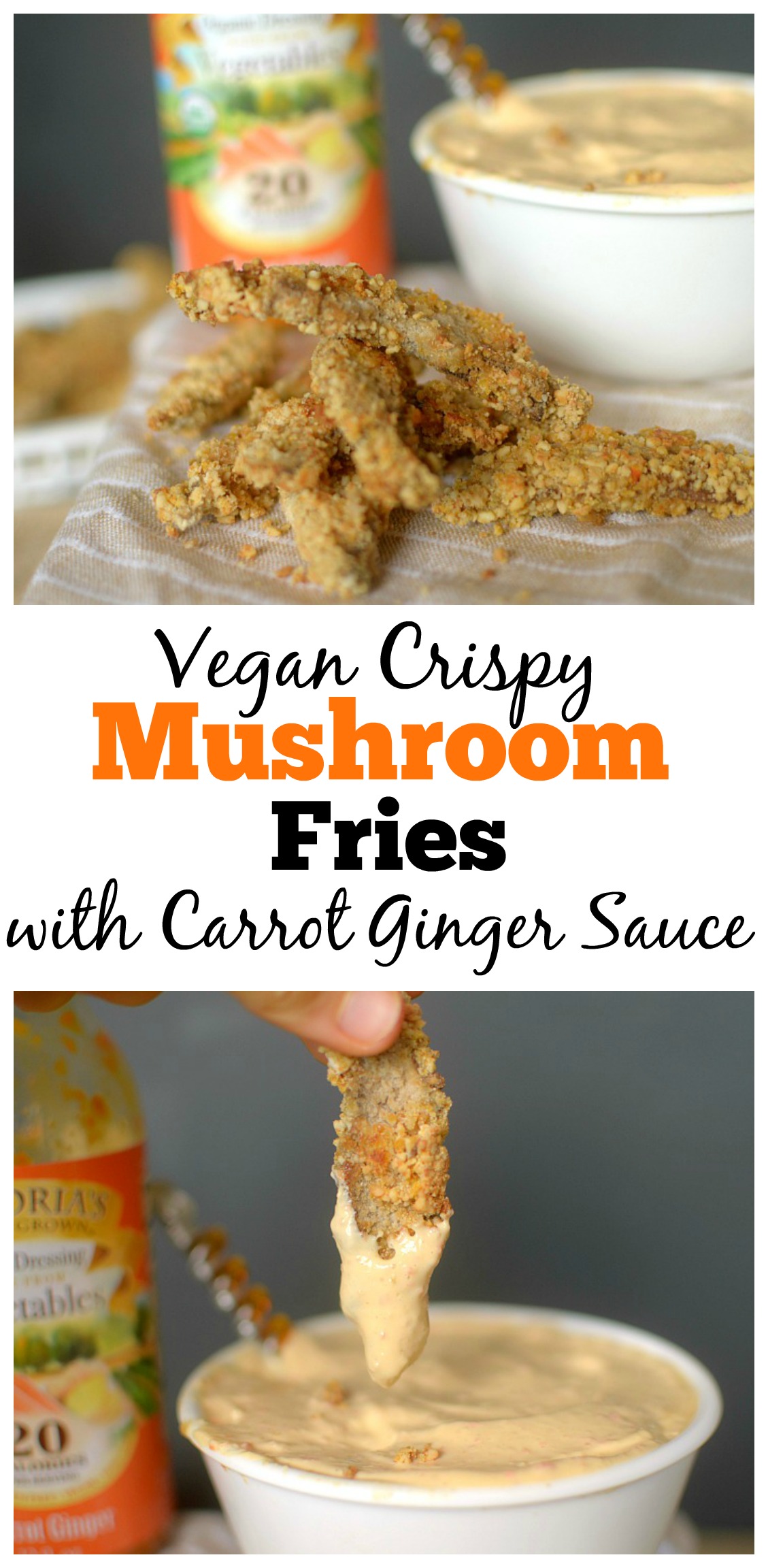 You May Also Like: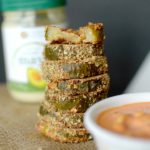 Spicy "Fried" Pickles with Sriracha Mayo Dipping Sauce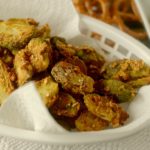 Honey Mustard Pretzel Crusted Brussels Sprouts
"This is post is sponsored by Victoria's Garden Grown on behalf of Mambo Sprouts.  As always, all opinions are my own."
---
 Question of the day:
Fried veggies, yay or nay?