Don't you love those recipes that you can have for more than one meal? Like breakfast, dessert or snack without being judged (no, pizza doesn't count). These muesli cups are one of those recipes, filling enough for quick breakfast, healthy enough for a snack, or sweet enough for a light dessert, these are the whole package! The special ingredients in these Muesli Cups in none other than the amazing Nature Valley Muesli!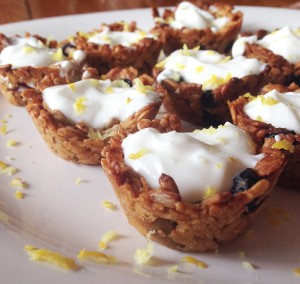 These could not be easier or tastier, especially since they are made with Nature ValleyTM Toasted Oats Blueberry Muesli! It's so simple and easy to substitute your favorite recipes with Nature Valley Muesli! Nature Valley Toasted Oats Muesli is a delicious blend of whole rolled oats, fruit, nuts, and seeds. It is lightly sweetened and made with wholesome ingredients you can feel good about eating. Hot or cold, its delightful texture makes it easy to enjoy anyway you serve it up. It is wholesome goodness you can see and taste. Beginning June 1, Nature Valley Muesli can be found in major retailers and grocery stores across the country.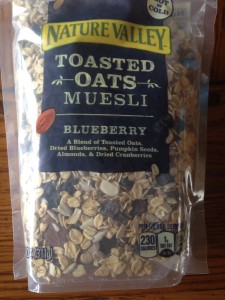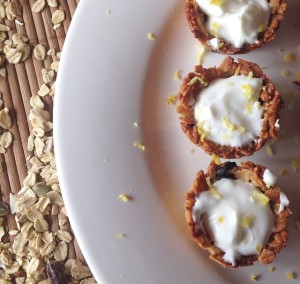 Nature Valley Toasted Oats Muesli comes in two flavors— blueberry and original. The ingredients are so simple and healthy! This a much healthier option than granola!
Blueberry Flavor: Whole Grain Oats, Sunflower Seeds, Dried Blueberries, Pumpkin Seeds, Raisins, Almond Pieces, Dried Cranberries
Original Flavor: Whole Grain oats, Sunflower Seeds, Dried Cranberries, Raisins, Toasted Coconut, Almond Pieces, Pumpkin Seeds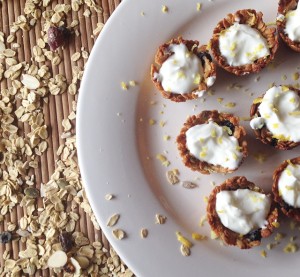 Lemon-Blueberry Muesli Cups (adapted from This Recipe via Chocolate Covered Katie)
Cups
1.5 tbsp coconut oil, melted
3 tbsp unsweetened apple sauce
1 tbsp honey/maple syrup
2 tbsp cashew/coconut/almond butter
1. Preheat oven at 350 and spray a mini muffin pan (or regular sized) with cooking spray
2. Mix all ingredients in a large bowl and press into muffin pan (makes about 12 mini or 6 regular)
3. Bake for 15-20 minutes, or until golden
4. Slide a knife around the edges of each cup (but don't take out yet) and refrigerate for 1 hour, or until hard
5. Fill with lemon-yogurt mixture and enjoy!
Filling
3/4 cup plain greek yogurt (can use coconut yogurt for vegan)
1 tbsp honey
1 tbsp lemon juice
1 tbsp lemon zest
1. Mix all ingredients together and fill cups
Oh and don't forget to get your $1 off coupon HERE! Trust me, you'll love it! You gotta try it now!