The tasty Mango Lime Vegan Meatballs will please all the meat eaters too! They are such a great dinner over pasta or a delicious appetizer!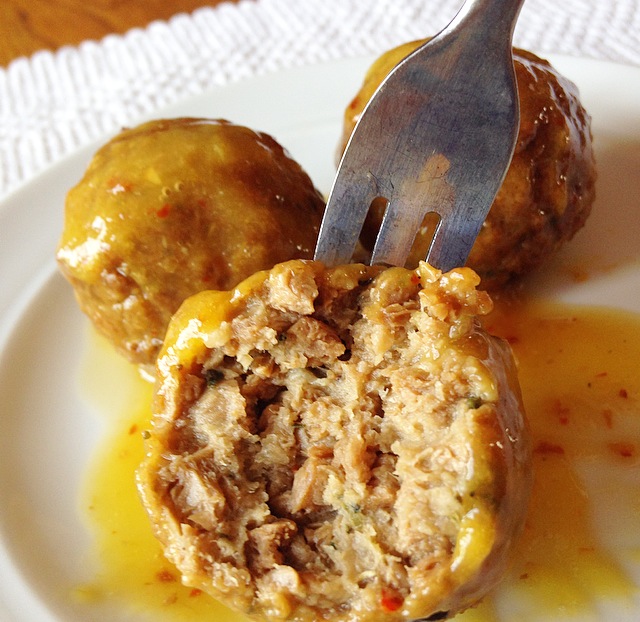 If you would have told me 3 years ago to try a meatless meatball, I would flat out say "Heck no, that's gross!" I used to believe that meat the only thing that should be on your dinner table and meat alternatives didn't have a place. Well, fast-forward 3 years later and now I actually prefer meat alternatives! I realized that you can get the same quality protein from plant-based products as you do animal products! Not only is plant-based protein better for your body, but it is also way better for the environment! So you maybe thinking, "Meat alternatives probably wont satisfy my craving for meat!" Well change that thought people meat alternatives from the company Gardein are so close to the original thing that they can fool people! When my Dad tried the Mango-Lime Glazed Meatless Meatball recipe (below), he didn't even question what kind of meat it was! When I told him it didn't contained meat, he thought I was joking (he then went on and ate 4 more while I "wasn't looking"). Gardein has a whole line of meat-alternatives that taste like the real thing (or even better) from chicken-less chicken strips to fishless filets! They are so convient and easy to make since they only take a few minutes to make! Perfect for when you want a satisfying meal but don't want it to take too long! All products are made with a savory blend of non-GMO soy, wheat and veggies!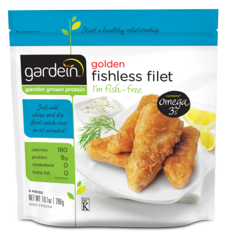 Gardien was kind enough to let me sample their Golden Fishless filets and boy am I impressed! I actually did a double take to make sure they actually didn't contain any fish! They contain the same great taste of breaded fish fillets with omega-3s but no cholesterol!  Each serving has 9 grams of protein and is also a good source of fiber!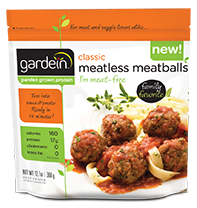 The next item I sample was the meatless meatballs! They were actually my staple this year in college because they were sold that my university's grocery store (such a blessing!)! I'm telling you, they taste better than homemade meatballs, sorry Mom! They are so juicy and tender and I can't get enough! I usually top them over with pasta sauce and place over baked eggplant, but I decided to do something a little different! This sweet and slightly spicy glazed over these meatballs are totally out of this world!  These babies contain 17 grams of protein per serving and are a good source of fiber and iron.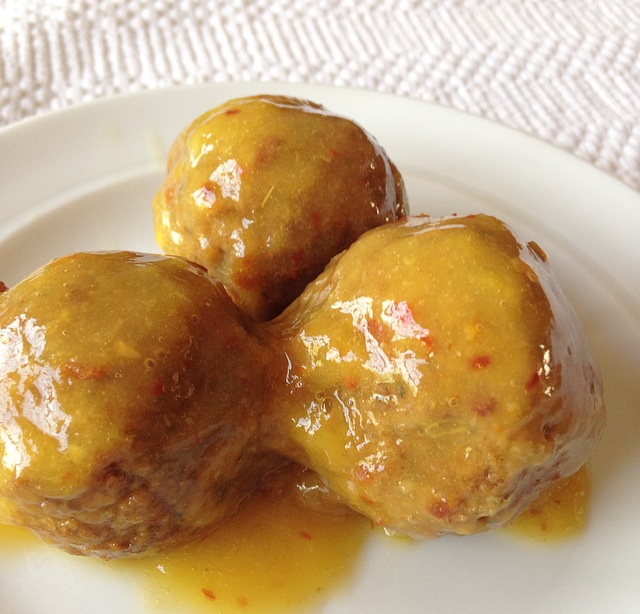 Gardein Review + Vegan Mango Lime Meatballs!
Ingredients
1 Mango, peeled and diced
juice of 1 lime
1 Tbsp. honey or agave nectar
2 Tbsp. rice vinegar
½ tsp. red pepper flakes
1 package of Gardein Meatless Meatballs, thawed
Instructions
1.Preheat oven to 350 degrees.
2.Place all ingredients except meatballs in a food processor or blender. Blend until fully combined, about 10 seconds.
3.Spray cooking spray on a glass-baking dish. Add meatballs and then pour glaze on top of them. Roll meatballs around in glaze.
4.Bake for 20 minutes.
http://athleticavocado.com/2015/05/13/gardein-review-vegan-mango-lime-meatballs/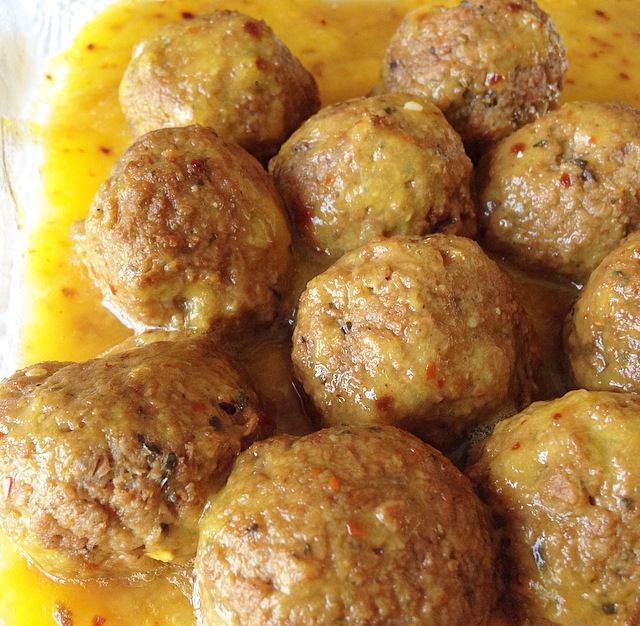 Wanna try these amazing products yourself? Gardein is giving out 1 dollar off coupons!  Gluten-free options are also available in Gardein's broad product portfolio. Gardein is available at over 22,000 retail locations as well as over 5,000 restaurants and 100 colleges, universities as well as other venues across North America. For additional information and chef inspired recipes, visit HERE
All Gardein products are found chillin' in the freezer aisle at your favorite grocery store. To find these products near you go to where you can enter your zip code and the product you're looking for.
https://ooh.li/a80aee6