Cinnamon Spiced Fruit Sweet Frittata is a high fiber, delicious whole30 breakfast option filled with naturally sweet fruit, coconut and almonds!  Can also be made ahead for meal prep!
As much as I like eating omelets when I go out to breakfast, I just don't have the ability to make my own omelets at home.  I have no omelet flipping ability.  The omelets I try to make for myself don't look or taste anything like the omelets I get at diners/restaurants.  Ugh it's so frustrating😣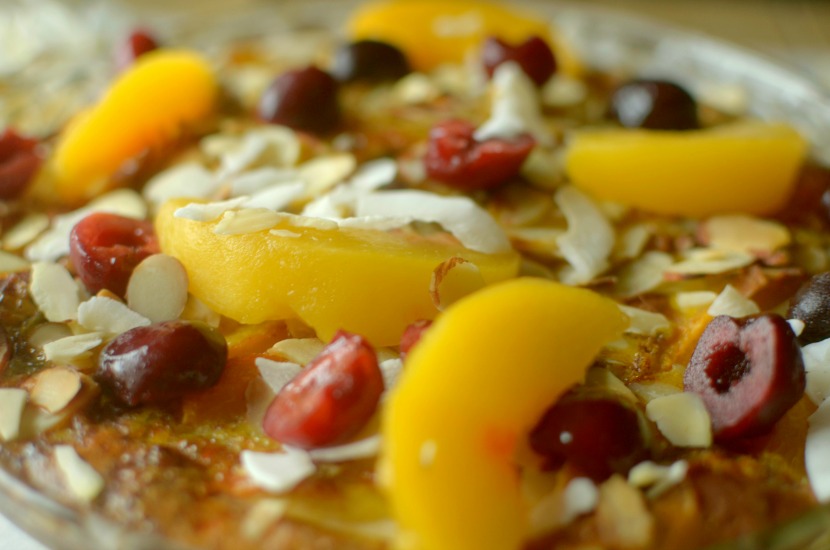 I tend to give up and make oatmeal instead because oatmeal is pretty much the cure for everything. But then I remembered about frittatas.  Have you ever made a frittata?  It's like a big fluffy omelet baked in pie form with no flipping required.  The thought of making a frittata gave me a glimpse of hope that my egg days were not over yet…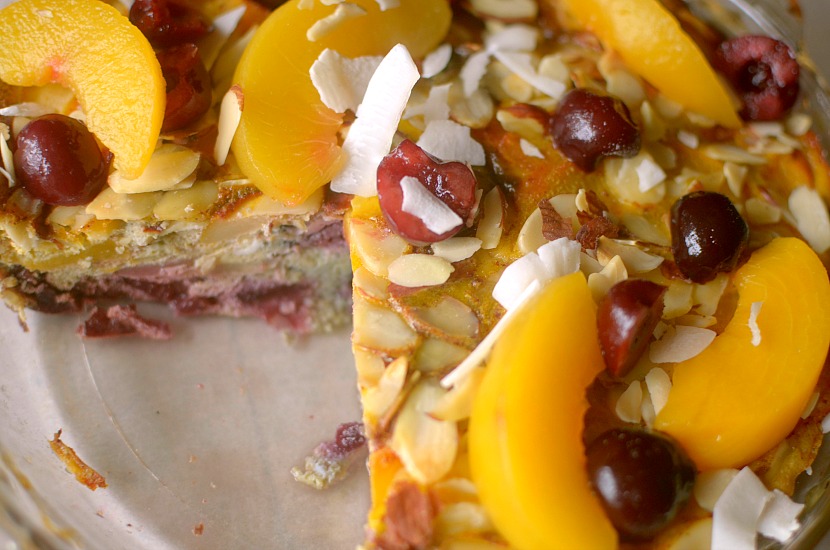 I know that eggs are super popular for breakfast on the whole 30 and paleo diet, but I know a lot of people get tired of savory breakfasts when all they eat is eggs and bacon.  So I made this frittata sweet by whisking it with cinnamon, adding fruit, coconut and sliced almonds.  Does it sounds weird to mix eggs and fruit?  Don't be scared, it honestly almost tastes like eggy french toast, no joke!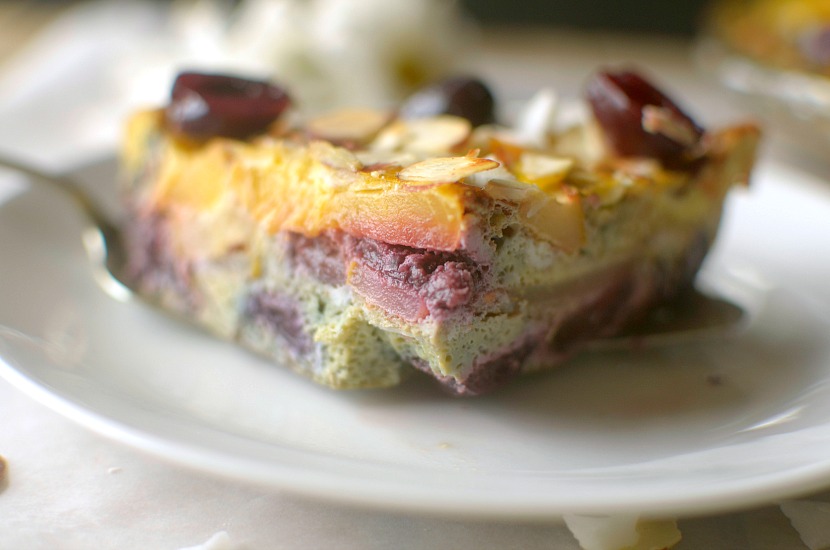 This frittata is also a great option for a make-ahead breakfast.  It serves 4-6 people, and only requires a few simple ingredients!  Feel free to change up the type of fruit you use and drizzle maple syrup on top for extra sweetness.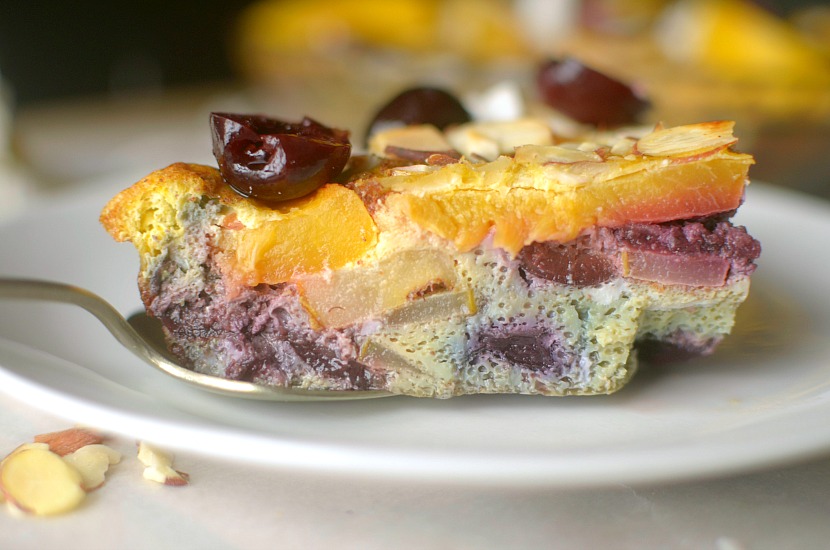 Eggs
Cinnamon
Cherries
Pears
Peaches
Almonds
Coconut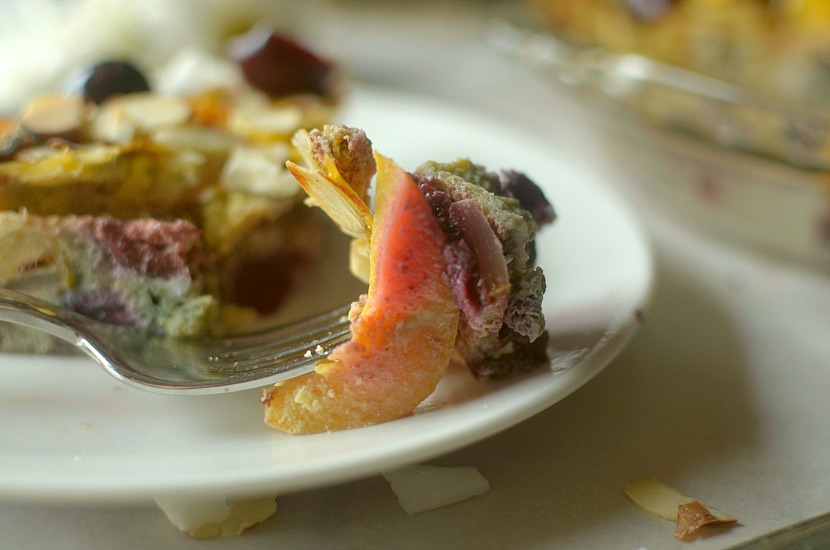 Cinnamon Spiced Sweet Egg Frittata
Eggs are whisked with cinnamon, fruit, almonds and coconut for a sweet and filling breakfast that is Whole 30 approved!  Perfect for meal prep!
Cinnamon Spiced Fruit Sweet Egg Frittata
Ingredients
8 eggs
1/2 tsp. cinnamon
1/2 cup sliced almonds
1/4 cup unsweetened coconut flakes
1 1/2 cups dark cherries, pitted and halved
1 1/2 cups sliced peaches
1 pear, thinly sliced
Instructions
Preheat oven to 400 degrees. Spray a glass pie pan with cooking spray.
whisk together eggs and cinnamon in a large bowl. Add in almonds and coconut then pour in glass pie pan.
Add in cherries, peach slices and pear slices, distributing evenly across egg mixture. Place in oven and bake for 15 minutes.
Take out of oven, reduce heat to 325 degrees, than bake for another 30 minutes or until golden.
Top with more fruit, almonds and coconut, if desired.
Enjoy!
Adapted by this recipe
http://athleticavocado.com/2017/04/02/cinnamon-spiced-fruit-sweet-frittata-whole30-paleo/
Like This Recipe?  Pin For Later!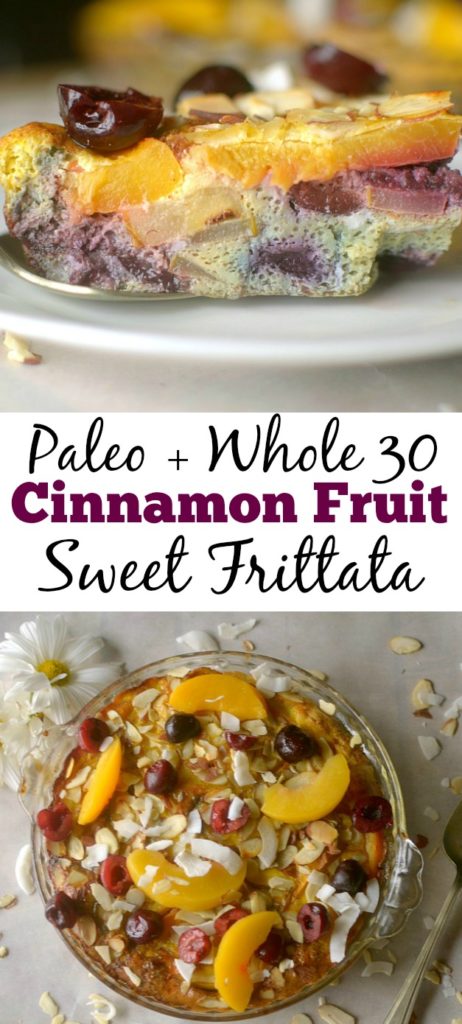 You May Also Like: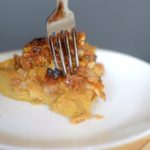 Paleo Sweet Potato Baked Pancake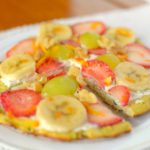 Zucchini Bread Breakfast Pizza
---
Question of the day!
What's your favorite way to eat eggs?