You know what I hate? Going to a party that has no appetizer or muchies before the main dish is served! It's the worst when you arrive, extremely hungry, and there is nothing to eat! Luckily when my parents host parties/get-toghethers, they also have the best appetizers to keep their guest satisfied until the main dish!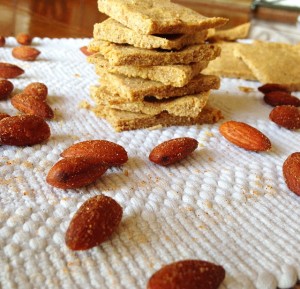 My favorite is  crackers and pepperoni (no cheese for me), such a classic! After shying away from processed food, crackers became rare in our house, but not any more. After receiving a brand new flavor of almonds from Blue Diamond,  Sriracha Blue Diamond Almonds, I knew i had to make this delicious flavor into crackers, and these were a hit at our last party!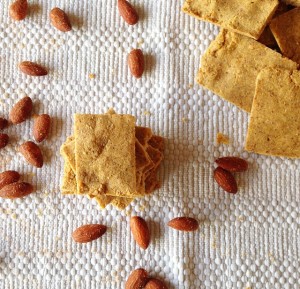 Paleo Sriracha Almond Crackers
Ingredients
1 container Sriracha Blue Diamond Almonds, about 3/4 cup
1/2 cup coconut flour
2 eggs, beaten (or 2 flax eggs)
2 tbsp sriracha, optional
Instructions
1. Preheat oven at 350 and layer a 9x9 pan with wax paper
2. Place almonds in food processor and grind into a butter, about 3-5 minutes
3. Put almond butter in a a bowl and add rest of ingredients, mix well until fully combined into a dough
4. Spread and flatten dough(using hands)onto wax paper until about 1/4 inch thick, bake for 15 minutes, or until done
5. Let cool and cut into squares (i made 20 medium sized but you can make them smaller or larger)
http://athleticavocado.com/2015/06/29/paleo-sriracha-almond-crackers/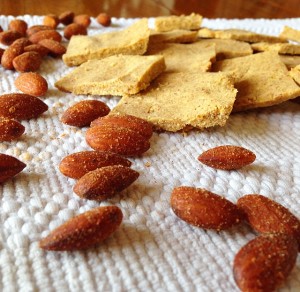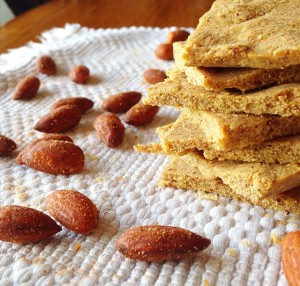 "This post is sponsored by Blue Diamond Almonds."
Linking up with Tina Muir and Confessions of a Mother Runner for Meatless Monday!
*This post contains Affiliate Links through Amazon Affiliates Program"