Have your dessert and eat it too, for breakfast! You'd be amazed that this Dark Chocolate Strawberry Banana Cobbler in a Jar is healthy and paleo + vegan!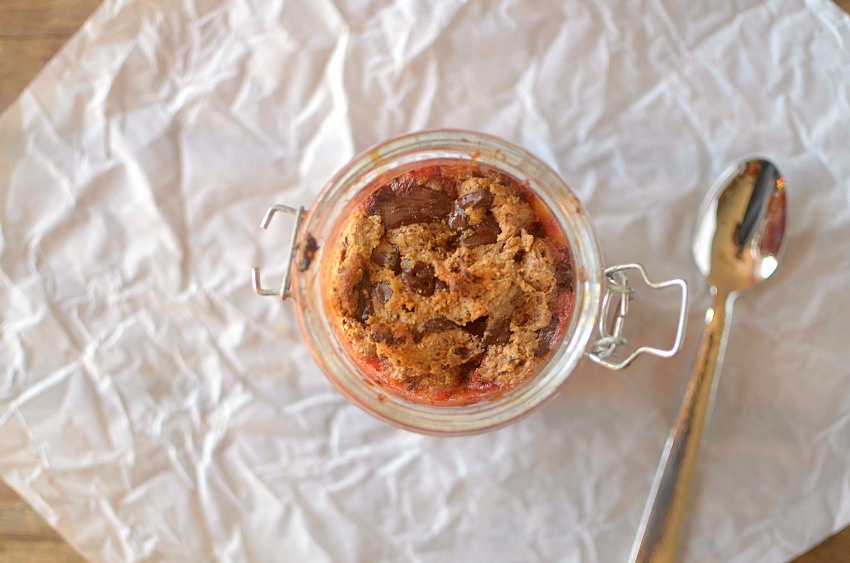 Now that I'm home for the summer, it means less oatmeal for breakfast and more creative breakfast ideas.  I'm not complaining though, cause y'all know that love getting my creative juices flowing, and I also love a good breakfast!  Who doesn't?  My point exactly.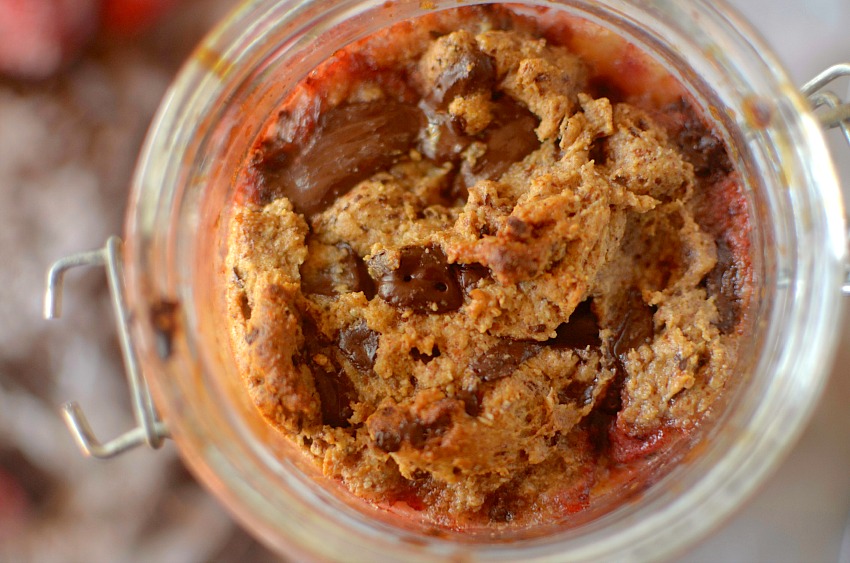 Fruit is great for breakfast, but so are muffins.  And chocolate chunks. And jars.  Jars?  Yea, they make breakfast portable and super duper cute.  So like, breakfast in a jar that's not oatmeal? Can I get a HECK YAS!?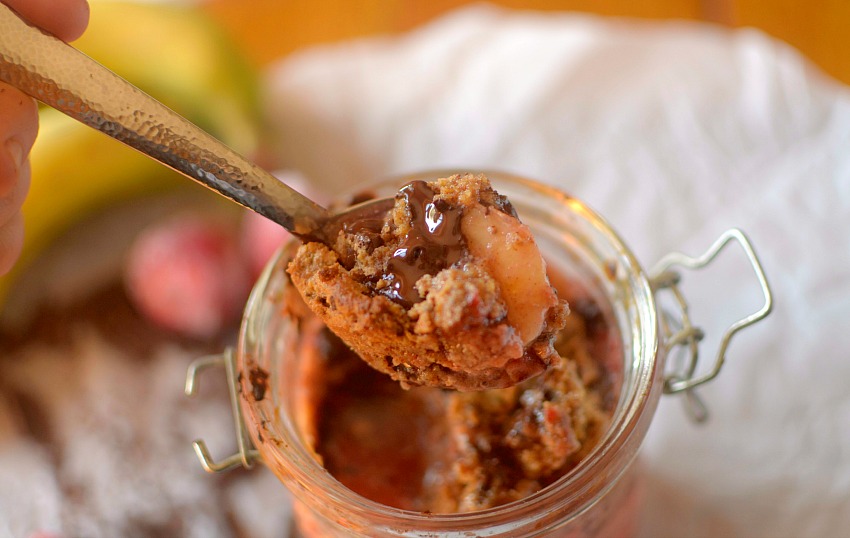 So basically, this recipe is bananas + strawbs with a chocolate chunk muffin on top in a jar.  Does this Sound good to you?  Yeah that's what I thought.  And guess what?  There is NO sharing involved.  That is, unless you use two smaller jars instead of one big one.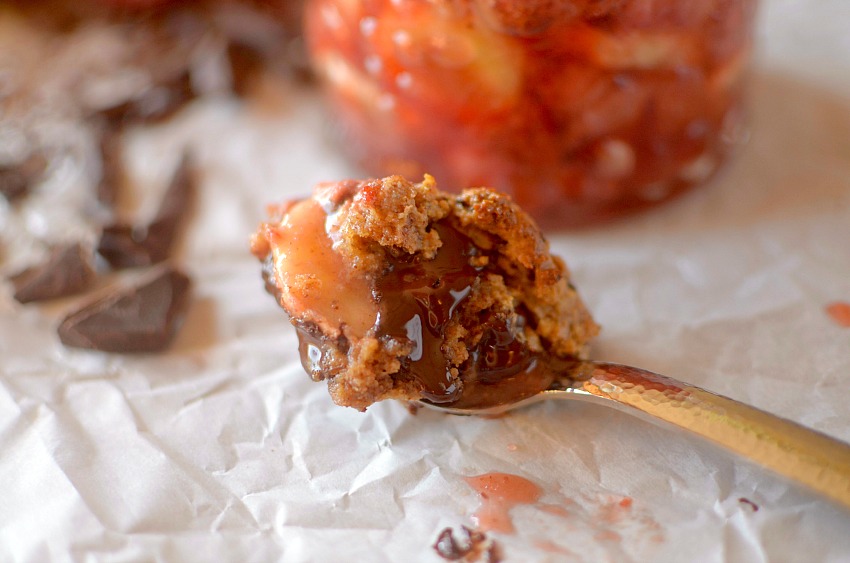 You will SWOON over the strawberry-banana-chocolate combo (oh hello banana split) while your sippin' your morning latte.  The best part is that the chocolate is still melty and gooey and when you dip your spoon in, its pretty magical.
It's also incredibly filling and full of healthy ingredients and can double as a dessert.  Genius right?  Yeah…..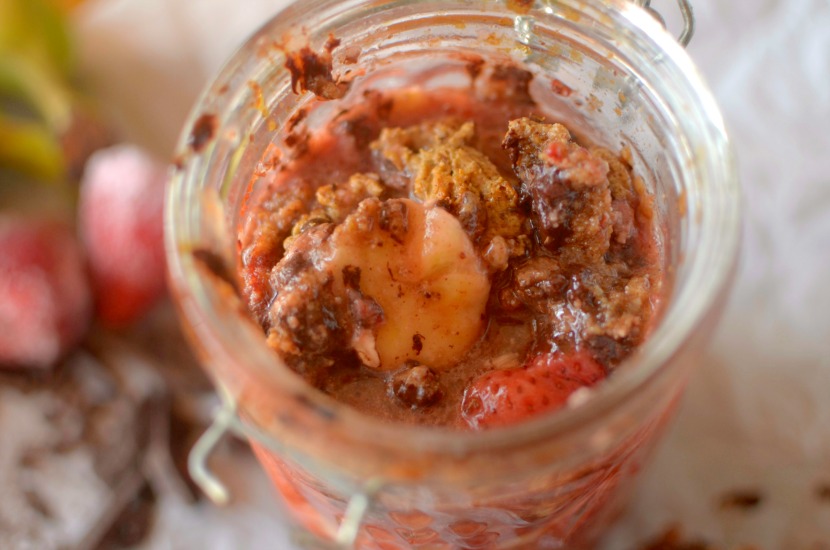 Dark Chocolate Chunk Strawberry Banana Cobbler in a Jar
Fresh sliced strawberries and bananas are baked underneath a giant muffin like topping to create the breakfast of your dreams!  Full of tasty goodness, you'd never guess that this breakfast is actually healthy for you!  It's super filling, delicious, and a great start to your day!
Dark Chocolate Chunk Strawberry Banana Cobbler in a Jar
Ingredients
2 cups sliced strawberries
1 banana, sliced
2 tsp. coconut sugar
1 tsp. lemon juice
1/8 tsp. cinnamon
MUFFIN TOPPING:
1/4 cup almond flour
1/4 tsp. baking powder
1/8 tsp. cinnamon
1 Tbsp. almond butter
1 Tbsp. pure maple syrup
1/8 tsp. pure vanilla extract
Instructions
Preheat oven to 350 degrees.
Get a large jar (or two smaller ones) and coat sides and bottoms with coconut oil.
Combine strawberry and banana slices in a bowl. Add coconut sugar, cinnamon and lemon juice. Mix well and place in jar.
In a separate bowl, combnie almond flour, baking powder and cinnamon. Add in almond butter, maple syrup and vanilla. Once mix well, add in dark chocolate chunks. Spoon on top of fruit.
Bake for 25-35 minutes, or until done
http://athleticavocado.com/2016/07/10/dark-chocolate-chunk-strawberry-banana-cobbler-jar/
Like this Recipe?  Pin For Later!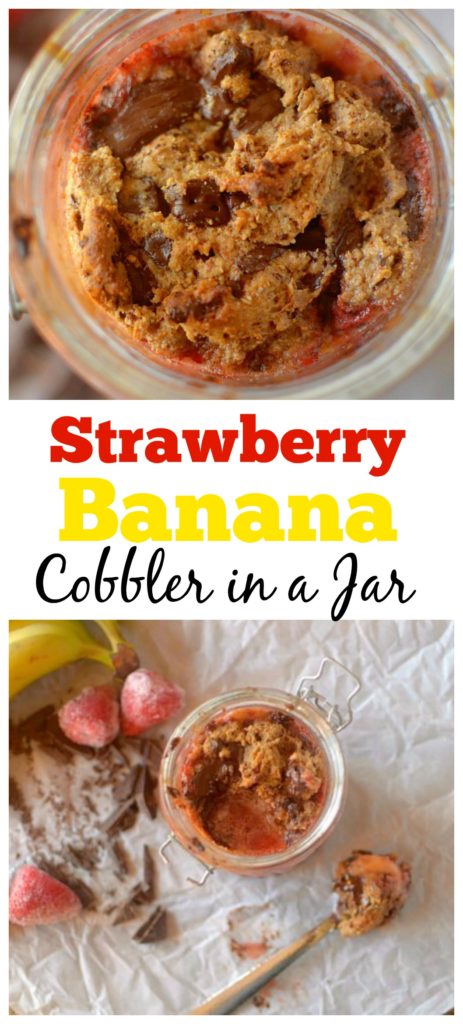 You May Also Like: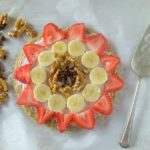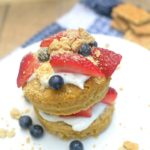 ---
 Question of the day:
Dessert for breakfast, yay or nay?