A healthy breakfast granola that combines the sweet flavor of blueberries with the salty flavor of almonds! You will love this Blueberry Almond Granola!
I've always been obsessed with  sweet and salty combinations.  I always got kettle corn at theme parks, had a handful of sweet and salty trail mix when I needed a snack and my mom always packed me sweet and salty granola bars for lunch in school.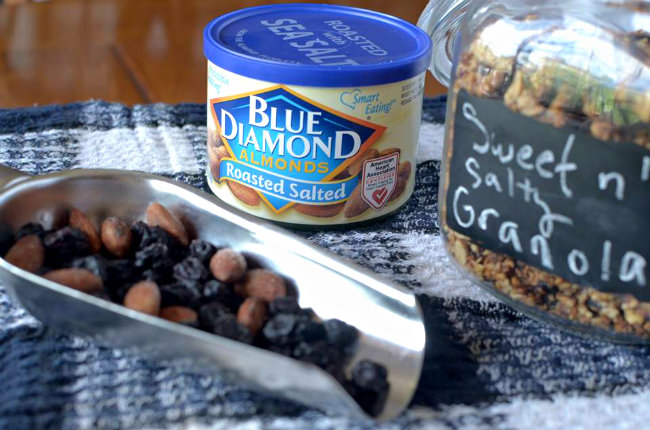 It's actually funny because I hate foods that are too sweet and I usually never like adding salt to my food, but when paired together, the sweet and salty flavors are perfect.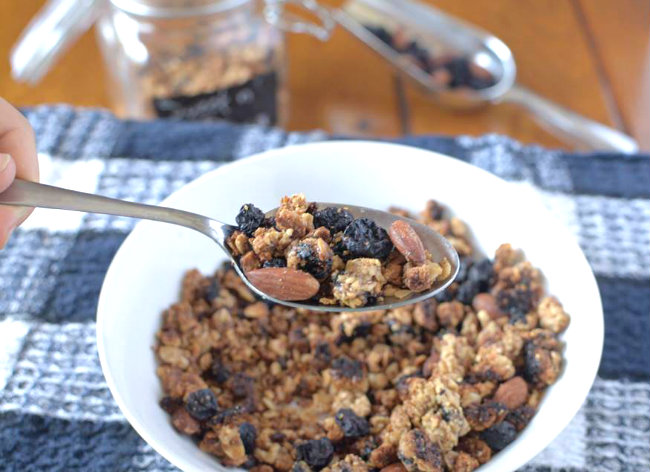 When Blue Diamonds sent me samples of their almonds, I quickly remembered the sweet and salty combo that I love so dearly.  I usually use unsalted nuts when making a recipe but I decided to change it up by using these almonds.  The sweetness of the dried blueberries is the perfect match for the saltiness of the almonds.  Needless to say, this Sweet and Salty Blueberry Almond Granola is a winner, and its the perfect way I flavor my adventure!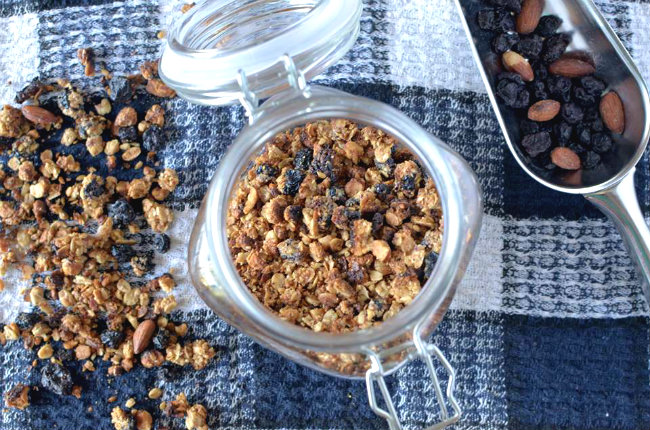 This granola is my favorite summer breakfast!  You can  bag it up and eat it on the go, at the beach, with ice cold milk or yogurt, or even on top of ice cream!
Sweet and Salty Blueberry Almond Granola
Ingredients
1 cup Blue Diamonds Roasted Salted or Lightly Salted Almonds, divided
1/2 cup gluten-free oat flour
1/2 cup gluten-free oats
1/2 cup dried blueberries
1/4 cup flaxseeds
1/2 cup dark chocolate chips (vegan if needed)
1/4 cup pure maple syrup
2 Tbsp. coconut oil, melted
1/4 tsp. pure vanilla extract
Instructions
Preheat oven to 350 degrees.
In a food processor add 1/2 cup almonds and process into an almond flour/meal (be careful not to process too long, or it will turn into a butter).
Finely chop the remaining 1/2 cup almonds.
In a large bowl combine almond flour, chopped almonds, oat flour, oats, blueberries, flaxseeds, chocolate chips and cinnamon.
In a separate bowl, whisk together maple syrup, coconut oil and vanilla. Add to dry ingredient mixture. Mix well, making sure all ingredients are completely combined.
Spread granola out on a cooking sheet lined with parchment paper. Bake for 10minutes than take out of oven and flip with a spatula. Bake for another 10 minutes.
http://athleticavocado.com/2015/07/24/sweet-and-salty-blueberry-almond-granola/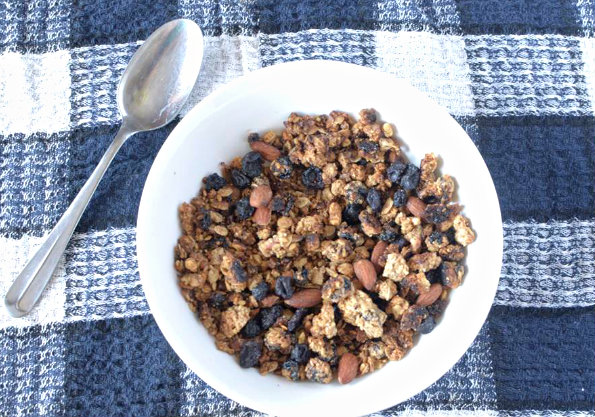 I love taking Blue Diamond Roasted Salted and Lightly Salted Almonds anywhere I go!  Whether it be on a long bike ride by the bay, a long walk on a breezy summer day, or even a nice hot day at the beach!  Its the perfect way to refuel when your low on energy!  It satisfies your salty cravings without being unhealthy!  Now tell me.  how to you flavor your adventure?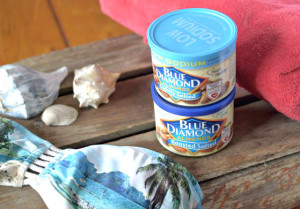 "This "Flavor Your Adventure" post is sponsored by Blue Diamond Almonds. For more snack ideas to "Flavor Your Adventure" this summer,visit Blue Diamond Almonds on Facebook (http://facebook.com/bluediamond), Twitter (http://twitter.com/bluediamond) and Instagram (http://instagram.com/bluediamond)."
[Tweet "#flavoryouradventure with this Sweet n' Salty Blueberry Almond Granola! #ad @almondbreeze"]
Products I used for this Recipe
Linking up with Sprint to the Table for Strange but Good!