Sticky Bun Vegan Cheesecake is completely raw, made with just a few ingredients and one healthy and delicious holiday dessert! Also paleo and gluten-free!
We all have that one dessert that we tend to gravitate to during the holidays/family gatherings.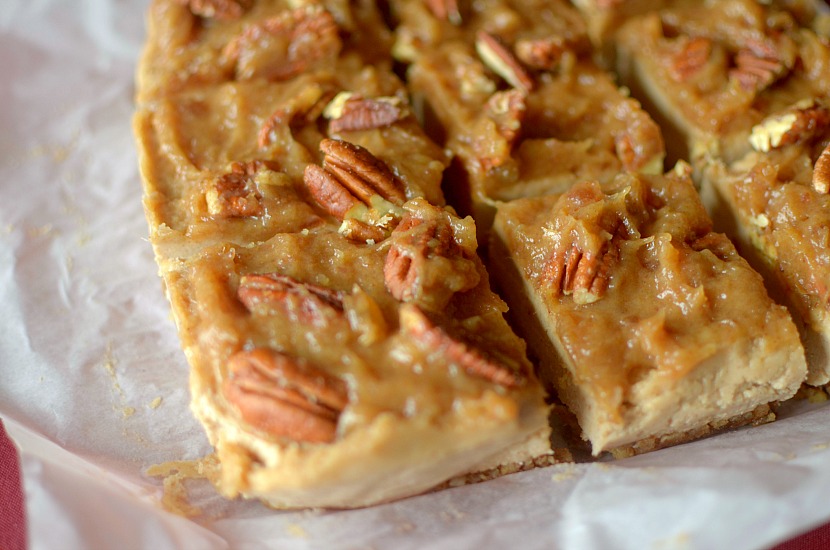 For some, it may be Grandma's tray of 100 different types of cookies, for others, it may be dense and fudgey brownies, but for me, it's cheesecake. I can eat cookies and brownies any day, but cheesecake is saved for special occasions like Christmas and birthdays. When those occasions come by, you can bet almost 99.9% that I'll be eating more than once slice of cheesecake because calories don't count on special occasions, right!?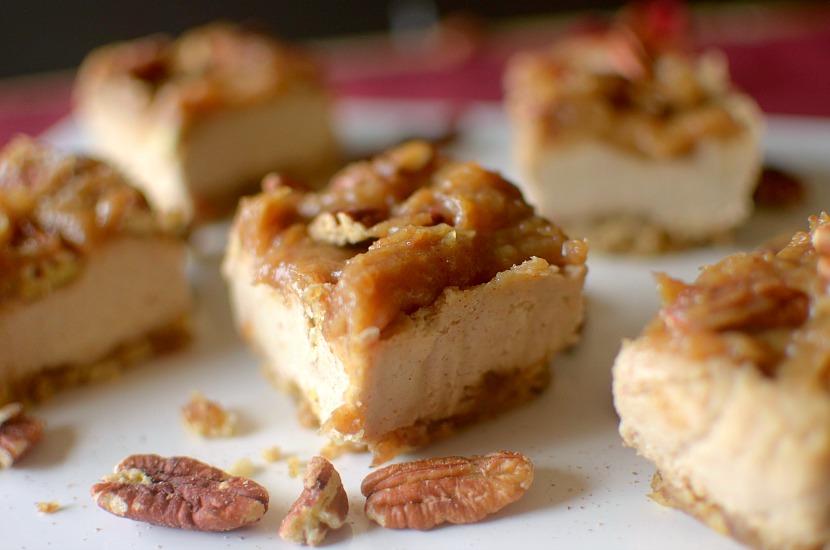 Anyways, calories don't matter. If you want cheesecake, then eat some because cheesecake is delicious and is made for enjoyment. I finally built up the courage to make something I've always wanted to make: a raw cheesecake. I'm always so intimidated by raw desserts and hence haven't really ever made them for the blog but I knew that it was time! And it turn's out, it was hard at all!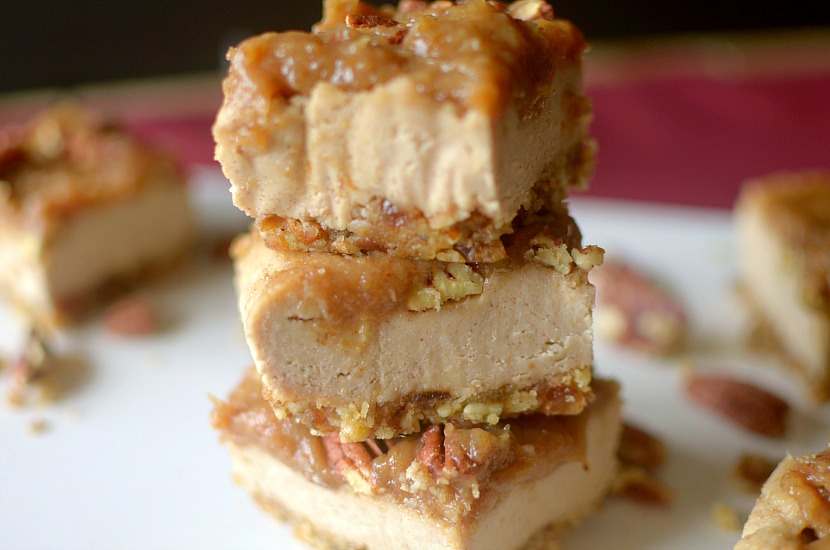 This cheesecake is stupidly easy and made up of only a few ingredients:
Pecans
Dates
Cashews
Coconut oil
Maple syrup
Vanilla extract 
Cinnamon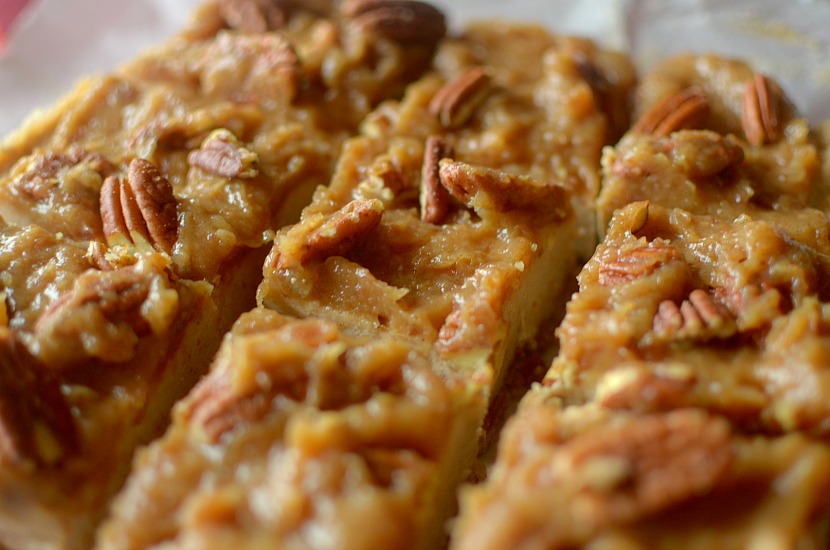 Sticky Bun Vegan Cheesecake
You would never be able to tell that this cheesecake is completely raw and made up of only a few ingredients. It's so creamy and filled with sweet date caramel and crunchy pecans making it the perfect healthy holiday dessert! Also vegan, paleo, gluten-free and grain-free! Make this for your next family gathering and watch every go crazy over this!
Sticky Bun Vegan Cheesecake
Ingredients
CRUST
1.5 cup pecans (or nut of choice)
1/2 cup dates (soaked in water for 10 minutes then drained)
FILLING
2.5 cup cashews (soaked in water overnight then drained)
1/3 cup coconut oil, melted
1/4-1/3 cup maple syrup
1/2 tsp vanilla extract
1 tsp- 1 tbsp cinnamon
TOPPING
1.5 cup pecans
Instructions
Line an 8x8 pan with parchment paper. To make CRUST: Place pecans (or other nuts if using) into a food processor and pulse until finely ground. Add the dates and blend until combined. Press the crust mixture evenly in pan and place in freezer while making filling. To make FILLING: Add cashews in food processor/blender and process until creamy. Add in melted coconut oil, maple syrup, vanilla and cinnamon and combine well. Spread filling evenly on crust and place in freezer for an hour. To make TOPPING: combine date caramel with pecans in a bowl and spread on top of cheesecake. Store in fridge.
http://athleticavocado.com/2016/11/05/sticky-bun-vegan-cheesecake/
adapted from this recipe
Like This Recipe? Pin For Later!!!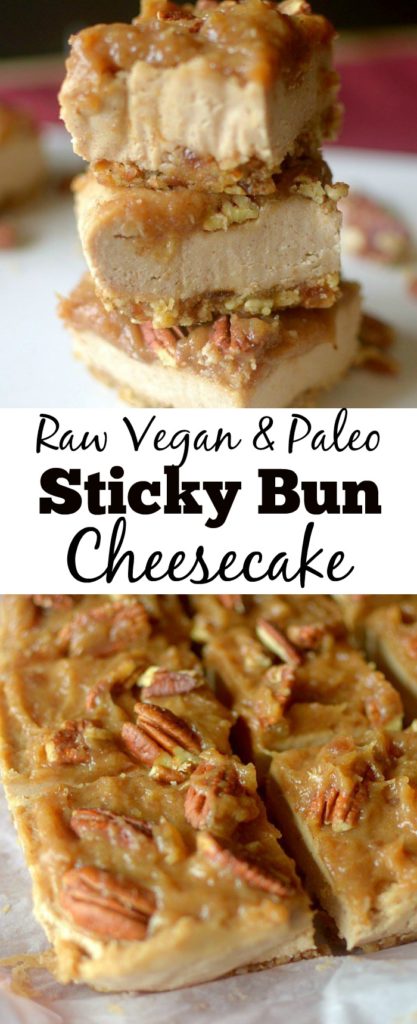 You May Also Like These Recipes!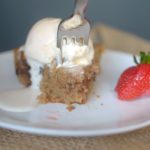 Roasted Strawberry Skillet Cookie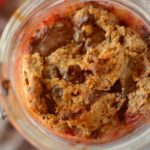 Strawberry Banana Cobbler in a Jar
---
 Questions of the day!
What's your favorite holiday dessert?