These Honey Mustard Pretzel Crusted Brussels Sprouts are a healthy, crispy and delicious side dish or appetizer! They are so easy-to-make and will please the pickiest of eaters! Also can be gluten-free and vegan!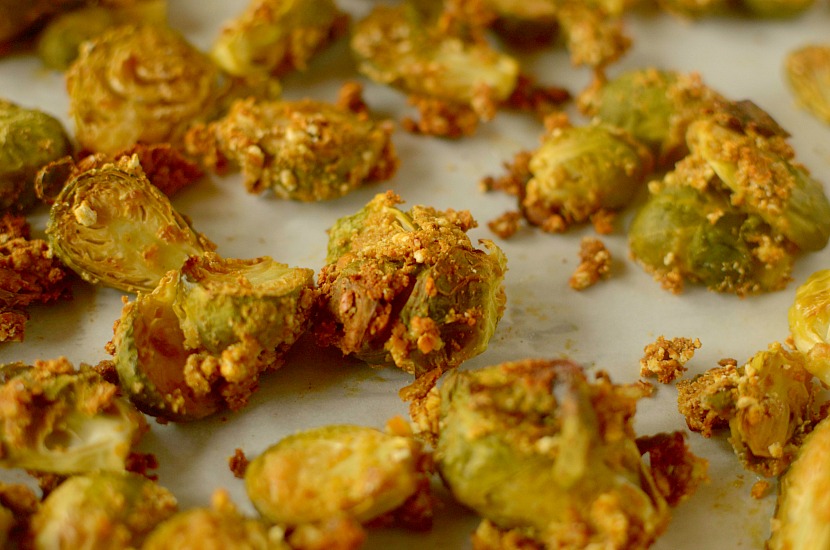 You guys are going to think we're insane with what I'm about to tell you.  For our birthday, we told our Mom that we'd rather have a nice serving of crispy brussel sprouts than have a birthday cake.  Yes, we like brussel sprouts more than cake, DEAL.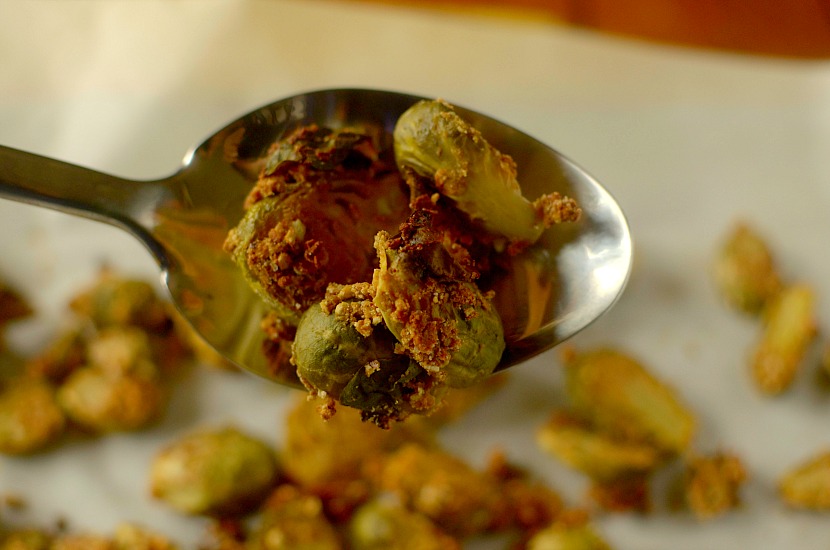 we did get my crispy brussel sprouts from an awesome restaurant and they were everything we could ever want. I didn't even let my brother share because that meant less for Rachel and I, selfish I know, but it was our birfday😉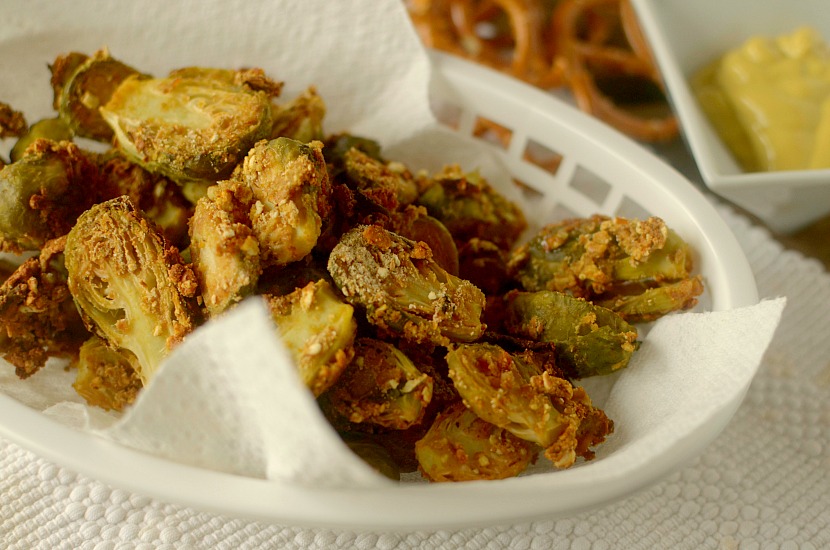 If you are reading this post right now and don't like brussels sprouts, don't stop reading it.  I promise you'll DIE for these crispy, crunchy brussels.  They're bathed in honey mustard, coated in gluten-free pretzel crumbs and roasted until crispy perfection.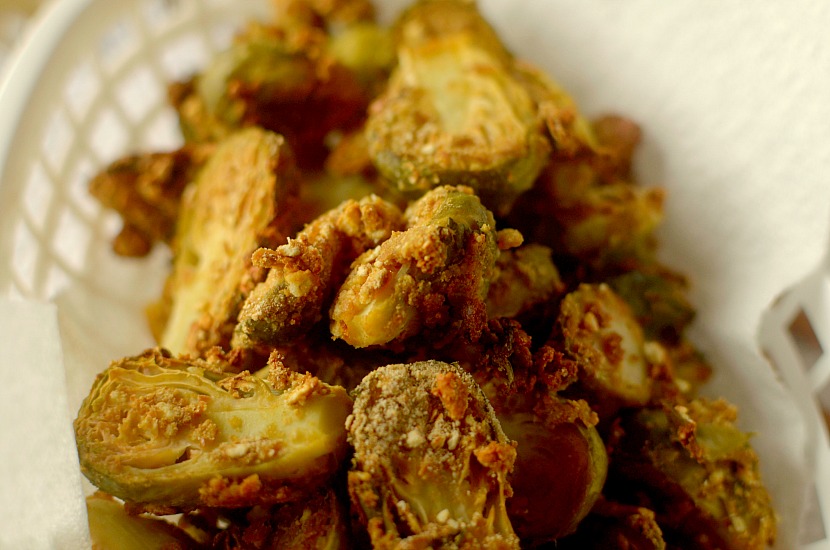 If you are already one of those people who are obsessed with roasted brussel sprouts, be prepared to become even more obsessed.  I'm talking about a "can't stop won't stop" Miley Cyrus obsession.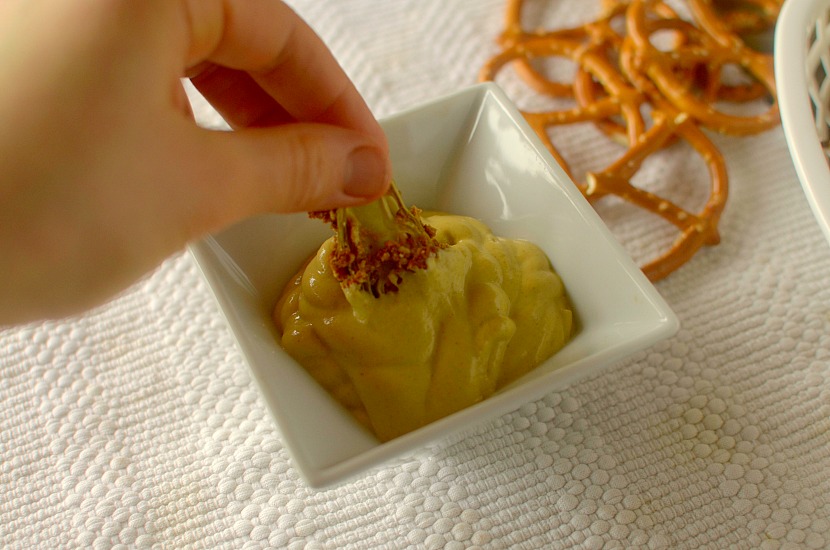 These Honey Mustard Pretzel Crusted Brussels Sprouts are the perfect appetizer or side dish for a family dinner or get-together. They will even please those who swear that they "hate" brussels sprouts!
Pretzel Crusted Honey Mustard Brussel Sprouts
Ingredients
1 lb fresh brussel sprouts, halved
1 1/2 cups gluten-free pretzels
1/4 cup dijon mustard
2 Tbsp. honey (sub maple syrup for vegan option)
1 egg white, beaten (sub flax egg for vegan option)
salt and pepper to taste
Instructions
Preheat oven to 350 degrees.
Place brussel sprout halves in a large bowl.
Place pretzels in a food processor and blend until pretzels resemble breadcrumbs.
In a small bowl, combine mustard, honey and egg white. Mix well.
Pour mustard mixture on brussel sprouts, stirring until all halves are coated. Add in pretzel crumbs and mix until all halves are coated in crumbs.
Place brussel sprouts onto a large cooking sheet lined with parchment paper. Drizzle olive oil on top.
Bake for 40 minutes, or until brussel sprouts are roasted.
Enjoy!
http://athleticavocado.com/2016/05/25/honey-mustard-pretzel-crusted-brussels-sprouts/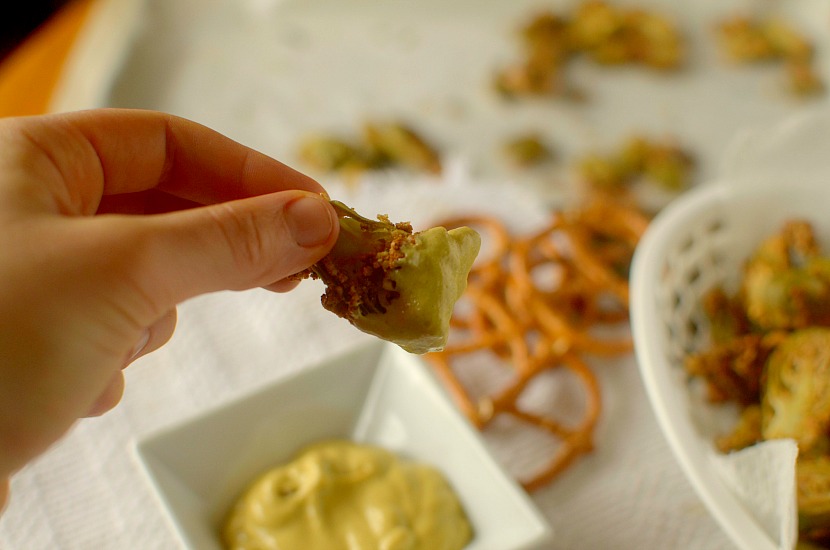 L
ike This Recipe? Pin For Later!!!

You May Also Like These Recipes!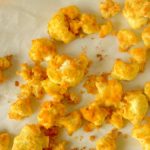 Pineapple Teriyaki Cauliflower Poppers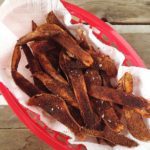 Linking up for Strange But Good!
What's your favorite way to eat brussels sprouts?

What's your favorite "birthday food?"