This healthy Banana Split Dessert Oatmeal is recipe that you can eat for BOTH breakfast and dessert! Very easy-to-make and gluten-free & vegan!
If you can't tell, we really like banana split flavored things…
Like these breakfast cookies, This breakfast bowl and these dessert wontons. It's an obsession. I mean, who doesn't like strawberries, bananas, chocolate and walnuts into one perfect little dessert? No complaining here. Now this Banana Split dessert bowl is something that I wanted to create for a long time.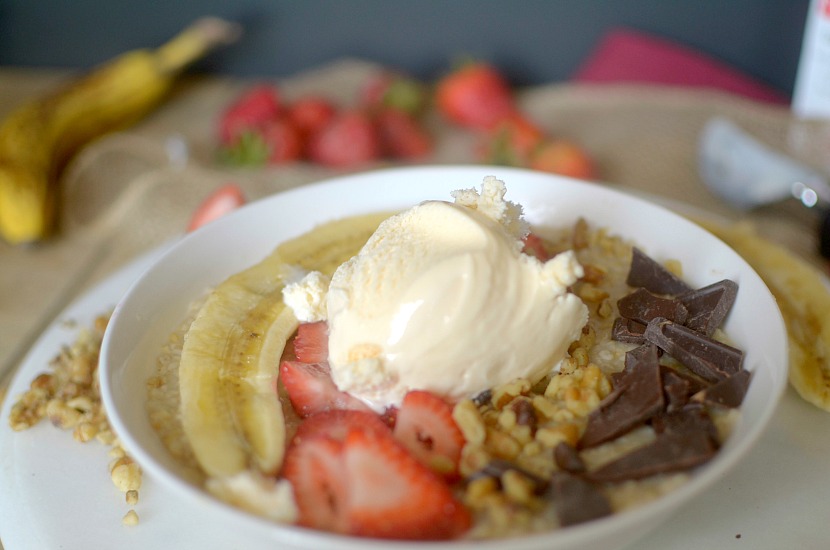 It's unique because it contains something that isn't typically considered dessert…..Oatmeal. Yes I know what you're thinking, I thought oatmeal was for breakfast, and yes, it is, but if you've never tried oatmeal for dessert, you are missing out BIG TIME! Truth is, you can eat this oatmeal for BOTH meals!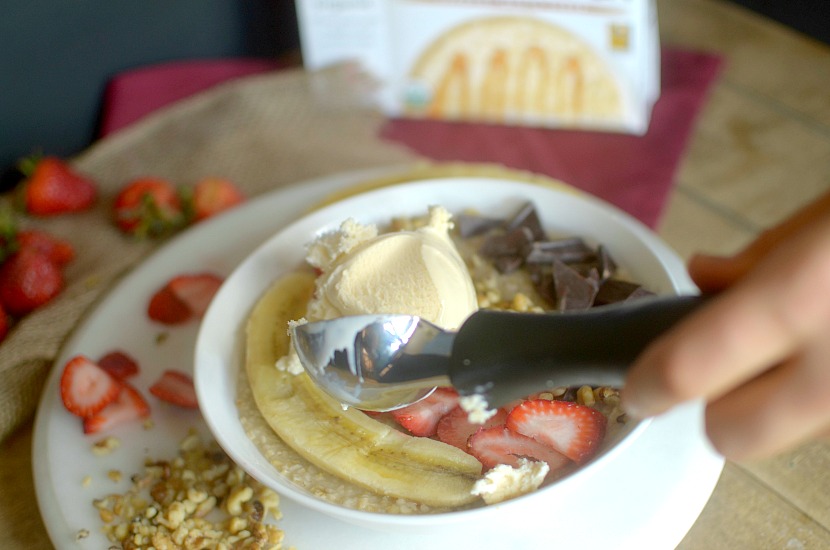 This oatmeal dessert bowl is easy peasy thanks to the main ingredient, Good Food Made Simple Steel Cut Oatmeal. Now, if you've ever cooked steel cut oatmeal, you know how much better it tastes than old fashioned but you also know that it takes 5x longer to prepare which can be a pain. Good Food Made Simple makes  steel cut oatmeal hassle free with their steel cut oats already in single serving frozen packets. So all you need to do is take it out of the packaging and microwave and voila, your thick, nutty oatmeal is ready in only a few minutes.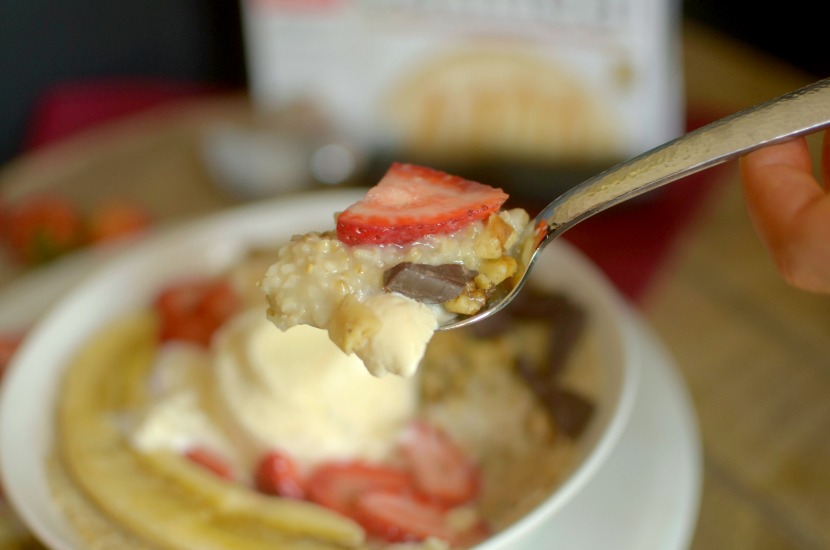 Not only are these steel cut oats even more delicious and easier to make than traditional steel cut oats, but they are also completely natural with nothing added to enhance the flavors and nutritiously whole grain. They come in three flavors, Fruit & Berries, Organic Unsweetened Natural and Organic Vermont Maple, all of them being 150-200 calories and packed with nutrition. You can read more about Good Food Made Simple and their ingredients HERE.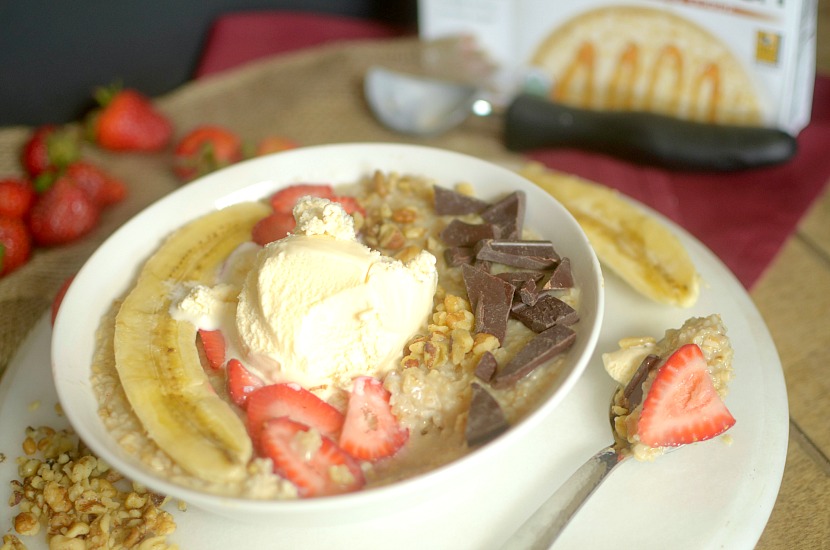 Banana Split Dessert Oatmeal Bowl
Now back to this beauty. This Dessert Bowl redefines what dessert means. It's completely healthy, satisfying, and most importantly delicious made with hearty steel cut oats, strawberries, bananas, walnuts and dark chocolate. It's also vegan and gluten-free friendly!
Banana Split Dessert Oatmeal Bowl
Ingredients
1 serving Good Food Made Simple Oatmeal (I used maple)
1/2 cup strawberries, chopped
1 banana, halved lengthwise
2 tbsp dark chocolate, chopped
2 tbsp walnuts
Vanilla ice cream (can use dairy-free)
Instructions
Add oatmeal to bowl and cook according to directions on package. Add the rest of the ingredients and top with ice cream, enjoy!
http://athleticavocado.com/2016/08/29/banana-split-dessert-oatmeal-bowl/
Like This Recipe? Pin For Later!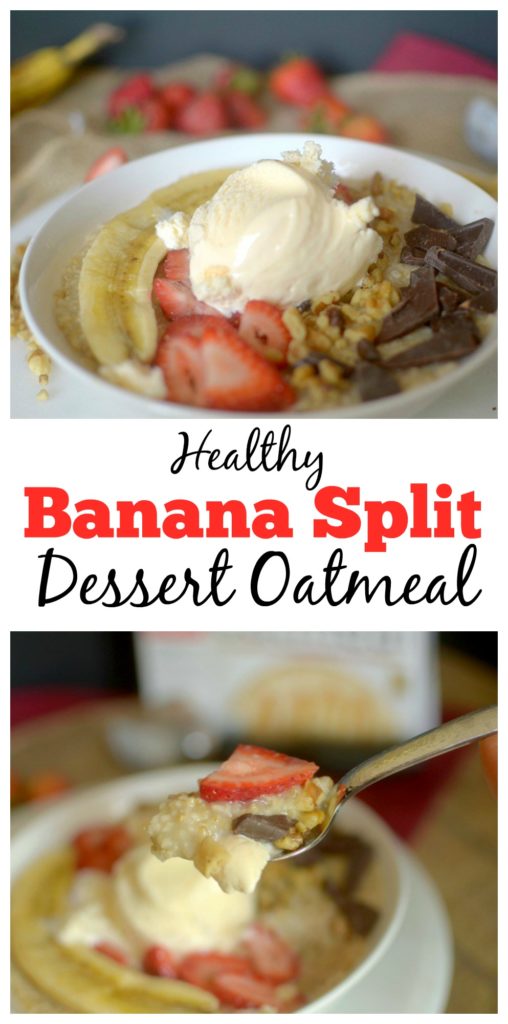 You May Also Like These Recipes!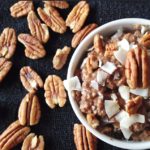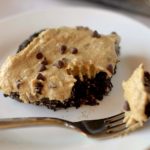 Cookie Dough Brownie Baked Oatmeal
---
Questions of the day!
Have you ever eaten oatmeal for dessert?
What's your favorite dessert?