This shop has been compensated by Collective Bias, Inc. and its advertiser. All opinions are mine alone. #BringYourBestBowl #Target #CollectiveBias
There is no better way to start your day off than with this hearty and delicious bowl of Frothy Chai Spiced Oatmeal with Apple noodles! Also Vegan and Gluten-free!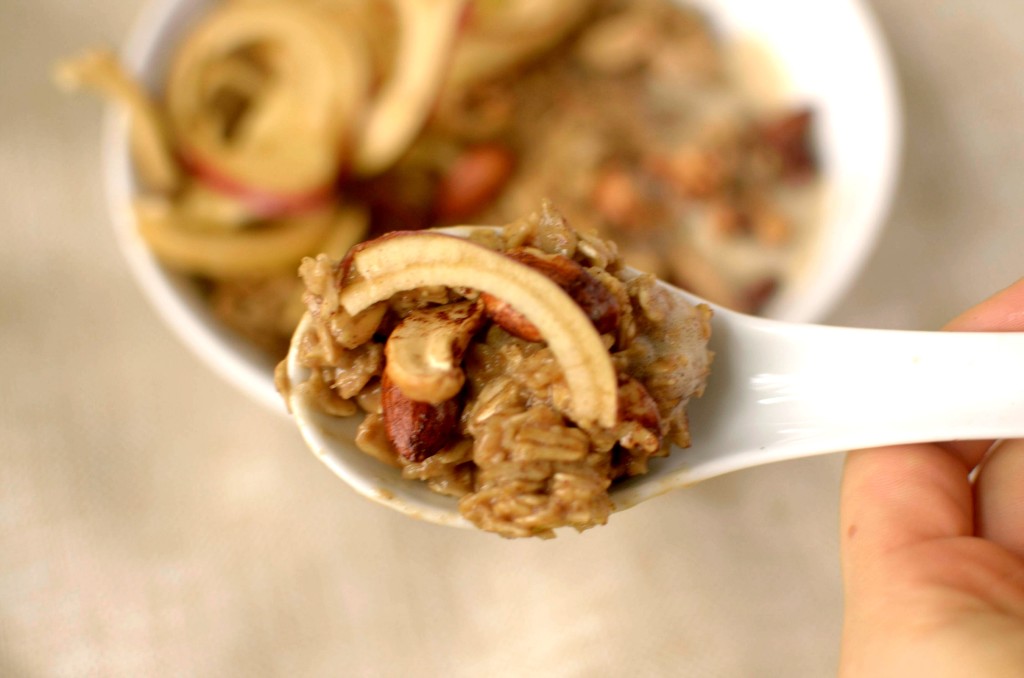 Do you guys have the most perfect food that you could eat for every meal and not get bored of it?  Thats the relationship that me and oatmeal have.  I love that fact that you can dress oatmeal up with tons of beautiful toppings or make it simple when you are feeling like a plain jane.  You can top it with tons of chocolate and dessert like toppings just like froyo, or you can add pesto, avocado and a runny egg to make it savory.  Seriously, oatmeal is the classic black dress of the breakfast world, it never goes out of style!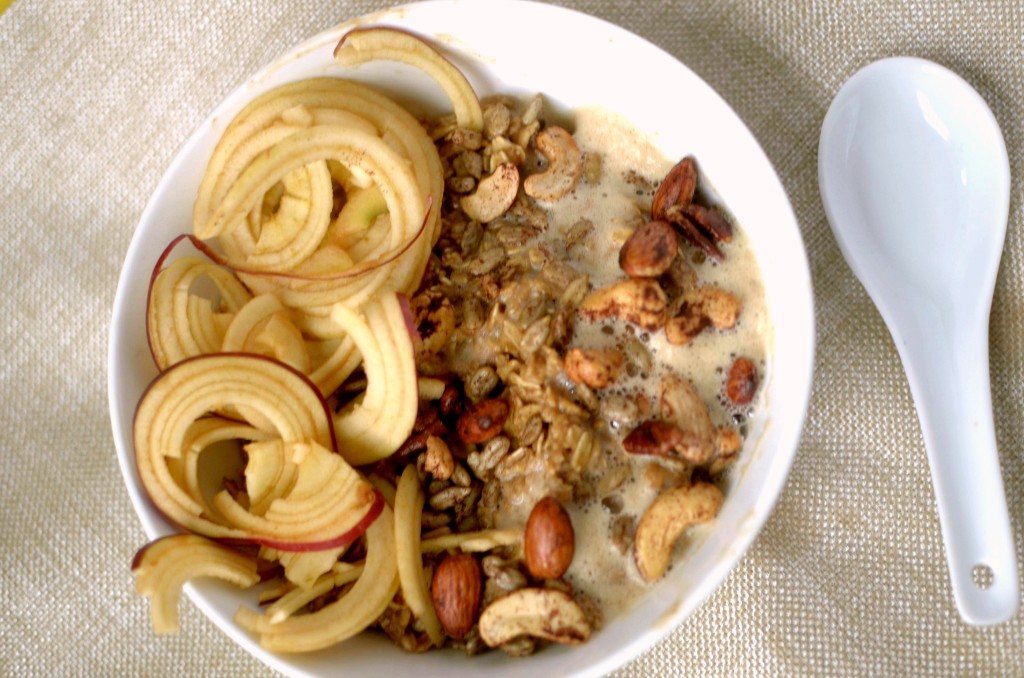 I absolutely love experimenting with new oatmeal toppings because they always end up in a success!  This particular idea came to me on a cold, snowy Monday morning.  My apartment is sans heat right now, so I've basically been wearing a jacket and two pairs of fuzzy socks!  I was craving a nice big and hot bowl of oats that would warm me up and comfort my heart!  The idea of a big mug of chai tea makes me feel cozy inside,  so I added it to this beautiful oatmeal bowl!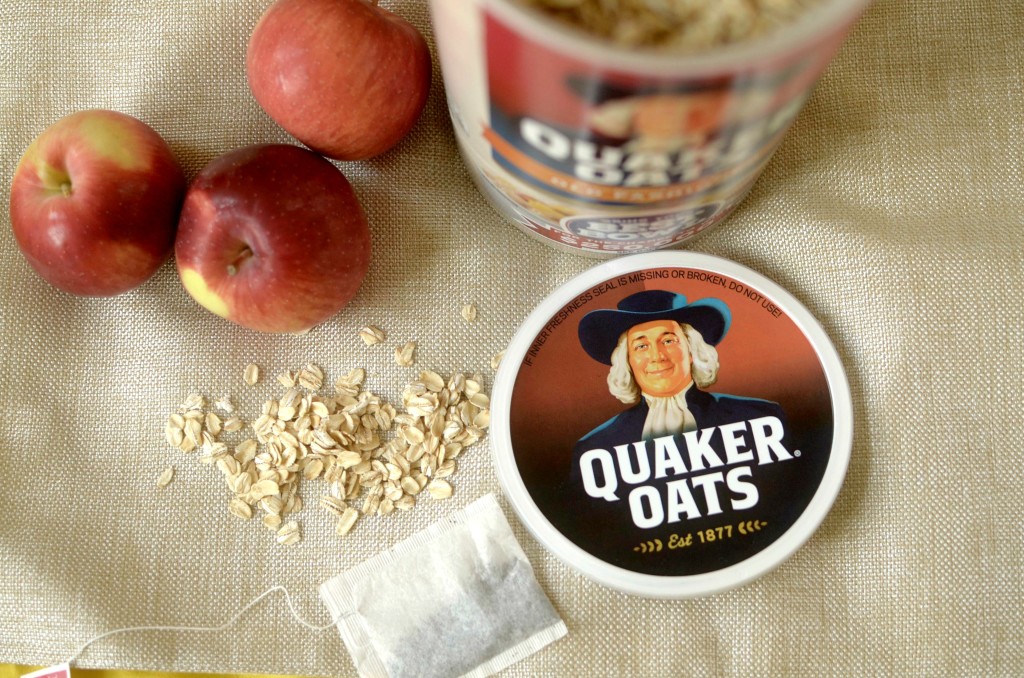 Because I'm always a hangry monster in the morning, I added nuts for healthy fats and apples for extra fiber to keep me full all morning!  I spiralized the apples because everything in noodle form is more fun! Having this hearty bowl of Frothy Chai Spiced Oatmeal with Apple Noodles is sure to get your day off to the right start.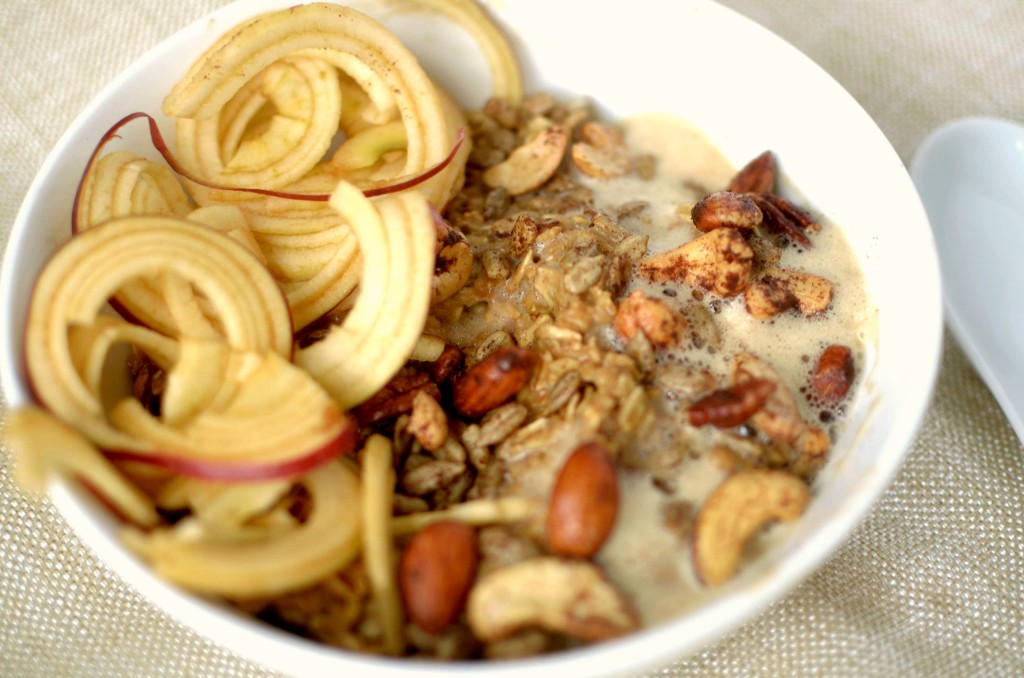 My favorite type of oats to use is Quaker® Oats Old Fashioned Oatmeal because they are the most filling and soak up the most liquid and flavor!  So when I was asked to share a Bring Your Best Bowl recipe for Quaker® Oats, I knew I had to use them!  You could always sub in Quaker® Instant Oats  Maple Brown Sugar and Original Flavors or Quick One Minute Quaker® Oats!  Either way, your bowl will be just as delicious!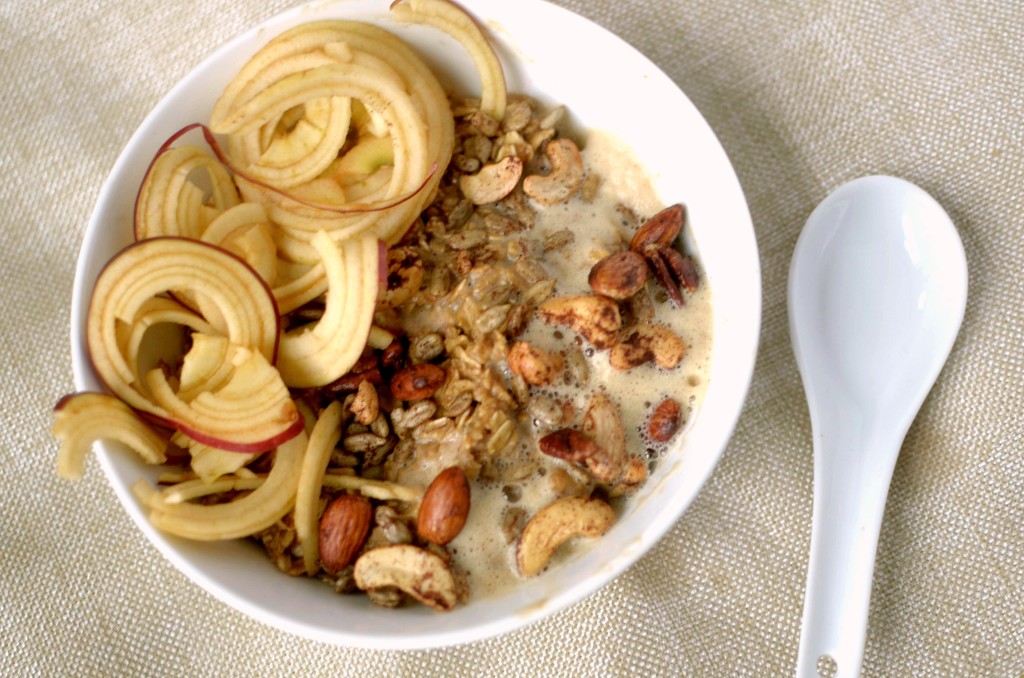 All you gotta do is go to Target, gather up all your ingredients, and make this comforting and hearty bowl of oatmeal ASAP!  Sounds easy enough, right?  And guess what?  You can enter in the Bring Your Best Bowl Sweepstakes to win $250,000 if you create a tasty bowl of oatmeal that has between 2 and 5 ingredients!  Yup, thats right folks!  If you win, your creation will be created and sold in stores for a limited time in fall 2016!  So what are you waiting for?  For more info, visit the National Bring Your Best Bowl Sweepstakes!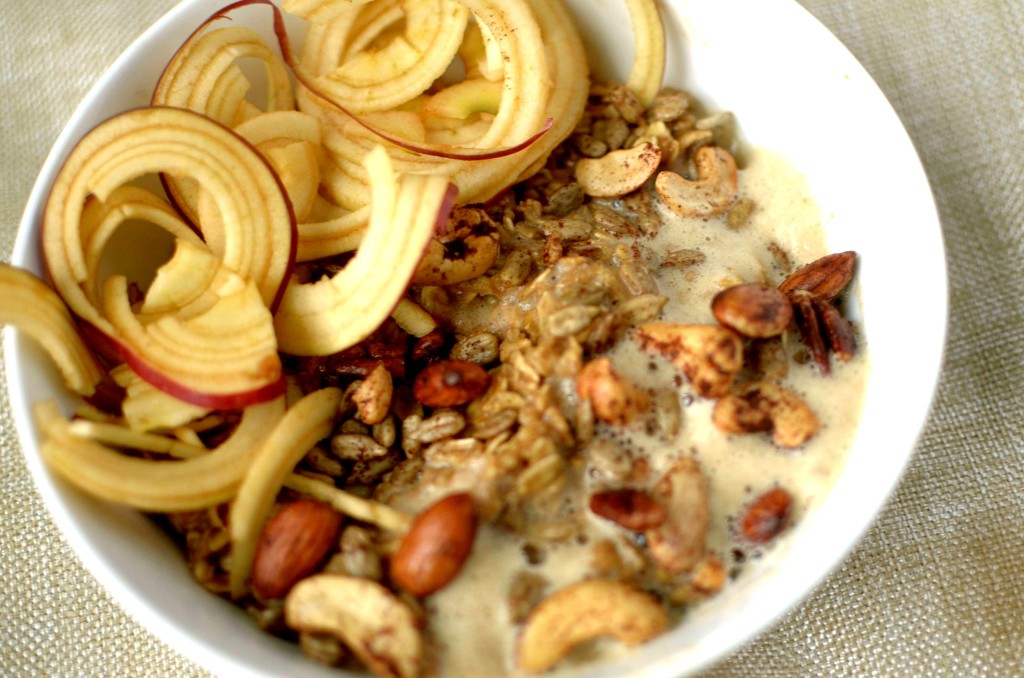 Chai Spiced Oatmeal Bowl with Apple Noodles and Frothed Milk
Ingredients
1/2 cup Quaker® Oats Old Fashioned Oatmeal*
1 cup unsweetened almond milk
1 bag chai tea
1 Tbsp. pure maple syrup
1/8 tsp. pure vanilla extract
TOPPINGS:
1 apple, spiralized into noodles
1 Tbsp. sunflower seeds
1 Tbsp. chopped Pecans
1 tsp. coconut oil, melted
1 tsp. pure maple syrup
1/2 tsp. cinnamon
Instructions
Add almond milk and chai tea bag into a saucepan on medium-low heat. Once milk starts to simmer, remove 1/4 cup of it and set aside.
Add oats to saucepan, stirring constantly until they soak up all the almond milk. Add to a bowl.
Spiralize apples to make apple noodles according to directions (or chop them up if you don't have a spiralizer). Add on top of oatmeal.
Mix sunflower seeds and pecans with maple syrup,coconut oil and cinnamon. Add on top of oatmeal.
With remaining milk, use a milk frothed to froth it and add on top of oatmeal.
Enjoy!
Use any type of Quaker® Oats in place of the old fashioned, if desired!
http://athleticavocado.com/2016/01/25/frothy-chai-spiced-oatmeal-apple-noodles/
Find Quaker® Oats at Target in the cereal aisle!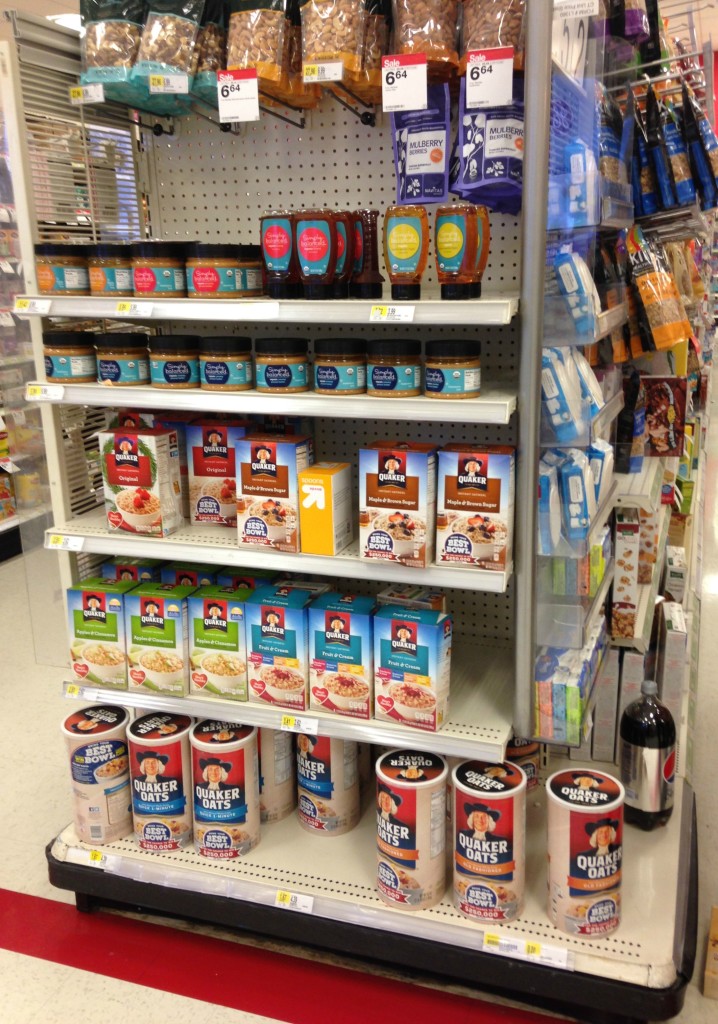 [Tweet "Start your day with  Frothy Chai Spiced Oatmeal with Apple Noodles! #ad #bringyourbestbowl #target "]

You May Also Like These Recipes!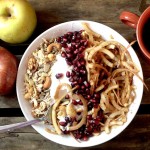 Cinnamon Apple Noodle Breakfast Bowl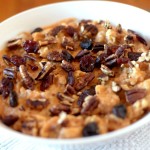 Creamy Sweet Potato Spice Oatmeal with Cranberries and Pecans
Pin for Later!

What does your perfect bowl of oatmeal look like?

What's your go-to heart warming breakfast?