Hey guys!  For this post, I'm taking off my recipe creator hat and putting on my nutrition student hat.  Hope you enjoy this post! We were sent a pure pre-workout formula called Naked Energy from Naked Nutrition and I going to tell you about the scientific benefits of taking a pre-worokut supplement.  First things first, let me tell you about the product.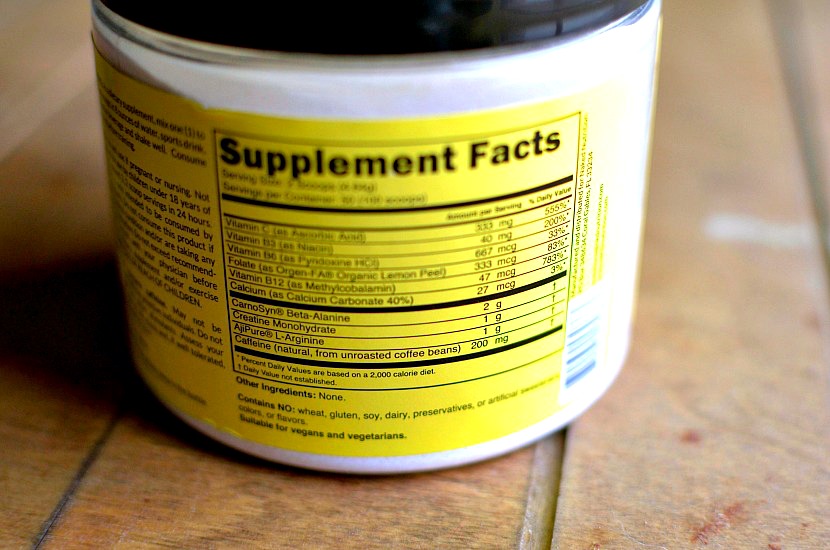 Naked Energy is comprised of 10 high-quality ingredients with no added sweeteners, colors or flavors (hence why it's called Naked!).  It was designed to enhance athletic performance and is guaranteed to impact your workout.  But how?  How do all of these ingredients work in your body?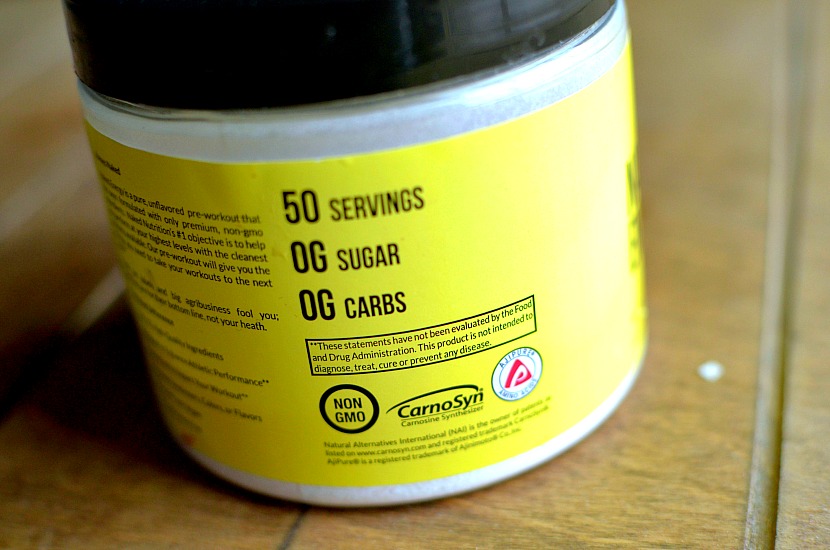 I actually just finished a class called Micronutrient Metabolism( where I learned the metabolic pathways and functions of about 18 vitamins/minerals), so I kinda actually know what I'm talking about here lol.  Let's start be explaining a brief overview of each ingredient:
Vitamin C
Besides Vitamin C's function in protecting the immune system, it also has an important function in the synthesis of collagen. If you don't know what collagen is, it is the major structural protein found in skeletal muscle, giving our muscles strength and you guessed it, structure. Additionally, researchers support the idea that vitamin C supplementation pre-workout can reduce muscle soreness and reduce creatine kinase blood concentrations (high levels associated with muscle damage).1   
B Vitamins (B3, B6, B12)
According to research, B vitamins are important for converting protein and sugars into energy in the body and producing and repairing cells.2   There is even evidence that athletes with a deficiency in B vitamins are more likely to damage muscle tissue.2   
Calcium
Of course we all know that Calcium (Ca) is good for our bones, but what about muscle?  Ca also helps with muscle contraction, which is obviously extremely important in exercise.   If your body has low Ca concentrations in the blood, Ca is taken from the bone, resulting in weaker bones and muscular fatigue (not something you want if you're trying to workout).
Caffeine
Caffeine definitely helps to wake up your nervous system, but researchers also support the idea that pre-workout supplements containing caffeine can delay muscle fatigue, improve muscular endurance and reaction time.3   
Amino Acids
the building blocks of protein, amino acids are important for the muscle growth and repair.  Taking amino acids before a workout are shown to enhance muscular and cardiovascular endurance.
In conclusion, I highly recommend Naked Energy if you are looking for an all-natural pre-workout supplement.  Based on research, all ingredients in Naked Energy seem to optimize exercise performance and recovery.
References
Bryer S, Goldfarb A. Effect of High Dose Vitamin C Supplementation on Muscle Soreness, Damage, Function, and Oxidative Stress to Eccentric Exercise. International Journal of Sport Nutrition and Exercise Metabolism. 2006;16(3):270-280. doi:10.1123/ijsnem.16.3.270.
 Brown A. B-vitamins play an important role in athletic performance | Extension and Agricultural Research News. Extensionoregonstateedu. 2006. Available at: http://extension.oregonstate.edu/news/release/2006/11/b-vitamins-play-important-role-athletic-performance. Accessed January 5, 2018.
Spradley B, Crowley K, Tai C et al. Ingesting a pre-workout supplement containing caffeine, B-vitamins, amino acids, creatine, and beta-alanine before exercise delays fatigue while improving reaction time and muscular endurance. Nutrition & Metabolism. 2012;9(1):28. doi:10.1186/1743-7075-9-28.