Rocky Road Brownie Batter Freezer Fudge is a simple no-bake treat that's made with only 6 ingredients and can be made in 5 minutes! Low-carb, GF & Vegan!
Time for another fudge recipe!  Drum rolllll please…..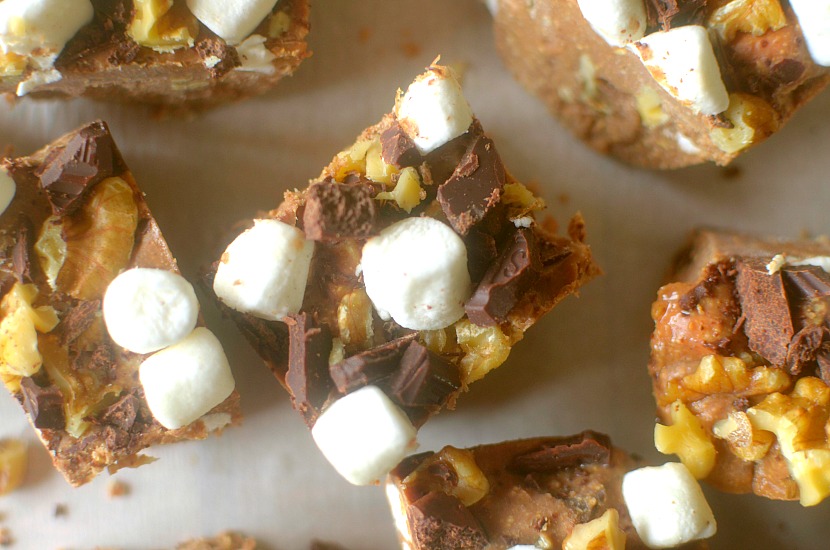 Ta da!  Isn't she a beaut?  This is actually the first fudge recipe on the blog that has chocolate in it.  I know, you're like what?  But it's the truth, I've made blueberry muffin fudge and oatmeal raisin cookie fudge, so a chocolate version was way overdue.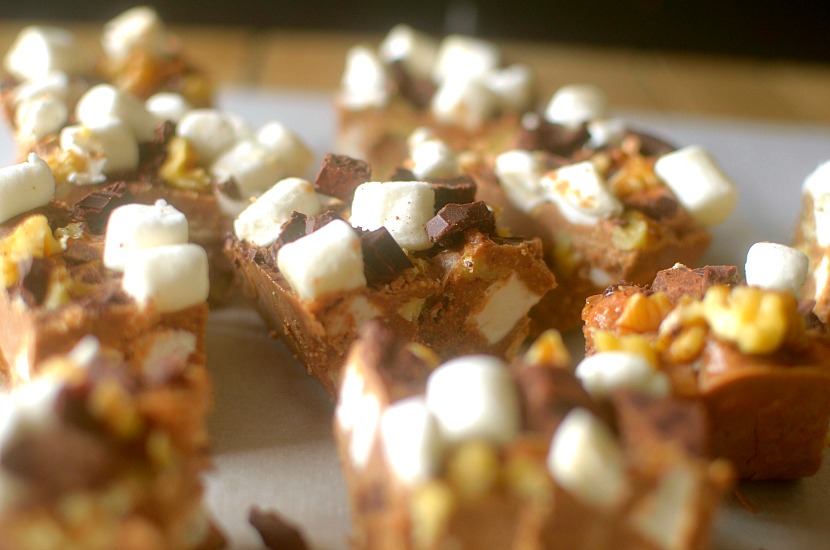 This fudge is actually better than simple chocolate fudge for two reasons.  1). It's made from brownie mix and 2). It's rocky road.  Oh and another bonus reason:  It's healthier than normal fudge.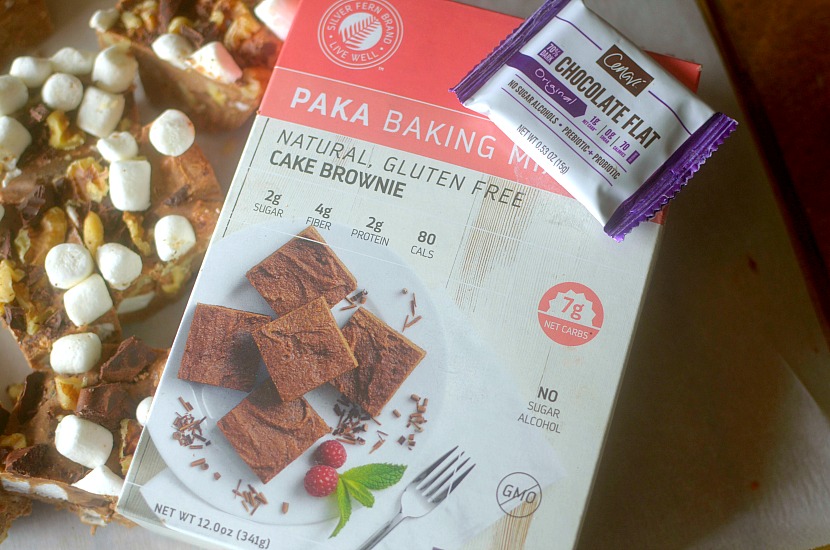 I used Silver Fern's natural gluten-free cake brownie mix for this recipe.  Not only does it taste great, but this mix is low carb (7b net carbs per serving), has no sugar alcohol and is made with healthy ingredients.  I also added Cenavi 70% dark chocolate flats which are low in calories, high in fiber and only have 1g of net carbs per serving.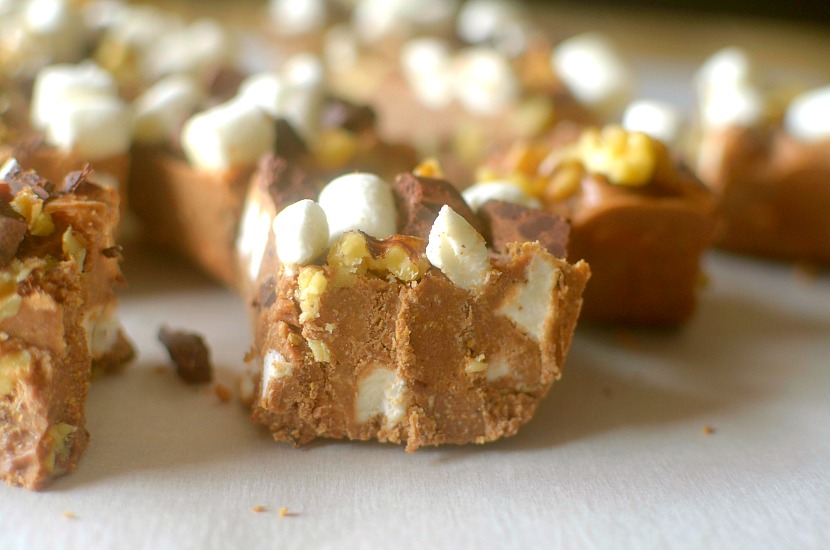 You only need six ingredients!  Here they are: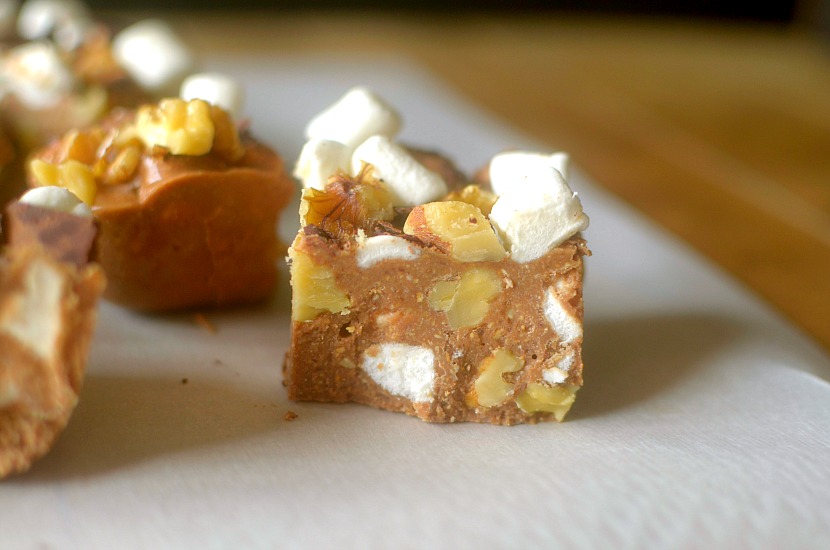 cashew butter
coconut oil
chopped nuts
walnuts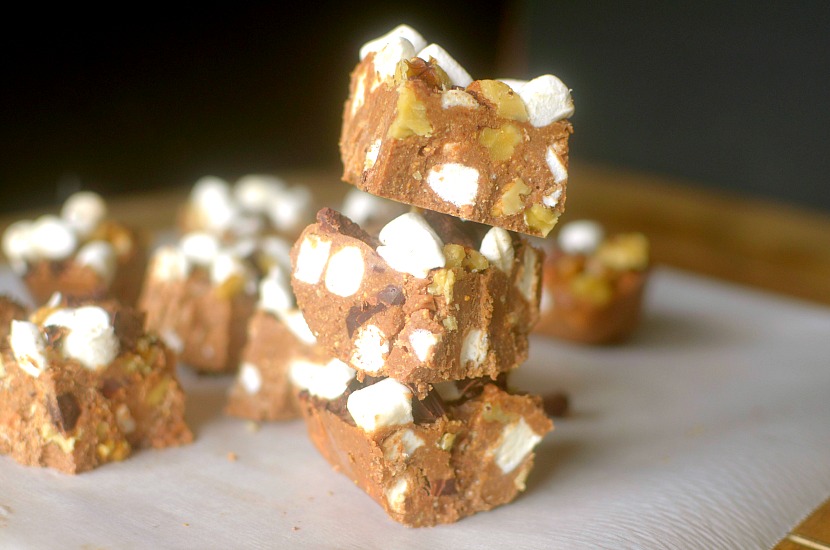 Rocky Road Brownie Batter Freezer Fudge
A simple, easy, low-carb fudge recipe that your whole family will love!
Rocky Road Brownie Batter Fudge
Ingredients
Instructions
Spray cooking spray or line a loaf pan with parchment paper
Mix together cashew butter, coconut oil and brownie mix in a bowl until well combined.
Stir in remaining ingredients.
Spoon batter evenly into loaf pan. Place in freezer for 2-3 hours, or until fudge is hardened.
Cut into pieces.
Enjoy!
http://athleticavocado.com/2017/08/20/rocky-road-brownie-batter-fudge/
Like This Recipe?  Pin For Later!

You May Also Like: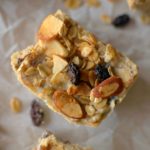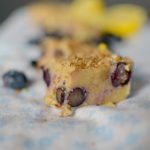 SaveSave
SaveSave
SaveSave
SaveSave
SaveSave
SaveSave
SaveSave
SaveSave
SaveSave
SaveSave
SaveSave
SaveSave