Disclaimer: We both aren't doctors, so if you are looking for medical advice, please see a real doctor.  Also whole30 is not for everyone, this is just our take on it.  Everyone is different!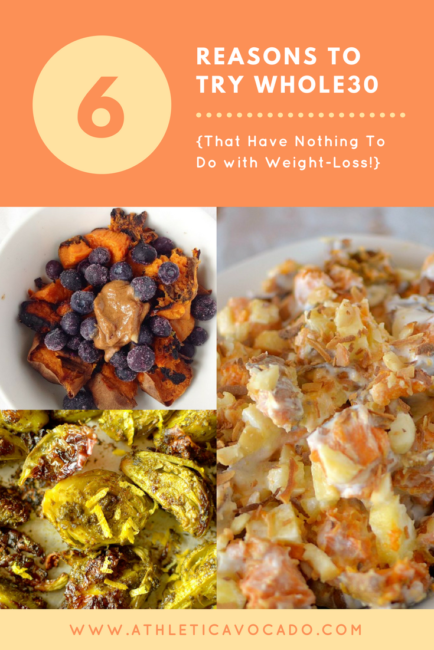 Hey y'all!  Just popping in today with a  non-recipe post!  I know, very unlike us, but I just had a yearning to share some news as to why we are both doing the Whole30.  If you follow us on instagram, then you've seen that we've been posting some of our meals on our story.  Before we explain to you the reasons why,  let us just point out that if you are not sure what Whole30 is, you can check out the program details on their website, or book (totally recommend reading it).
We don't agree with diets at all and Whole30 is not considered a diet,  It's more of a reset.  We were both sort of skeptical about it when we first learned what it was, but after hearing about all the amazing benefits, we decided to give it a try.  Now I must also mention that we are not doing this for weight loss at all.  Instead,
Here are a list of reasons why:
Better digestion–  Don't really want to gross y'all out here, but in short, both of our digestive systems have been out of whack.  Mostly due to all the traveling we've done every weekend and some perceived  food intolerances.
Seeing whether we have food intolerances– we both consumed dairy and whey protein everyday and feel that even in small amounts, it has something to do with our poor digestion.
Increased energy and better sleep–  We both have had some trouble sleeping and with our energy levels for a little while.  Anyone else hit that afternoon slump at 3 pm?
Eating more satisfying food–  Most of the food we eat is pretty satisfying, but only for like 3 hours max.  We're hoping to be able to eat a meal and not have to worry if we are going to get hangry lol!
Eating whole foods- While our diet definitely consists of whole foods, we still consume protein smoothies, quest bars, and other packaged snacks especially since traveling so much within the past few months.  There is nothing wrong with packaged snacks, but we feel that eating real whole foods is way better for bodies (ex. apple with almond butter in place of a quest bar).
Stevia Detox-  We've been using stevia to sweeten anything from smoothies to coffee to oatmeal and we've developed a reliance on it that we hate to admit.  Stevia isn't bad in little doses, but like everything, too much of it is not good.  Ever since we started Whole30, fruit tastes super sweet!
What We're Eating
Here are some meals that we have been enjoying:
Breakfast:  been digging the savory egg breakfasts!  We found inspiration through Rachael's Good Eat's Omelettata and have been pretty much making them every day, just different variations!  We've definitely realized how important it is to include fats, carbs and protein in our breakfast to feel the most energized.
Lunches/Dinners:  We've typically been eating a big salad with protein, a carb source (like potatoes or plantains) and some fat (more avo) for lunch and veggies, a starch and dark meat chicken for dinner.  Chicken thighs are sooooo much better than chicken breasts!
As for snacks, we really haven't snapped any pictures (besides the ones below), but we've been enjoying apples and sweet potatoes  with almond butter/ cashew butter, nuts, fruit, and veggies with guac.
Here are some of our new favorite grocery store finds and essentials:
Spiralizer for making zoodles <<<< Legit best purchase we ever made!
Trader Joe's Salmon Bacon
Plantains
Trader Joe's Carrot Spirals
Eggs
Sweet potatoes and regular potatoes
Cauliflower rice
Some of our Whole30 Recipes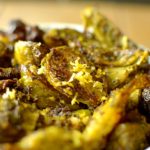 Crispy Lemon Pesto Roasted Brussels Sprouts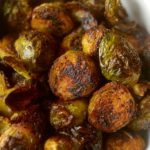 Crispy BBQ Spiced Brussels Sprouts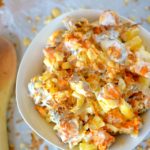 Pineapple Teriyaki Cauliflower Poppers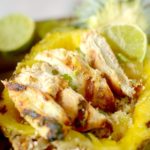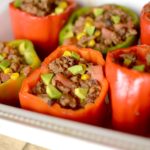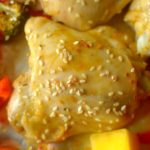 One Pan Mango Teriyaki Chicken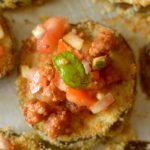 Chorizo Bruschetta Eggplant Toasts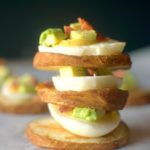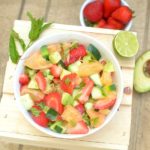 Minty Strawberry Avocado Salad with Citrus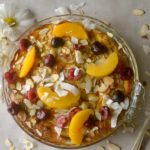 Whole30 Sweet Cinnamon Fruit Frittata
Linking up with Amanda for Thinking Out Loud
---
Questions of the day!
Have you ever tried the whole30? If so, what was your experience?
If you haven't tried the whole30, what are your thoughts on it?