Looking for an easy vegetarian lunch?  Try this simple yet satisfying Creamy Lemon Garlic Chickpea Salad!  Spoon on top of Sweet Potato Toast for the ultimate healthy sandwich!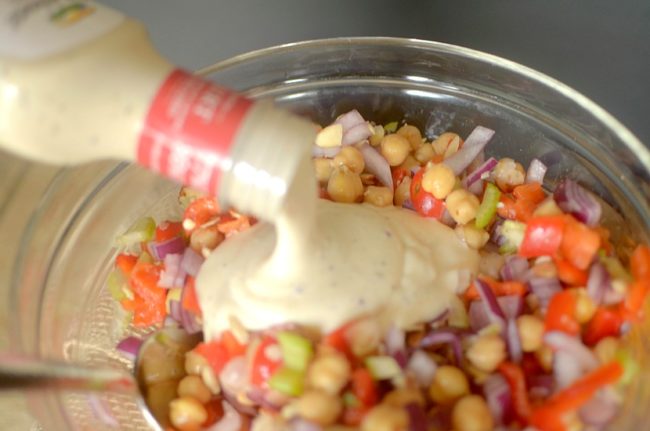 To be honest with you guys, I suck at making salads. Though I eat a lot of salads, I wouldn't say that most of them are "blog-worthy," aka not good enough for you guys.  Like don't tell me to be in-charge of making a salad for a party if you ever invited me over. Just looking out for my friends, ya know?  Nor do I know much about chickpeas, all I know is that I love eating them in various forms.  But honestly, this chickpea salad was a breeze to make and actually turned to great.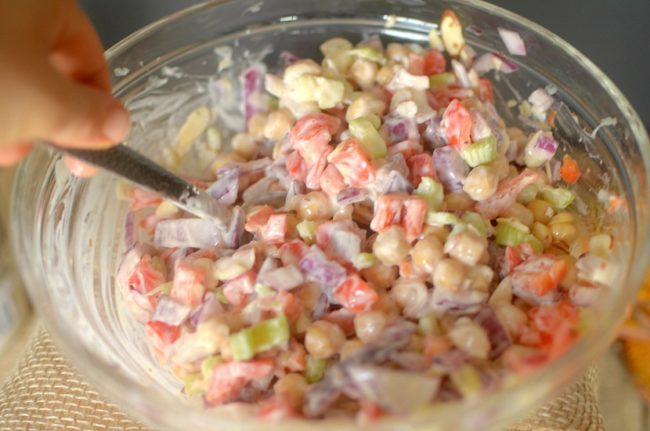 Are you a big fan of chicken/tuna salad?  If you are then you'll for sure love this chickpea salad.  It's basically the vegetarian version of the classic creamy lettuce-less salads.  To hold this salad together, I used Bolthouse Farms Creamy Garlic Dressing in place of the usual mayo.  It adds tons of flavor with 77% less calories and 86% less fat than normal dressings/mayos (40 calories and 2.5 grams of fat per 2 Tbsp. serving verses 180 calories and 19 grams of fat) thanks to the yogurt it's made with.  You can feel good about using it to dress your salads because it has no preservatives, artificial color/flavors and it's gluten-free!  Can I get an amen🙌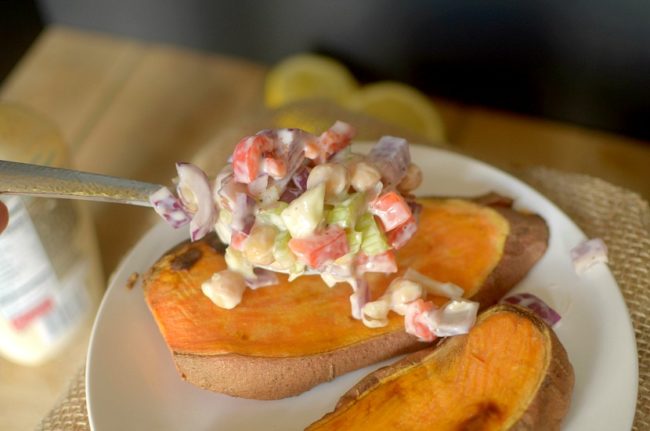 And you know what else makes this recipe da bomb?  The fact that it's assembled and eaten on a sandwich made with sweet potato toast.  After I tried sweet potato toast for the first time, I knew I had to make it again.  So so so addicting guys.  If you haven't tried it yet in place of bread, DO IT.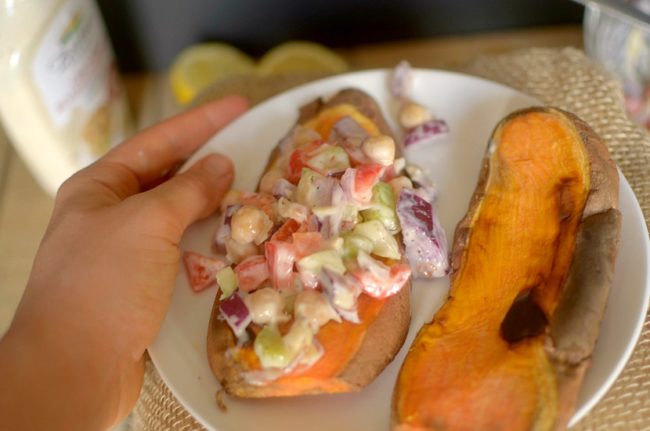 This salad will literally take you 5 minutes to make and will satisfy your stomach and taste buds until dinner.  Crunchy, creamy and flavorful all at once!  Here's what is in the recipe:
Chickpeas
Creamy Roasted Garlic Dressing
Red onion
Red pepper
Celery
Sliced almonds
Lemon juice
Lemon zest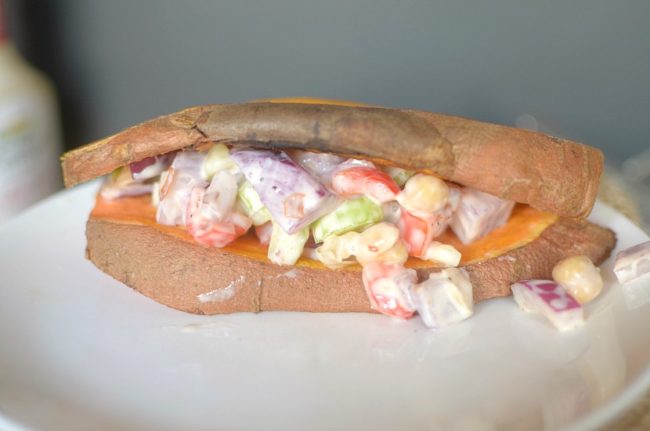 Creamy Lemon Garlic Chickpea S

alad on Sweet Potato Toast
This chickpea salad is an easy no-bake flavorful lunch that will take 5 minutes to make.  Made complete by using sweet potato toast as sandwich bread, this vegetarian lunch will keep you full until dinner!
Creamy Lemon Garlic Chickpea Salad on Sweet Potato Toast
Ingredients
1 (15 oz.) can chickpeas, drained and rinsed
1/3 cup roasted garlic salad dressing
1/2 red onion, finely chopped
1 red bell pepper, finely chopped
2 celery stalks, finely chopped
1/4 cup sliced almonds
2 Tbsp. lemon juice
1 Tbsp. lemon zest
salt and pepper
Sweet potato toasts
Instructions
In a large bowl, combine all ingredients until all ingredients are evenly mixed.
Spoon onto of a piece sweet potato toast and top with another piece of sweet potato toast.
Enjoy!
To find out how to make sweet potato toast in the toaster, check out this tutorial
http://athleticavocado.com/2016/09/03/creamy-lemon-garlic-chickpea-salad-on-sweet-potato-toast/
*For my vegan friends who want to make this recipe, simply sub in vegan-friendly dressing!  You can check out the options from Bolthouse Farms Here!
Like This Recipe?  Pin For Later!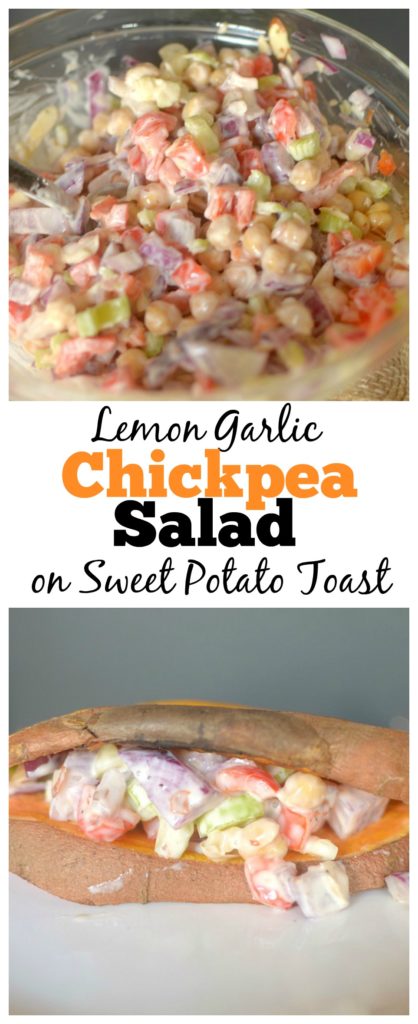 You May Also Like: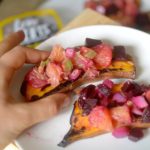 Grilled Sweet Potato Toast with Citrus Beet Avocado Salsa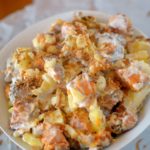 Creamy Topical Sweet Potato Salad
---
 Question of the day:
What is your go-to lunch?