This Blackberry Peach Crisp Baked Oatmeal is the perfect healthy breakfast that tastes like dessert. It's filled with fresh summer fruit and is vegan & gluten-free!
Once I find something I like, I get obsessed with it and can't stop.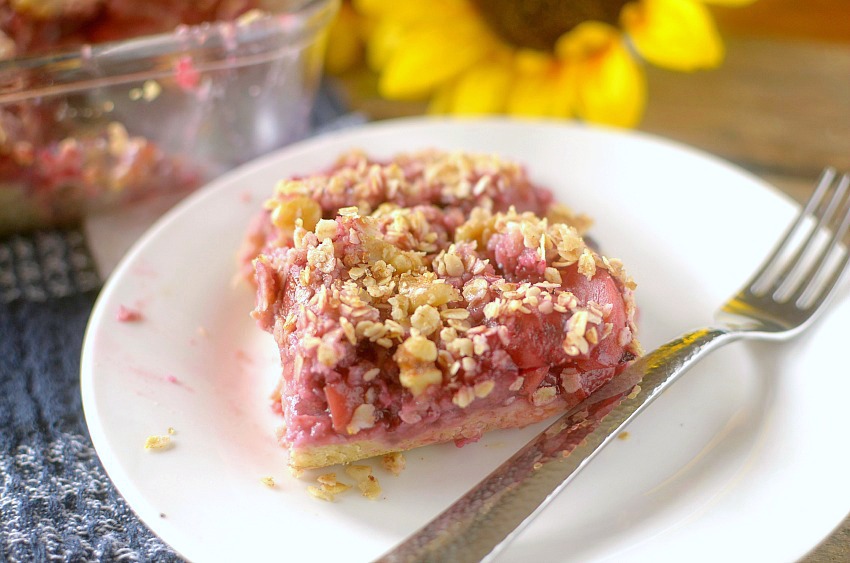 Case-in-point, all the fruit crisp deliciousness. I blame it on the produce market for having such good prices. Not complaining here though, their produce prices are 1/4 of what a regular grocery store's is and it's pretty fricken' awesome. The only problem is, they are a local produce market so I can't have all the cheap fruit and veggies year round' when I'm in college, so that's why I go hard in the summer. ALL the produce ALL the time.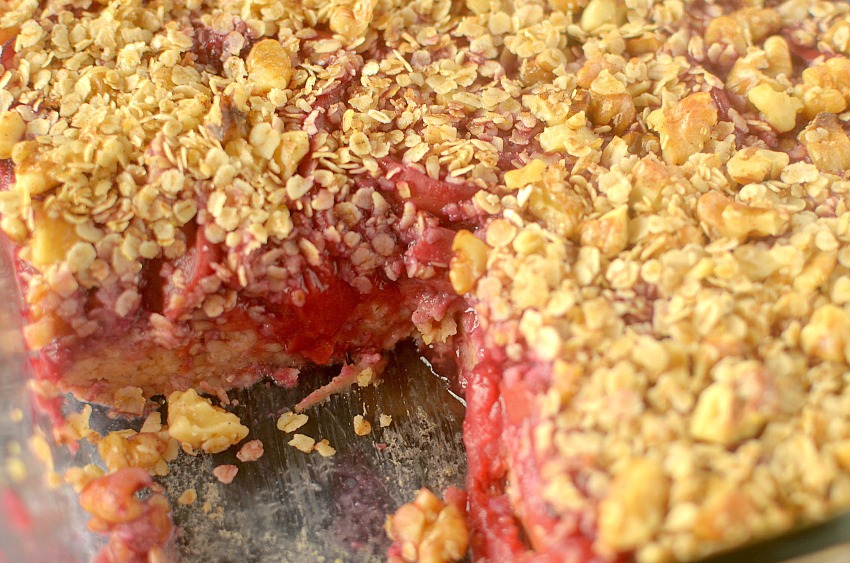 So back to this fruit crisp in breakfast form, you know it was bound to happen, especially after this Greek Yogurt Bark was a hit. It's the perfect summer breakfast or brunch recipe. This baked oatmeal has got 3 tasty layers that compliment each other in taste and texture.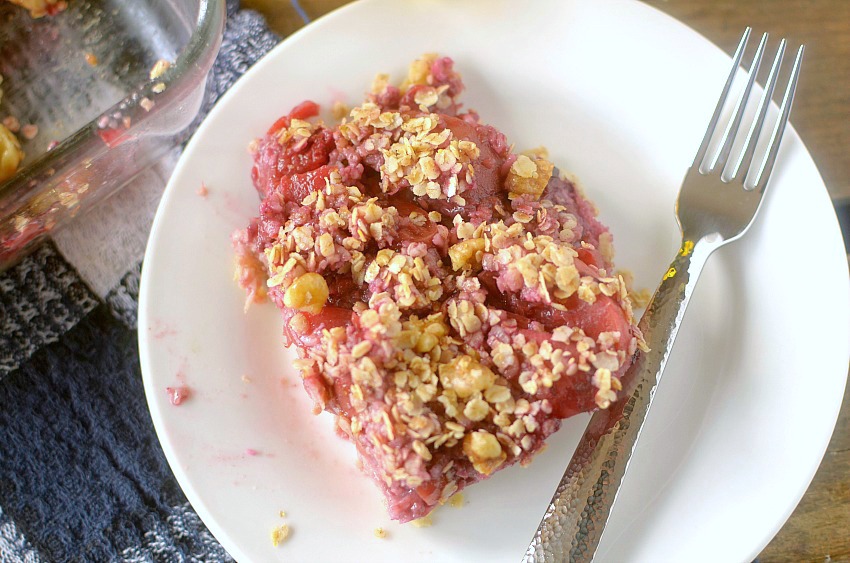 The layers consist of:
Traditional baked oatmeal layer

Juicy simmered fresh blackberries and peaches

A crunchy crisp oatmeal and walnut topping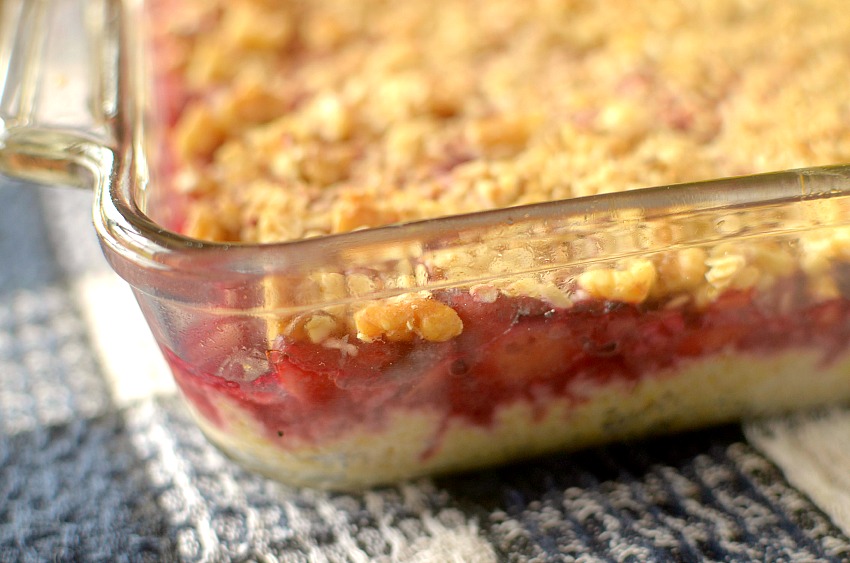 I'm pretty sure you're convinced that you have to make this, but if you're not, this baked oatmeal is a hearty and delicious breakfast that is completely healthy! It's naturally sweetened with fruit and only a touch of unrefined coconut sugar. It contains low glycemic carbohydrates which won't spike your blood sugar. It's also gluten-free and vegan too.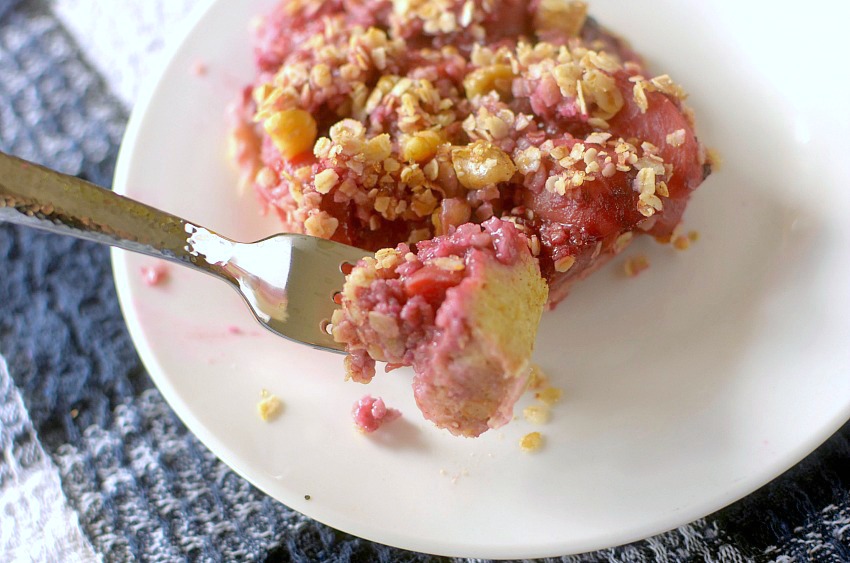 I'm 99.9% positive you're convinced now!!!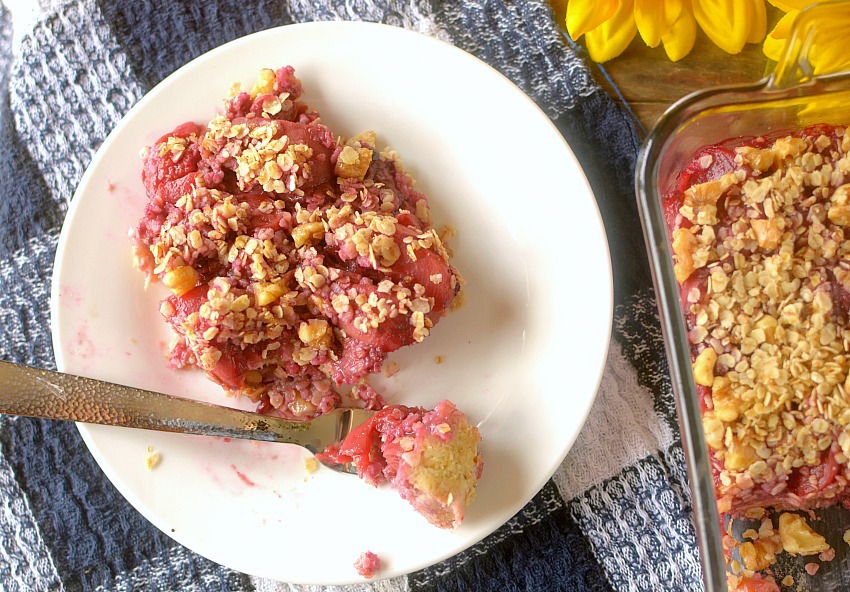 Blackberry Peach Crisp Baked Oatmeal
Ingredients
Fruit
1.5 cups sliced peaches (about 2 medium)
1 cup blackberries
1 tbsp coconut sugar
1 tsp cinnamon
Oatmeal
2 cups dry gluten-free oats
1 egg/flax egg, beaten
1/2 cup unsweetened applesauce
3/4 cup almond milk
Topping
1/2 cup dry gluten-free oats
1/2 cup chopped walnuts
1 tbsp coconut oil, melted
2 tbsp coconut sugar
1/2 tsp cinnamon
Instructions
Preheat oven to 350 and coat a 9x9 pan with cooking spray
Fruit: Combine peaches, blackberries, sugar and cinnamon in a saucepan and place over medium heat, let simmer for 20 minutes, stirring occasionally
Oatmeal: While fruit is simmering, add oatmeal in a large bowl and mix egg, applesauce and milk in a seperate bowl
Add wet mixture to oatmeal and mix well, add spread evenly on pan
Add fruit mixture on top of oatmeal
Topping: Mix topping ingredients together and spread evenly on oatmeal
Bake for 30 minutes or until done
http://athleticavocado.com/2016/05/23/blackberry-peach-crisp-baked-oatmeal-gluten-free-vegan/
Like This Recipe!? Pin For Later!!!

Try These Other Healthy Dessert-For-Breakfast Recipes!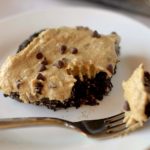 Cookie Dough Brownie Baked Oatmeal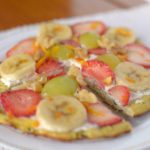 Zucchini Bread Breakfast Pizza
Linking up for Strange But Good!
What's your favorite summer produce?

What's your favorite summer dessert?