Enjoy this tasty BBQ Beet Power Bowl for a heathy,delicious and filling lunch or dinner. It's loaded with spiralized and roasted veggies, shredded BBQ beets and topped off with a 3 ingredient beet vinaigrette. This power bowl is vegan, paleo and whole 30 complaint.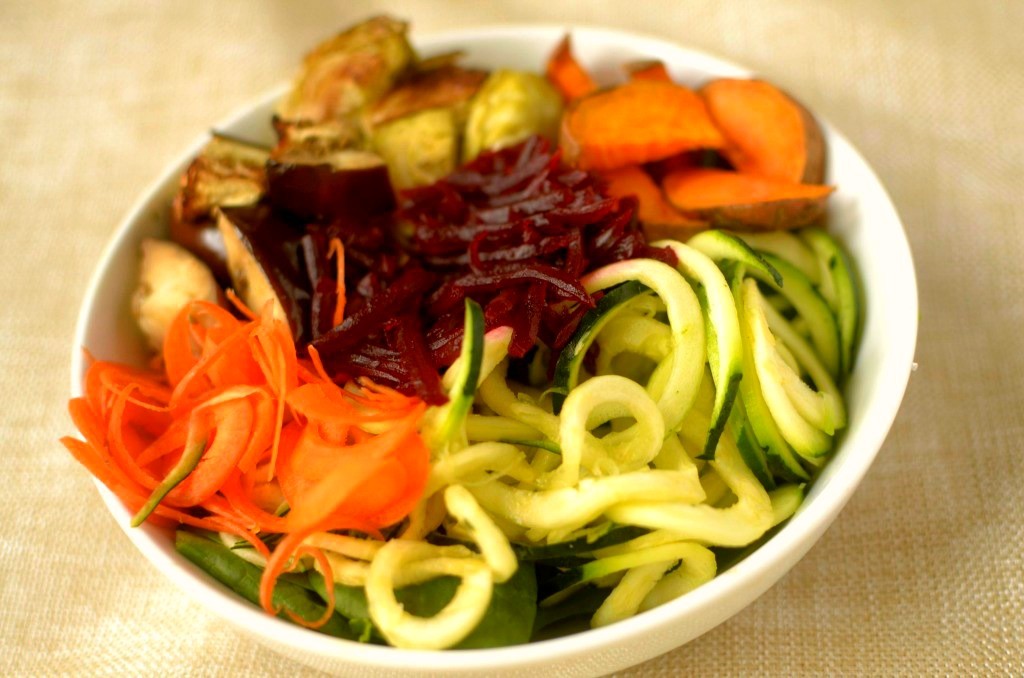 Do you ever have those embarrassing stories like when you do a presentation in front of the whole class and you have spinach stuck in your teeth from lunch?  You know, those haunting memories that you still seem to play in your mind when you feel humiliated.  Well, for me, I had one of those experiences in my freshman year of college.  Except it was beets, not spinach.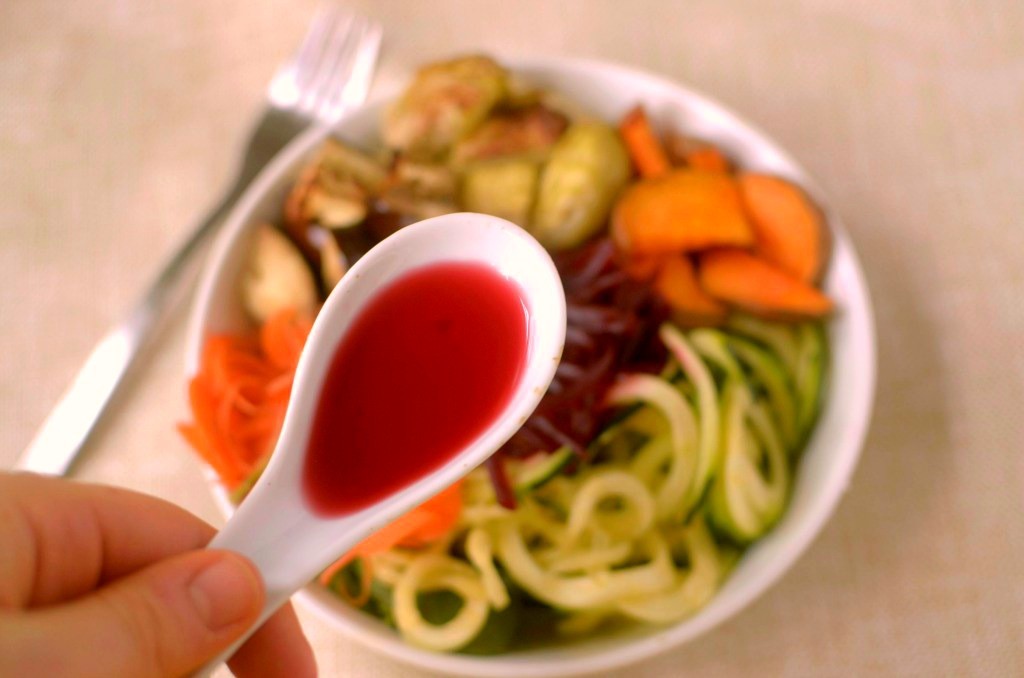 I had just gotten done eating a ginourmous salad with all the veggies, include tons of beets and I had a presentation in english class right after.  Well, long story short, the beets stained my tongue bright red and my teeth tinted pink.  Lets just say it was pretty embarrassing. The end.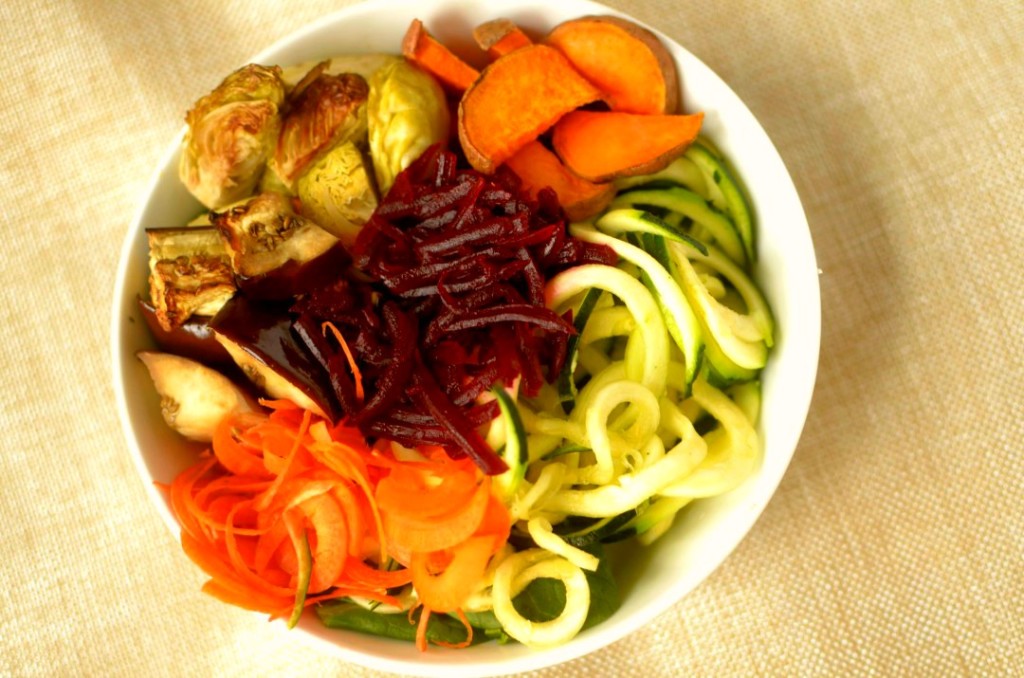 Anyways, what I was trying to point out was, that beets are one of my favorite foods.  When I eat them, I go H.A.M.  I mean it's like "would you like some lettuce with your beets?" Yeah, I like beets that much.  Which is why I was wicked excited when Love Beets reached out to me and sent me tons of their amazing products!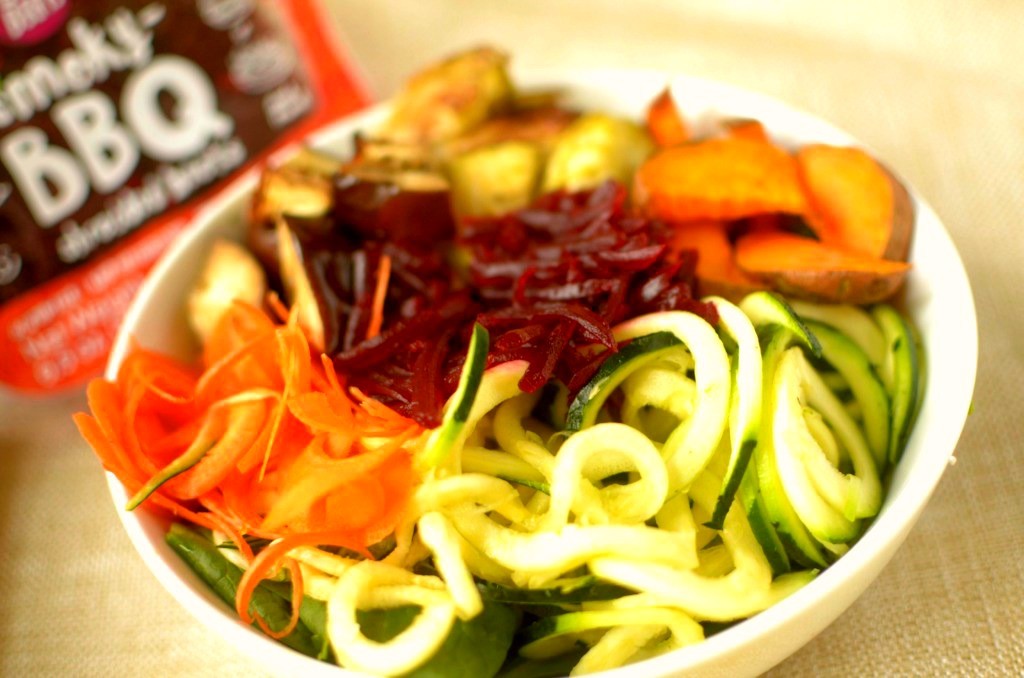 Now let's talk about this BBQ Beet Power Bowl. Power/Buddha Bowls are becoming a popular option for a nutritious lunch or dinners for many health-conscious people, and I frankly don't blame them, they are deeeeelish. I love that you can pretty much throw everything you want into a bowl, cover it in some type of sauce or vinaigrette and then call it a day! For this power bowl, I used all of my favorite veggies, no skimping here.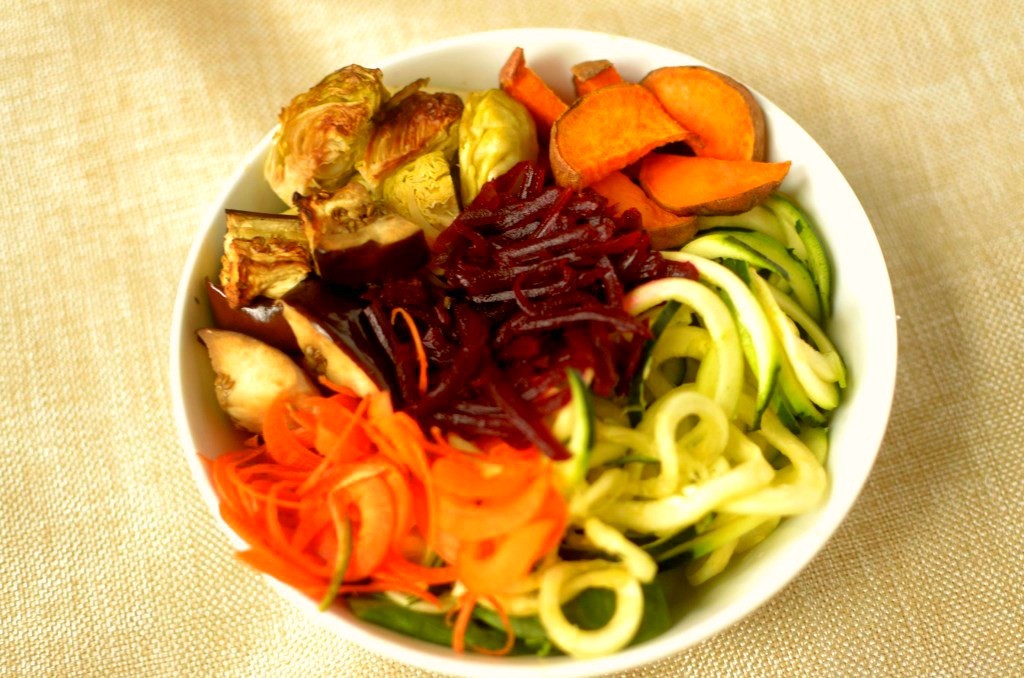 We've got:
Spinach
Spiralized Carrots
Spiralized Zucchini
Roasted Eggplant
Roasted Brussels sprouts
Roasted Sweet potato wedges
and lastly, the star of the show, BBQ shredded Love Beets!
And wait, there is more. Top it off with a simple 3 ingredient vinaigrette made with cold-pressed beet juice, apple cider/balsamic vinegar and olive oil. If you want, you want, you can also top it with a protein of choice, whether it be, tofu, tempeh, chicken or fish or nothing at all is up to you. Either way this BBQ Beet power bowl is hearty, nutritious and will keep you full for hours.
Ingredients
1 cup spinach
1 small zucchini, spiralized
1 carrot, spiralized
Roasted sweet potato wedges (about 1/2 cup)
Roasted eggplant (about 1/2 cup)
Roasted brussels sprouts (about 1/2 cup)
1/2 container Love Beets BBQ shredded beets
Beet Vinaigrette
1/4 cup LoveBeet Beet juice
2 tbsp apple cider vinegar or balsamic vinegar
1 tbsp olive oil
Instructions
For Power Bowl: Combine all ingredients in a bowl
For Dressing: Add all ingredients together and drizzle over power bowl and mix well
http://athleticavocado.com/2016/02/01/bbq-beet-power-bowl/
[Tweet "Fuel up for lunch with this BBQ Beet Power Bowl!"]
Pin for Later!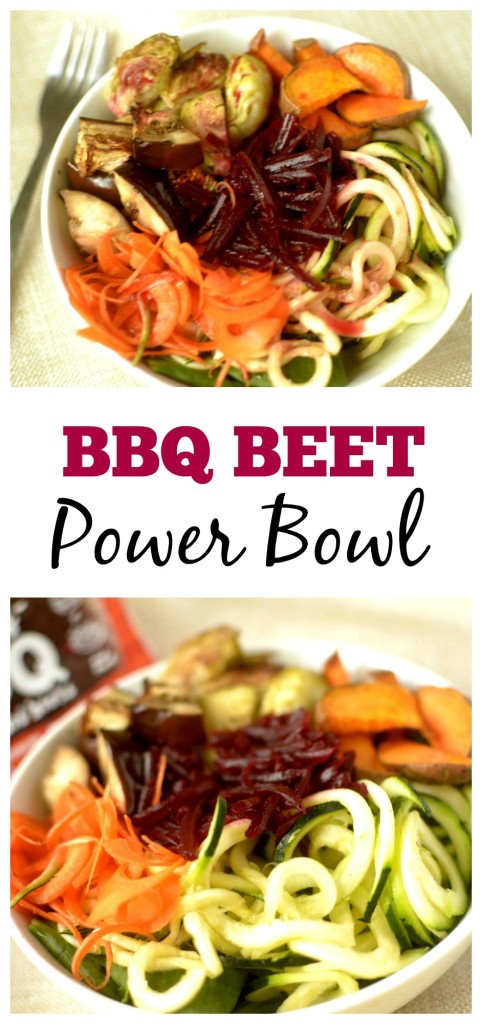 Not only was I sent there amazing flavored beets, but also their beet juice and beet bars!  Lets take a closer look:
Marinated Baby Beets: Already cooked and marinated with different and tasty flavors!  No artificial preservatives and colors and gluten-free!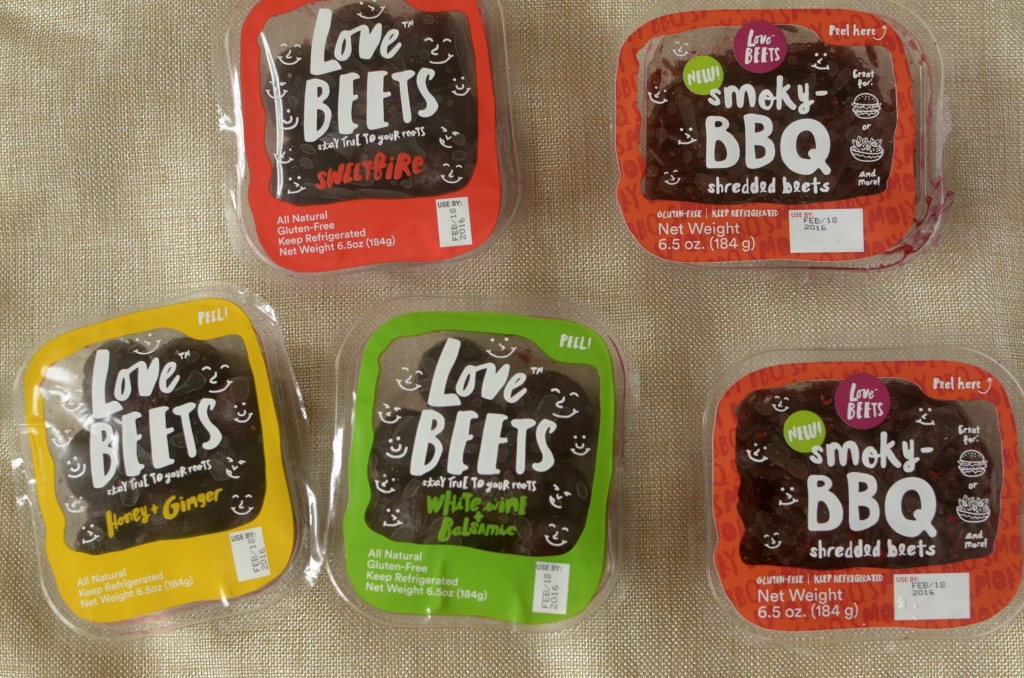 Organice Mild Vinegar

White Wine & Balsamic

Honey & Ginger

Sweetfire

Smoky- BBQ shredded Beets
Beet Juice: naturally sweet with a rich, smooth, taste! Full of powerful antioxidants and nitrates, which help promote a healthy heart and boost stamina and endurance!  Gluten-free, 100% juice, no preservatives and no added sugar!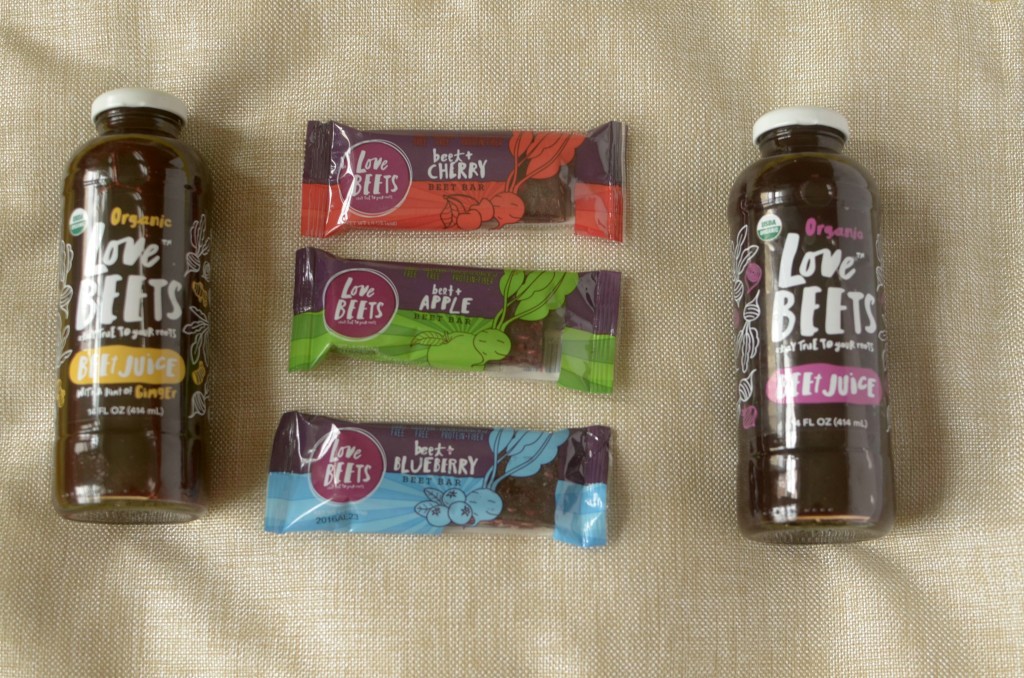 Organic Beet Juice

Organic Beet Juice with a hint of Ginger
Beet Bars: A healthy and tasty on the go snack!  Packed with protein and fiber, each bar is gluten-free, nut-free and GMO-free!
Beet & Apple Bar

Beet & Blueberry Bar

Beet & Cherry Bar
For more information, check out Love Beets!
"This post is sponsored by Mambo Sprouts.  All opinions are my own."
Have you ever had a buddha bowl/power bowl? If so, what was in it?

What's your favorite way to eat beets?
linking up with Laura!