Lets talk about the best tangible gift you'd ever received  (because being a Christian, I would say the best intangible gift is the birth of Christ).  If you asked me this question two years ago, I'd say my MacBook Pro.  If you asked me when I was five, I'd say my mint-colored ferbie.  Unfortunately ferbies don't exist anymore and have been beaten out by cooler toys these days, so lets move on.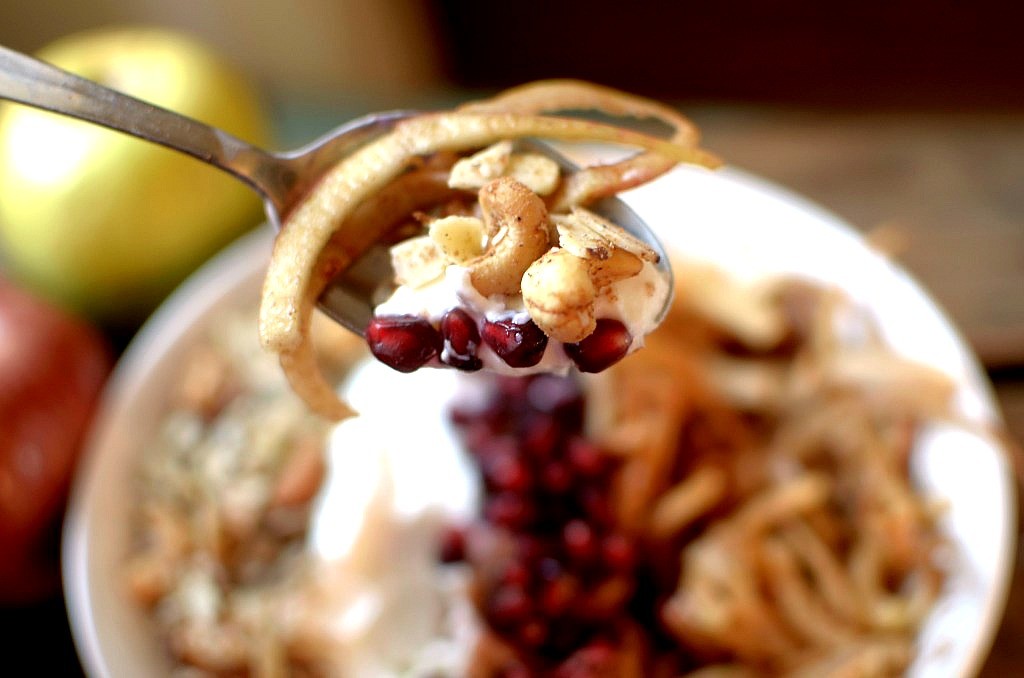 Last year  when my mom asked me what I wanted, I said nothing.  Ever since I grew out of my teenage years, I don't feel the need to ask for 55 things I want for Christmas. I get so much more joy giving than receiving!  However, after thinking for a few days, I realized that I was itching to make zoodle recipes after the zoodle craze had just begun.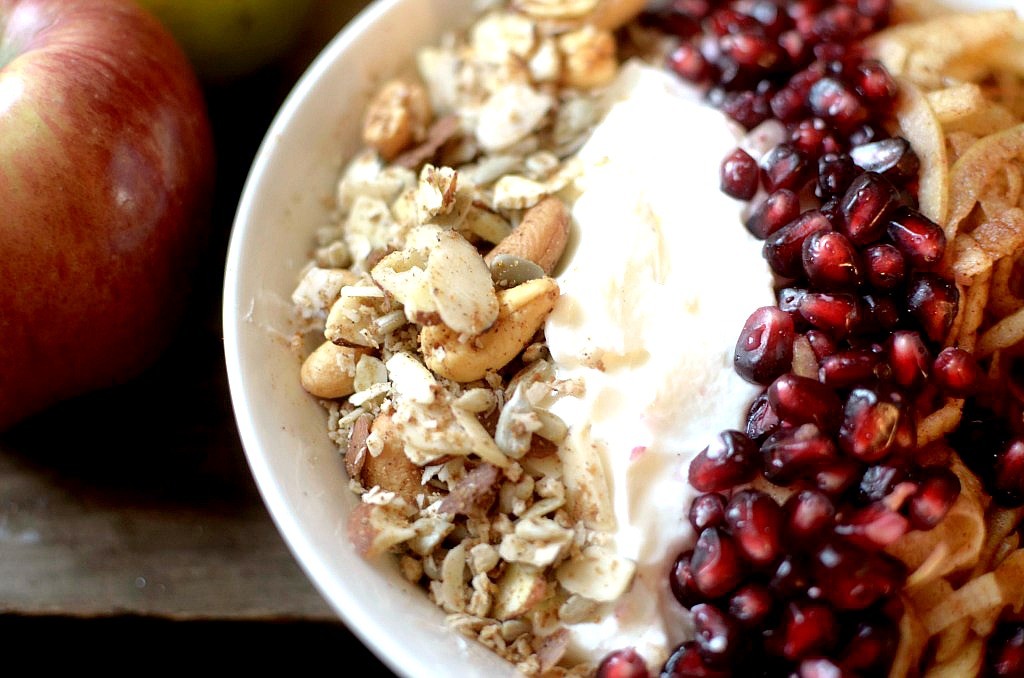 Hence my love for this amazing hand-cranked  machine begun.  I love making zoodles, and gladly replace them with pasta any day.  With so many zoodle recipes all over healthy blogs these days, I wanted to create a more sweet breakfast-like recipe using a spiralizer.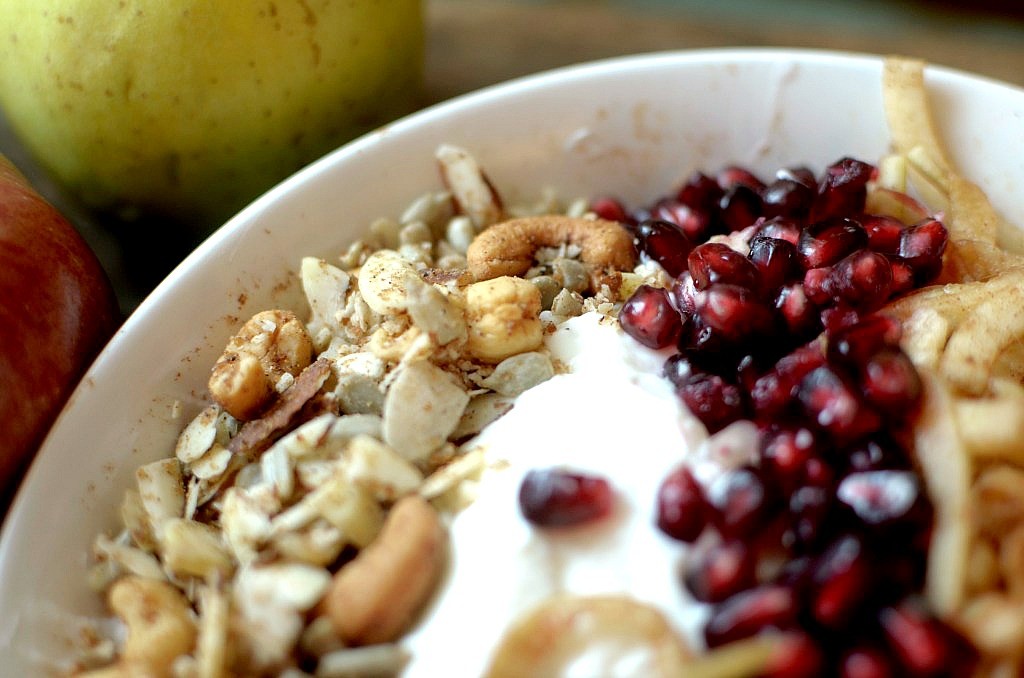 I always use apples in my breakfast, whether it be a yogurt parfait or oatmeal.  Instead of chopping them up,  I made them into noodles for fun.  And instead of just sprinkling with plain nuts o top, I made candied nuts that are made in the microwave!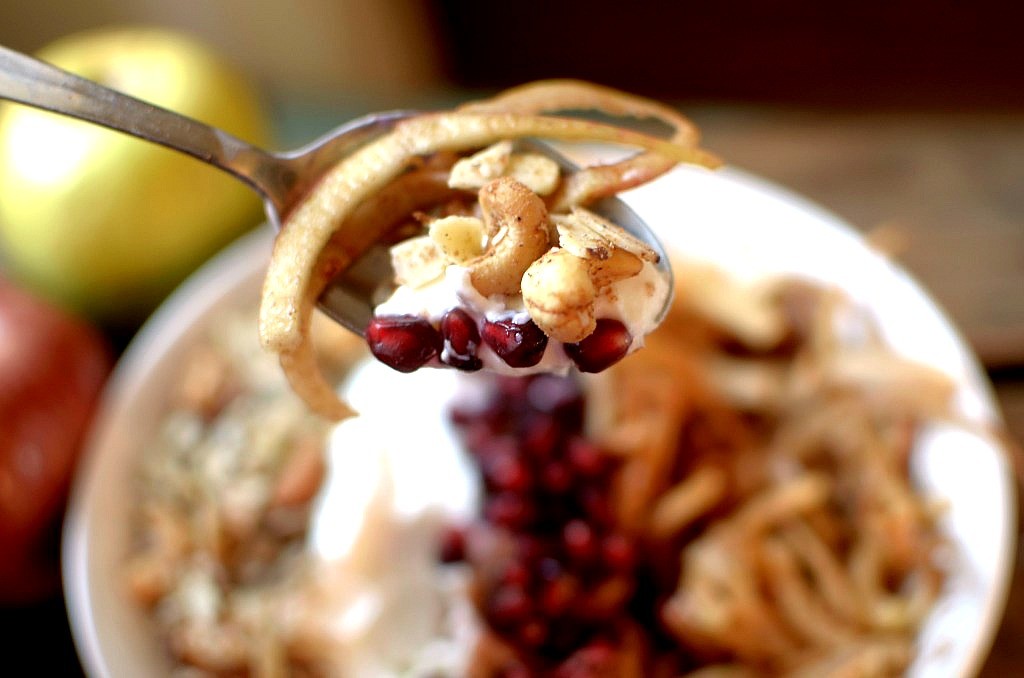 This breakfast bowl requires little effort and leads to a tasty and filling dish when paired with Stonyfield greek yogurt!  Are you vegan or paleo?  Don't worry!  You can sub coconut yogurt to enjoy this beautiful yogurt bowl!  Its also gluten-free and grain-free!
Apple Noodle Breakfast Bowl
Ingredients
1 apple
1/8 tsp. cinnamon
1/2 cup pomegranate arils
1/2 cup plain greek yogurt
Spiced Nuts:
1/2 Tbsp. sliced almonds
1/2 Tbsp. sunflower seeds
1/2 Tbsp/ shredded unsweetened coconut
1 tsp. coconut oil, melted
1 tsp. coconut sugar
dash of ginger
dash of nutmeg
dash of cloves
dash of cinnamon
Instructions
Using a spiralizer, spiralize apples according to directions into curly noodles. Toss with cinnamon and set aside in a bowl.
Combine all ingredients for spiced nuts in a microwave-safe bowl. Microwave for 2-3 minutes, or until slightly toasted.
To assemble noodle bowl, place greek yogurt and pomegranate arils on top of apple noodles and top with spiced nuts.
Enjoy!
http://athleticavocado.com/2015/12/27/cinnamon-apple-noodle-breakfast-bowl-candied-nuts/
[Tweet "This Cinnamon Apple Zoodle Breakfast Bowl is the perfect breakfast!"]