Looking for a good quick bread recipe for fall? Make this Gluten-free healthy Sweet Potato Oatmeal Bread with Pecan Streusel!
You know those dishes/foods that you eat so much of, but you don't get sick of?  That's my relationship with sweet potatoes.  In fact, I eat them so much that my skin is slightly tinted orange from the beta carotene overload!  Don't worry though, people actually tell me I look tan!  I'd say that's an added plus for eating sweet potatoes.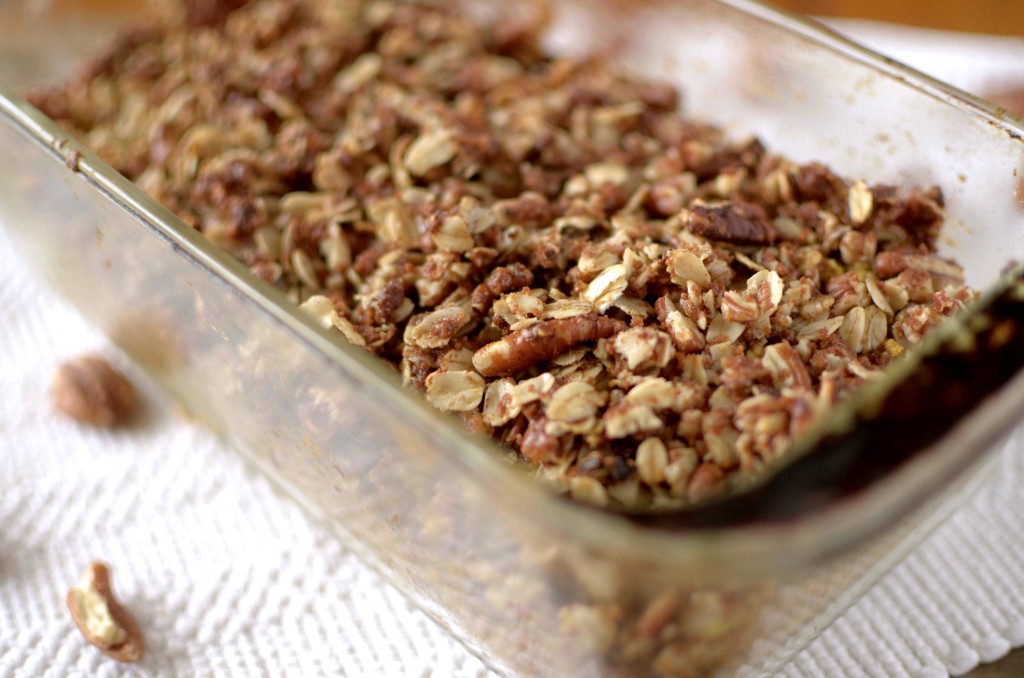 At Thanksgiving, I've alway been the person who skips the turkey, stuffing and other classic dishes to dig right into the sweet potato casserole.  And then I manage to eat half of it while everyone is stuffing their face with turkey.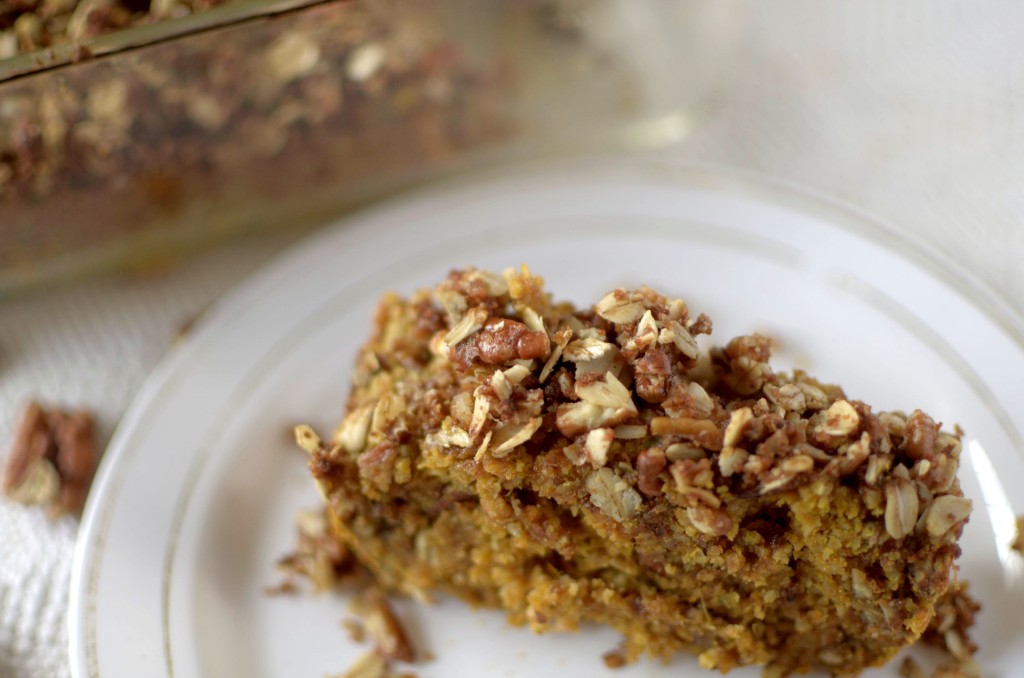 I'm also that person who buys 10 pounds of sweet potatoes at one time because the little 2 pound bag ain't got nothing on my sweet potato obsession.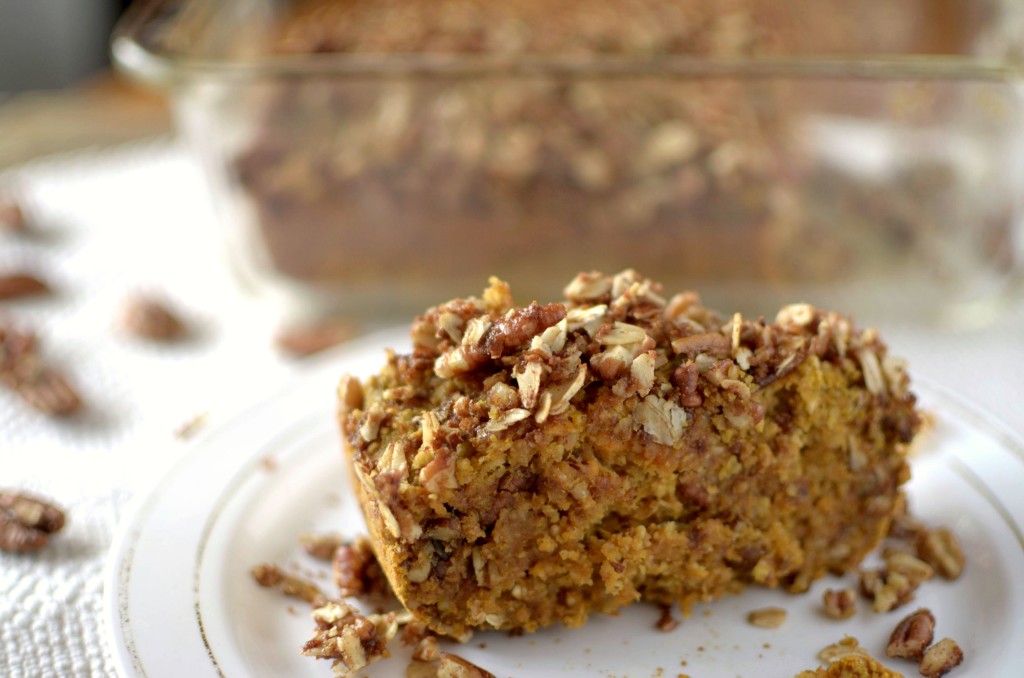 Now I'm a huge fan of any quick bread, so naturally I had to make a sweet potato version.  Pumpkin bread and banana bread are good, but when compared to sweet potato pecan streusel bread, well lets just say there is no comparison.  Its moist, doughy, dense, naturally sweet, full of fiber, gluten-free, dairy-free, vegan-friendly and everything you want in a quick bread.
Sweet Potato Pecan Struesel Oatmeal Bread
Ingredients
2 cups gluten-free oat flour
1 1/2 tsp. baking powder
1/2 tsp. baking soda
1/4 tsp. cinnamon
1 cup mashed sweet potato (about 2 sweet potatoes)
1 egg, beaten (can sub 1 Tbsp. ground flax mixed with 3 Tbsp. water for flax egg)
1/2 cup almond milk
1 Tbsp. coconut oil, melted
2 Tbsp. pure maple syrup
1/4 tsp. pure vanilla extract
TOPPING
1/2 cup chopped pecans
1/4 cup gluten-free oats
2 Tbsp. coconut sugar
1/2 tsp. cinnamon
1 Tbsp. coconut oil
Instructions
Preheat oven to 350 degrees.
Combine first 4 ingredients in a large bowl and whisk together.
In a separate bowl combine sweet potato, egg,milk, oil, maple syrup and vanilla. Whisk together until mixture is smooth.
Add sweet potato mixture to dry ingredients. Mix well until all ingredients are equally and completely combined. Fold in chopped pecans
Spray cooking spray in a loaf pan and spoon in mixture, smoothing the top so its not lumpy.
For topping, combine all ingredients together in a small bowl. Sprinkle on top.
Bake for 35 minutes, or until golden.
Let cool and take out of loaf pan.
Enjoy!
*lightly adapted for Ambitious Kitchen
http://athleticavocado.com/2015/10/25/sweet-potato-oatmeal-bread/
[Tweet "Your new favorite quick bread: #glutenfree Sweet Potato Pecan Struesel Oatmeal Bread!"]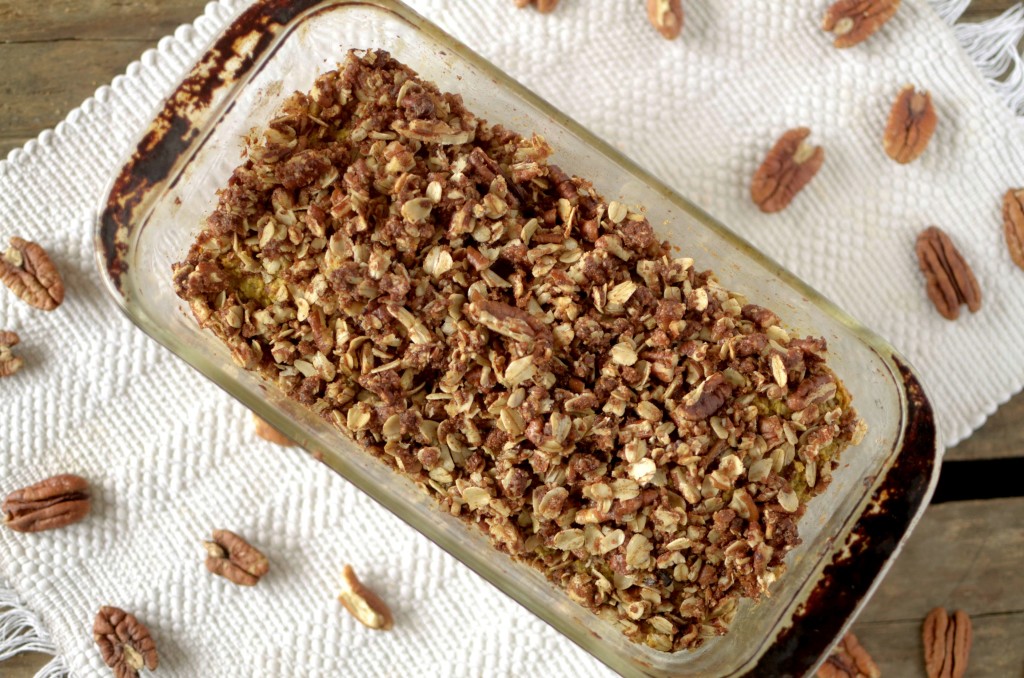 Linking up with Tina Muir and Confessions of a Mother Runner for Meatless Monday!