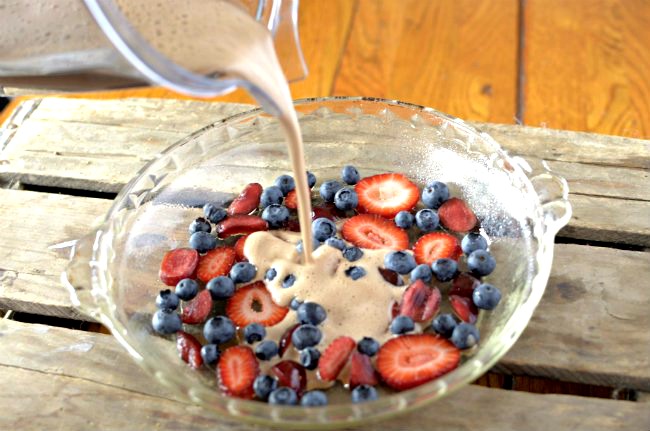 I was searching around the internet yesterday to find some inspiration and I came across a recipe for a Clafoutis. I had no idea what a Clafoutis was so I decided to look up the definition.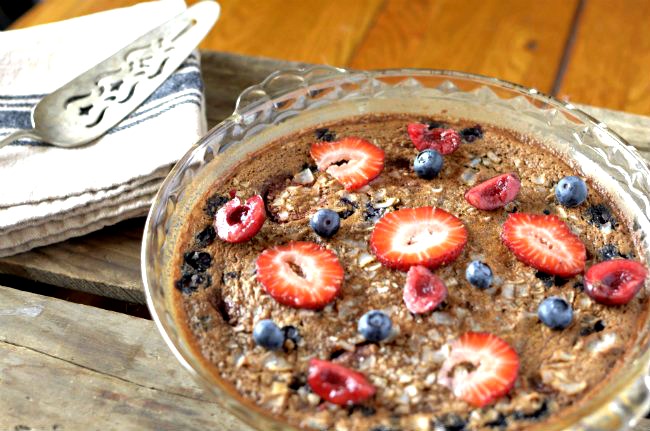 Clafoutis: a tart made of fruit, especially cherries, baked in a thick, sweet batter, AKA it's like a soufflé cake thingy and it tastes pretty darn awesome, especially since it only has 5 ingredients, it's #easyasbreeze to make and it's made with Blue Diamond Chocolate Almond milk!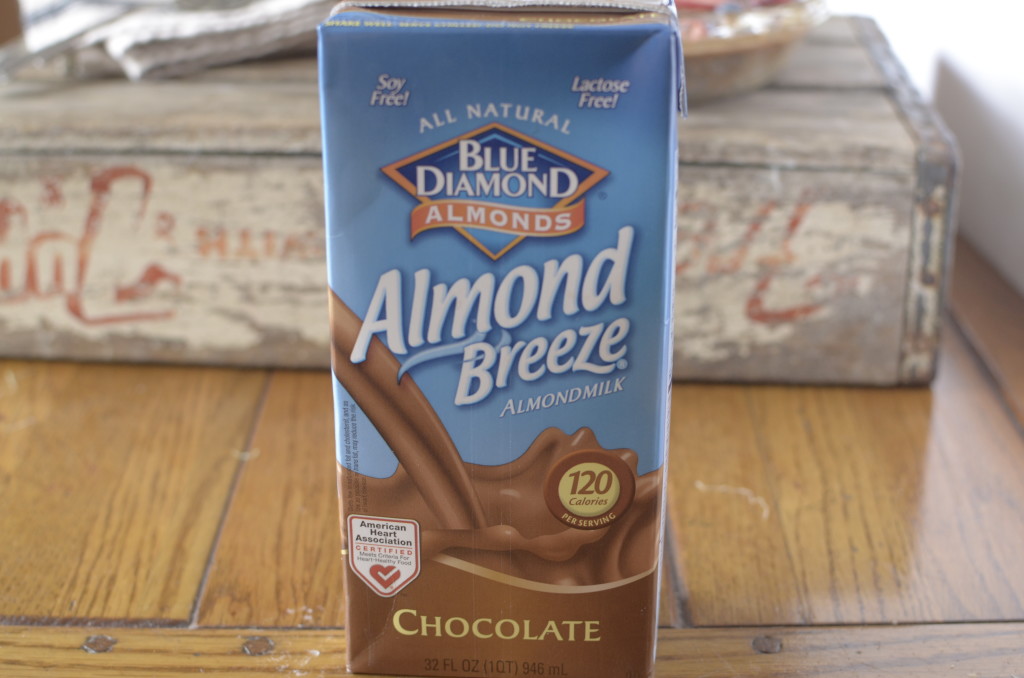 Apparently it's a french dessert, I used to take french in high school but it wan't my forte. I took it for four years and stopped after Honor's french, there was nooo way I would have  been able to make it to AP french. It's been quite a while since I have taken french, but atleast I still know a few sentences!
Il Fait chaud: It is hot
Je m'appelle Rachelle : My name is Rachel
J'ai gros chat leo nommé: I have a fat cat named Leo
J'aime faire Clafoutis: I like making clafoutis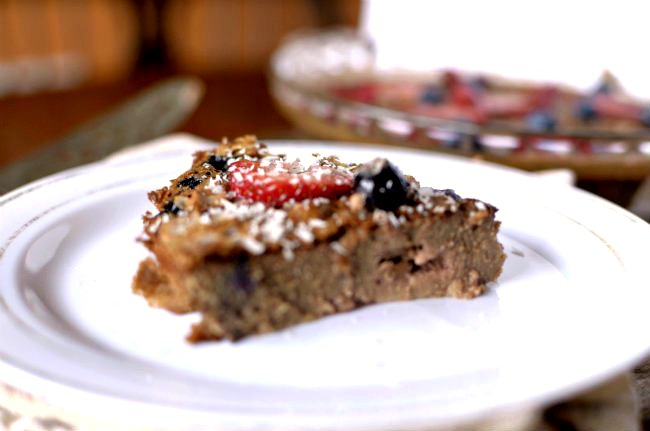 Yea I guess I'm pretty much fluent…..nahhhh. Anyways this Clafoutis is super duper easy to make, even though it sounds really complicated, even I was afraid that it wasn't going to turn out because it was so simple to make! To my surprise, it turned out perfectly.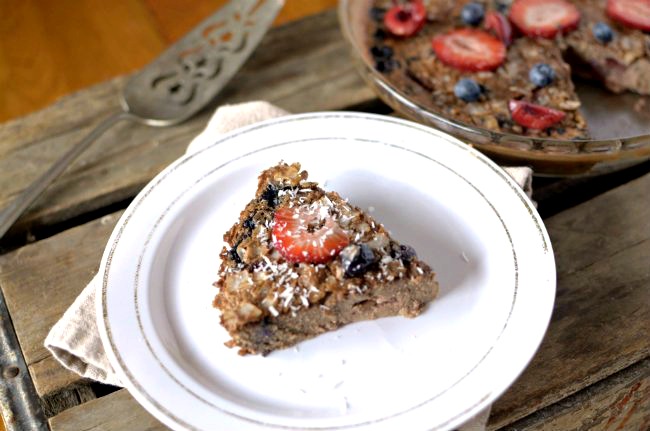 My Dad loved this, when he asked what it was, I said it was a Clafoutis and he said, "an Octopus?" Yes Dad, I made an Octopus.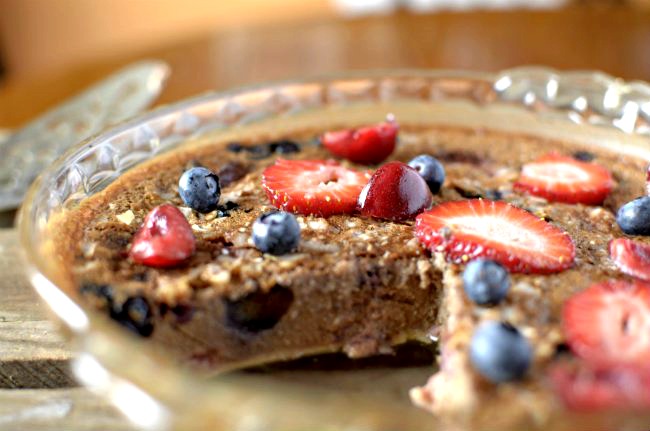 Triple Berry Chocolate Clafoutis
Ingredients
2 cups berries, chopped (I used strawberries, cherries and blueberries)
3 eggs
1 cup Chocolate Blue Diamond Almond Milk
1/4 cup coconut sugar
3/4 cup almond flour
2 tbsp shredded unsweetened coconut
Instructions
Pre-heat oven at 350 and spray a glass pie pan with cooking spray
Layer berries on the bottom of the pie pan
Blend eggs, milk, sugar, cocoa and flour in a blender or food processor for 1 minute
Pour batter over fruit and sprinkle with coconut, bake for 30-35 minutes, or until firm
Let cool and serve with more fruit and berries if desired
Best if served chilled
http://athleticavocado.com/2015/07/30/triple-berry-chocolate-clafoutis/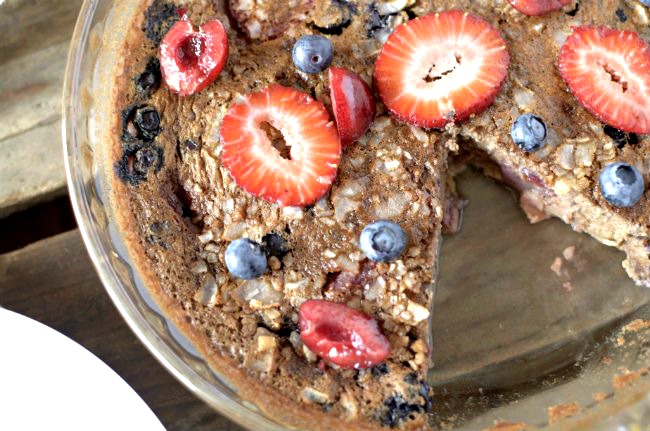 This Clafoutis is Paleo, Gluten-free and Dairy-free
Have you ever taken french? If so, do you know any sentences?

Do you think Clafoutis sounds like Octopus?
"This "Easy as Breeze" post is sponsored by Almond Breeze Almondmilk. For more "Easy As Breeze" recipes made with five ingredients or less, visit Almond Breeze on Facebook (http://facebook.com/almondbreeze), Twitter (http://twitter.com/almondbreeze), Instagram (http://instagram.com/almondbreezeus) and Pinterest (http://pinterest.com/almondbreeze)."
[Tweet "Yum! This Triple Berry Clafoutis is gluten-free, dairy-free and Paleo! Give it a try! @almondbreeze #easyasbreeze #ad"]